Original URL: https://www.theregister.co.uk/2011/01/04/supernova_discovery/
10-year-old girl becomes youngest ever supernova discoverer
Chuffed Canadian nipper spots farflung exploding sun
Posted in Science, 4th January 2011 14:02 GMT
A 10-year-old Canadian girl has been crowned "the youngest person to discover a supernova" after spying the exploding star on amateur observatory images.
Kathryn Aurora Gray spotted the magnitude 17 supernova on Sunday in an image of galaxy UGC 3378 in the constellation of Camelopardalis. The photo had been forwarded to her amateur astronomer father Paul by the Abbey Ridge Observatory in Nova Scotia.
The find, dubbed SN2010lt, came while comparing the image captured on 31 December with earlier grabs of the same patch of sky. Paul Gray told Canada's Star: "Kathryn pointed to the screen and said: 'Is this one?' I said 'Yup, that looks pretty good'."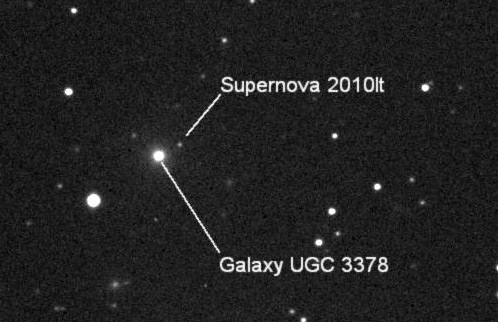 Dad then helped the young stargazer to verify her discovery by "taking the steps to rule out asteroids and checking the list of current known supernovas", as the BBC puts it.
Speaking at her home in Birdton, New Brunswick, a chuffed Ms Gray said: "I'm really excited. It feels really good."
Deborah Thompson of the Royal Astronomical Society of Canada enthused: "It's fantastic that someone so young would be passionate about astronomy. What an incredible discovery. We're all very excited." ®