Original URL: https://www.theregister.co.uk/2011/01/04/review_pmp_cowon_iaudio_x7/
Cowon iAudio X7 hard drive PMP
Media player, meet external HDD
Posted in Personal Tech, 4th January 2011 12:00 GMT
Review Hard drive media players are becoming something of rarity these days, but that hasn't stopped Cowon going down the HDD route with its latest media player, iAudio the X7, a machine pitched as much against the Apple iPod Classic as at the all-singing, all-dancing iPod Touch.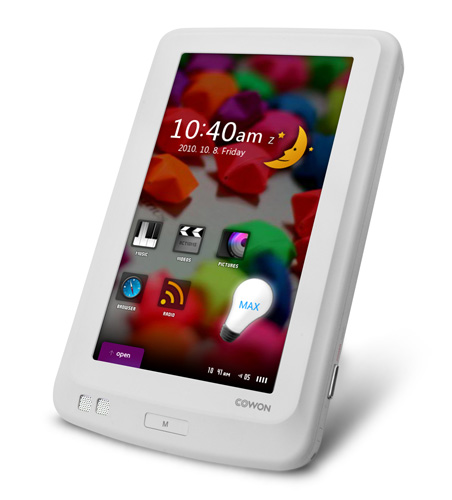 Cowon's iAudio X7: touchscreen tech
Though the X7's storage capacity is listed as 120GB you actually get 122, courtesy of the 2GB of Flash that sits alongside the hard drive. The Flash houses the system software but can also hold up to 1.6GB of media.
Cowon's pitch is that the X7 can be used as a 2GB PMP and a 120GB external hard drive all in one handy package - hence a built-in reformat option for the HDD. In use, the media library presents the two storage areas as if they were one.
A rather big, heavy and plain device with a sturdy matte black shell, the X7 is dominated by its 4.3in screen. At only 480 x 272, the screen's resolution is no more than adequate, but it is clear, bright and crisp, and hosts a full 16 million colours making video playback impressive enough.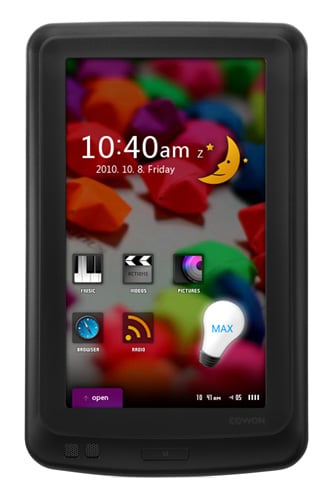 Wants to be a tablet when it grows up?
The resistive panel lets you access the menu system but tapping on a simple list, or selections of widgets and icons. It's all very much like the Cowon J3 and doesn't suffer one iota from the lack of capacitive interaction.
Solid audio
External controls are limited to two chrome volume buttons on the left, an on/off/lock switch on the right, and a button marked 'M' below the screen that takes you directly back to the main menu.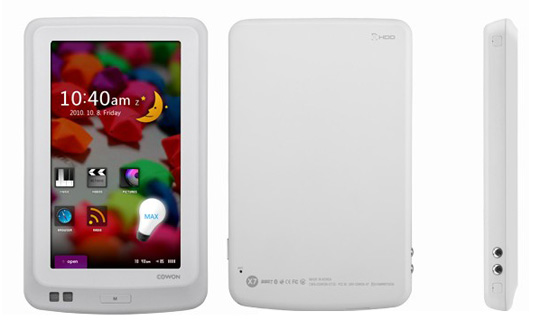 Not a classy look, that's for sure
Next to the menu key are two small but surprisingly powerful speakers. At the bottom, you'll find a 3.5mm audio socket, power jack and a port for the 20-pin "Korean" USB cable.
Format support is solid enough on the music side, with MP3, Flac, Ogg Vorbis, WAV, Audible, APE and AAC all catered for, though Cowon makes no mention of AAC compatibility in its literature.
The only video formats the X7 will play are Xvid/DivX and WMV but at least they play reliably. In use, the X7 played every one of over a dozen AVI files I tried even at resolutions up to 704 x 480 and its ability to manage aspect ratios and subtitles was very impressive.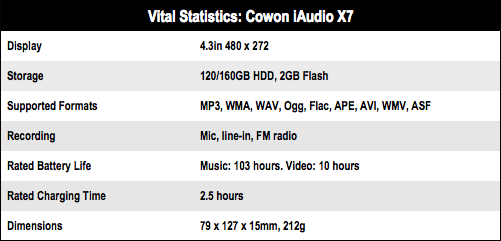 In control
Unlike some Cowon PMPs, the X7 supports ID3 and Vorbis Comment tagging so you are not stuck with a simple folder view, though this is an option.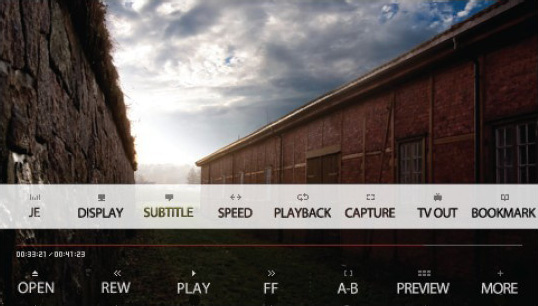 Video controls are comprehensive
Look in the menu and you will find a heading for playlists but if you can work out how to sync an MTP playlist to the X7 you are a better man than I. On a happier note, the X7 will handle DRM-protected video files, so BBC iPlayer downloads can be watched on the move.
Incidentally, this review was conducted using the latest firmware, 2.06, which apparently improves gapless playback. Albums ripped sans gaps using winLAME certainly played back well enough though iTunes gapless albums weren't recognized as such.
Cowon's JetEffect 3.0/BBE+ sound modification suite continues to impress me but now with 35 pre-defined and four user presets the system is in danger of overkill. It's like getting into a car and finding a 12-speed gearbox - too much choice!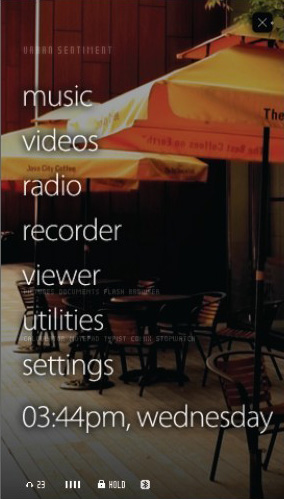 Zune inspiration revealed?
That said, ten minutes with the user-definables left me with one profile perfectly suited to rock and one to classical, and that's really all I need. The several earphone-optimised sound profiles will keep most people happy. JetEffect also works with, and can be accessed directly from, the video playback screen, which is handy.
Extremely long runner
Bundled earphones are as much a Cowon weakness as an Apple one, but using my reference Sennheisers, the X7 beat an iPod Classic convincingly in the sound quality stakes. Played on the X7, 256Kbps MP3 files had altogether more life, detail and composure, and felt generally less confined. Flac files sounded even better, but of course iPods don't play them.
The only hitch here is a slight want of volume. Not an issue in most circumstances, but the X7 is not the ideal media player for use on the Tube unless you cough up for some noise-cancelling earphones.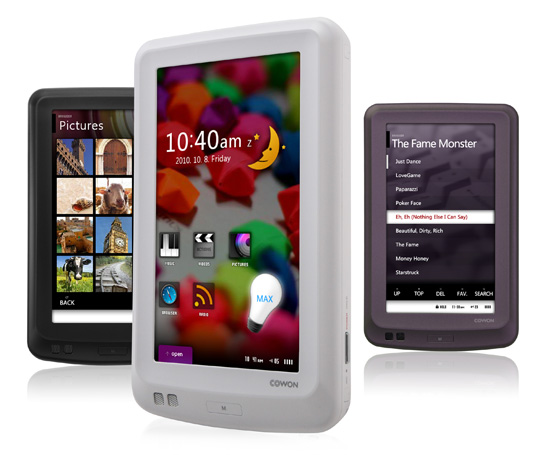 The X7 also comes with a recordable FM radio, stereo Bluetooth, the capacity to handle JPEG, text and .SWF Flash files, and a microphone for voice recording. Buy the optional cables and you can also send video to your telly or record line-in.
Cowon makes some pretty bold claims for the X7's battery life: 103 hours for audio and ten hours for video. Playing back MP3 and AVI files in a continuous loop I managed 78 hours of audio and 8.5 of video, the latter with the screen at 60 per cent brightness, which is still pretty impressive and much better than the 36/6 quoted by Apple for the iPod Classic or the Touch's 40/7.
Re-charge is via either USB or the bundled 5V mains charger and takes 5.5 and 2.5 hours, respectively.
Verdict
Though it only supports standard definition video and doesn't really advance the PMP breed at £230 the 120GB version the X7 is still reasonable value. The sound it produces is good, the screen is a pleasure to watch and the battery life is superb. If you have a massive media library, want a big screen and hate iTunes it's a solid enough choice. ®
Thanks to AdvancedMP3Players for the review sample
More PMP Reviews...

Apple iPod
Nano 6G
Sony Walkman
NWZ-A845
Cowon
iAudio J3
Samsung
YP-R1