Original URL: http://www.theregister.co.uk/2010/12/31/new_years_eve_party_apps/
10 top New Year's Eve party apps for iPhone, iPad, iPod touch
Eats, drinks, tunes, games
Posted in Policy, 31st December 2010 02:26 GMT
New Year's Eve is party night – and who better to spend that celebratory evening with than your constant companion, one that has served you well throughout the year?
No, we don't mean your spouse or significant other. We're talking about your iPhone, iPad, or iPod touch.
Before you accuse us of kinkiness or fanboi device-worship, let us explain that we're talking about using your Appleonian iOS device to spice up an evening that you'll spend with actual humans, not as a companion with which to while away the waning hours of 2010 all by your lonesome.
We've rounded up a dime bag of apps that might help make your New Year's Eve party a night to remember – or forget, if things go especially well. Not all of these apps are for everyone, but one or two might be of interest or value to the discriminating party planner.
And so here's a brief foray into the App Store's party pantry, beginning with:
Drinks and Eats
Oral gratification is one of mankind's most satisfying pursuits, and the App Store has a number of suggestions about how to prepare and present some fine party cuisine and inhibition-loosening potations
Party Tricks: The Ultimate Entertaining Guide (iPad, $1.99) stands out among the hundreds of recipe apps crowding the App Store in that it groups its offerings into party-specific themes.
Produced by the publishers of 2: The Magazine for Couples, Party Tricks includes a raft of well thought-through recipes in eight different party scenarios, from the simple to the complex.
It also offers general party-planning tips in a section entitled Party Primer, plus wine-pairing and bartending advice for the advanced gourmand. Be forewarned, however, that brand-specific promotions abound. Ignore them if you'd like, and the recipes will work just as well.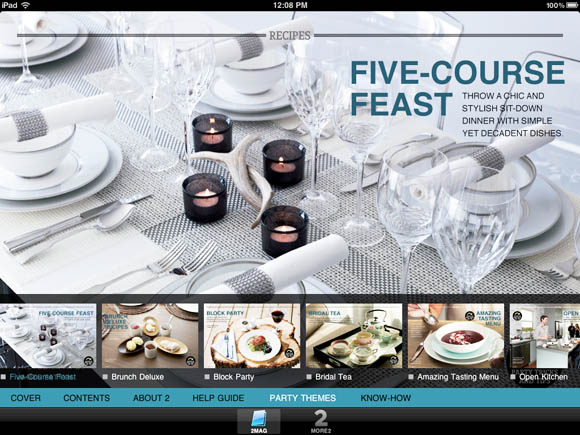 Party Tricks' magazine roots are evident in its fine photography
Teetotalers can skip to the next page in this round-up – we're now talking booze.
Steve Jobs' puritanical streak may have banished even the mildest forms of fleshy titillation from the App Store, but it hasn't caused him to banish hooch. A search for "cocktail", for example, turns up over 300 apps for the iPhone and iPod touch.
Among the spiritual apps that caught our eye were Cocktails - Top Shelf (iPad, $2.99), with its fine photgraphy and inventive concotions.
We can also recommend Drinkspiration (iPad, free). Even though this app is sponsored by Absolute Vodka – and, of course, focuses on drinks made with that nose-in-the-air sauce – it's well put-together and has an entertainingly illustrated search function. The price is right, as well.
Our favorite bartender's friend, however, is iVideococktails : 60 cocktails in video (iPad, $3.99). As its title suggests, iVideococktails leads you through each recipe with an instructional video. It may be a wee bit on the pretentious side, but the information is clear and there are plenty of navigational choices.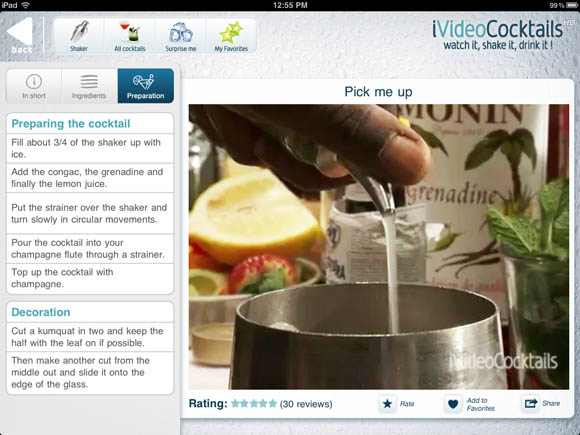 Make sure to try each of iVideococktails' 60 offerings – though not necessarily all on New Year's Eve
If you don't feel like sitting through the instructional videos, you can also simply view the recipes and follow a few "In Short" tips to assemble your creations. Or just drink straight from the bottle. It's your liver.
Tunes
The idea behind Party Playlist HD (iPad, $1.99 or a free "lite") is a simple one: to make it easy for you or your guests to create party-specific playlists on the fly.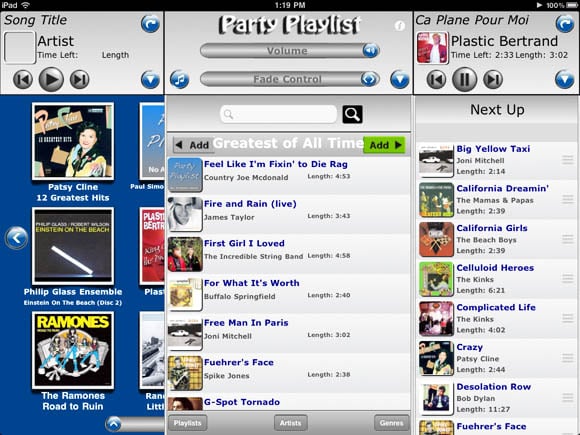 Let your guests reorder party playlists. Well, guests with reasonable taste, that is...
Party Playlist scans your iPad for the tunes you've loaded onto it, arranges them into your playlists, displays them by album cover, then lets you drag them into new playlists and rearrange their playing order while they're being pumped out through the iPad's headphone jack into your sound system of choice.
If your iPad doesn't contain enough party-worthy tunes, Minimal Party HD by mix.dj (iPad, free but ad-supported) accesses mixes from the Mix.dj website, which contains over 100,000 DJ-created compilations averaging around an hour long apiece.
Minimal Party's minimalistic, electronica-flavored mixes may or may not be your cup of tea, but at this price the app is well worth a look-see. And if you like one or more of the tunes in a mix, the artists who uploaded their mixes to Mix.dj would be quite happy if you bought those tunes through an iTunes link in the app.
If you'd prefer to entice your party guests into making fools of themselves providing real-time entertainment, the App Store has plenty of karaoke apps to choose from.
Karaoke Anywhere (iPhone, iPod touch, iPad, $1.99) is unique among the karaoke apps that we found in that it can play the CD+G files used in professional karaoke machines. It may be more than the average user needs, but a true karaoke addict should take a look at its features on the KaraokeAnywhere website.
More casual karaokists might want to check out Glee Karaoke (iPhone, iPod touch, iPad, 99¢) from Smule, the publishers of a collection of "social music" apps, from Leaf Trombone World Stage to Magic Fiddle and more.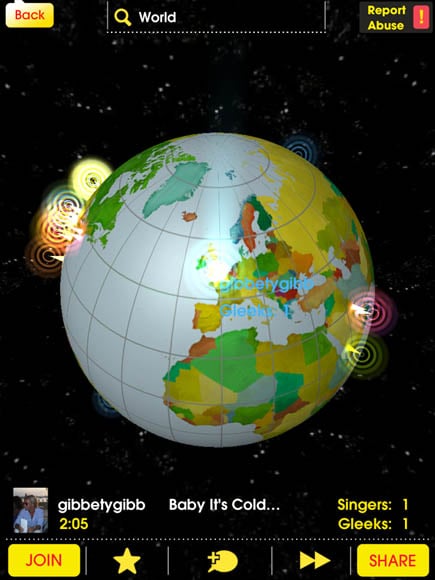 Glee Karaoke lets you listen in to brave amateurs from all over the globe
In addition to straightforward karaoking, Glee Karaoke – like other Smule apps – lets you share your talents with the world in real time, or lets you listen to other contributors embarassing themselves in London, New York, Sydney, Tierra del Fuego, and beyond.
Games
We searched the App Store far and wide for party games, but were disappointed to discover that most of them are either at the poopoo-caca level of juvenile humor, or of a sexual nature so anti-stimulatory that they make celibacy look inviting.
There are, for example, well over 100 variations on "spin the bottle" and "truth or dare" – check out Nasty Bottle HD (iPhone, iPod touch, iPad, 99¢ with a free "lite" version) or Adult Truth or Dare (17+) (iPad, 99¢) as examples. If you must.
If we ever reprise iPhone apps: the 10 smartest and 10 stupidest or iPad apps: the 10 smartest and 10 stupidest, we'll be sure to make room for some of the lower-rent spin-the-bottle and truth-or-dare apps.
We did find one party-game app, however, that was gloriously dumb – dumb in that "I hate to admit it, but playing this game is actually a hoot" way. That would be inReverse Party Game (iPhone, iPad, free during the holidays).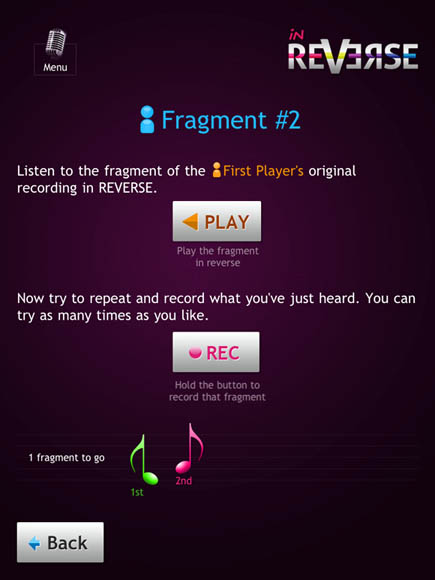 Chalk up our affection for inReverse to the fact that we have a musical background and are quite immature
It's a bit difficult to explain exactly how you play inReverse, or exactly why it merits the aforementioned hoot, but we'll give it a shot: one player sings a tune, a capella, into their iOS device. inReverse then – you guessed it – reverses that audio file, and plays it back to the second player, who tries to guess the original tune.
In the highly unlikely event that the second player guesses correctly, the game ends. If the player can't guess it, inReverse divides the reversed tune into manageable fragments, which the second player then tries to imitate, fragment by fragment, recording their attempts.
inReverse then reassembles and re-reverses the second players vocal stylings – that is, it puts them back into the order that the original tune was sung – and plays them back. Surprisingly, the tune is then usually quite recognizeable. Distorted, mangled, twisted, and contorted, but recognizeable – and, to this inReverse fan's ears, often quite risible.
Give inReverse a shot. It's free today, so you're not risking anything but a few minutes – and possibly your dignity. ®
Bootnote
One last item, albeit a highly specialized one: Budapest Party Locator (iPhone, iPod touch, iPad, free).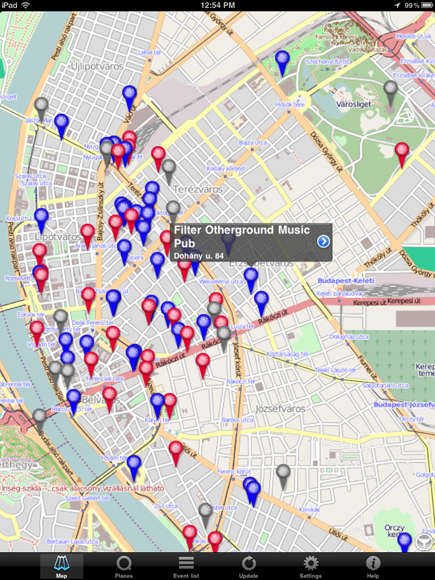 There'll be a hot time tonight at the Filter Otherground Music Pub
This app provides a regularly updated list of the happenings and hot spots in that wild and wacky town of Budapest, Hungary, with info in both Hungarian and English. As the app's marketing blurb says, "Refresh your event database and have party all night!"
Would that the Vulture Annex's hometown of San Francisco had such a useful – and free – fun-detector.