Original URL: https://www.theregister.co.uk/2010/12/30/review_of_2010/
From Antennagate to WikiLeaks: the year in tech lunacy
Jobs, Schmidt, Ellison, and other high comedy
Posted in Bootnotes, 30th December 2010 17:39 GMT
In the tech world, 2010 was a year to forget. And that makes it all the more fun to remember.
Once again, The Reg gives you its annual list of the year's biggest stories. And by biggest, we mean the stories most likely to make you sit up, take notice, and spew coffee all over your keyboard. Or chuck a laptop across the room. Or laugh 'til you can laugh no more.
Or all of the above.
It's all here – from the WikiLeaks madness, iPhone Antennagate, and faked CEO expense claims, to wronged women, shameless U-turns, and sleepless Microsoft nights. It features some of the most amusing characters the modern world has to offer, including Steve Jobs, Eric Schmidt, Mark Zuckerberg, and many more...
World goes mad over WikiLeaks
The biggest story of the year was not WikiLeaks. It was the reaction to WikiLeaks.
The 250,000 classified State Department cables uncloaked by Julian Assange amounted to little more than good gossip. They confirmed a few things we already knew (Pakistan's intelligence service, for instance, was playing both sides in Afghanistan), and they served up a few new bits of information (Saudi Arabia wanted Iran bombed). But the cables weren't nearly as newsworthy as what happened next.
Amazon kicked things off by removing mirrored WikiLeaks servers from its AWS hosting service. According to Amazon, the decision came before a call from Senator Joe Lieberman, chairman of the Senate's Homeland Security and Governmental Affairs Committee. But it was Lieberman who alerted the world to the decision. "The company's decision to cut off WikiLeaks now is the right decision and should set the standard for other companies WikiLeaks is using to distribute its illegally seized material," he said.
Then PayPal booted WikiLeaks. The eBay-owned payment processor told a European conference audience that it was nudged by the US State Department, but later claimed there was no direct contact from the Department. According to PayPal, it was merely responding to a letter the State Department sent to WikiLeaks.
MasterCard and Visa also refused to process payments for WikiLeaks, and a mini net war ensued. The group calling itself Anonymous launched a massive denial of service attack on PayPal, MasterCard, and Visa, as well as sites for Lieberman and Sarah Palin. They called it Operation Payback. There were some outages, but nothing significant. Hackers said they breached 10,000 MasterCard payment cards and offered screenshots as evidence, but this couldn't be confirmed. Then Operation Payback came under a counter DDoS attack from so-called "patriot" hackers.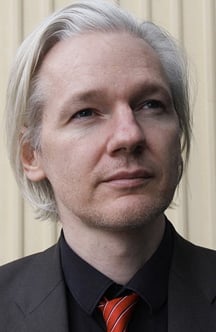 Assange exposes world's 'free speech deficit'
Meanwhile, students at Columbia University's School of International and Public Affairs were advised not to discuss the WikiLeaked docs online, especially on sites such as Facebook and Twitter. The advice came from the university's Office of Career Services, which had apparently received word from a State Department official who happened to be a school alumnus. Then federal workers were told they weren't allowed to read the cables, even though the documents were readily available on the web.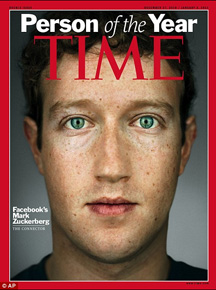 Some guy's Face on a book-like product
To stop future leaks, the Department of Defense rolled out a new security policy that included disabling the "write" capability on its PCs, hoping to prevent employees from sneaking data onto thumb drives and other removable media. Lieberman proposed the Shield Act, which would amend the 1917 US Espionage Act to make it illegal to publish the names of military and intelligence informants. Never mind that it violated the First Amendment to the US Constitution - which protects the right to free speech.
As for Julian Assange, he now faces the possibility of indictment under the Espionage Act. And if that's not ridiculous enough, he was denied Time magazine's person of the year award. It went to guy named Zuckerberg for creating a site that lets you send mindless observations to your "friends".
Steve Jobs blames iPhone 4 'Antennagate' on everyone but Apple
Let's get one thing straight. There was no "Antennagate". At least, that's what Steve Jobs said.
The iPhone was released in June on a wave of love. But as soon as the phone hit stores, there were widespread reports of reception problems related to the handset's external looped antenna. The problems were very real. But Apple has a way of bending reality.
To combat the claims, the company went so far as to call a press conference at its Cupertino HQ. According to Jobs, talk of an iPhone 4 design flaw was pure fantasy, a myth cooked up by little minds resentful of his company's success, a product of sensationalist media simpletons. And when he was done blaming the media, he blamed the flatfooted local politicians in the Peoples' Republic of San Francisco, saying they were slowing AT&T's ability to upgrade its network.
Jobs did offer refunds as well as a free iPhone case that would, um, solve the reception problems. But there was no Antennagate. So shut up and swallow your blue pill.
Eric Schmidt: available for birthdays, weddings, and bar mitzvahs
It's hard to tell whether Eric Schmidt has gone mad or fallen victim to a terrible sense of humor. Or both.
In 2009, he told us that if we're worried about privacy on the internet, we must be miscreants. And this year the insensitive nonsense just kept on coming. If you don't like Google Street View cars photographing your house, he said, you can "just move". He proclaimed that one day, young people would have the right to automatically change their identities so they could sidestep all the embarrassing stuff they did on the web. He said Google's aim was to approach the "creepy line" without crossing it. And he insisted that Google "doesn't do data mining." Sure, Eric, just like Street View cars don't slurp Wi-Fi data.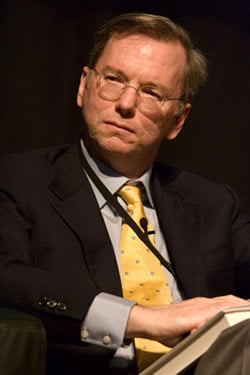 Schmidt: I fail to see any humor in that
In some cases, Schmidt later claimed he was just joking. But if he was, it wasn't remotely funny.
Oracle mistresses exacts revenge
Hell hath no fury like a woman with money and access to billboard advertising. In 2010, we learned that Oracle president Charles Phillips was not quite the "family man" he'd been made out to be. And we learned it from billboard ads spread across a trio of major American cities.
A woman named YaVaughnie Wilkins plastered the billboards with photos from her eight-and-a-half-year relationship with Phillips. Wilkins had just ended the relationship – after apparently discovering he was still married.
The billboards were originally picked up by Gawker and got as far as The Daily Mail, proving that the right-wing mass-market rag has no problem embracing a technology story as long as it's got a compelling human-interest angle – and it doesn't have much do to with technology.
Mark Hurd's premature HP ejection
One thing we can say with certainty: Mark Hurd stopped being HP's CEO, president, and chairman on August 6, 2010. It's just the "why" that isn't very clear. Was this really about him falsifying his expense reports to cover up a relationship with an HP contractor? Or was that just a convenient excuse for booting a man who'd become deeply unpopular with the troops?
Or was it because he was accused of leaking insider information?
On a quiet Friday, Hurd announced he was quitting his $24.2m-a-year post following an investigation into claims of sexual harassment brought by former HP contractor and ex-soft-porn-actress Jodie Fisher.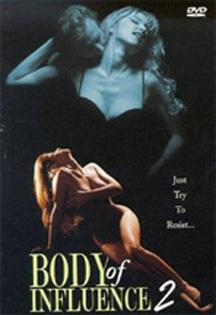 Hurd didn't see Fisher's body of influence
HP said there'd been no violation of its sexual harassment policy, but the investigation did find that Hurd had violated HP's ethics policy. He had apparently filed $20,000 in improperly claimed expenses in an effort to conceal meetings with Fisher. Friends sprang to Hurd's defense, saying the errors were the fault of his secretarial staff. Tennis buddy and Oracle CEO Larry Ellison also weighed in, calling the HP board "idiots" for letting Hurd go. Fisher said the pair had never had an affair or an intimate sexual relationship.
According to a later report, Hurd stood accused not only of sexually harassing Jodie Fisher, but also of alerting her to HP's imminent EDS buy. Whatever the case, the HP board had indeed lost confidence in Mark Hurd. And there's no doubt the story gives us the creeps – particularly the bit about Jodie Fisher appearing in a reality TV show in which she and 11 other "bachelorettes" vied for the affections of former tennis star Mark Philippoussis.
Mad, bad, and idiotic: Oracle's Ellison on HP's board
Larry Ellison is famous for verbally abusing the competition. PeopleSoft, Microsoft, Siebel, SAP, BEA Systems. Take a number and get in line, bitches. But this year, Ellison topped even himself. He started abusing a major Oracle hardware partner.
After calling the HP board "idiots" for ejecting Mark Hurd, Ellison hired him. And when HP sued Hurd to stop the hire, Ellison called the suit a "vindictive" move that made it "virtually impossible for Oracle and HP to continue to cooperate and work together in the IT marketplace."
HP's decision to replace Hurd with ex-SAP CEO Leo Apotheker only made Ellison madder. Apotheker was axed by SAP after less than a year in charge, and Ellison is convinced Apotheker knew about the industrial espionage that SAP subsidiary TomorrowNow perpetrated against Oracle. In 2010, Oracle went to court over the TomorrowNow incident, and it dispatched PIs to find Apotheker and put him on the stand (but to no avail). "I'm speechless," Ellison told The Wall Street Journal on Apotheker's appointment. "The HP board needs to resign en masse ... right away. The madness must stop," Ellison said.
Yes, Larry, it must.
Fear and Loathing in the chip business
In November, AMD president and CEO Dirk Meyer told Wall Street analysts that Intel can't be trusted, and that it continues to frightens customers. Apparently, that $1.25bn IP and anti-trust settlement between Intel and AMD changed just about nothing.
The companies have agreed to cross-license their technologies for five years while Intel abides by a set of "business practice provisions", and AMD said it would bury 2008 claims that Chipzilla signed anti-competitive and exclusive arrangements with a laundry list of major OEMs, including Dell, HP, IBM, Lenovo, Gateway, Acer, Sony, NEC, Toshiba, Fujitsu, and Hitachi. But AMD hasn't buried the hatchet.
"We opened the door to the potential of a more free and open competitive environment," Meyer said. "Frankly, we still talk to customers who are scared ... and [we] wonder whether the regulators are going to be diligent, and wonder whether Intel is going to follow the terms that they agreed to."
So, how long until the next suit?
Oracle and open source: Where's the open bit?
Oracle closed its acquisition of Sun Microsystems in 2010, and it promptly put a boot in the ten-year-old notion that in order to succeed in open source, you have to collaborate with others in the community. One by one, Oracle reclaimed the MySQL, OpenOffice, and OpenSolaris brands and anchored them to its own product roadmap. Open sourcers participating in these projects protested vehemently, but they were ultimately swept aside.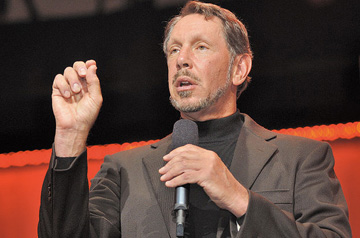 Ellison: backtracking on a decade of open-source community theory
Then Oracle refused to grant the Apache Software Foundation a license for its Java implementation, Project Harmony. That set the scene for a showdown, and things got even hotter when Oracle sued Google, accusing the giant of violating Oracle's Java patents in Android, which uses part of Harmony. Oracle also lined up other players against Apache, convincing IBM - one of open source's biggest stakeholders - to switch allegiances from Harmony to the rival OpenJDK.
In a moment of cognitive dissonance, Oracle reckoned it still respected ASF and wanted to work together despite the, ahem, "disagreement" on licensing.
Apache responded by becoming the first organization to resign from Java's governing body. In leaving, Apache accused Oracle of seriously interfering with the governance of the Java ecosystem and accusing its fellow members on the Java Community Process of failing to stand up for the rights of those implementing Java. ASF was blunt, telling Oracle to honor the rules of the JCP, and Oracle responded by ignoring the details of the ASF's warning and telling the organization it was time to move on.
When Sun was overseeing Java. Oracle had supported ASF's right to a license. But in 2010, it executed a perfect U-turn – without explanation or remorse. This time, rather simply cutting ties with a few individuals working on OpenSolaris and OpenOffice, Oracle succeeded in alienating a respected industry group that's home to more than 100 popular open source dev projects including Ant, Maven, Tomcat, HTTP server, Jakarta, and newcomers like Hadoop and CouchDB.
Leave it to Oracle to do open source without the open bit.
Novell unloads patents to ... Microsoft
If Novell will be remembered for anything, it'll be Linux. Sold to Attachmate for $2.2bn in November, Novell did two significant things during its life: it bought into Linux with the purchase of SuSE - the number-two challenger to Red Hat - and it mounted a tough legal defense against the SCO Group over who owned the copyright on Unix. Novell prevailed and the court ruling helped sink Darl McBride's cowboy legal action.
Such was Novell's proximity to the whole Linux cause that alarm bells sounded when it emerged that 882 Novell patents were being sold as part of the Attachmate package to an unknown consortium called CPTN Holdings LLC. Not only that, but the group is backed by Microsoft.
Microsoft is known both as a stern patent policeman and arch-competitor to Linux, with a CEO who likes to talk about how Linux violates Microsoft's IP. Did these patents cover Unix? Were they therefore vital to Linux? As alarm bells rang louder, Novell issued a short, sharp statement to dampen the flames. As statements go, it left little to the imagination. "Novell will continue to own Novell's Unix copyrights following completion of the merger as a subsidiary of Attachmate," the company said.
But uncertainty remains. Attachmate is completely unknown in the world of open source, while the patents sold to the Microsoft-backed group almost certainly include IP surrounding WordPerfect and other technologies that'll give Microsoft more ammunition against open-source projects such as OpenOffice. Novell selling IP to Microsoft? It just doesn't sound right.
Google and Verizon devise net-neutrality carve up
The New York Times and Wall St Journal reported on August 5 that Google and Verizon, the largest wireless carrier in the US, were cooking up a plan to kill net neutrality with a system that allowed for the paid prioritization of traffic. Both companies denied the reports. "We have not had any conversations with Verizon about paying for carriage of Google or YouTube traffic. We remain as committed as we always have been to an open Internet," Google said.
Four days later, the pair produced a proposed net-neutrality framework for the Federal Communications Commission (FCC) that offered a "new nondiscrimination principle [that] includes a presumption against prioritization of internet traffic - including paid prioritization."
"In addition to not blocking or degrading of internet content and applications, wireline broadband providers also could not favor particular Internet traffic over other traffic," Google and Verizon said.
But there was a small escape clause at the end. "Prioritization of internet traffic would be presumed inconsistent with the non-discrimination standard, but the presumption could be rebutted." Could be rebutted? By who? And on what terms?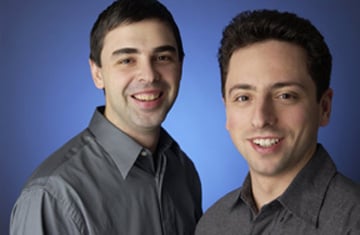 Us? Kill net neutrality? With Verizon? Surely some mistake
Oh, and all that hippie shit about not blocking or downgrading traffic? Yeah, well, Google and Verizon decided that was only for wireline communications – not wireless. That's because mobile is so much more competitive and, um, newer. Do I need remind you that AT&T is the US's largest provider of fixed broadband and a competitor to Verizon on wireless? Thought not.
Were the NYT and WSJ right? Hmm.
Fellow traffic freeloaders Amazon and Facebook attacked the plan's treatment of tiered traffic, and the FCC noted that the badly drafted plan contained "many problems" – all of which left Google on the back foot, with its telecom and media counsel Richard Whitt claiming it was a big misunderstanding and protesting: "No other company is working as tirelessly for an open Internet," he said.
But now the FCC has unveiled its first official net neutrality rules. And it looks an awful lot like the Commission has been spending an awful lot of time with Google and Verizon.
The smartphone patent wars
Many assumed that Linux would be the next battleground in the patent wars. But then the smartphone suits arrived.
In 2010, Android stalwart Motorola filed suit against Apple, claiming 18 patent infringements on the iPhone, iPad, iPod touch, "certain" Macs, and associated services, including MobileMe and the App Store. Microsoft sued Motorola. Apple sued Nokia in both the US and the UK. Nokia sued Apple three times. Location-services provider Skyhook sued Google. Oracle sued Google. Apple sued HTC. HTC sued Apple. And Kodak sued Apple and RIM. Companies typically claimed they had little choice but to protect their IP, but not everyone can be the good guy.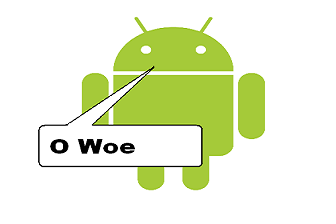 Android: feeling the patent pinch from Apple
Of course, there was some non-mobile activity too. Salesforce sued Microsoft after Microsoft sued Salesforce. Xerox sued Google and Yahoo!, and Microsoft sued TiVo. And XPRT Ventures sued eBay. Oh, and Microsoft cofounder and billionaire Paul Allen sued Google, Apple, Facebook, Netflix, Yahoo!, AOL, eBay, Office Depot, OfficeMax, and Staples over four patents for e-commerce and online functions that have been staples of most websites for years. Late in the year, Allen's case was thrown out by a judge who called the allegations "Spartan."
Meanwhile, Microsoft succeeded in getting the US Supreme Court to finally hear its defense against tiny i4i's claim that Word violated its XML patents. It's unusual for such cases to get so far. Usually, the parties accept the earlier verdict or appeal or they settle. In this case, the lower court had ordered Microsoft to pay $290m for infringements of patents in Word. But this time, there's a $14bn Microsoft franchise on the line, and Microsoft can't afford to open the door to other claims. A ruling from the Supreme Court is expected by the end of June 2011.
Then someone else will file suit over who knows what. And we'll do it all again.
Steve Jobs' Flash war unleashes HTML5 fever
If you hadn't heard of HTML5 at the start of the year, odds are you heard far too much by year's end. HTML5 is still an unfinished spec. But you'd never know that from the ridiculous way it has been misused in shameless PR campaigns from Google and Apple.
The worst was Jobs using HTML5 in his war on Adobe Flash. "They [Adobe] are lazy. They have all this potential to do interesting things, but they just refuse to do it," he said. "Apple does not support Flash because it is so buggy ... Whenever a Mac crashes more often than not it's because of Flash. No one will be using Flash ... The world is moving to HTML5."
This from a company that runs HTML5 demos that only run on its own browser.
Jobs followed up with a carefully considered open letter flaming Flash after Adobe dared to respond to his attacks. He continued to wave the HTML5 flag, and with Google waving it as well, many others followed.
Somewhere along the way, HTML5 came to mean not only HTML5 but, um, JavaScript and CSS. The poor unfinished standard was unhinged from reality. But the most amazing thing was that even Microsoft embraced HTML5. According to Steve Ballmer, HTML5 is now the glue that brings together websites, devices, and cloud computing. Microsoft already had its own offering for cross-platform, rich-media media on the web, Silverlight, but it was soon relegated to mobile software development.
Not only was Microsoft signing the praises of open web standards. It actually meant it.
When that happens, you know it's been a crazy year. ®