Original URL: http://www.theregister.co.uk/2010/12/30/review_moviestorm_3d_animation_software/
Moviestorm virtual movie studio
Create your own animated productions – very, very, slowly.
Posted in Software, 30th December 2010 07:00 GMT
Review Moviestorm is a virtual studio that takes the DIY attitude of Machinima one step further. Machinima is centred around the concept of recording in-game footage from your favourite title, editing it to tell your particular story, and adding your own soundtrack.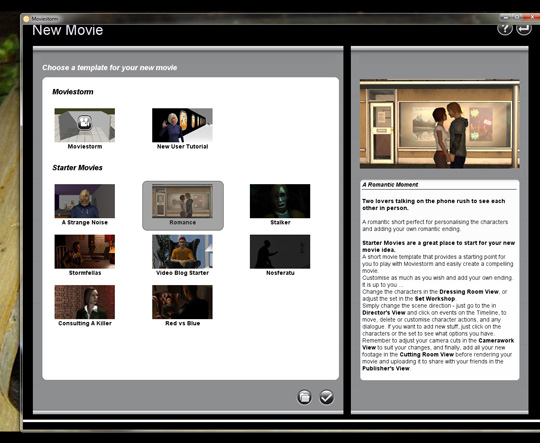 Ahead of its time? Moviestorm relies on Internet connectivity for content authoring
Many famous Internet movies and interstitials have been made this way, including 'Switcher' using World of Warcraft and Halo footage. Machinima has been around since 1999, and up until now, has been the cornerstone of independent on-line 3D animated moviemaking.
Moviestorm attempts to do away with the inherent derivativeness of Machinima, allowing budding film directors to create their own actors and environments from 'scratch', or rather, a wide bank of customisable features – yet, will it emulate other character creation engines and allow users to customize boob size? Apparently so. Moviestorm also comes with pre-scripted actions and dialogues to allow quick and dirty filmmaking to support that new beat you've been playing with in AcidExpress.
Creating a soundtrack too much work for you? You can create your pre-scripted movie to pre-scripted R&B or Dance music, which comes supplied with the software. Of course, the authors of Moviestorm hope that you will take advantage of such features as texture overlays and defects to create movies that are a little more original.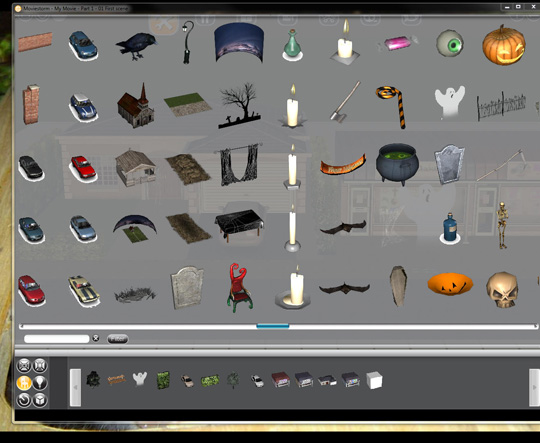 Various themed packs are on offer – all in the interests of fun
Ever played Left4Dead and wanted to make your own zombie movie? Apparently, now you can.
NSFW?
The first thing I observed when starting off with Moviestorm is that the GUI is very clunky, reminding me of some mutant offspring of Director and Acrobat. The graphics are extremely low-res, but even so, since you have to connect to the Moviestorm site to use the software, there's a lot of waiting around during loading periods.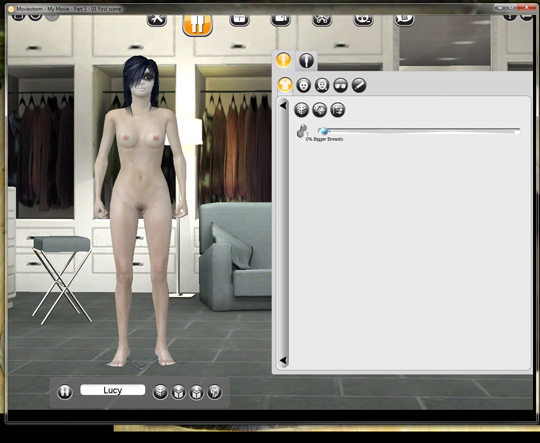 Frontal lobes can be adjusted, but be mindful of the low polygon count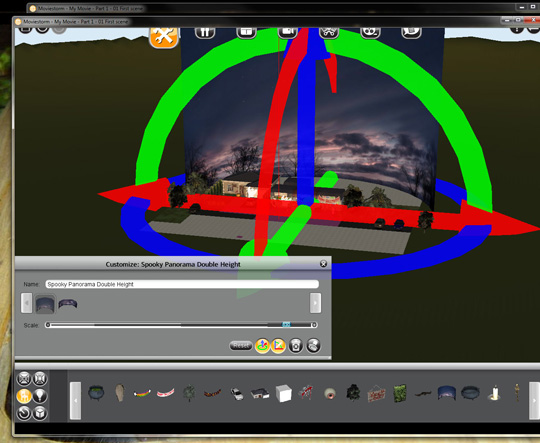 Positioning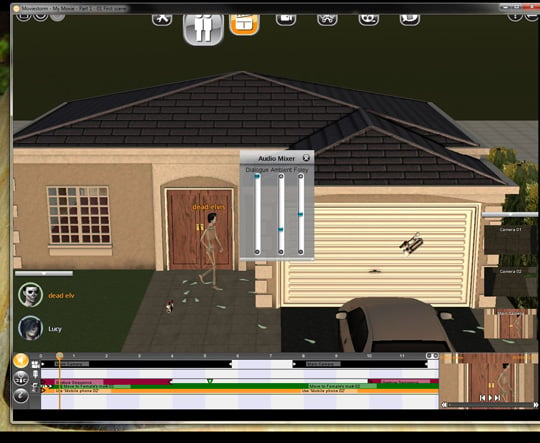 Soundtrack tweaks
The character creation module seems simple enough to use, although it involves slider bars from pre-set to pre-set rather than the promised 'fully customisable'. It cannot compare to, say, Age of Conan's character creation application, but there are enough options to produce many different movies, all with entirely unique casts and locations.

Animated character
I couldn't help but notice how low the polygon count is, and no wonder, if everything is streaming to and from your Internet connection. Why doesn't Moviestorm just offer it as a stand-alone? I could see the necessity for web access and its inherent tardiness becoming a real problem if you wanted to do a crowd scene.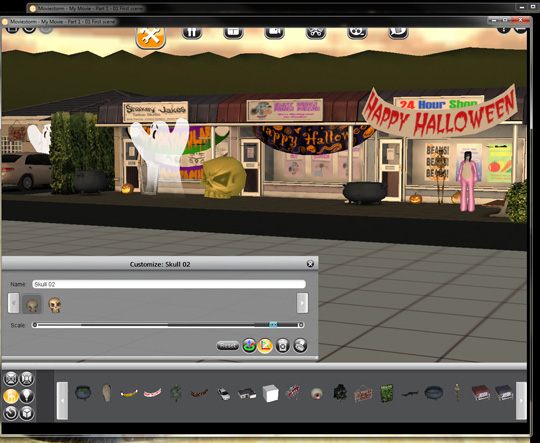 Scene changes
Trying to keep it simple I created a Halloween romance from one of the templates. With the amount of time I spent fiddling with the clumsy interface and waiting for stuff to load, I actually started feeling like Francis Ford Coppola on the set of Apocalypse Now – yeah, it was that long and painful. I can't imagine how long this would have taken me if I had decided to create a movie from scratch.
Sample Movie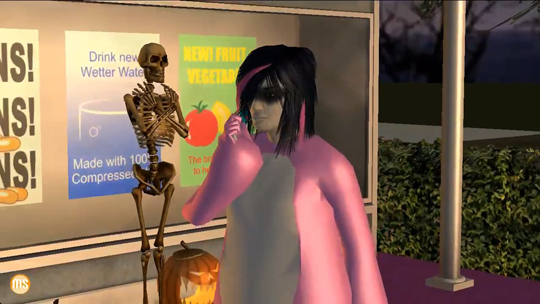 Click to view the Lucy and Dead Elvis Halloween themed clip
Considering the amount of time and effort I put into making my movie, the outcome was decidedly underwhelming. I can imagine if you have nothing to do in your life and are sick of spending all day on Facebook then this would be a great time filler. For me, it was unbearable.
Verdict
Apparently the target audience is for Moviestorm is "predominantly young amateurs with little or no experience". Yet I feel that the lag and low-res graphics will put off people who might otherwise wish to gain knowledge of professional level 3D modelling software such as Maya. While the basics are all there, it seems the on-line approach isn't that well suited to authoring 3D animation. While Moviestorm endeavours to be all about the funny, it comes across as a very long-winded joke to get to the punch line. ®
More Home Entertainment Reviews…

The year's best…
Console games
SCE
Gran Turismo 5
Top Ten
Arcade Classics
Cyberlink v. Nero
Authoring suites