Original URL: https://www.theregister.co.uk/2010/12/30/quotes_of_the_year_2010/
Quotes of the Year 2010
Our annual collection of the dippy, inane, and occasionally brilliant
Posted in Policy, 30th December 2010 12:02 GMT
Now a firm Reg tradition, Quotes of the Year is where we round up the stupidest things we've heard all year – mix them up with the cleverest bon mots we've come across – and leave you to decide which is which. It's a shame all can't have prizes – especially repeat offenders such as Jeff Jarvis, Stephen Fry, Cory Doctorow and Eric Schmidt.
"I'm too busy ending two wars"
St Julian D'Assange explains to a journalist why he's got so much on his plate, he can't right now. It sure beats, "I'm sorry, I'm washing my hair".
---
"Under the studio lights, he can seem – with his spectral white hair, pallid skin, cool eyes, and expansive forehead – like a rail-thin being who has rocketed to Earth to deliver humanity some hidden truth"
The New Yorker magazine's Raffi Khatchadourian searches for the appeal of St.Julian – and comes up with Thomas Jerome Newton.
---
"I couldn't help but ponder, as I clicked through this image to read your article, exactly when did Assange grow his extra digit?"
Reg reader "Lee" mailed us on 9 September. Assange has always had an extra digit on his right hand – just as every memorable Bond character needs a distinguishing physical characteristic. But we first noticed in August.
"Now ensconced and ankled bejeweled in a country estate, the media begging for his blovia, Julian is defiant, a century of anger ready for tapping, he keens, he says it again, his media sock-puppets repeats ad nauseum, his precious hornyisms sock-rocketed by Google 500 million times and soon, he warns, thermonuclear armageddon. The aged little girls and guys swoon and scream as if it was the 60s again when Youth reigned futurelessly."
Veteran document disseminator and Cryptome operator John Young was asked to be Wikileaks front man in 2006. He provided running commentary on the Wikileaks saga that was as interesting as anything WikiLeaks put out in 2010. See here for the full posting, and here and here for the Wikleaks mailing list archive.
"I want to be famous for my limp and leaky dick"
There were so many candidates for Quote of the Year from Jeff Jarvis ("Business Thought Leader & Worldwide Media Leader") we could have given him his own category. "I think reporters should be REQUIRED to share their stories/thinking/research before publishing to get input," he Tweeted. "Danger, Tina Brown, danger," he warned on Twitter. "Avoid the siren call of the press. It will suck you in and whirl you around. That's yesterday calling".
But his commitment to "transparency" - detailing his prostrate cancer treatment - that swings it here. Thanks for sharing, Jeff. No. Really.
---
"The use of 'boffin', common at the random-USE-of-CAPITALS end of tabloid journalism, is problematic to many scientists, as the word is increasingly loaded with negative connotations..."
Grauniad science blogger Martin Robbins picks a fight with Lewis. For the record, we clarified:
"On the pages of the Reg the word 'boffin' is a title of honour accorded only to researchers we respect - generally from the proper sciences and able to do hard sums, like Professor Haigh. Lesser practitioners (for instance business-studies or psychology professors purveying dubious surveys and statistical analyses) are generally known as 'eggheads' or 'trick-cyclists'."
---
"Magic of computer is a devil's magic. Youth gets destruction of integrity of reality, the perceptance of the around life is being torn to pieces, like a computer game in which you can restart as many times as you like from the beginning. Young people turn into bio-robots and it's very pity."
A DIY public information campaign in Russia. Look out for Devil's keyboard - with very many keys. More from the same series can be found here.
---
"My partner had been made redundant and I know damn well that he was in bed and hadn't got up and started download pornography"
Maybe he was just cheering himself up. Claire ("a Sky Broadband customer from Shropshire") who according to the BBC received a letter from ACS:Law accusing her of sharing a porn film called Chubby Chasers via Bittorrent. ACS:Law sent out thousands of copyright infringement letters, offering settlement for £500.
---
"Avoid gripping it in the lower left corner in a way that covers both sides of the black strip in the metal band, or simply use one of many available cases"
"And make sure you keep your eyes focused on the shiny thing" - Steve Jobs' email to a customer explained how to cope with radio reception issues in the iPhone 4. Apple apparently ignored the advice of its engineers and carrier partner AT&T. It was forced to open its doors to to the press to show how arduous its multi-trillion dollar testing facilities are, made the phone's signal reception graphic look even more amazing, promised whinging users a free bumper... and the story completely disappeared.
---
"I predict that, in the future, someone will create a killer app that gauges the state of your mind, body, and spirit and automatically offers the exact steps you need to take to realign all three aspects of your being"
Ariana Huffington fails to realise that merely opening the box of a new iPhone 4 already does this. No apps needed.
---
"What we are seeing is that there are possibly minds in the universe that biology cannot get to, but technology might be able to get there. We are making minds that biology can't make."
You may laugh at Kevin Kelly. You may snigger at his hot tub. You may mock his new book What Technology Wants, in which he calls humans domesticated cyborgs. But... actually, no - just carry on.
---
"Google policy is to get right up to the creepy line and not cross it"
The gift that couldn't stop giving - Eric Schmidt - was a firehose of memorable quotes. "We don't need you to type at all. We know where you are. We know where you've been. We can more or less know what you're thinking about," he suggested. "Street View. We drive exactly once. So, you can just move, right?" advised the Google boss before musing, "It's amazing to me that we let humans drive cars. It's a bug that cars were invented before computers." Your imperfections have been cruelly exposed, puny humans.
---
"Since 1978, O'Reilly Media has been a chronicler and catalyst of cutting-edge development, homing in on the technology trends that really matter and spurring their adoption by amplifying "faint signals" from the alpha geeks who are creating the future. An active participant in the technology community, the company has a long history of advocacy, meme-making, and evangelism."
Designed in California: O'Reilly Media Inc.'s corporate mission statement.
---
"As for digital, I am with the utopians"
Rupert Murdoch is attempting to create a market for newspaper content - by reinventing the newspaper bundle on an iPad, and charging a subscription for web access . The Telegraph is following suit with its own pay-to-play scheme. But The Guardian's editor Alan Rusbridger bravely keeps the faith. There will be no money lenders in his temple.
Parent company GMG is currently losing £500,000 a day.
---
"Personally I think the internet-improved journalism will involve sub-editors, because language is a virus"
Like a brilliant Teutonic meteor streaking across the sky, shedding sparks of sociological speculation as she buffeted the atmosphere of Web 2.0, Dr. Mercedes Bunz lit up our lives too briefly. She has now departed from The Guardian's tech pages, leaving us sadder and a little more less unwise. El Reg's own bold experiment with post-modern analysis sadly lasted only one day - as visiting Professor of Gender and Social Media Communications at the Hans Krankl School of Art at Bad Krautspröse, near Innsbruck Porsha Kling has returned home.
---
"A stupid person's idea of a clever person"
Julie Burchill gives herself credit for coining this description of Our National Treasure™ - which probably occurred to several million people at once, whenever Stephen Fry said something annoying or stupid. Which was quite often. Accept no substitutes.
The beauty of this one is that it is infinitely extensible:, ie, "A trick cyclist's idea of a boffin". It'll run and run.
---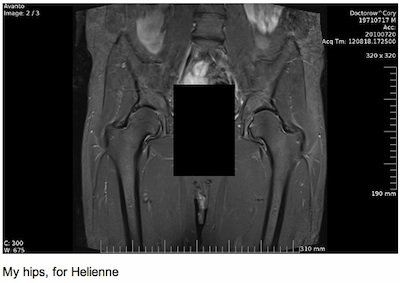 "My hips, for Helienne"
Gentlemen have devised many ways of attracting the attention of the ladies - could this be the most inventive yet? Sadly, no. After a column by the Guardian's Helienne Lindvall asking why the "gurus of free" demand such exorbitant speaking fees, Cory Doctorow explained why he absolutely must travel first class. And offered proof.
Thanks, Cory!
The tiff concluded here. Pic: © Cory Doctorow - politically-correct licensing terms apply.
---
"What I'm seeing in my nerd brethren is an increasing combativeness, a loss of empathy, and creepiness. It's just another supremacy movement, ultimately. It just happens to be nerd supremacy."
Jaron Lanier, who wrote a pretty decent book about techno utopianian daftness this year, via the LA Times.
---
"Privacy is the place where we do bad things, we hide our misdemeanours, we hide the really embarrassing things we really wouldn't want to tell our wives and children… In the last 15 or 20 years of doing this, I haven't met one single person who's banged on about his privacy who hasn't done something wrong."
Paul McMullan, a former News of the World editor. Via Guido.
---
"One scientist dreamed the biologists played the cormorants in a game of hockey on West End Island, cheered on by a crowd of drunken elephant seals."
Perfectly timed to coincide with the opening of the movie Inception, the SF Chronicle reported how scientists maroooned together for several weeks began to share the same dreams. From the diary they kept, we are completely convinced drugs (or cheap cider) had nothing to do with it. No, sir.
---
"Science isn't fun. It's just maths in fancy dress"
Frank Skinner enters the debate over whether education should mean "lifelong learning", by making a convincing case for lifelong ignorance.
---
"I believe the promises within t'be as reasonable an' realistic as many of the others made in modern politics"
Serious candidate for the Cities of London and Westminster Parliamentary constituency, Mad Cap'n Tom (pictured) found himself pitched against a joke candidate, Jack Nunn, from the Pirate Party UK ("an international civil rights and human rights movement"). It split the novelty/freetard vote down the middle, and results were even. Tom grabbed 84 votes and Nunn 90.
---
"In the IT world the equivalent is bootstrapping, which is nowhere near as interesting as it sounds. But in the political/meeja/NGO world there doesn't appear to be a term for it - so I have invented one and I'm inordinately proud of it. Carousel propaganda© is a plague on democracy.
Frank Fisher coined "Carousel Propaganda" last year, but it only caught on with bloggers and pundits this year. It refers to the way media, politicians and activists quote a piece of evidence that has no basis in fact at all; like check-kiting, the funds are non-existent. Brilliant.
---
"My biggest terrorist client was the IRA and I am pleased to say that I managed to write off more than £1 billion of its money"
Lord James of Blackheath, in the oddest Parliamentary contribution of this or any year. He also described an international organisation he called Foundation X "that wishes to make the United Kingdom one of the principal points that it will use to disseminate its extraordinarily great wealth into the world at this present moment, as part of an attempt to seek the recovery of the global economy." What was he on about? Unfortunately the press was distracted by the diplomatic trivia seeping from Wikileaks - and didn't want to find out. Read the whole thing here.
---
"Thickly populated by fraudsters, pornographers of the worst kind and cranks"
Irish High Court judge Judge Peter Charleton describes the internet.
Did we miss any? Let us know. ®