Original URL: https://www.theregister.co.uk/2010/12/30/not_spot_mailbag/
Diary of a Not-spot: The readers speak
A wooden horse, a pole and a whip just for show
Posted in Networks, 30th December 2010 10:04 GMT
Our coverage of the struggle to connect a not-spot attracted a lot of feedback, some of it very useful, though it seems not everyone bothered to read the piece before chipping in.
The story concerned an on-going attempt to get broadband connectivity to a rural house, culminating in a microwave link of dubious construction and lamentable performance which appears, none the less, go be the best option available.
I was delighted to hear from scores of El Reg readers who deluged my mailbox, and the public comments, with suggestions, comments and feedback, some of which is detailed below.
Starting with those who lambasted my choosing an omni-directional antenna as pictured on top of the Solwise kit - I didn't.
The whip antenna is designed for 2.4GHz, rather than the 5.8GHz (082.11a) I'm using and I only attached it 'cos I thought it looked rather good. The box has a 16dBi antenna mounted inside which is suitably directional.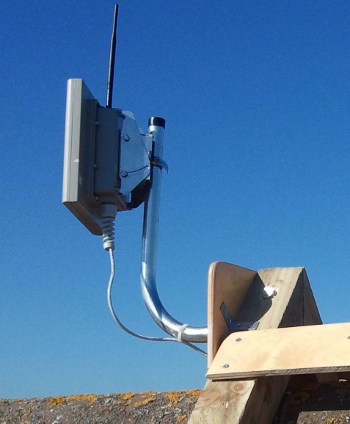 The box takes one wire and contains all, the whip on the top is for style
On the subject of directionality: I appreciated the people who suggested using a laser to ensure the antennas are aligned correctly. Unfortunately even with binoculars I can't Claire's house from here, so I'm probably not going to be able to hit it with a laser while sitting astride the roof - there's also the problem of only owning one ladder.
Better was the suggestion of attaching a red flashing bicycle light at one end for viewing from the other, and I'll be giving that a go once the weather improves. I did twist the antenna around quite a bit to get the best signal, so I'm not sure if it will help but the suggestion is appreciated.
That signal is (at the time of writing) reporting itself at 50 per cent, with a noise level of -93dbm, and from what I understand it's the latter figure on which I need to work.
Greater height is difficult, though I've had several useful discussions with readers about building a ground-based mast without a cherry picker.
A better dish antenna is easier to do, though not as easy as some have suggested. It's quite windy around here, regularly hitting 70mph and once blowing out a plate glass window, so not really Pringles-can-on-stick territory. Similar problems come in hoisting the unused satellite dish up there, I like my wooden horse but I'm not going to be lashing a 1 meter dish to it even if I thought I would be able to climb up there with the thing strapped to my back.
Speaking of wooden horses...
Speaking of the wooden horse, several readers mailed to ask for details of its construction, though I wouldn't recommend the roof-straddling technology as an ideal solution here are some details: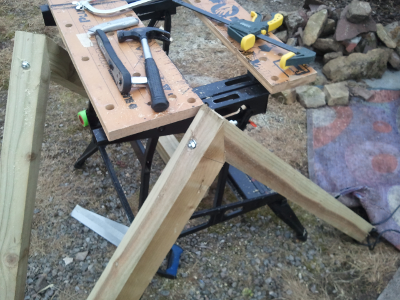 The legs are 75mm fence posts, bolted together using a length of thread and M10 bolts at each end. The other bits of wood are a redundant high chair while the curved metal pole came with the Solwise kit.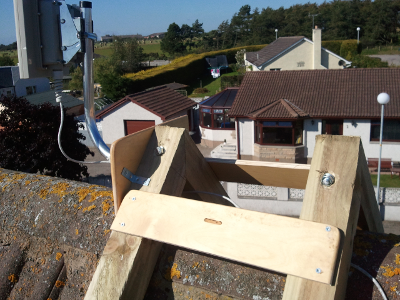 The horizontal bars were added in situ as I couldn't heft the thing up in one piece
The additional height, not pictured, was achieved with a couple of slotted shelving mounts held in place with jubilee clips - which have stood up to local storms surprisingly well though I don't think I can stretch the height any further without rethinking the design.
A smaller dish, and/or better radio makes sense, and several people pointed out that Ubiquiti make something suitable. An external antenna is a pain as there's nowhere on the roof to put the radio (let alone a separate laptop with a USB Wi-Fi point, as several people suggested - there's no mains power up there and the fewer boxes there are the less likely they'll come crashing down). Ubiquiti's NanoBridge comes with a 25dbi dish, which looks feasible and I'll probably pick up a couple of those in the New Year, weather permitting.
None of this would be necessary if my neighbours hadn't shunned my Ethernet connection, and the sympathy of readers was appreciated. Several people questioned the use of CAT-5 over 150m, but when it worked it worked fine. Not that it worked for long, and should I be trying the same thing again I'd certainly take the advice to bury some hose pipe by way of conduit.
A couple of readers suggested linking together buildings is dangerous in itself, as a potential difference may build up between the two if they have separate earths. I hadn't heard about this so checked with a suitably-qualified spark who agreed that it could happen, though considered it very unlikely - especially given that the houses nearby will probably share the same earth (at the local sub station, the houses being reasonably new and stake-in-the-ground-earth being rare in the UK these days). Even if the earth connections were separate a shock would require multiple failures, and be cut off by any modern fuse box, so overall a good deal safer than climbing around on the roof with insufficient safety equipment but something to consider if you're planning anything similar.
Several people asked why I didn't stick with satellite - one can get used to the latency, and I accept that not all satellite companies are as inept as the ones I used, but there's still something wrong in sending packets up to geostationary orbit and down again. If nothing else works, and Hughes starts selling connections over Avanti's new bird, then I'm still prepared to consider it.
But first I'll get some Ubiquiti kit and see if that helps, then perhaps some mast building to gain height, but none of that until the snow and ice is gone. So thanks loads for all the feedback, every message is appreciated, and when I've progress to report I'll be sure to let you know. ®