Original URL: https://www.theregister.co.uk/2010/12/22/little_black_book_iphone_case/
iPhone case makes like a Moleskine
Eng Lit fanboys, take note
Posted in Personal Tech, 22nd December 2010 10:51 GMT
Time was when some of us would secrete a crafty packet of fags inside a book, but now it seems that the Apple iPhone 3GS and 4 has reached such a high level of public approbation that it needs to be hidden away in a similar fashion.
Enter the Little Black Book for iPhone, a case cunningly disguised as the middle class journal de vivre of choice, the Moleskine, complete with leathery cover and elastic band to keep it closed.
The effect of pages is provided by the laminated wood interior, though there are gaps at the top and bottom for dock connectors, speaker, microphone and headset.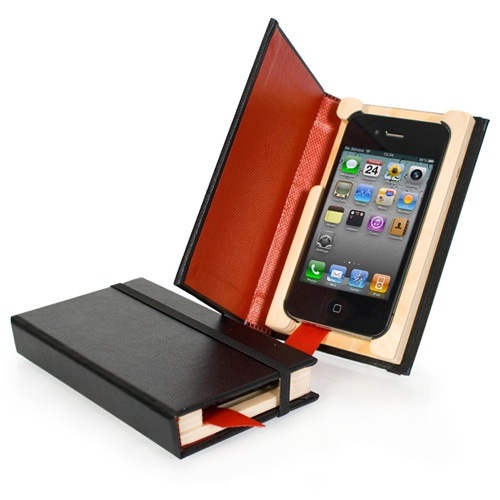 Just don't leave your earphones in while waxing lyrical abouy Bruce Chatwin, Ernest Hemingway and other famous Moleskine bores, or you will immediately be seen for the literary wannabe you are.
Nor should try to keep bus tickets and other relics of your distant travels in the special pocket at the back - there isn't one.
People who Travel should journey over to Firebox, where they can snap up the Little Black Book for 40 quid. ®