Original URL: http://www.theregister.co.uk/2010/12/21/games_review_world_of_warcraft/
World of Warcraft: Cataclysm
OK, where are the pandas?
Posted in Games, 21st December 2010 07:00 GMT
Review World of Warcraft actually bears more than a passing resemblance to it's new - or old, depending on your perspective - villain Deathwing. Since its launch in 2004, it has trampled through the lives of millions, wreaking havock and destruction while altering the landscape of massively multiplayer online role-playing games forever.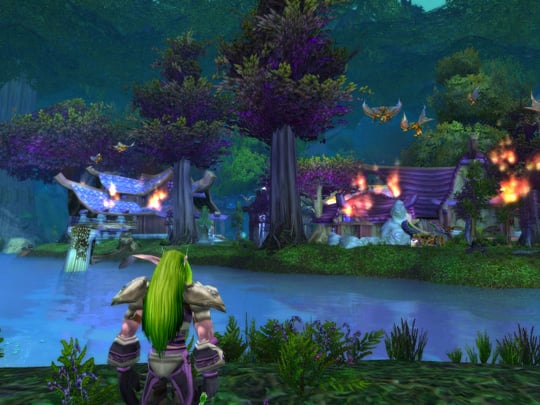 Burn the Village People
Cataclysm is the third expansion set to be announced at Blizzcon 2009, which isn't really that long ago but has seemed like an eternity for those of us who hit 80 and got bored with Wrath of the Daily Quest – sorry - Lich King, long ago. To entice me and my monthly subscription fees back, Blizzard have woken Evil old Deathwing the Dragon. The Daddy of the black dragon flight is not a happy bunny and the fallout is some jawdropping environment changes to Azeroth.
One question, though: wasn't this expansion supposed to see us brave heroes entering the Emerald Dream? Not to mention all the talk awhile back of underwater WoW and having Naga as a new playable race. Making the Black Dragon flight the main baddies once again seems a bit predictable, in spite of all the world-changing (Lava? Again?)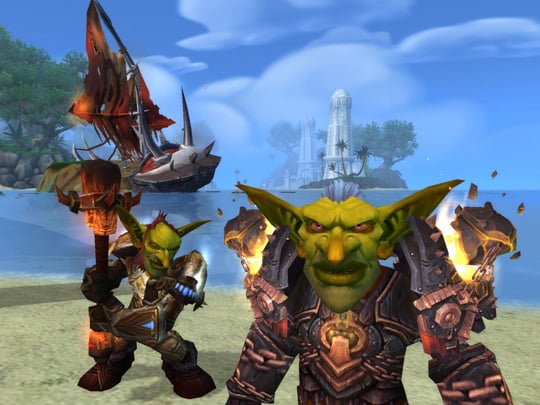 Shut your goblin
Anyway, what I'm excited about are the two new races Cataclysm has to offer: the Worgen coming down for Alliance, and Goblins now siding with the Horde. I may be excited but I'm not happy. I am Horde through and through; why are you punishing me with such a lame new race - goblins? WTF?! Should've been Worgen for Horde - no human state - and Pandaren for Alliance. Blizzard has been promising Pandaren as a playable race since forever. I imagine I'm not the only one severely disappointed by the lack of fuzzy brewmasters. Is Blizzard afraid of their awesomeness?
But screw it, for this review I will turn traitor…. Worgen for the win!
What big ears you have..
The Worgen starting zone is super creepy, Gilneas resembling old school Peckham on a Saturday night (brrr!) and taking game immersion to a whole new level. Starting out human (gack) does not appeal to me, but with waves for Worgen on the hunt, happily you're soon dog-meat. Oh but you're not dead dog-meat, just turned into a surprisingly dapper werewolf with a top hat. Come on, I just had to model Worgen in tuxedos! Luckily our alchemist friend is on hand to dish out the drugs, giving us temporary respite from fetching sticks and licking our balls. With all the quests around this starting zone, if there are any noobs left who haven't tried WoW yet, they're in for a gentle learning curve - not only of their class, but of all things WoW. Leveling is now superfast and no longer the grind I felt trying to start a Draeni or Blood Elf.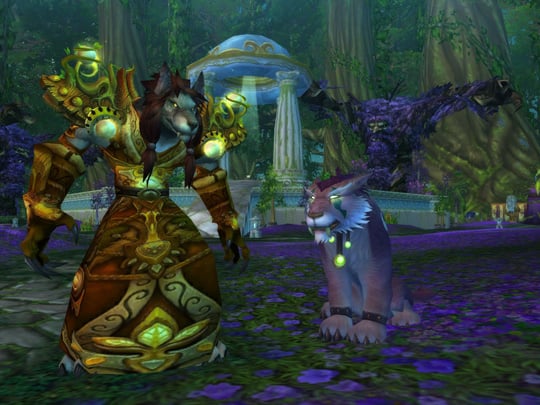 Wassup, dawg?
Apparently the Goblin starting zone is more of a fun slum and is all about the LOLs, so I don't really feel like I'm missing out by rolling Alliance.
Level cap to 85? Disappointing. First, becuase it would've been super cool to get to 90 and, second, unless they plan in coming out with another five-level expanision in six months' time, an awful lot of people will be cancelling their subscriptions by summer. Blizzard almost saves the day by mixing up the classic race and class combinations - something to please the most jaded player. Now that gnomes can be priests will we have all-gnome guilds? You bet your arse we will, and about time too. Can Taurens be rogues, or will their cloppy hooves give them away? This cowgirl hunter just dropped her milk.
So, after a brief fling with the Worgen, I went back to being a cowgirl in an effort to get my existing level 80 character to 85. I grabbed the quest from moonglade and started in Mount Hyjal, and I am happy with the storyline as told so far - Blizz does have a habit of bottling it in the end-game when it comes to lore. Being on a RP server, for me it is all about the lore and some elemental bashing. Deepholm unfortunately seems basically just a dark hole, which didn't appeal to the graphics whore in me. My verdict on this zone: samey and long.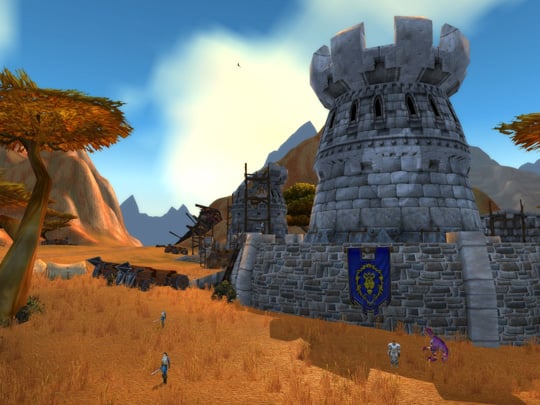 Stand your grounds
In Uldum Harrison (Ford) (Indiana) Jones starts you on an archeological themed chain quest, sphinxs and pyramids abound! Now this is more like it!
I have yet to get the Twilight Highlands and am savoring getting to 85 till Christmas day.
I would like to know what it is like in these zones on a PVP server as the quests see Horde and Alliance leveling together in pretty close proximity… could be messy? Maybe Blizz is trying to revive the corpse of unfettered world PVP?
All the better to see you with
How do the Cataclysm visuals bear up against more recent MMOs? Recent patches have brought the graphics up to date, and Vashj'ir does indeed look impressive, with the water and light improvements being the most noticeable. Flying in Azeroth for a mere 250 gold, you say? Cheap at the price, and a welcome change from previous mount capability gouging! Being able to fly over stormwind was very dramatic and brought a small tear to my eye; this is an experience every long-time WoW player has waited for, and it is worth the wait.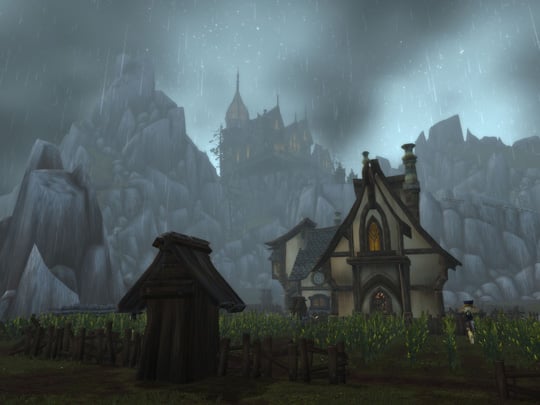 Raining cataclysms and wolves
I am looking forward to running both Black Rock Caverns and Throne of Tides; both apparently entertaining dungeons but they will have to wait until I have managed to catch up on at least a couple of hours of sleep. On Tuesday, the queues to get into the game are ridiculous. And I had to wait a couple of hours yesterday evening to get in. I'm sure this will improve and this shouldn't really affect the rating of this game. My main disappointment is that the quest reward gear isn't more powerful, which is obviously tied to only having five levels to work with. Like most people, I wanted my Tier 10 gear to be totally redundant after Mount Hyjal: new outfits FTW!
Chatting to people in my guild, the opinion was expressed that getting to level 85 and still having 90 per cent of your Tier 10 gear takes a lot of fun out of the levelling experience – who wants to look the same at level cap as they did at the beginning of the expansion?
Failing dismally as an arena player, but enjoying PvP as much as the next cow, I'm really looking forward to Battle for Gilneas, which seems to be the new Arathi basin and Twin Peaks, which is the new Warsong Gulch.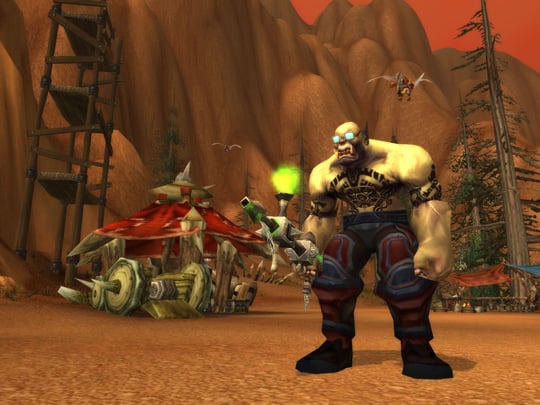 Bright eyes
Verdict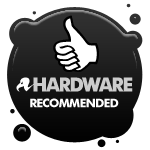 There is a lot of content I don't have time or space to address here in depth but one thing I can be sure of is the beauty of Cataclysm lies in the end-game content and all the extra dungeons, raids and other PvP content that will be added in the next couple of years. Blizzard has pulled out the stops to make this a user-friendly experience for noobs while making some necessary changes to keep those who have renewed their subscriptions happy with a lot of improvements and extras. ®
More Games Reviews

Donkey Kong
Country Returns
Doctor Who:
Return to Earth
Tron
Evolution
007
Need for Speed:
Hot Pursuit