Original URL: https://www.theregister.co.uk/2010/12/20/review_cool_compact/
This year's classy compact cameras
EVIL winners
Posted in Personal Tech, 20th December 2010 07:00 GMT
2010: it's a wrap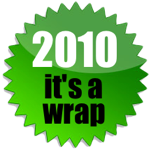 Arguably, migrating from a compact to a DSLR is the assumed route for those harbouring a serious passion for photography. However, this past year the path to DSLR enlightenment had plenty of appealing diversions. EVIL (electronic viewfinder interchangeable lens) cameras were in abundance and becoming more affordable too. The range of Micro Four Thirds cameras – the system of choice for Olympus and Panasonic – was not only expanded but there were a few models introduced for at least half the price of their fully-loaded siblings.
Currently, it appears that Samsung has thrown in the towel on DSLRs. Its Pentax K-mount GX20 from 2008 is still showing on its UK website, but if on-line shopping is anything to go by, the shelves are hardly brimming with them. In 2010 the company focused on EVIL things and brought out the NX range of cameras based around its new proprietary NX lens mount. No doubt eyes were sent rolling – that's all we need, another lens mount – but Samsung wasn't the only company guilty of such. To accommodate different lenses on its new compacts, Sony introduced the E-mount for its NEX range of cameras.
For DSLRs it's always a tough call deciding on which lens mount and thus, which range of lenses to invest in, and now it's become harder with EVIL compacts too. This year's models proved that, if you can live without the optical reflex viewfinder, there was plenty on offer to fill that need for focal flexibility. Here's a summary of the more versatile cameras that appeared in 2010 to help put you in the picture.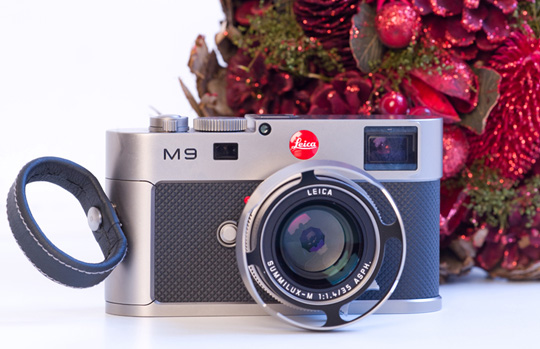 Leica M9 Titanium
Leica introduced the M9 in September 2009 and a year on, the company unveiled a special edition to celebrate. The Titanium M9 was certainly one of the cameras of the year, if you could find one... or afford it. With a run of only 500 units and an eye-watering price of just under £20k including lens, it was an instant collectors' item. Apart from design input from VW/Audi man Walter de'Silva, the standard M9's bright line window was absent, with the Titanium model featuring LED framing for use with interchangeable lenses. As always, a coupled rangefinder took care of focusing tasks and an 18Mp full-frame sensor ensured image quality excellence for a compact.
Featured on the Titanium model was Leica's Summilux-M 35mm/f1.4 lens. Originally introduced in more conventional livery in the summer for M-series owners with rather shallower pockets, this bright, wide-angle M-mount lens went for £3375, which combined with £4950 for a standard M9 body worked out at about half the price of the Titanium model. With over 20 lenses currently available and adapters for many more, regardless of version, the Leica M9 held its own as a unique camera, maintaining its favoured position among photojournalists and its reputation for photographic excellence.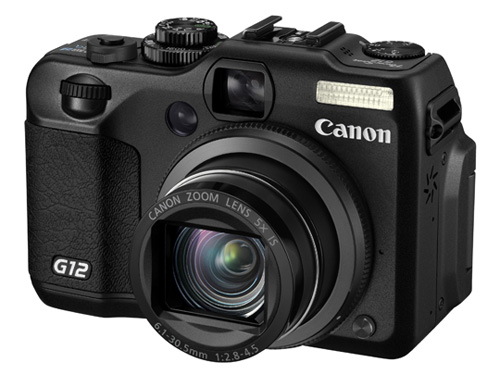 Canon PowerShot G12
When the Canon PowerShot G12 appeared there were relatively few physical changes to upset fans of this versatile compact camera. Look at both the G11 and G12 from the back and it was almost like a spot the difference competition. Up front though, the G12 sported a dial wheel, which while handy to have for white balance and the like, it didn't always appeal to the grip of some users. However, in keeping with 2010's must-have photographic function, the G12 offered 720p HD video recording.
Now, a fair few G11 owners didn't see the G12 as an upgrade worth buying in to, but the devil was in the detail with this model. ISO could be notched up in 1/3 increments, a level function was included to keep horizons straight and Hybrid IS was on offer that could compensate for lateral shift issues that can occur in macro photography. A new AF tracking mode was added along with a high dynamic range (HDR) shooting mode. And like the G11, this camera could also utilise a the TC-DC58D 1.4x teleconverter, so while it lacks the versatility of an interchangeable lens camera, it does have some flexibility and certainly a ton of accessories including an underwater case. In fact, the G12 could also accommodate a lens filter adapter. For a camera sporting 1/1.7in sensor, the image quality is as good as it gets at this level and while the Canon G12 is certainly a well-equipped compact, when you're spending this kind of money, that sensor size may well show that the devil is in the detail.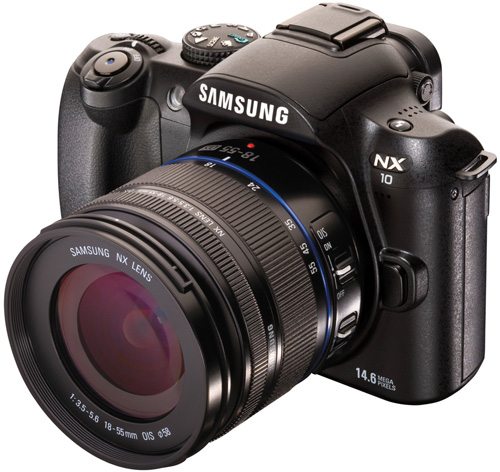 Samsung NX10
With the GX20 DSLR seemingly awaiting retirement, Samsung's NX10 EVIL camera, effectively became company's flagship model in 2010. With only three NX-mount lenses available, most would have have needed a pretty convincing argument to consider this model, but Samsung had thought of that. The NX10 came with an APS-C CMOS sensor which, give or take a millimetre, matched those you'd find on Canon EOS, Nikon DX, Pentax and Sony Alpha DSLRs. This combination of large 14.6Mp sensor on a compact hybrid camera was a tempting idea and one that Sony aped with its NEX models that appeared some six months later.
If you had any moviemaking ambitions, it could shoot at 720p/30fps HD video and overall, Samsung's NX10 proved a very capable performer. Solidly built, it handled well and exceeded expectations in terms of picture quality. The metering was almost always spot on and the camera delivered natural, well-defined images. Although Samsung opted for the megapixels wow factor – instead of having a lower count and bigger pixels – for a sensor of this size, the overall noise performance was respectable rather than outstanding. The initial choice of three lenses may have appeared limiting – the 30mm f2 pancake lens proved to be a real crowdpleaser – however, an expanded range of eight lenses was promised and adapters appeared from the likes of Novoflex to accommodate other optics. The NX10 wasn't just a one-hit wonder either, as Samsung expanded the range with the NX100 compact and the NX5. As far as bang for buck goes, the NX series certainly gave the Micro Four Thirds camp something to think about.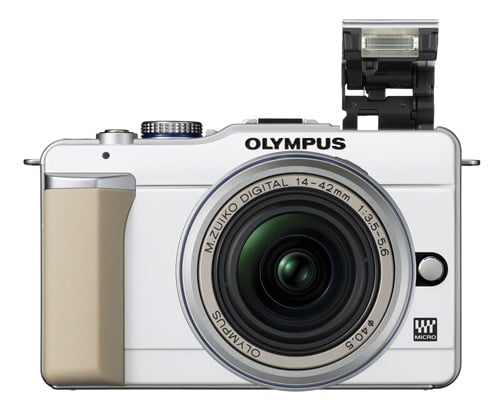 Olympus PEN E-PL1

The retro styling of the original Olympus PEN Micro Four Thirds model went west when the PEN E-PL1 appeared. Yet this was a small price to pay for a what turned out to be an absolute delight for anyone seeking an affordable way in to the world of interchangeable lenses on a compact camera. With fewer dedicated controls, a smaller screen and mono audio on its 720p video recordings, Olympus had a less demanding user in mind with this model, which incidentally featured a built-in flash, missing on its predecessors.
Inexperienced users could configure the camera easily using its range of art filters, scene modes and iAuto live guide prompts, that helped make sense of more subtle changes. Enthusiasts keen to tap into the image quality offered by the same 12.3Mp sensor featured on the pricier PENs were not going to be disappointed either. Along with a choice of six lenses, these PEN models had a comprehensive range of accessories to tap into including lens adapters, optical or electronic viewfinders, underwater kits and an external stereo mic attachment. For those with cost, quality and compactness as major factors in their camera buying decisions, the Olympus PEN PL-1 took a lot of beating.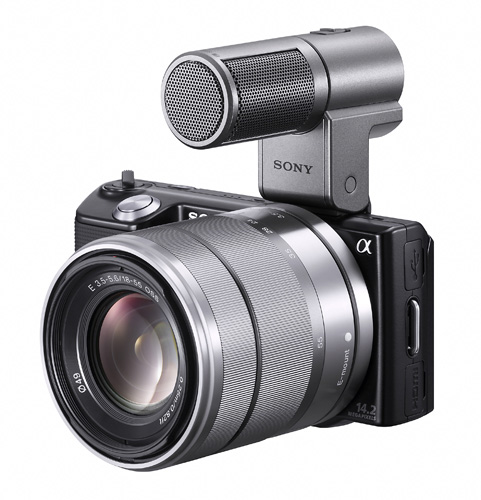 Sony NEX-5 with optional external mic accessory
Inescapable in compacts these days, the two main distinguishing features of Sony's NEX-5 and NEX-3 cameras were the video capture capabilities, at 1080i and 720p respectively, plus a £100 difference in price. Like the Samsung NX10, these cameras featured APS-C sensors and just three lenses with the new E-mount – the 18mm-200mm zoom was the most recent release and it bordered on comical given how it dwarfed the camera body. However, the thinking behind the NEX was simple: big sensor, decent glass, useful auto settings and basic manual control. Sony dispensed with a shooting mode dial – as most never move it from auto – and junked the idea of a built-in flash, serving it up as a clip on accessory instead. Given that the NEX managed to capture decent images even up to ISO 3200, many could live without it.
Married to the 18-55mm kit lens, the NEX-5 seemed more in balance when dangling around your neck and easily manageable in large pockets. Even though the idea was to deliver quality pics and simple operation, the NEX offered various expansion options. The flash accessory slot could also accommodate an external mic and Sony offered an A-mount adaptor to allow users to tap into lenses with the Minolta Konica mount utilised by the company's Alpha DSLRs. Other lens mounts were available from third parties such as Rayqual and Novoflex. Despite the 3D and sweep panaroma gimmickry, Sony demonstrated that the NEX cameras had certain priorities that photographers would understand, the optics being a prominent feature in more ways than one.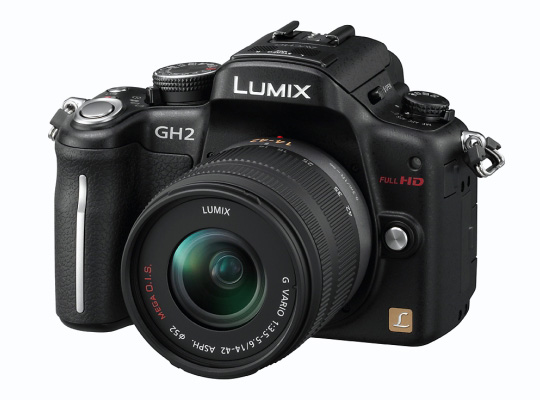 Panasonic Lumix DMC-GH2
Although Panasonic's Lumix DMC-G2 featured an articulating touchscreen display, one of the more endearing features of this Micro Four Thirds camera was its ability to pull focus when recording video by simply touching areas on the screen. You could even take photos this way and the AF would pinpoint the region tapped on the touchscreen. While both the G2 and the cheaper G10 (that lacked the articulating touchscreen niceties) featured 720p video recording and an upgraded processing engine, the pixel count remained at 12.1Mp, as on previous models.
However, later in the year, Panasonic raised the game for the Micro Four Thirds format with the Lumix DMC-GH2 featuring a 16.1Mp sensor and Full HD 24p video recording. At over £300 more than the DMC-G2, you'd have to want that extra resolution pretty badly, but for many, the compactness of these cameras for video work in tight corners was worth every penny. Lest we forget stills photographers, who not only benefitted from high quality images, even at higher ISO settings, but a wide range of lenses, some of which have appeared as a result of Panasonic's association with Leica.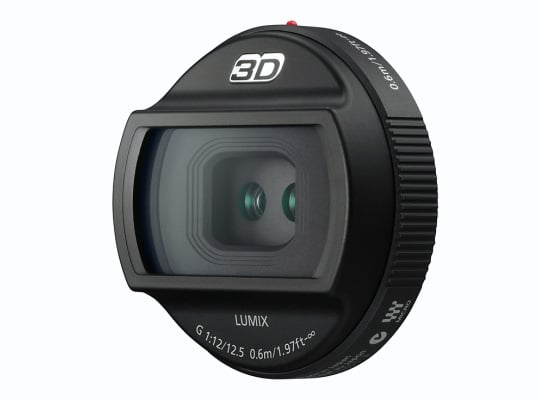 Panasonic Lumix H-FT012E stereoscopic lens
Those into stereoscopic photography could cough up £250 and take advantage of the H-FT012E 3D lens, and Panasonic would happily sell you a suitable Viera 3D telly to make the most of it. The company certainly put a lot of weight behind the Micro Four Thirds format this year, expanding upon it as a complete system. The arrival of Sony's APS-C NEX models may have caused some potential buyers to pause for thought over sensor sizes, but the Lumix G-series had some rather attractive price drops later in the year, which can certainly help in the decision making process. ®
Reg Ratings
Leica M9 90%
Canon G11 80%
Samsung NX10 80%
Olympus PEN E-PL1 85%
Sony NEX-5 85%
Panasonic DMC-G2 85%