Original URL: http://www.theregister.co.uk/2010/12/17/review_games_ios_lara_croft_and_the_guardian_of_light/
Lara Croft and the Guardian of Light
The Tomb Raider comes to the iPad
Posted in Personal Tech, 17th December 2010 16:43 GMT
Review Lara Croft and the Guardian of Light was released on Xbox Live and the PS3 back in the summer, and now it's been faithfully recreated for the iPad.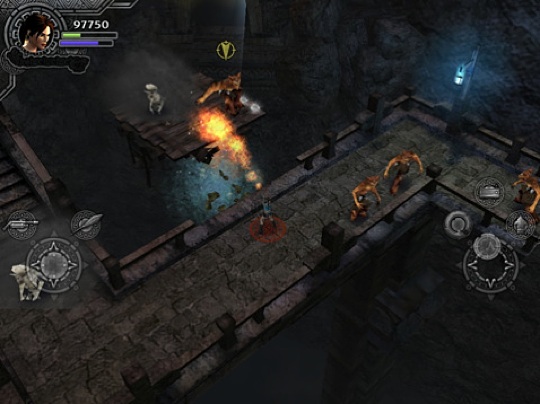 Lara Croft and The Guardian of Light: fire in the hall
Reg Hardware reviewed the console version back in August, and since this is the same game, I won't go into too much detail about it here. Suffice it to say, this is the latest in the Tomb Raider series, and one that brings it back to form, despite shifting the perspective away from the Lara Butt Cam view of old to a camera placed high up in the ceiling.
Now Lara is a tiny toy soldier-like figure at the centre of the screen, for which the iPad's 1024 x 768 display provides more than enough pixel acreage to bring the game's Aztec setting alive in all its gloomy, torch-lit, trap-packed glory.
It's a gorgeous gaming environment, full of shadow-fille corners, pools of light, mist and haze, and even firefly filled foliage. Nothing that hasn't been seen before, of course, but it's no less stunning on the iPad or iPhone for that.
Puzzles naturally play a key part here as they did in the series' heyday, many of them requiring play after play as you perfect your drop-the-ball-run-pick-up-the-spear timing in order to proceed. It's frustrating, yet engaging, pulling you back in time after time until you get it right.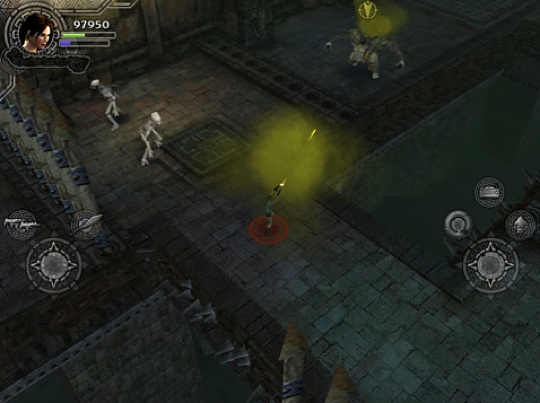 Monster mash
There are a few too many spots where you might think the developers should have dropped in a checkpoint or a health boost, but as with Tomb Raider of old this game is largely about dying in order to suss out how to complete the section when you reincarnate.
Control freak
Combat is more gruelling than puzzle solving, because it's harder. You control not only Lara's movement but, separately, the direction in which she fires her twin pistols, spears or any of the other weapons she acquires during the game.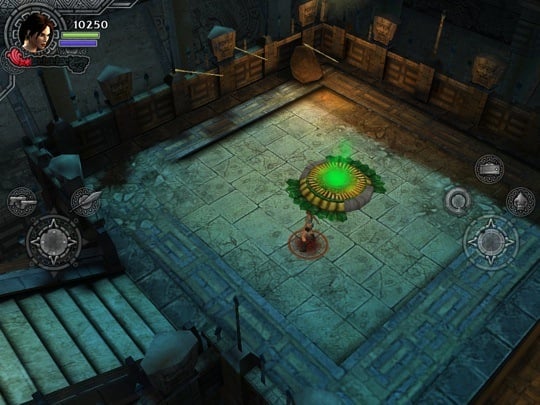 Seven rooms o' gloom
It's darn tricky: movement is controlled with a virtual joystick on the left side of the screen, along with a set of icons for weapon selection. Aiming and firing is literally on the other hand, managed with a second joystick.
Grabbing objects, such as roll-along balls and grappling hooks, involves tapping icons that pop up on the screen as you near them.
Control is the one real weakness with the iPad version of Lara Croft and the Guardian of Light. The game was developed for consoles, and with any console controller you can steer your two joysticks and stab at various buttons at the same time.
Not so the iPad. Changing weapons mid-fight, for example, requires taking your thumb off either the movement or the aiming joystick in a way you wouldn't do on the systems Lara Croft and the Guardian of Light was created for.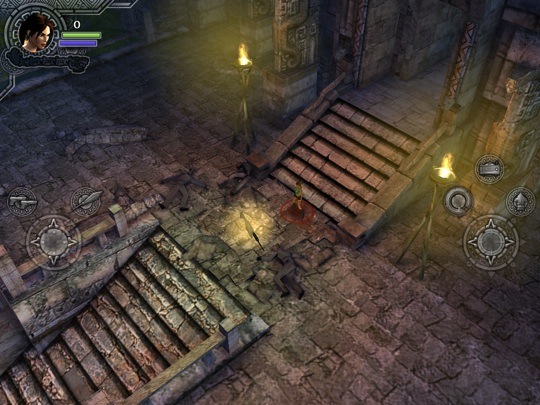 Gun intended
With physical joysticks, you know your thumbs are on them. Not so the touchscreen. I found my thumbs often unwittingly straying beyond the range of the joystick until Lara suddenly stops moving or firing. Getting back involves taking your eye off the action, even momentarily, and it can be fatal.
Likewise, it's hard not to press a physical button when you mean to, but it's very easy to do with a touchscreen - or it is here, at least. Stab too quickly in the heat of the action and you don't grab the object you wanted to.
Croft original
To be fair, this is a problem that affects a lot of iPad games, especially those converted from consoles, but Lara Croft and the Guardian of Light seems particularly problematic. And other games usually offer a choice of control layouts - here all you can do is re-position the controls further up or down the screen.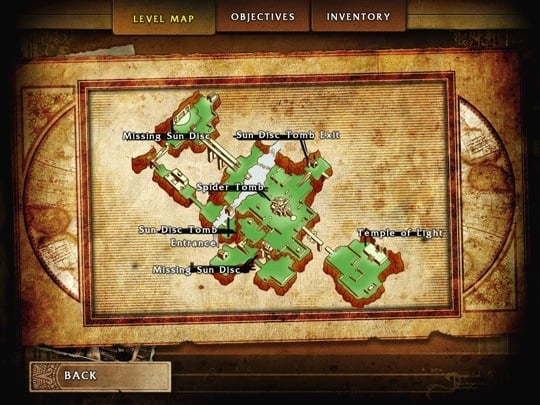 'Show me the way to go home, I'm tired and I want to go to bed'
Still, practice makes perfect, and it is possible to get the hang of the controls. Console fans will undoubtedly do better than an old keyboard-and-mouse guy like me.
And, as I say, there's a lot of gameplay here to keep you coming back and, in turn, gaining that practice. The only downer is that this version of the game contains only ten of the console versions' 14 levels. The "HD" iPad version weighs in at 395MB, so it's not for lack of space that they've been dropped. Likewise, none of the extra, downloadable content (DLC) for the original is included here.
Cheeky, that, but with dozens of Achievements listed, there's still plenty of reason to go back and boost your score. As is stands, it's not a game that'll be over and done with in a few hours. Far from it.
Two-player co-op is present, however, and you can partner with Game Center buddies and anyone on the same Wi-Fi network as you.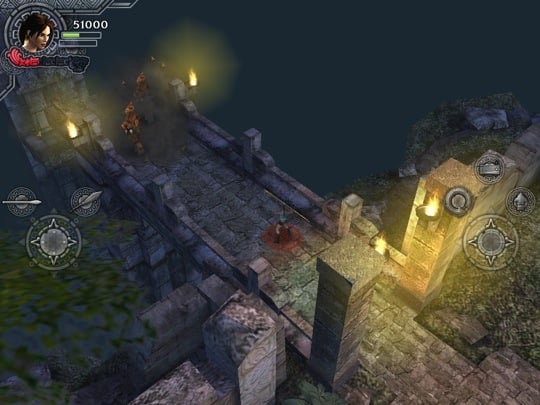 Beastie Boys
Speaking of Game Center, the only crashes I experienced came during the service's auto sign-in sequence.
Verdict
Square Enix successfully brings the latest Tomb Raider - in practice; the branding is absent - adventure to iOS. Lara Croft and the Guardian of Light is bang up to date, yet delivers plenty of play to match the first three games. ®
More Mobile Games Reviews

Infinity
Blade
Ten Essential...
Android Games
Ten Essential...
iPhone Games