Original URL: https://www.theregister.co.uk/2010/12/16/review_gadgets_zeal_optics_transcend_gps_goggles/
Zeal Optics Transcend GPS goggles
The ultimate in cyber ski-wear?
Posted in Personal Tech, 16th December 2010 13:00 GMT
Review Being more a mountaineer than a skier I tend to the view that snowboarders and their ilk are a pretty self-obsessed bunch. Winter-sports eyewear maker Zeal appears to take a similar view, given its new Transcend goggles have GPS built-in to let snowboarders and skiers show anyone who is interested where they have been and how fast they got there.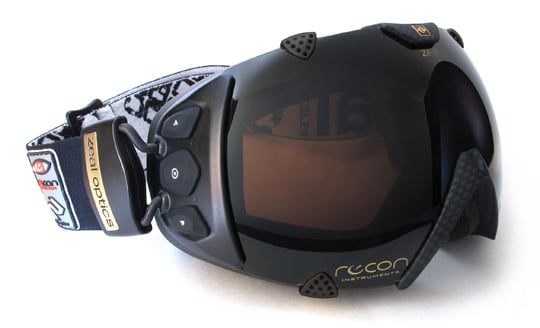 Sloping off: Zeal Optics Transcend
Leaving the GPS tech aside for a moment the Transcends are a more than decent pair of snow goggles. The polarised lenses are perfectly tinted, the fit is snug yet comfortable and the elastic strap has plenty of adjustment. The goggles also have an anti-fog coating and are fully helmet compatible.
It's just as well the fit is snug because you need to wear the goggles tight to keep the little LCD screen that sits in the bottom left corner of the right hand eyepiece in view. Once you have got that sorted the 240 x 320 screen is easy to read when you look down at it but not distracting when you are watching out for obstacles on the hill.
Indeed, that may come as a disappointment to anyone expecting to ape Robert Downey Jnr. and become some sort of Iron Man character, as sadly, the data readouts within the googles don't appear as an HUD.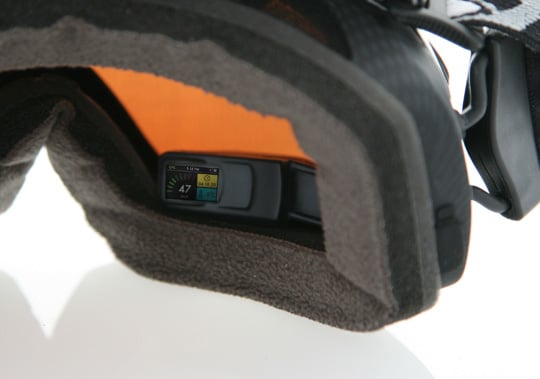 Inside the goggles nestles an LCD showing a range of information
Menu selection and navigation are managed with three rubber coated buttons on the right hand side. These are large enough with sufficient space apart to be easily used with gloves on. The menus are simple too – I managed to swap from kph to mph in a few minutes without recourse to the user guide.
Log and capture
Once activated – time to first fix was about 2 minutes – the GPS and altimeter kick in to record the altitude and position, time and temperature are also logged. By default the display shows your real-time speed and altitude along with a stopwatch but it can also be set to display the temperature or distance travelled, both vertically and horizontally.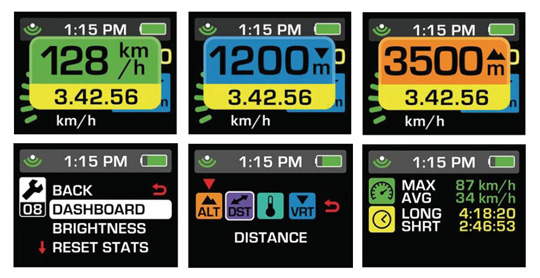 Menu options and stats
Display pop-ups can be configured to alert you when something significant happens such as bettering your previous maximum speed or gaining/losing another 500m in altitude. There is enough on-board storage to record about 40 hours of data and each full charge from the micro USB port is good for around 7 hours of use.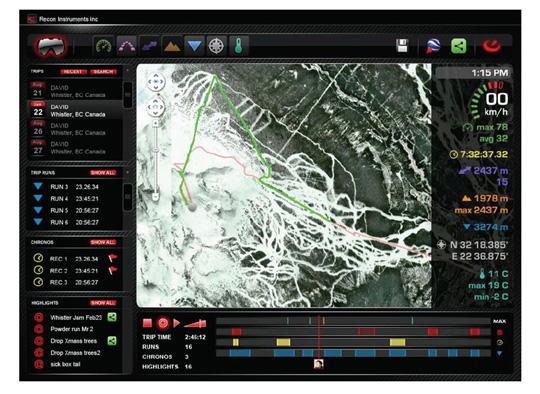 Rekon HQ software maps the courses you took and the rate you took them at
Recorded data can be downloaded and plotted against Google Maps using the ReconHQ application from co-developer Recon Instruments. The app uses a system of algorithms called TrueStats to give accurate vector speeds over mountainous terrain. Recon also hosts an online portal for Transcend users to whip their accomplishments out and wave them about in public.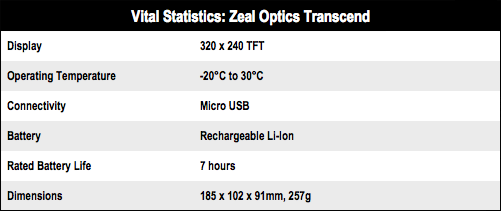 Where eagles dare
To give the goggles a thorough workout I really needed to take them to the Rockies or the Alps, but there's a limit to what I'm ready to do for El Reg. and being found dead on the side of a mountain next spring or plastered against the trunk of a pine tree goes well beyond it.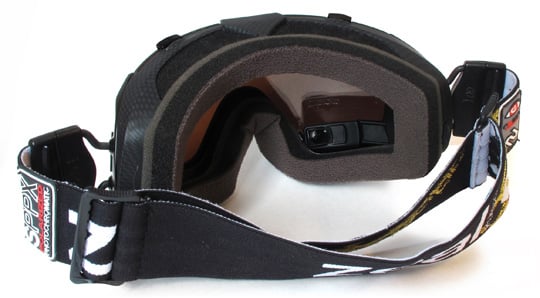 Eyecatching, by design
An altogether more convenient and safer test was conducted at the Chill Factore winter sports center in Manchester. A few runs down the main slope and the goggles did exactly what it says on the box despite being under a roof.
According to the display I managed to hit a shade over 40mph at one point. OK, that's a bit short of the 156.2mph world record but fast enough for me when indoors.
Verdict
At £450, you will have to want the GPS functionality badly to justify the cost. However, the Transcends are an excellent pair of winter sports goggles and the GPS tracking system does everything it claims to. If you are a snow sports fan who wants to hunker over a laptop with your mates comparing the routes you took down a run and the time it took, then they are ideal and I suspect para-gliders and microlight pilots could find a use for them too. ®
More Gadget Reviews...

LaCie
XtremKey
all-terrain USB drive
Phosphor
World Time Curved
E Ink watch
Withings
Wi-Fi
bathroom scales
Telespial Systems
Trackstick
Mini GPS