Original URL: http://www.theregister.co.uk/2010/12/15/review_netbook_asus_eee_pc_1015pem/
Asus Eee PC 1015PEM
The last ride of the netbook?
Posted in Personal Tech, 15th December 2010 13:31 GMT
Review Will someone please do something interesting with the netbook. Even Asus, the company that created this category of computer, doesn't appear to be able to do anything with it, if it's latest Eee PC, the 1015PEM, is anything to go by.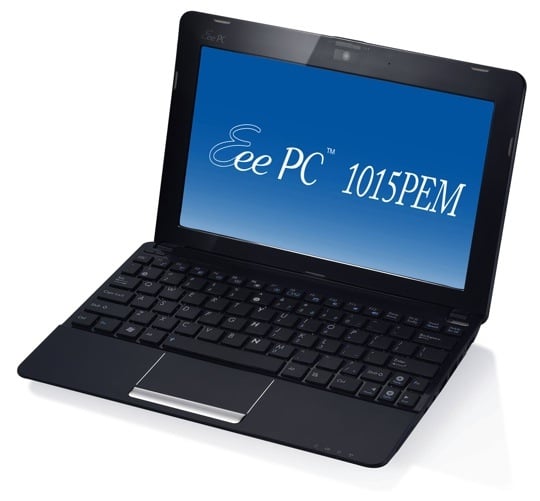 Asus' Eee PC 1015PEM: latest netbook tech on board
That's not to say the 1015PEM isn't a good machine, or that it doesn't come packed with the latest netbook tech. It is, and it does.
It's just it utterly fails to excite in the way that early netbooks did. These machines have found their niche and they're very happy inside it, thank you very much.
The 1015PEM is essentially an upgrade of previous Eee 10x5s. Its key features: a 1.5GHz dual-core Intel Atom N550 processor, a pair of USB 3.0 ports and Bluetooth 3.0.
Taking these enhancements in order, we find that the N550 is certainly faster than its higher-clocked predecessors, the N450 and N455, and delivers boosted benchmark scores accordingly. But the extra horsepower doesn't make the machine feel any faster when you're actually using it.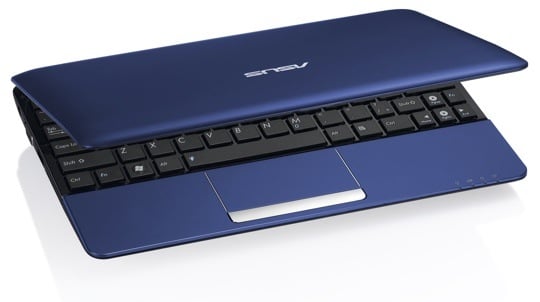 Like all Eee PCs of recent years, you can up the CPU's performance a little - or cut it back to conserve the battery's charge - thanks to what Asus calls its "Super Hybrid Engine" utility. Again, you can see the difference shifting up a gear from "High Performance" mode to "Super Performance" makes by looking at the PCMark 05 scores for each, but it's not going to make applications load any more quickly.
Nice but not essential tech
Part of the problem is the 1015PEM's single gigabyte of DDR 3 memory, another is the use of Windows 7 Starter. But even with that extra core - and the two virtual cores each of them present to the host OS - the Atom is just not a snappy CPU.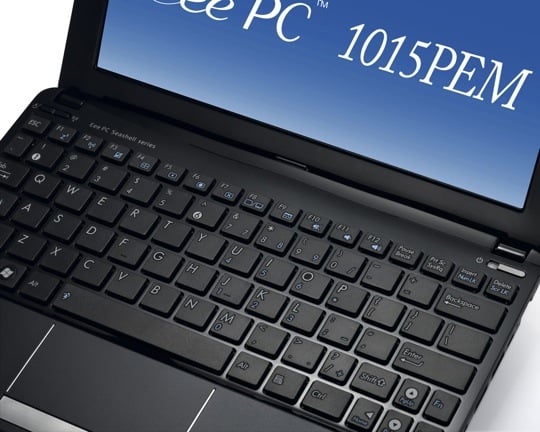 A decent keyboard, and the trackpad is multi-touch
Bluetooth 3.0 looks good on the stickers that PC vendors love to slap all over new machines, Asus in particular. So does the claim that it's "8x faster than Bluetooth 2.1". Few of us yet have Bluetooth 3.0 phones to tether to the 1015PEM for internet access, and most other Bluetooth devices - headsets and the like - have bandwidth enough with 2.1.
USB 3.0 is likewise a nice-to-have rather than a must-have at this stage. Is it really something you'll need in your netbook? Probably not, but it's better to be ready for SuperSpeed as not.
Most buyers won't actually make use of the 1015PEM's Ethernet port, but those of us who do will appreciate that it's rated at Gigabit speeds, not the usual 10/100Mb/s connector you find on netbooks.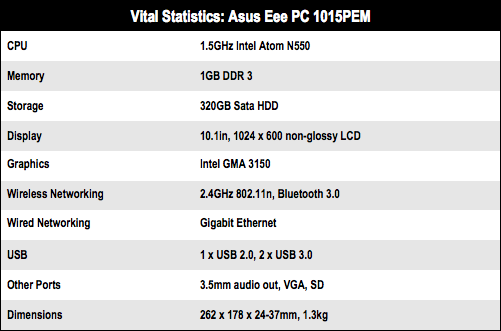 Input options
More useful is the 802.11n WLAN adaptor built in, though it'll only work in the 2.4GHz band not at 5GHz too.

The usual array of netbook connectors...
Following more recent Eee PCs, the 1015PEM has a wee shutter to cover its 0.3Mp webcam less some sneaky blighter hack it over the air and spy upon you watching content your other half would not be amused by.
If your netbook usage is more prosaic, you'll be pleased to know the 1015PEM's calculator-style keyboard is as fine to use as any such not-quite-full-size keyboard ever is. Actually, I had no problem with it at all, or with the trackpad, which is large for a netbook cursor controller. It's flush with the wrist rest area, with only two thin strips of chrome to mark where one ends and the other begins, but it's sufficient tactile feedback to stop your finger from straying beyond the touch-sensitive area.
The touchpad comes from Elan rather than Synaptics, the provider of most of the world's laptop trackpads. But it nonetheless provides basic multi-touch support: two-finger scrolling, and two- and three-finger taps, the actions for which can be customised.

...are enlivened solely by the addition of two USB 3.0 ports
There's no swiping or pinch-to-zoom gestures, but you probably don't want them on a small netbook touchpad anyway.
Benchmark Results
PCMark 05
CPU

Memory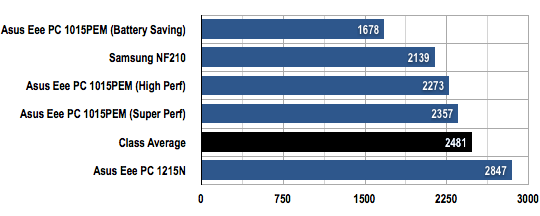 HDD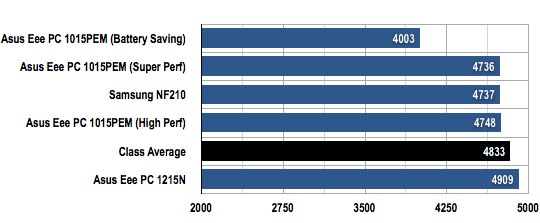 Longer bars are better
Video Playback Battery Life Test

Battery life in Minutes
Longer bars are better
Keep taking the tablets
As I say, all good stuff, and the battery life is decent: just shy of five hours in Reg Hardware's netbook-centric video playback test. Asus claims up to 13 hours, but that's running a more modest workload than looping video. But for all the new, more efficient CPU, it's only an average score.
Incidentally, the 1015PEM's screen is not a bright display, even on max, and that's not helped by the inclusing of an anti-glare screen, though that has other benefits of course, not least no reflections.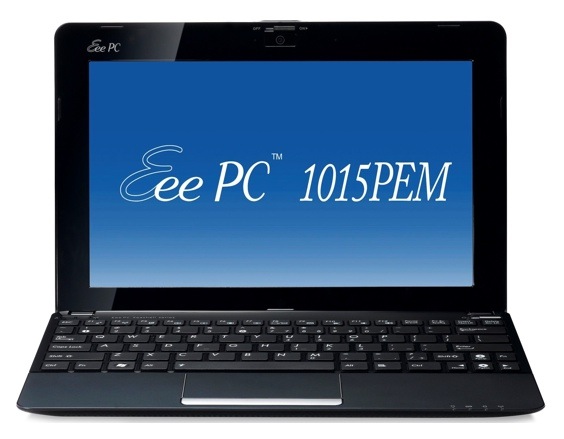 For once, a non-glossy display
No, the trouble is, it's all just more of the same. Say what you like about Apple, but you have to agree that its Macbook Air is bloody thin for a notebook. And it's thick, bulky jobs like the Asus that make is so. The 1015PEM's lid alone is 9mm thick - barely less than an iPad. With base, the 1015PEM is a very chubby 37mm.
Now, some of that is battery - hence the 13-hour eke-it-out runtime. But you'll get that out of a good tablet that's a fraction of the thickness, has more screen area and can handle just the same kinds of tasks. No keyboard, of course, but that can't account for why the Asus - and other netbooks, to be fair - are so darn thicker.
Verdict
Asus' Eee PC 1015PEM packs in as much new technology as you'd expect a netbook to offer, but the result is underwhelming. There's no real improvement in performance over previous generations, though the battery life is better. But netbooks like these are going to have to become considerably more lithe if they're not to be quickly out-evolved by tablets. ®
More Netbook Reviews

Asus
Eee PC
1215
Samsung
X125
Dell
Inspiron
M101z
Group Test...
Netbooks