Original URL: http://www.theregister.co.uk/2010/12/15/electric_black_cabs/
'London black cabs to go electric in 2 weeks' – Boris Guardian
Well, by 2020. Some of them. Partly electric, that is
Posted in Science, 15th December 2010 09:36 GMT
Black cabs "capable of zero tail pipe emission operation" will start to appear on the streets of London by the year 2020 under plans announced yesterday by mayor Boris Johnson.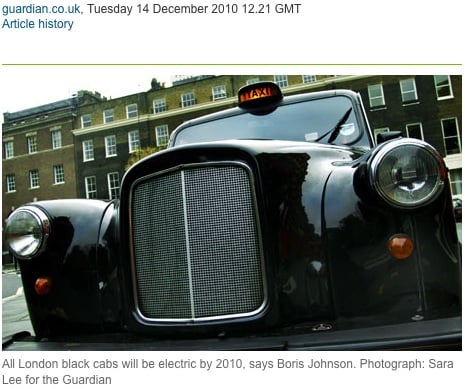 Hurry, Boris, hurry!
The commitment comes as part of the mayor's new Air Quality Strategy (pdf), aimed at cleaning up various kinds of atmospheric pollution which make the capital's air the dirtiest in the UK and some of the dirtiest in Europe – and which threaten to see Britain fined by authorities in Brussels for failing to rectify the situation.
According to the strategy:
The Mayor believes that London's famous taxi trade can and should lead the world in moving towards a zero emission future. He will work with the trade and manufacturers to create a viable road map to this end. The taxi must be affordable for drivers and enhance the passenger experience.

The aim is to produce a taxi with a 60 per cent improvement in fuel economy by 2015 (based on current levels) and capable of zero tail pipe emission operation by 2020. The introduction of such vehicles will deliver significant air quality benefits. There are a variety of promising propulsion and power technologies which could see hybrid, plug-in electric, full-electric and fuel cell taxis on London's roads in the future. The Mayor will establish a financial incentive scheme that will offer a reduction on the purchase prices of qualifying vehicles to London's taxi drivers.
The statement "hybrid, plug-in electric, full-electric and fuel cell" is illustrative of a poor level of knowledge regarding zero- or low-emission vehicle technology at the mayor's office.
Hybrid vehicles, as most Reg readers will know, generally possess both a conventional internal combustion engine and a battery capable of being used to propel the vehicle. The addition of the battery allows the engine to be run more cleanly and economically, substantially lowering vehicle emissions.
An ordinary hybrid such as the well-known Toyota Prius gets all its power from its fuel tank: the battery cannot propel the car any useful distance without help, so there is little point in charging it up from any external source and no convenient means of doing so is provided.
However, it is possible to make a hybrid with a more capacious battery which can actually carry out short journeys without any need to fire up the engine: the Chevrolet Volt, for instance, is such a car. In this case it becomes worthwhile to plug the vehicle in while stationary, benefiting from the absence of motor fuel taxes on electricity - and cutting out emissions from the car entirely for short journeys. Such a vehicle is generally known as a "plug-in hybrid", rather than "plug-in electric" as preferred by the mayor's office.
The next step along the spectrum is actually so-called "range extended electric" in which a small motor generator is used to extend the endurance of a car intended to run primarily on battery power. This is different from a plug-in hybrid as a range-extended job can't run on engine power alone: the generator isn't powerful enough to keep it rolling once the battery has gone totally flat.
Mr Johnson's advisors have skipped this one, however, and moved straight on to "full-electric", a vehicle which has only a battery and electric drive – for instance a milk float or the well-known Tesla Roadster. They gaily add "fuel cell" as though this was a separate (and singular) field of technology: but in fact most existing fuel cell cars are also hybrids.
A few black cabs will be zero-emitters. For the first hour or so each day, anyway.
There are also different kinds of fuel cells and, especially, different fuels on which they can run: most of the more practical fuel options are hydrocarbons and involve CO2 emissions, though a fuel cell running on troublesome hydrogen emits only water vapour. (Bear in mind though that the hydrogen will probably be made by reforming natural gas and so emitting carbon.)
Another one the mayor's people evidently forgot or didn't know about is hydrogen internal combustion: it's actually fairly simple to run a normal car engine on hydrogen from a special tank instead of petrol, though it does involve some minor emissions apart from water vapour and it uses rather a lot of hydrogen. This means that one will normally need to store the stuff as a cryogenic liquid, which leads to the issue of the liquefied gas boiling off from its tank. Thus it's unwise to park such a vehicle in a confined space – or to leave it parked and fuelled up for too long, as all the fuel will be gone in a matter of days.
Some of the technologies mentioned are, as Mayor Boris tells us, "capable of zero tail pipe emission operation". Specifically, plug-in hybrids, battery-only cars, and hydrogen fuel-cell vehicles could be operated without any tailpipe emissions.
Battery-only cars would make terrible taxicabs: with technology likely to be available in a taxi by 2020, they would spend more time charging up than they would earning their keep, and even if fast-charging batteries and numerous industrial power outlets could be deployed that fast at reasonable cost, the brutal charge-discharge cycle implicit in taxi work would require prohibitively frequent replacements.
Hydrogen fuel cells might work better, but hydrogen supplies would be an issue and fuel cells are punishingly expensive. A black cab is already very pricey even using mainstream technology, and an affordable hydrogen fuel-cell one by 2020 – even with subsidies – is probably a pipedream.
The likeliest technology for the "zero emissions capable" taxi of 2020 is, of course, plug-in hybrid – it's no accident that this is the tech that General Motors is banking on with the Volt.
The only snag with this is that a plug-in hybrid can only operate as a zero-emissions vehicle by driving small distances each day. This is quite feasible for a typical commuter, but hardly so in the case of a taxi driver. The first couple of dozen miles driven will be in zero-emission battery mode, and then for the rest of the day the engine will provide all the energy: the taxi will have become basically just another hybrid.
Nothing wrong with that, of course – hybrid has much lower emissions than a typical present day diesel cab – but the use of the term "zero emission" is at best ignorant and at worst misleading. The mayor might well expect to be punished by the media and the voters for making such a misleading pledge.
But in fact it wasn't highlighted by the mayor's office: the announcement of the strategy focused rather on simpler, nearer-term plans such as phasing out the oldest diesel cabs and introduction of twice-yearly inspections in place of annual – which latter should ensure that cabs are better adjusted and emit less pollution. Rather than CO2, it is emissions of NOx and particulates (eg diesel soot) which are a major issue in London.
In any case, Mayor Boris is probably safe from informed or accurate media analysis of his plans – even supposing he is still in the Mayor's office in 2020 to account for himself. The fabulous soaraway Guardian, having read the strategy, gaily assures us that "all London black cabs will be electric by 2010, says Boris Johnson" (picture caption and, less obviously wrongly, headline).
Quite apart from the fact that there are only a couple of weeks of 2010 left (whoops), what Mayor Boris actually has said is something more like "a small proportion of London black cabs will be electric for a small part of the day starting in 2020".
But what the hell, eh? Merry Xmas, Grauniad. ®