Original URL: https://www.theregister.co.uk/2010/12/14/phantom_ray_jumbo_ride/
Robo stealth bomber piggybacks on NASA's shuttle jumbo
Desperate Boeing brings Phantom Ray show to California
Posted in Science, 14th December 2010 11:52 GMT
Pic US arms'n'aerospace megacorp Boeing has now moved its Phantom Ray robot stealth fighter to Edwards Air Force Base in California for flight testing. The unmanned jet was shipped there on the back of one of NASA's well-known piggyback jumbo jets, more usually employed moving space shuttles about.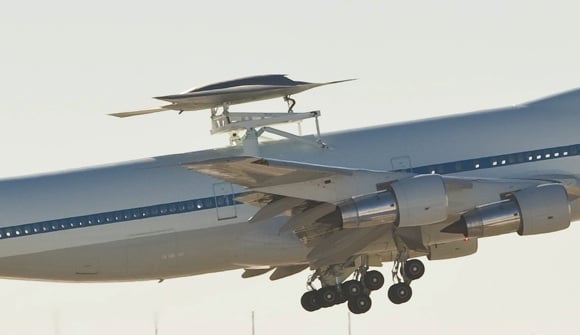 You don't see this every day. Hires TIFF here (warning, 27.4 MB).
It's widely thought among major weapons firms such as Boeing that craft on the general lines of the Phantom Ray will be the next major step forward from the manned stealth jets – F-22 Raptor and F-35 Lightning II – now going into service with the US forces (and other Western air forces soon). Barring the appearance of working rayguns or something, there isn't really a lot more one could do to a combat jet to make it better now, except maybe removing the pilot.
This would mean that the aircraft could be happily sent into dangerous enemy air-defence networks without any risk of dead pilots, or – perhaps even worse – captured pilots triumphantly exhibited on TV. This would make the air defences themselves easier to destroy should this need to be done, and also eliminate any need for a major defence-suppression air campaign before any targets could be bombed.
Present-day unmanned aircraft mostly need to be remotely piloted constantly across a decent-bandwidth communications link. Those that don't still require a non-pilot operator to direct their actions, in particular the release of weapons. Very few of today's roboplanes have much chance of survival in hostile skies controlled by an enemy air force with any serious kit (though there is already, perhaps, an exception to this rule).
Thus it is that several American firms and the national weapons companies of the UK and France (allied with some other continental nations) are all working on things a lot like the Phantom Ray. These (the Northrop X-47B, General Atomics Avenger, British Taranis and French/European Neuron) are all fighter-sized planes intended to be able to mount a bombing mission largely autonomously – requiring no operator input to fly somewhere, deliver a weapon to a specified location, and fly back again. The lack of comms requirement and advanced stealth design should mean that such aircraft can have a decent chance of survival even against serious opposition – and their lack of a pilot means that they will have a decent chance of being sent in even if that chance of survival is not perfect.
The arms firms' reasoning seems perfect – and yet, in fact, actual government customers desiring such machines are scarce. The world's air forces are mostly feeling strapped for cash at the moment, and on top of that they are organisations run by pilots; worse still, organisations whose status as combatant military services is to a large degree dependent on the fact that they mainly operate aircraft whose crews at least nominally go into harm's way*.
If the prized mission of deep strike finally goes fully unmanned, airmen would lose a lot of their remaining status as warriors: and pilots would be relegated almost entirely to despised tasks such as driving helicopters and transport planes (maybe not too much even of that, as there are moves to automate supply choppers too). And anyway, the problem for most air forces right now is how to pay for the final generation of manned jets – probably the F-35 for most – not whatever might come after.
And there's no push from the real world to get robot stealth bombers into service. For Afghanistan, relatively primitive craft such as the Sky Warrior, Reaper etc are just fine. For any notional strike against, say, nuclear facilities in Iran, existing aircraft could probably do the job without trouble now that Russia has agreed not to supply Tehran with dangerous S-300 missile systems (the already delivered TOR-M1 is only effective up to altitudes of 20,000 feet or so: you wouldn't even need stealth to beat it). The issue would not be air defences, but getting through the heavy concrete lids protecting some of the targets – but the answers to this could be relatively simple.
So nobody really needs, or thinks they might need, the likes of the Phantom Ray. Even if they did they might conclude that something else – a barrage of cruise missiles, or a crazy suborbital weapon of some sort – was a better route to go down.
All of which explains why the US taxpayer is not coughing up a cent for the revival of Phantom Ray – Boeing has paid to bring the X-45 out of mothballs and send it to Edwards. Northrop's X-47 is being paid for by a government programme, but this is actually a US Navy effort aimed more at proving that unmanned aircraft can fly from carriers, rather than an effort to acquire the next generation of of strike craft. The GA Avenger has yet to find a buyer, and the Taranis and Neuron only exist because otherwise the fighter design shops of the UK and France would be closing down right now: they are makework projects.
Boeing has allocated funds for a six-month Phantom Ray test programme at Edwards, apparently in large part to justify press releases and photos like the one above, which might get some buzz stirred up and attract some attention. But one has to suspect that nobody in the US government is really listening, and once the company cash runs out the robot jet will be going back into mothballs again. ®
Bootnote
*The much-bloodied ground troops now fighting in Afghanistan (and in most other wars since Vietnam) generally have a fairly scathing view of the risks run even by helicopter crews who are to a large degree in the thick of things with them. They tend to scoff outright at the idea that a fixed-wing aviator really runs any appreciable risks. But it's more a civilian's viewpoint that counts here, and civilians would tend to see flying a bomber – even over Afghanistan, as opposed to say Iran – as reasonably dangerous.