Original URL: https://www.theregister.co.uk/2010/12/10/review_game_infinity_blade/
Infinity Blade
Is the iDevice fantasy fighter as sharp as it's claimed to be?
Posted in Personal Tech, 10th December 2010 11:49 GMT
Review Infinity Blade certainly wowed the crowd of coders at last June's Apple Worldwide Developers Conference, prompting cheers from the audience when an early version of the Unreal 3 Engine-based game was shown running on the iPad.
Six months on, and the game is finally here. Yes, it's as pretty to look at as the demo suggested, but it's not the revolution in iPad gaming publisher Epic Games is hoping you'll think it is.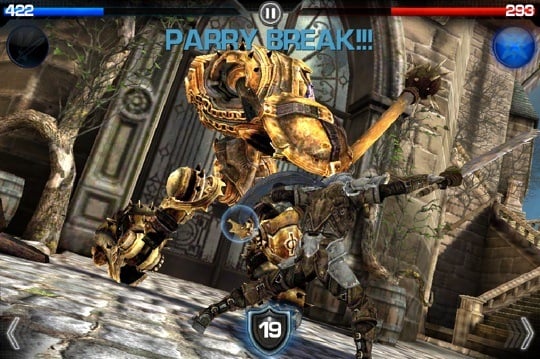 Street Fighter, meet AD&D
That's not to say it's bad, or dull - quite the reverse - just that it might not be the game you're expecting.
The story you can read in a million pulp fantasy novels: evil bastard rules from his ruined castle, and you're the uppity SoB who's decided to do something about it. Standing between the two of you are a dozen or so grim opponents, all bigger than you - and your dad. Defeat them all and you have a shot at Mr Big, the God King, armed with the titular Infinity Blade, himself.
This being nominally an RPG, successful combat ups your experience, improving your chances against the beasts before you. Your prime enemy is level 50 so your chances of prevailing in the early stages of the game are very slim indeed.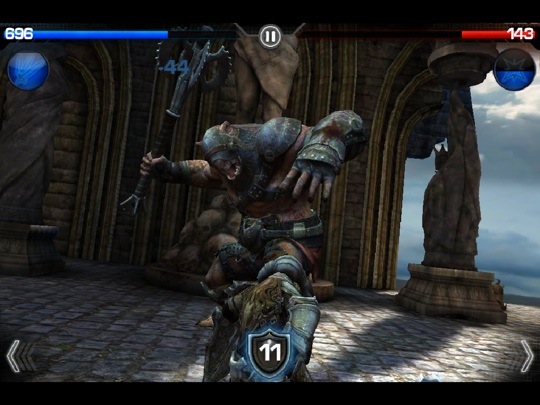 You gotta Troll with it
He will hand you armour-clad arse as readily as any teen gamer on Xbox Live or PSN will, though he's rather more polite about it.
Passed from father to son
And here we come to Infinity Blade's novelty: you come back, not, in true, illogical videogame fashion, as yourself, but as your own revenge-seeking offspring. You killled my paw and so forth.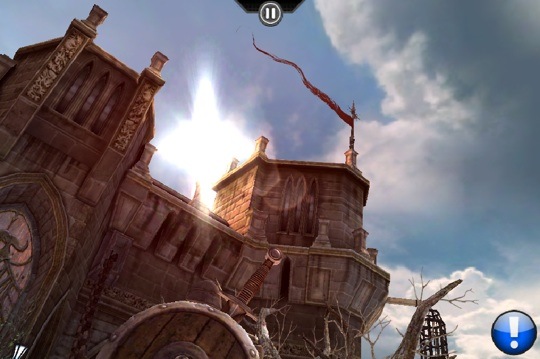 'If you look to your right, you'll see the famous the Bloody Tower, built by Sir Hengist in the Fifth Century'
Some 20 years on - during which time the God King has kindly returned your old man's kit to your sole surviving parent, and you've trained yourself up to dad's level - and you're ready to have a go yourself, for the honour of the family.
The castle remains entirely unchanged during the intervening years - the weather's no different either - and its new guardians patrol the same areas as their late predecessors did.
Here we encounter what is Infinity Blade's chief disappointment: stunning the castle may look, but there's not very much of it, and you're destined to tread the very same ground over and over again. Your feet are on rails, and there's only one junction: do you go straight into the main hall or up a set of stairs to the right? The latter give you a couple more baddies to bash but still takes you to the room behind the main door.
There's no exploration here, unless you count glancing around at ever stop to look for bags of gold, treasure chests and vials of health-boosting balm that the God King has carelessly left lying around.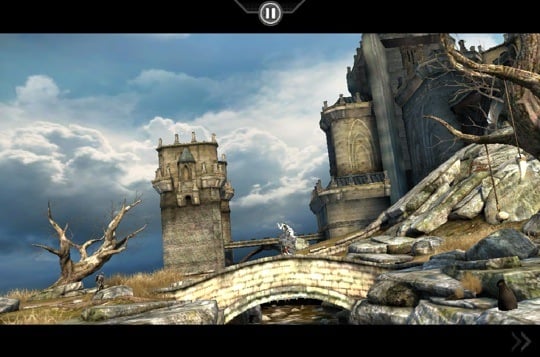 The Bridge of Scythes
So beyond building your experience level, choosing and using weapons, armour and magical rings, there less role-playing here than there is running around as the Master Chief in Halo. Infinity Blade is less RPG, more 3D fantasy Street Fighter, so you walk from bout to bout.
Hack, hack and hack again
But combat is fast, furious and engaging. In early fights, the game guides you through some basic strokes and blocking manoeuvres, but after that you're on your own, left to swipe your finger frantically back and forth across the screen, tapping rapidly to push back locked weapons and pausing only to stab at the dodge or shield buttons, or the mighty bash and magic icons, which charge up as you fight.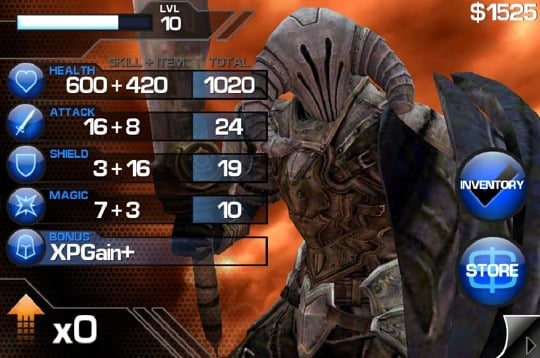 Level headed
Tap the Spell button and you have to draw out the given symbol on screen. Careful though, a whack from your opponent will put you off.
How much of your fight is luck and how much is the judgement of an opportunity grabbed slash isn't clear, but that's probably true of real hand-to-hand combat. The action is real-time third-person, but the viewpoint is close enough that it feels almost like an FPS.
Precious little help is provided - it's left to you to spot in the opponent info panel you can pop up that the Feral Troll in front of you is impervious to swords. Switch to an axe, and you're ready to fight. No axe? Buy one from the ever-present shop with the gold you've amassed - unless you've spent it mastering the equipment you have.
Mastering weapons, rings and so forth gives you points to spend on improving your stats. But a mastered weapon conveys no experience points after a fight, so you have to judge your upgrades carefully. And, like real life, you're encouraged to upgrade whenever possible.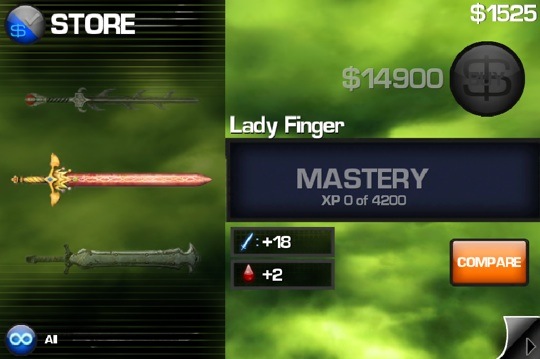 And what this lady can do with her finger...
Another RPG elements missing here is the notion of class or profession - you're a fighter who can do magic. But by applying the stats points you gain to either Attack or Magic, you can steer your unnamed character accordingly.
Mage hard
You'll certainly be steering his eyes around the castle: Infinity Blade's graphics don't inspire some rubber-necking in the early stage of the game. No question they look good, but there's nothing here you won't have seen before on games like NOVA and Assassin's Creed. The art is great, but this is not a revelation in iPad gaming graphics. It's no more detailed or smoothly rendered than id's Rage HD, for example.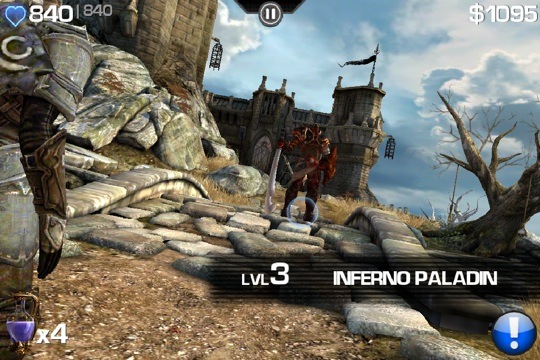 None shall pass... NONE shall pass
And if the visual wow factor ebbs after a few runs round the track, likewise you begin to tire of treading the same ground, battling baddies at exactly the same points. This is not a game to got at continually until you complete it. You'll want to play an hour or so here, an hour or so there. Beyond the sheer bloody hack and slash of it, there's nothing to sustain engagement beyond three or fours hours at a time.
So far, Epic is only offering the solo game, but it promises multi-player action via Apple's Game Centre service "soon". Ditto even more bizarrely named equipment to cheer the Gary Gygax in all of us, plus a "new area to conquer", the castle's dungeon. Whether these will be free or in-app purchases remains to be seen.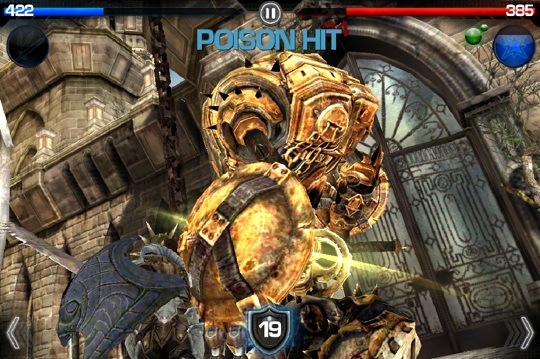 Toxic avenger
If they do cost more, don't feel bad about it. At £3.49, Infinity Blade is no more expensive than a London pint and will last considerably longer. Even if you only play it once or twice, for a couple of hours a go, it's not bad value - doubly so since Epic makes no distinction between iPhone and iPad versions.
Verdict
There's basically bugger-all to Infinity Blade beyond a little digital tourism at the start and a lot of frenetic mano é mano mauling afterward. The experience mechanism adds an extra dimension, but it doesn't quite make up for all the repetition - character moves are used over and over again, battles always take place on exactly the same spots. There's no question that Infinity Blade draws you into its world, small though it is. I just wonder how long it'll keep you there. ®
More Fantasy Games Reviews

Assassin's Creed:
Brotherhood
Fable III
Castlevania:
Lord of Shadows
Lara Croft and
The Guardian of Light