Original URL: http://www.theregister.co.uk/2010/12/10/2010_best_pc_games/
The year's best... PC games
Kick the console
Posted in Personal Tech, 10th December 2010 07:00 GMT
2010: it's a wrap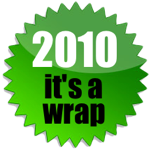 So, 2010 been and almost gone and I haven't even had a go at WoW Cataclysm yet.
Back in the day, distracted from my NES, I imagined 2010 would have been more like the sequel to 2001: A Space Odyssey all world peace, dolphins and Roy Scheider. It turned out more like George Orwell's 1984 with the turnaround in the political climate - and the actual climate.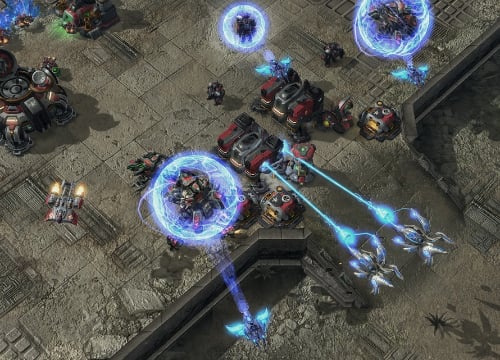 StarCraft 2: operation annihilate
But it's been a fine year for PC gaming, although you couldn't tell this from the increasingly reduced size of the PC gaming section in your local games shop. I for one can't wait till online kills those consoles.
Until I get my grubby fingers in the new WoW expansion pack, the first game to make it on my list is one of the most awaited for sequels in gaming history: Starcraft 2: Wings of Liberty. This game is a legend and who doesn't love watching a tactical game replay with a cup of tea. ZERG!
There were several shooters available on PC worth a mention this year. I really enjoyed Battlefield: Bad Company 2, Singularity and both the Call of Duty games. Singularity was a whole new level of Cold War cool in single-player mode messing around with bullet time, but BBC2 wins hands down as a single- and multi-player game.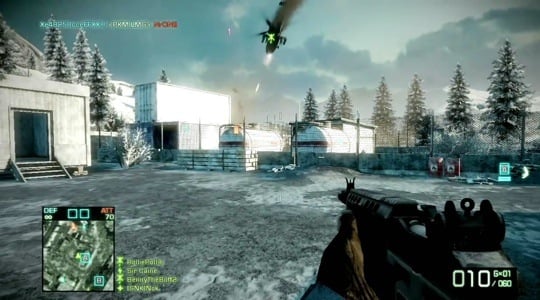 Meanwhile, over on BBC 2
It makes my list for the comical combat and all the POW WHAM! killstreak biz flashing on the screen. With my graphics card on max settings, buildings crumbled with amazing reality under my firepower and gave this game a level of visual detail that could never be replicated on a console.
Yes, it's War!
If we are talking about realistic-looking games, Napoleon Total War is a contender for a spot in this year's top five, but after the much flawed, buggy-as-heck Empire Total War of a couple of years ago, it seemed that NTW is just a patched up version of ETW, but with the heart and soul ripped out of the combat due to the misguided removal of fire by rank. Sure, the graphics were amazing on 720p, but the campaign didn't quite cut it and the multi-player was still a let-down because you can never connect. Forever alone?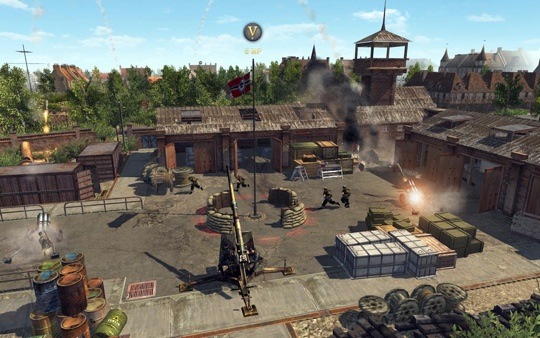 Airfix Afrika Korps vs Matchbox British 8th Army was never like this
So for my tactical pick of the year I've gone for Men of War Assault Squad beta. How can you pick a pre-release game as a top game of the year, I hear you moan? Well, it's got unbelievable tactical game play, graphics and the Gem engine. Its armour penetration is to die for - it's so ridiculously cute and fluffy!
Don't believe me? Sign up to the open beta before it closes and take a look for yourself before you come along with your pitchforks and torches. You'll appreciate the ability to take direct control of anything in your entire army.
Come on, who doesn't have a soft spot for Games Workshop? As English and predictable as an X-Factor Christmas Number One used to be. Even though I found it slightly long and the commentators' supposedly witty banter unbearable, Blood Bowl Legendary Edition needs a namecheck because it appeals to the World of Warcraft yearning within that's yet to be fulfilled. This game is part American football, part creature feature fantasy mixed into a turn-based board game straight onto your PC. Create and develop a team of orcs, elves, undead, ogres or even humans and set them loose against other people's teams.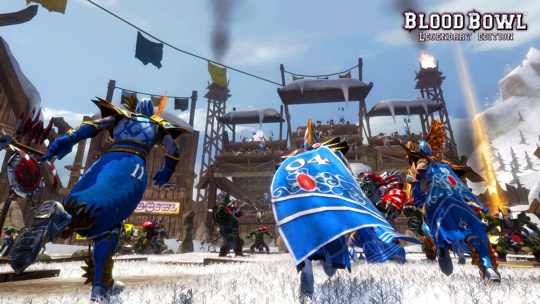 An Orc-ward goal kick
It didn't get a release on to console due general bugginess, so it's PC-only, folks, and it's well worth the now-reduced price for a bit of nostalgia.
For my last game, it was a toss up between Fallout New Vegas, Spider-man Shattered Dimensions and Mass Effect 2. They all had something unique and were fun to play being better versions of their predecessors. I had some issues with the original Fallout 3, finding the combat snoozeworthy, but Bethesda seemed to take this on board and for all its vaults... I mean faults... New Vegas ate a lot of my time.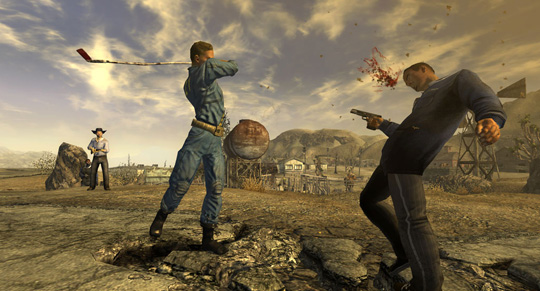 Thankyaverymuuch
Remember when the Forbidden Planet used to be in Denmark street? I do and being a comic fan I have a soft spot for Spider-man, and Shattered Dimensions had some wicked webslinging action. But it just wasn't as dark and satisfying as Batman Arkham Asylum.
So Mass Effect 2 wins the award. This galaxy hopping adventure scores high with epic challenging action to go along with the carpel tunnel strain-inducing deep space mining. Yeah, getting the upgrades to fight the baddies was a bit tiresome and drawn out, but the game was still FTW because of the gripping combat and realistic roleplay. I love you, Kasumi Goto.
There is plenty of media chatter these days surrounding consoles and their new motion control highjinks, but it's still great to have a gaming PC. Throw yourself around all you like looking like a seal trying to catch fish while I bask calmly in the glow of my GeForce GTX 480.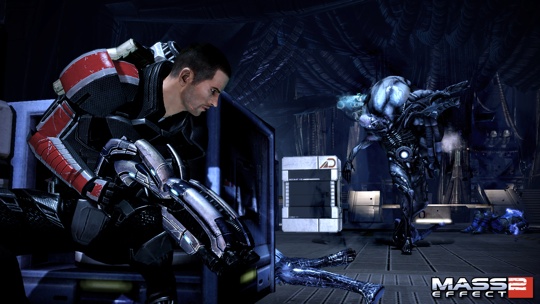 H R Geiger counter
2011 seems to be all about the sequel and I am looking forward to getting to grips with some PC only titles and notching up the nostlagia with The Witcher 2, Shogun 2: Total War and the mouthwateringly illusive Crysis 2.
So there we have it my top five PC games of 2010... so far. We all know there's one glaring omission which hopefully I will fill you in on soon.... looking forward to the grind. ®