Original URL: https://www.theregister.co.uk/2010/12/09/review_storage_lacie_xtrem_key/
LaCie XtremKey all-terrain USB flash drive
Freeze it, cook it, dunk it, thump it
Posted in Personal Tech, 9th December 2010 07:00 GMT
Review Data security can mean a lot of things, from encryption to defence against cyber attacks. There's backing up and archiving too, but with the XtremKey, LaCie has in mind the idea that you might want to secure your data against the rough and tumble of everyday life. So if trouble follows you around, you can be assured your torrents PowerPoint presentations will be safe.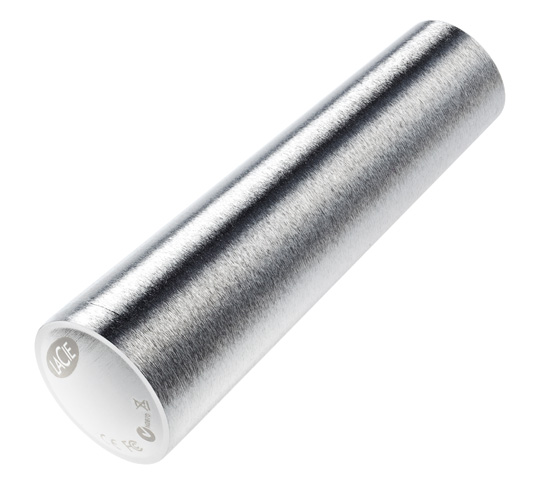 Solid option: LaCie's XtremKey
Available in capacities from 8GB to 64GB, the XtremKey is more than just a rugged USB drive. It's actually a capsule encased in 2mm thick zamac alloy. Designed by Constance Guisset, it not only has a minimalist industrial look to it, but can withstand the meanderings of a 10-ton truck.
Now if your list of likely misfortunes tends toward fire and flood, the XtremKey should survive these transgressions too. This screw-fit capsule is watertight to 100m and you can even cook it at gas mark 6 (200°C) if you're keen on extremes. And in the current cold snap, the XtremKey, will chill out in temperatures dropping to -50°C. Keen to demonstrate its hardiness, LaCie has its own video of what it describes as "the world's most adventurous flash drive".
Now, just looking at the XtremKey I could go along with LaCie's pronouncements, but a few environmental tests seemed in order and some performance ones too. LaCie claims that, apart from the 8GB model, this USB 2.0 drive is capable of 40MB/s read and 30MB/s write speeds.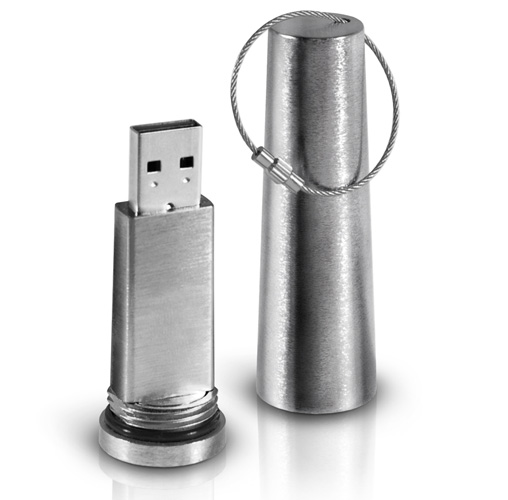 Protect and survive
The video even shows it charting speeds approaching those levels. Yet the devil is in the detail. The test shown in the clip is done with Aja – a video performance utility configured to work on a 128MB file size. I tried it out on Aja with the same settings and also with the default CrystalDiskMark 3 configuration.
Performance tests
On Aja, the 16GB review sample notched up a write speed of 22.2MB/s (down from the video's 26.3MB/s) and a read speed of 33.8MB/s compared to 34.9MB/s achieved on the clip. The results on CrystalDiskMark were less impressive, being at least a third slower than LaCie's maximum write speed claims. Incidentally, the Kingston Data Traveler Ultimate included in the graphs is a USB 3.0 drive but the results reflect its performance when used on a USB 2.0 interface. Also, the Freecom CLS is a mobile USB 2.0 hard drive, shown for comparison.
Performance Tests
CrystalDiskMark 3.0 Results
USB 2.0 speeds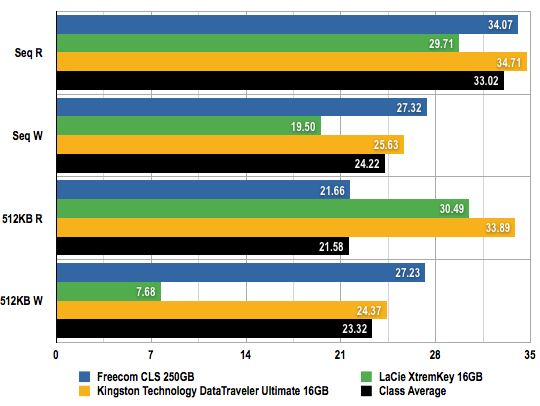 Data transfers in Megabytes per Second (MB/s)
Longer bars are better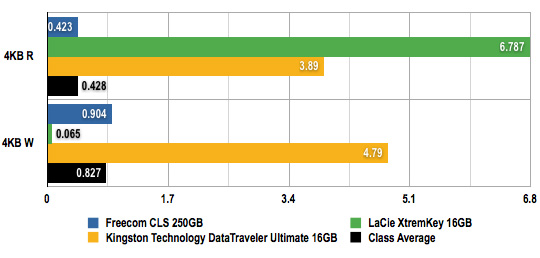 Data transfers in Megabytes per Second (MB/s)
Longer bars are better

Cloud control
Talking of slow, included on the drive is software LaCie's fledgling on-line file back-up service called Wuala. It requires registration and the product serial number is requested, so don't throw away that packaging. The Mac version of Wuala is still in beta but seems stable. It creates a desktop drive with folders that sync to the on-line 4GB of storage you get for free or you can pay for more. Non-LaCie drive owners can use Wuala for free too, but lacking a product serial number, will only get 1GB.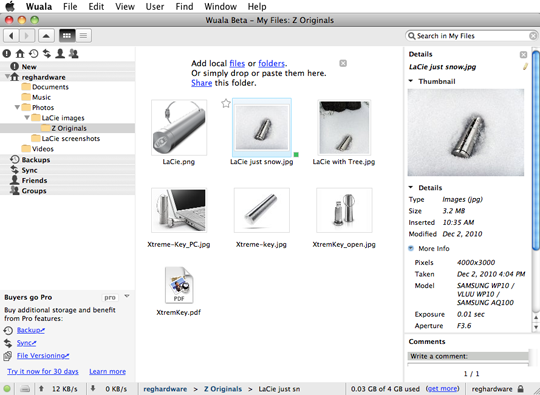 Wuala on-line storage will even show the EXIF data details of the stored image files
Click for a larger image
The default upload speed is 100kb/s – the on-line equivalent of watching paint dry – but a quick nose around the preferences settings revealed you can tweak the speeds to suit your ISP configuration. After changes I saw an improved average of about 320kb/s with peaks of around 400kb/s. Your mileage will undoubtedly vary.
Leaving drive out in the snow, dropping it from a balcony and immersing it in water did little to make an impression on its robust and well sealed casing. The only real issue was unscrewing the darn thing. It's completely smooth and a knurled edge, like a coin, would be helpful to get the slippery thing open.
It was only after baking it for 15 minutes in the oven – as you would a typical pizza – and then cooling it off in water did a small stream of bubbles appear to suggest some ingress during this expansion and contraction. However, on opening it up, water was only present around the seal and a small part of the thread, the drive itself was still dry.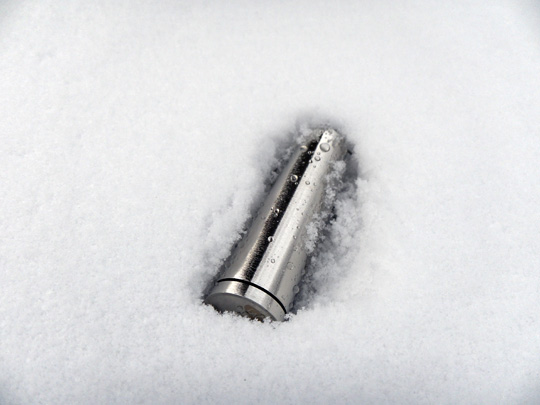 Environmentally tested
After baking, the XtremKey proved itself to function perfectly well, but it did have quite a whiff to it. It's that acrid smell you get when a circuit board has met with an incendiary fate or you've held a soldering iron on it for too long. The whiff doesn't go away in a hurry either, lingering with a hint of toxicity.
Fatboy slim?
The round base of the XtremKey's USB drive component looks like it could cause a few problems on laptops, but it had just enough clearance, the only obvious issue here being connecting it to the USB port on an Apple low-profile keyboard, as it lifts the corner slightly. Plugging in to MacBook Pro, with its notoriously cramped USB port spacing, proved hassle-free too, which was a surprise. The XtremKey is deceptively slim, allowing enough space for cables to be plumbed in to adjacent ports.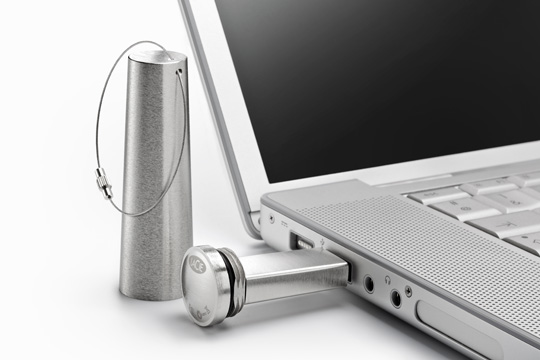 Hard, but not so fast
Perhaps the most curious aspect of the XtremKey was that the device itself gets rather hot. The flat metal shaft housing the flash chippery dissipates a fair amount of heat in use, which may be a good thing for longevity and no doubt something typical plastic thumb drives insulate against.
There is a hardy wire ring to attach it externally and this can be unscrewed and removed. Given all the trouble gone into protecting the drive, I'd not be inclined to trust leaving it to dangle. Having it in the pocket seems more secure, although the XtremKey is a bit of a lump and rather than having the appearance of carrying treasured data, some may presume you're just pleased to see them.
Verdict
Protection against the elements aside, it's in the environment of the pocket, alongside keys and coins, where most USB flash drives come to grief. No matter what the conditions, if you carry data with you all the time and are weary of drive disintegration, LaCie's XtremKey could be just what you're looking for, but it'll cost ya. ®
More Portable Drive Reviews...

Kingston
HyperX Max
USB 3.0
Kingston Technology
DataTraveler
Ultimate 3.0
Iomega
eGo
USB 3.0
LaCie
Rugged
USB 3.0