Original URL: https://www.theregister.co.uk/2010/12/09/review_games_donky_kong_country_returns/
Donkey Kong Country Returns
Great apes
Posted in Personal Tech, 9th December 2010 12:00 GMT
Review If Doctor Who: Return to Earth shows how weak some Wii games can be, Donkey Kong Country Returns demonstrates the exact opposite. This game is bloody good, and I really need say no more.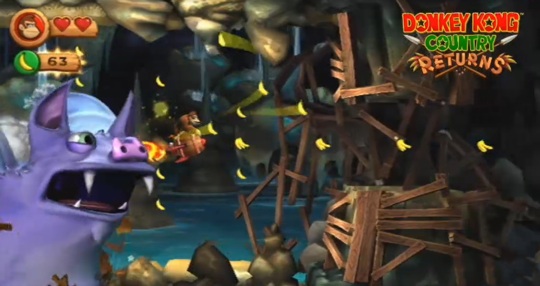 Mega bite
The staggering thing is that it's a rehash of a title released on the SNES more than 15 years ago. The orginal Donkey Kong Country was released in 1994 and sold more than 8m copies - not bad for the first Donkey Kong title not to come out of Japan, but from Rare a UK-based developer better known to erstwhile 8-bit gamers like me as Ultimate Play the Game.
DKCR follows the original, but with brighter, spiffier more up-to-date graphics so for all its history, this feels like a modern game. Even if you think platformers are old hat - and, yes, it's essentially still all about jumping on things - there's nontheless so much to engage you here that it's impossible not to be charmed.
Set on Kong's island, the game progresses through eight distinct environments, each with half a dozen levels opened by finishing the previous one, and a locked level for which you'll need the key - purchased from Cranky Grandpa Kong's shop, if you've collected enough banana coins on the way.
Kong has his strength and a hefty pair of lungs - bashing stuff or blowing it can reveal extra bananary treats - and is soon joined by nephew Diddy who provides a second character in multi-play and a handy extra pair of lives.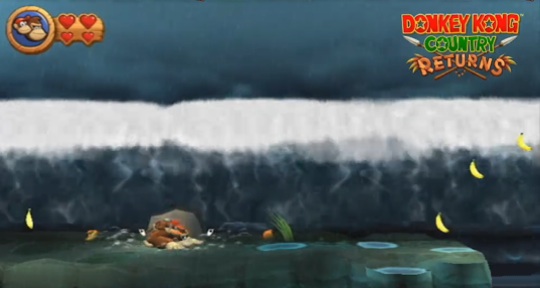 Nice and tidal
Lives are crucial here - you will die and die often - but the beauty of DKCR is that you never get so pissed off with it, you give up. If you lose a life, it's a result of cock up not conspiracy, and if you can't figure out how to cover a section the first time, you'll pick it up on the second.
There's an ape for that
Fail to figure out after six or so goes and you'll gain the option of having the level played out for you by Super Kong. Smartly, SK doesn't get everything, so there's still replay mileage to be had after you've watched him do his stuff, but he's a godsend on DKCR's boss levels, which, like so many of their kind, require you to follow a tedious set of prescribed actions over and over, error free, until you prevail.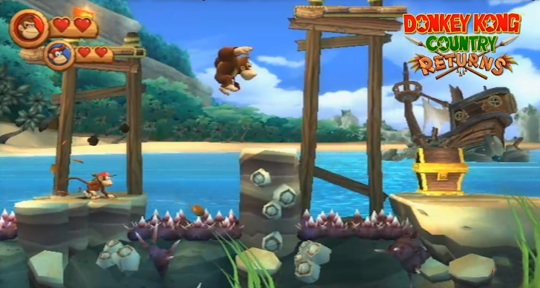 Might as well jump
The boss levels are the game's only real weakness and mark the only time I felt like chucking in the towel.
I didn't though, and neither will you. Nor will you tire of it. While the basic game mechanic is the same throughout, re-creator Retro Games has chucked in enough variations - or borrowed them from the original - to keep DKCR fresh throughout.
I particularly like one early level in which tsunami approach you from the backdrop until the break over the rocks and the path in the foreground, washing away all in their path - you included if you've not tucked down in the leeside of a rock.
Other hazards include cannon balls fired from nearby pirate ships, giant octopi, venus flytraps and falling totem poles, and that's in addition to the customary array of beasties to jump on top of. Not one level feels the same as the other. Exploring the periphery of the lush screenscape is usually rewarded with bonuses, all helpful but not essential to completing the level.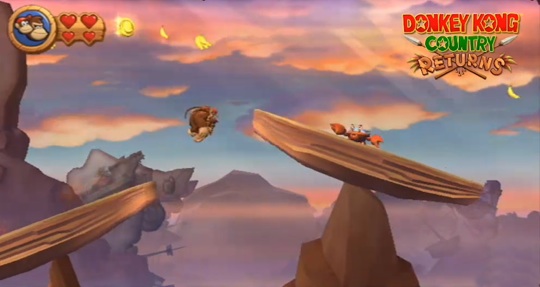 Tilt
Always dynamic, the environment contains moving masonry, rolling machines and more. There's grass to help you climb rocks in gravity defying fashion, vines to swing on from tree to tree, and rhinos to ride. Invention jumps out from every screen.
Monkey magic
And while it's clearly not three-dimensional, DKCR does at least take you in and out of the layers that make up the parallax scrolling backdrop. Canon-like barrels fire you back to distant sections which you clear then blast yourself back.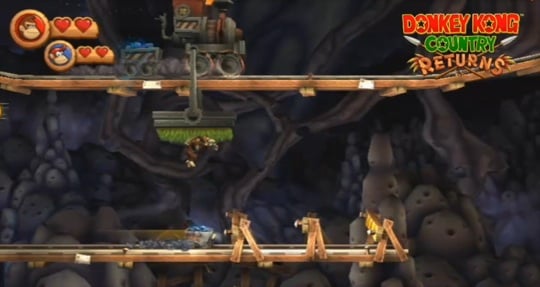 Mined out
Gamers of old can tackle DKCR with the Remote rotated horizonally like an old-style controller. Others may prefer to connect the Nunchuck, steering with that while bashing the buttons on the other controller. Neither is quite ideal, and it's a little to easy to mix up your buttons with disastrous results.
Two-player adds a little extra to the replay value, as does tackling each level within a fixed time limit. But a greater incentive will be the need you'll feel to make sure you found every hidden item.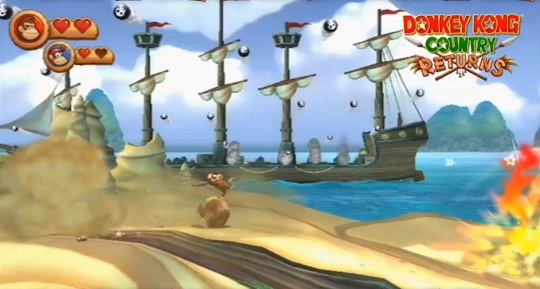 Canonball run
Verdict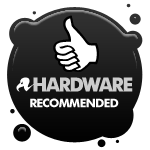 Donkey Kong Country Returns charms and frustrates in equal measure - and that's exactly what a good arcade game should do. Overflowing with invention, it shows there's still plenty of life in platform games - even 15-year-old ones. Need an exuse? Buy it for the nippers - my eight-year-old can't get enough of it. And if you're not humming the theme tune in a week, there's something wrong with you. ®