Original URL: http://www.theregister.co.uk/2010/12/09/paris_cocktail/
PARIS concocts commemorative cocktail
Readers invited to name high-altitude beverage
Posted in Science, 9th December 2010 13:32 GMT
NSFD * The Paper Aircraft Released Into Space (PARIS) team is delighted to announce today that it has concocted a cocktail in honour both of our patron saint Paris Hilton and the heroic Playmonaut who on 28 October piloted the Vulture 1 vehicle to earth from a dizzying 89,591 feet.
Our inspiration for the commemorative beverage came from this view...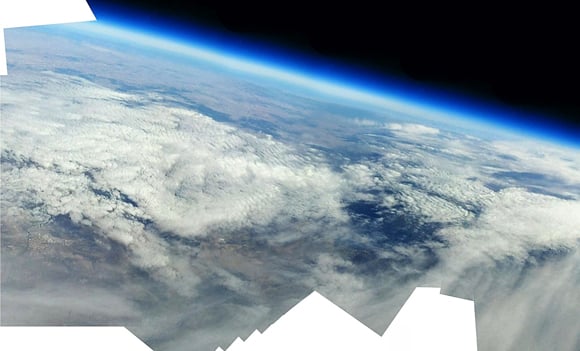 ...and we reckoned that given the right booze and a bit of trial and error we could rustle up something appropriate.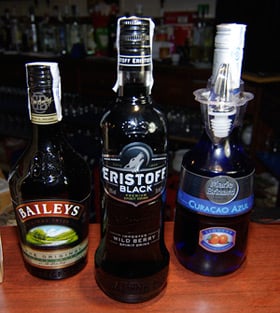 Here are the basic alcoholic ingredients selected for the job. Our initial plan was to create three distinct layers over a base of brown sugar, representing terra firma, with the Baileys, Curaçao and black vodka standing in for clouds, the upper atmosphere and space, respectively.
To meet this audacious challenge, we needed the particular skills of Tito - owner of Bar Tito, Navatejares, veteran PARIS team member and supplier of essential beer-based fuel to British space projects.
Here he is preparing to get stuck in, and already looking the worse for wear after a demanding bank holiday weekend serving hoards of Madrid chusma (riff-raff) as weekenders from the big city are known in these parts: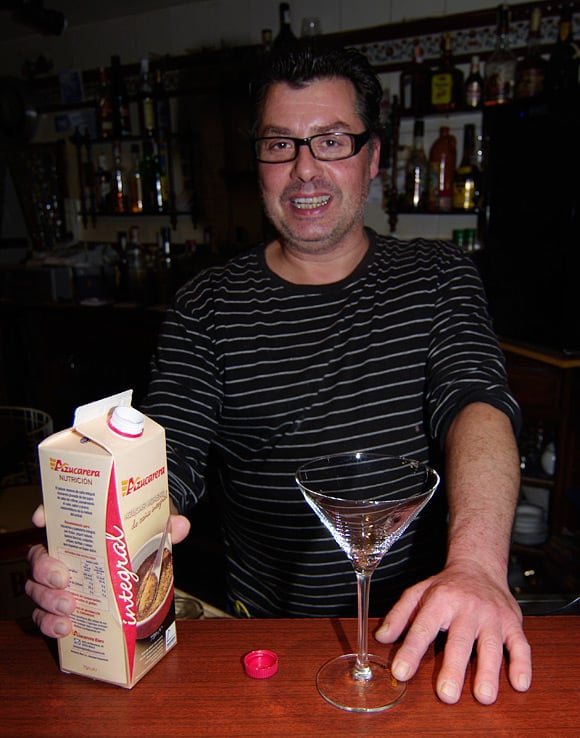 What follows is a blow-by-blow guide to how to make your own PARIS cocktail. Suffice it to say, what you can't see here is the serious research that went into the thing, including extensive sampling by crack tasters who demonstrated a laudable selfless disregard for the wellbeing of their livers.
So, here we go. First, stick some brown sugar into a cocktail glass: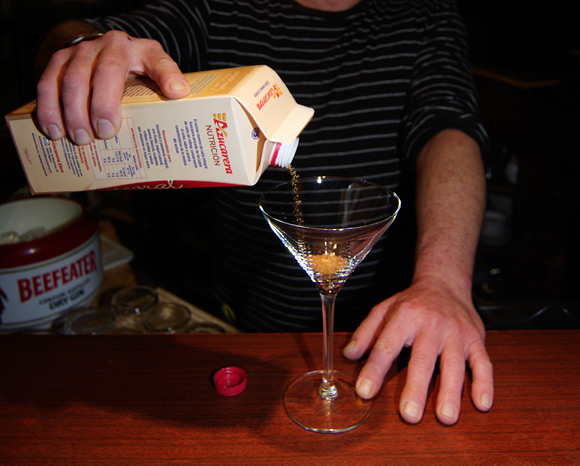 Then add a sealing layer of vanilla ice cream: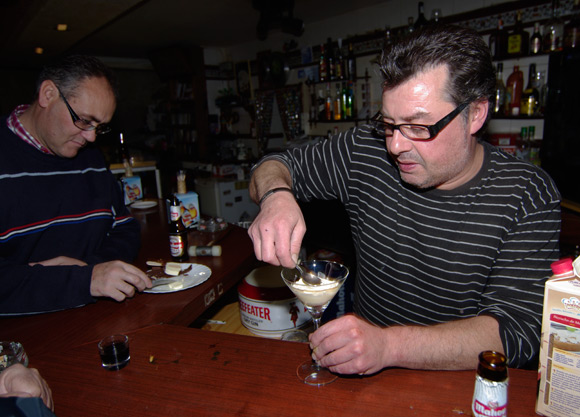 Yup, we were going to use the Baileys for this layer, but it just wouldn't play ball. It either dissolved the sugar or, if frozen to within an inch of its ABV, turned into a unworkable gelatinous mass.
Next up, clean off the excess ice cream and stick the glass in the freezer for an hour or so to make sure the thing's well chilled: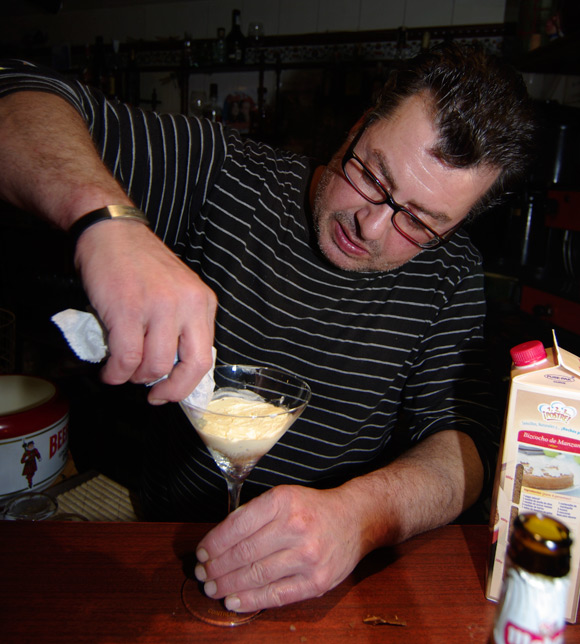 A helping hand is advisable for the next stage: filling the glass to the brim with crushed ice. In this case, said hand belongs to Gregorio, aka Goyo, who just popped into the bar for a coffee and found himself volunteered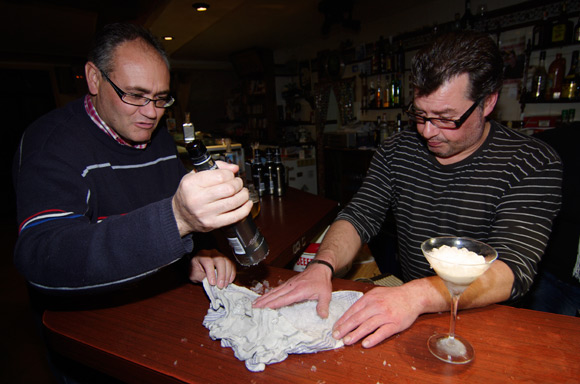 Working quickly before the ice starts to melt, carefully pour in the Curaçao, which you you should put in the freezer for a few hours before deploying: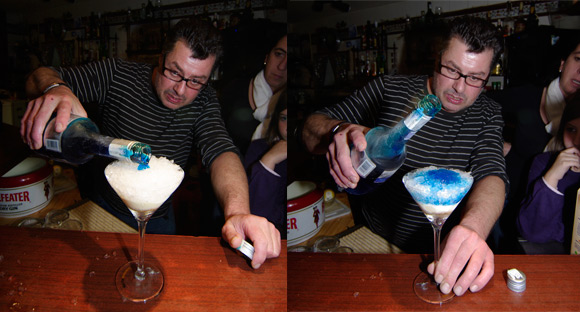 Once the Curaçao has diffused through the crushed ice, add a layer of black vodka (at room temperature):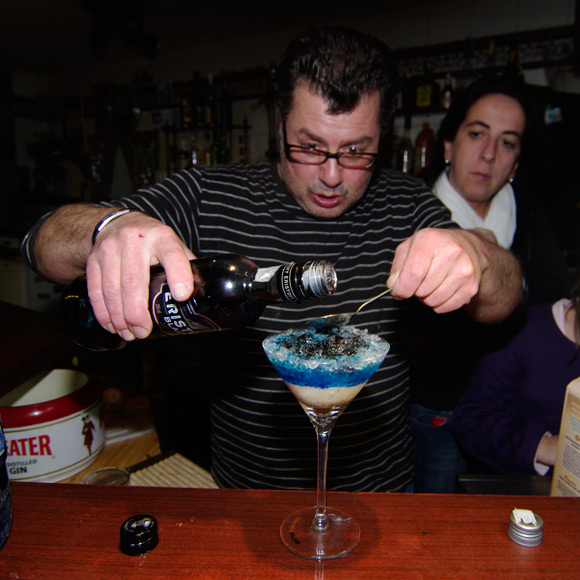 And here's the magnificent result, with our Playmonaut in full party mode: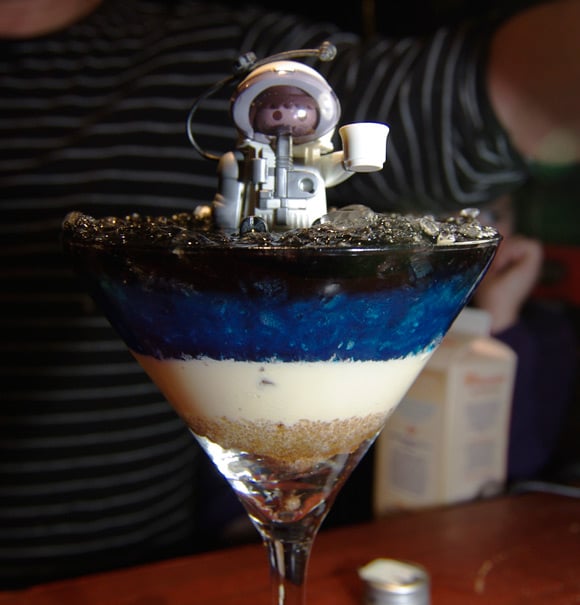 Tito was keen not to miss out on the knees-up either...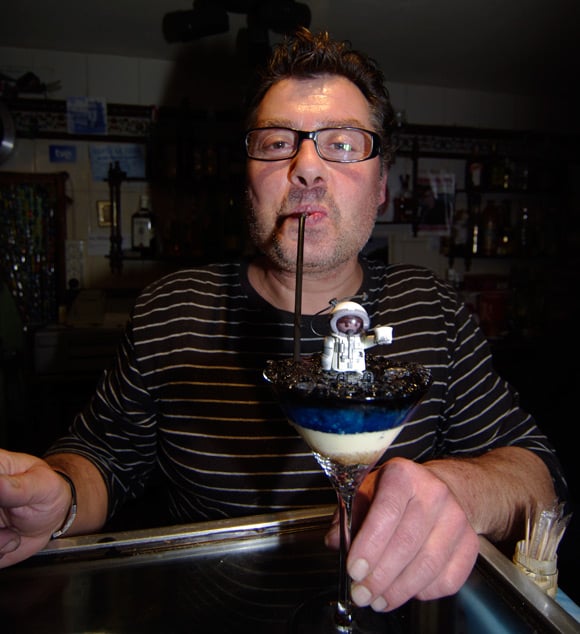 ...and concluded: "Thank God I'm not diabetic."
Indeed, the word sweet simply doesn't contain enough sugar to adequately describe the hyperglycemic effects of the PARIS cocktail, something which is largely due to the Curaçao. There are considerably less saccharine versions available, but not in these parts, so we had to go with what we had.
All in all, though, we consider our concoction a success, and one which should have a suitable name. Accordingly, we're throwing that task over to readers. Either post your suggestion as a comment to this story or email it to me here.
After Xmas, and when we've recovered from a Yule excess of glucose-packed celebratory cocktails, we'll put the best suggestions to a public vote. Over to you lot... ®
Bootnote
For the benefit of the El Reg Finance Soviet, who might be wondering why there's a case of Guinness on the expenses claim for this project, that Irish tipple constituted vital fuel for the cocktail team, as Javier, Tito, Pedro and Goyo can attest: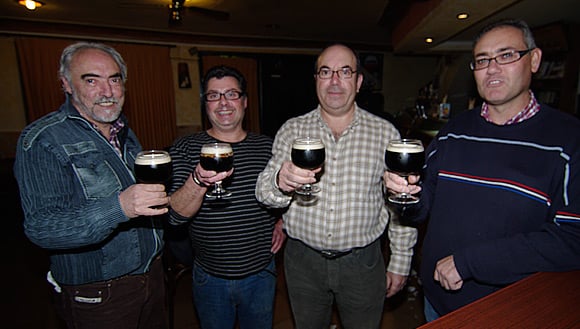 * Not Safe For Diabetics. ®
Additional PARIS resources