Original URL: http://www.theregister.co.uk/2010/12/06/review_game_doctor_who_return_to_earth/
Doctor Who: Return to Earth
Return to Shop?
Posted in Personal Tech, 6th December 2010 12:26 GMT
Review Doctor Who has not fared well on Planet Videogame. So many titles been merely mediocre or just plain crap, often barely connected to the TV series and pumped out by publishers keen to cash in on the brand with minimal effort.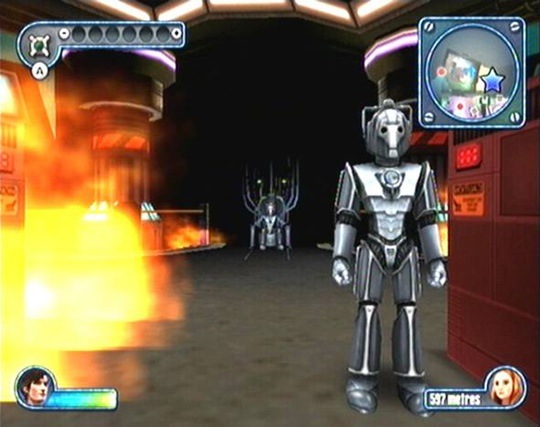 Silver nemesis
There are a few exceptions, most notably Admiral Software's Dalek Attack a rather good platformer that merged mythos and established game mechanics with gorgeous graphics - cute in the way that only early 1990s 8-bit imagery can be - into an offering that was genuinely fun to play.
But for every Dalek Attack there have been countless efforts like the Destiny of the Doctors.
Asylum Entertainment's latest offering, Return to Earth is no Destiny of the Doctors, thank Rassillon - it was responsible for that dodo too - but when you're standing on the shoulders of midgets, you still can't reach very far.
The game kicks off with an animation-rendered version of the most recent TV season's opening titles from which the story proceeds at episode-like pace. After landing on an apparently abandoned star-liner, the Doctor and Amy Pond are separated almost immediately, and the game focuses on their attempts to locate each other, work out where the crew and passengers have gone, and who's behind it all.
No prizes for guessing the villains - both Daleks and Cybermen appear on the box art.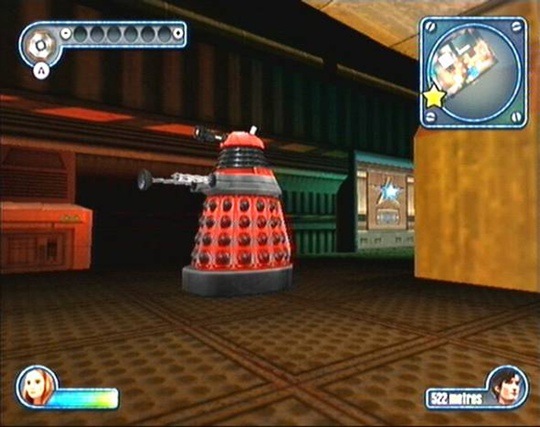 Resemblance of the Daleks
The first two chapters are perfunctory introductions to the control systems - move with the Nunchuk, with the Remote serving as a stand-in sonic screwdriver - that fly by. The game proper really starts with Chapter Three, the first to be broken into sections separated by checkpoints.
'Even for a Dumb, that's dim'
The third-person action is basic. Your goal is to find crystals from an eccentric series of dispensers that are more Hitch-Hikers than Who. Use a red crystal to suppress hazards; green and blue for opening appropriately coloured doors; yellow for switches and so on.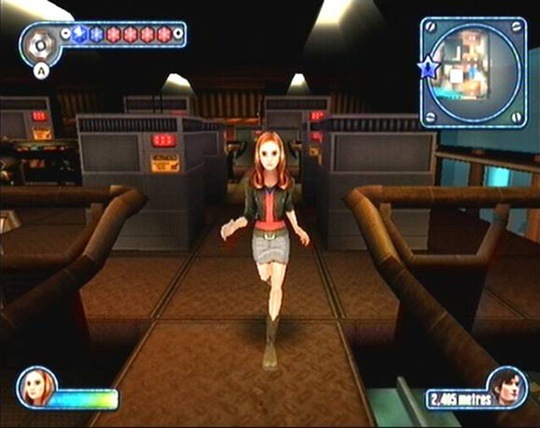 Pond life
You're usually shown the location of important dispensers, so there's precious little exploration to do. Now and then you'll find a small area tucked off to one side - it'll contain a cash dispenser you can use to get some extra Euros with which to buy pictures out of the game but nothing to help you within it.
The crystals are fired at gently moving targets with the sonic screwdriver, or an equivalent gadget that Amy is given early on. Either way, it's an very gamey mechanic - even seeking door keys Doom-fashion is nominally a real-world activity. Forcing crew to fire crystals at a red target to in order to put out a fire seems an odd approach for 23rd Century starship engineers to take.
Asylum does use the mechanic creatively. For example, in one level you use red crystal to trigger hazards rather than suppress them, to the detriment of a band of murderous maintenance droids - your enemy in the early levels. But it nonetheless grows tedious, especially if an unsteady hand ensures you keep missing - or your shots ricochet off furniture even when you have a clear shot at the target, a common occurrence when you're firing from a crouched position.
Other dispensers release - I kid you not - toy dogs, laptops and clocks, all used to distract enemies while you dash away. It's a nice touch that favours brains over brawn and is in keeping with the TV series' 'no guns' ethic.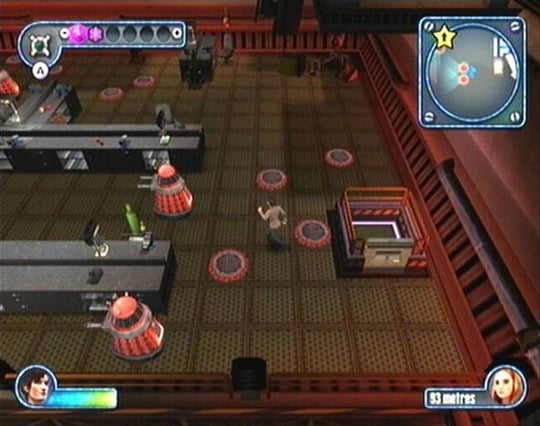 Doc green
Not once do you blast anything, not even the asteroids that you're up against in one of the two types of mini game you're required to complete at the end of each Chapter. Instead, you push the rocks away.
'There's never been a bore like this one'
The other mini game has you steer a blue ball through a hazard-strewn maze, sometimes with a death-dealing black ball bearing down on you. The more blue crystals you collect in the previous level, the more chances you have of getting through.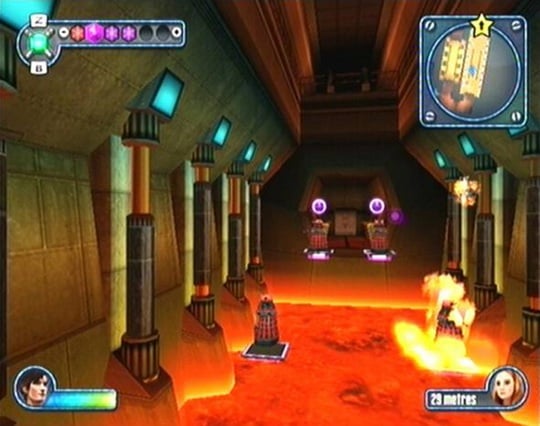 Sonic, not Sonic
Variations like these help pick up the pace now and then - the use of the series' key sound signatures helps a lot too, and the voices of stars Matt Smith and Karen Gillan - but only serve to emphasise how spartan the game feels the rest of the time.
The colour palette is muddy, the entire ship is seemingly lit with 25W bulbs casting everything in a yellowy brown light, and there's little in the way of detail and animation - it looks like a PSOne title - and a poor one at that. The maps aren't extensive, being largely limited to the path you need to follow.
There's almost as little atmosphere in the ship as there is outside it.
You won't be rubber-necking in awe of the scenery here. My own Wii favourite, Rebellion's Rogue Trooper: Quartz Zone Massacre was looking a little long in the tooth when it arrived on the Nintendo, and it's a few more years old now, but it offers sense of place well beyond what Return to Earth delivers.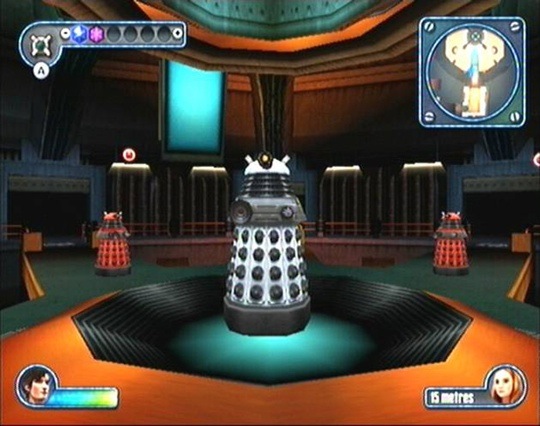 Excruciate!
But let's not forget, this is a game aimed at kids. The Pegi rating is 12, but it's suitable for younger fans if my eight-year-old is anything to go by. He loves the series, but Return to Earth entirely failed to excite. He's on to Donkey Kong Country Returns now, and having a ball.
Of Return to Earth he said: "It's a bit boring, Dad," and that sums up what I feel too.
Verdict
A good plot and a faithful rendering of the show's ethos push Return to Earth a long way along a path littered with Doctor Who videogame failures. But a relatively short play time, too little variety in the gameplay and utterly unengaging visuals make this game more a Twin Dilemma than a Caves of Androzani. Download the BBC's Doctor Who Adventure Games - they're more fun and free. ®