Original URL: https://www.theregister.co.uk/2010/12/06/faithless_smartphone_users/
Smartphone users are faithless slappers - survey
Wide open to all comers
Posted in Personal Tech, 6th December 2010 12:50 GMT
Smartphone users have little brand loyalty, according to a survey of global consumers by GfK. Only Apple comes out of it well, with 59 per cent of iPhone users inclined to a repeat purchase.
Smartphones now have 29 per cent of the US market, according to a separate Nielsen survey today, and this is reckoned to reach 50 per cent by the end of 2011. But it's the only market segment that makes any money, with RIM and Apple reckoned to corner over 80 per cent of the profits to be made. Nevertheless, it's all to play for.
Overall 58 per cent of smartphone users in Brazil, Germany, Spain, the UK, the US and China are uncommitted to their current brand, and only 25 per cent are committed.
RIM does best out of the trailing bunch, with 35 per cent saying they'd probably buy another BlackBerry next time round. Nokia and Microsoft bump along at 24 and 21 per cent respectively - but the research was conducted before Windows 7 Phones hit the market.
However, when it asked likely upgraders what they'd like next, 30 per cent said iPhone, 28 per cent said Android and only 13 per cent said BlackBerry.
Of course it's early days. Smartphones have been around for a decade, but only captured a mass market in the past three years. These are primarily mobile computers, and we're at an early stage - the Osborne Era of handhelds. But it makes ominous reading both for Nokia and the many rivals who've scrambled aboard the Android bandwagon.
As I noted earlier this year, Android looks an awful lot like the Windows Mobile market five years ago, with manufacturers piling in, but unable to differentiate significantly.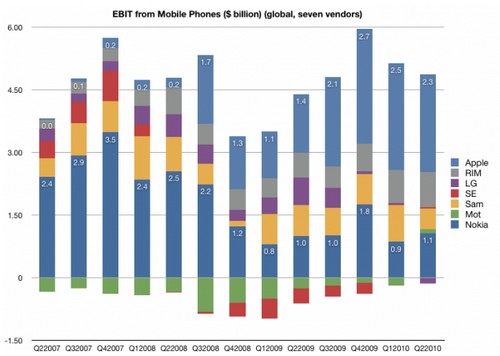 Mobile phone profits (EBIT) 2007-2010
It's worth remembering that phone users have always been a fickle bunch - as Motorola and Sony Ericsson found out to their cost in recent years. With the Razr, Motorola assumed it was a new fashion brand - rather than a one-hit wonder. Sony Ericsson spent just a little too long whacking out the same phones every year, with only tiny and incremental improvements.
The (mass) smartphone market is too new and too volatile to make many assumptions at this stage, and it's certainly more sophisticated than the feature phone business. But it does suggest manufacturers have to start thinking much more creatively about design as a differentiator rather than aping the market leader. ®