Original URL: http://www.theregister.co.uk/2010/12/03/not_spot_diary/
Diary of a Not-spot: One man's heroic struggle for broadband
Hostile neighbours and a vast collection of ladders
Posted in Networks, 3rd December 2010 14:41 GMT
Bringing connectivity to rural areas can involve lobbying MPs and signing petitions, but it can also involve knocking on doors, digging up sheep fields and climbing around on the roof in search of bandwidth.
Over the last seven years I've tried all the alternatives, from satellite broadband to community networks, not to mention searching shops for a "modem" when necessary, and while my not-spot is not as not as it used to be I'm still not reaching the broadband nirvana of 2Mb/sec.
Living in one of the more remote parts of Scotland was always going to present a challenge when it came to internet access, but one doesn't imagine trying to get some bandwidth will lead to being ostracised by the neighbours, owning enough ladders to scale a decent castle wall, or securing a job at The Register either.
Seven years ago, satellite seemed the sensible option - I've always wanted an earth station despite the £4,500 price tag. Once equipped, £100 a month got me 512Kb/sec of connectivity (128Kb/sec upstream) from Aramiska, which rented bandwidth on an Eutelsat bird in the DVB-S band. The latency is always a pain with satellite, but the inability of satellite companies to manage their money is what made satellite broadband impractical.
Aramiska went titsup, then struggled to its feet again, only to collapse under the weight of its creditors. I then found myself in the ideal position to report on the frustration of customers, many of whom (myself included) had struggled to pay a company that seemed to have a moral objection to collecting customer fees. Aramiska wouldn't cash cheques, or collect on direct debits, and would then do both without warning - though it turned out that was normal in the satellite business.
Ouranos, which provided connectivity to the cut-off Aramiska customers, lasted only a few months before it too went titsup. Thankfully the company never managed to collect the year-in-advance payment from me before it went bankrupt. Others were not so lucky.
Next up was Avanti, a company that recently launched its own satellite to provide cheaper and faster broadband, but back in 2006 was reselling connections costing more than £1,200 for installation, and £70 a month, for half a meg downstream.
Avanti's offering was, obviously, incompatible with the Aramiska kit, which ended up as a kid's computer and an interesting garden feature.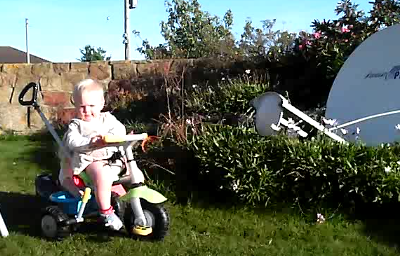 Aramiska's dish came to an ignominious end as a garden ornament
Avanti proved more stable, but equally useless at collecting money - failing to invoice for the first 12 months despite reminders, and the latency was starting to get me down. ADSL had also arrived locally - not to my house but to some of the local properties, which took me knocking on doors in the search for someone prepared to share some bandwidth.
Community wireless sounds like a really good idea, but actually knocking on someone's door and asking if they'd like to share their ADSL is another matter entirely, especially when few people have any idea what you're asking.
Teeth-hating neighbours snatch up ADSL olive branch, snap it off
But I found one couple who had moved to Scotland to escape the fiendish fluoridators of England (I kid you not - in Scotland there's no fluoride in the water, and it's really, really, hard to find a dentist too), but despite being so obviously insane, they were willing to let me pay for their ADSL in exchange for having a wireless router connected. The problem was that their house didn't quite have line to sight to mine, despite climbing a lamp post and buying suitably-high-gain antennas I couldn't get a reliable link.
At one point I had a decent connection working, with speeds topping 500Kb/sec, but only at certain times of day. Turned out, a house over the road provided a fortuitous reflector with a closed garage door. Sneaking into someone's garden and closing their garage door every time they left it open seemed excessive, and the locals were already asking pointed questions about my lamp-post mounted yagi: stringing wires across the road to get line of sight wasn't going to fly. I was back to dial-up.
By this point we had some children, which always helps one integrate with the local community, and while Anthony and Yvette* aren't exactly neighbours, they have a daughter the same age and an interest in free ADSL. There's no chance of line of sight, with a house and copse between us, but our houses back onto the same sheep field, so all one needs is a spool of CAT-5 and a lawn-edger. The farmer was cool with the idea, so we set out to lay 150 metres of cheap CAT-5 to connect the houses together.
We didn't use expensive CAT-5, because it was too expensive, and given that 90 per cent signal loss was entirely acceptable, there seemed little reason to spend more than necessary. Unfortunately, the cable failed within a day; a second cable lasted a month before it too gave up. Before I could spend money on something more reliable, Anthony called up to say he'd gone off the idea.
Given I'd signed a 12-month contract to provide him with ADSL, I wasn't amused, though more shocked than angry. We saw the couple a few times after that, but within a month they had receded entirely and decided to home school. These days they blank us in the street and ignore us if we talk to them. Apparently it's not just us, but we can't help thinking that free broadband might have been too much for them.
Tearing the BT engineers to shreds
During this period I lobbied BT for some ADSL, but just couldn't get a signal. I tried ordering ISDN, which was an interesting conversation as I spent an hour trying to find someone at BT who had any idea what ISDN was - apparently you can't get it anymore, but it was worth a punt.
I had the BT engineers round a few times, trying to get a signal, but their efforts were frustrated by my next-door neighbour, who is still adamant that he owns all the BT cabling in the area and won't let the BT engineers into his garden. Apparently some of his rhododendrons have been there 20 years and it wouldn't be safe to let anyone near his monkey-puzzle tree as it "would tear them to shreds".
But not, fortunately, when his own phone started playing up. Suddenly it was perfectly safe to work under the tree, and the nice BT engineers (with whom I was quite chummy by this point) were able to connect me up while they were fixing my neighbour's fortuitously faulty phone line.
So, finally, I got ADSL, just about. It takes about 30 minutes to handshake, and even when connected I got a few hundred k at best. About once a week it fails for a day, and while I can only commend Zen Internet for its tireless pursuit of BT every time that happened, the telco was always able to turn around and say the house is just too far from the exchange and would have to do without.
But then, earlier this year, my friend Claire made the mistake of commenting that from her new house she could see mine: Claire gets a stable 4Mb/sec, and if she can see my house then a radio connection should be possible.
According to Google Maps, it's 5km from Claire's to mine, with a village between which is slightly depressed – so line of sight is possible. Over the next few months it became obvious that Claire had never seen my house from her place, but by the time we realised this it was way too late.
Initially it seemed like it would be prohibitively expensive to try and connect our houses, with one company quoting more than £2,000 (plus the cost of hired cherry pickers) to establish if a connection was possible.
I've never had a lot of luck with long-range 2.4GHz, so decided that 5GHz was the frequency of choice even if it meant getting a £50 licence from Ofcom. Then I came across Solwise, which sell a £80 801.11a (5.8GHz) box with in-built antenna and power-over-ethernet, which seemed worth a punt for a pair of them.
Hanging out of windows, waving transmitters madly about
The Solwise kit consisted of a couple EnGenius 8610-S bridges, which are surprisingly easy to configure as long as one follows the manual step-by-step. I set the ISP-issued router to DHCP from 192.168.1.50 upwards, and gave each bridge a static IP address as I don't like searching for my networking kit. I got them working across my shed, and then set out to connect them from somewhat further apart.
There followed much mucking about flashing car lights in the darkness and trying to establish for certain that a connection was possible at any height. Solwise reckons you should get a helium balloon and play out the string to work out the right altitude, but I can only assume they've never tried it on a Scottish coast where balloon strings are horizontal things.
Eventually we gave up trying to work it out: I took a bearing from Google Maps, mounted one end on my house and then hung out of an upstairs window at Claire's waving the other end around until we got a connection.

Line of sight, but only to the very far-sighted
That connection lasted a few seconds, but I saved the log to remind me it could be done - worthwhile as over the next few months I repeatedly had cause to doubt the connection had ever existed.
It was mid-summer by the time I had a hundred quid's worth of ladders, and fittings to attach the transmitter to the outside of Claire's ancient house. Fitting it was tough: drilling into stone from the top of a ladder is, frankly, scary, but the expanding bolts held well and the Solwise kit comes with everything you need including a Power Over Ethernet injector and even a jubilee clip for attaching the antenna to the included pole.
What it doesn't come with is instructions on what to do when the whole thing fails, and the signal you recorded four months earlier just isn't there. Despite carefully measuring angles and setting inclinations there wasn't a trace of the signal, a result that was not only disappointing, but also embarrassing, given the holes I'd drilled into Claire's 100-year-old farmhouse.
I tried mounting the antenna at my end higher and higher, reaching as far up the gable end as my ladder would go. Then, in a fit of frustration, I taped the antenna to the top of the roof ladder as I couldn't get any higher than that, and it worked: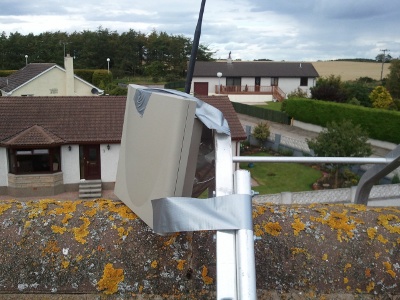 Not a long-term solution, good as gaffer tape is
That still left the problem of how to mount the thing. My house has serious tiles and I didn't fancy drilling into them to mount anything, but by bolting some fence posts together I was able to create a sort of horse which sits astride the roof but not attached to it. After some initial testing I added a couple of shelving brackets, which doubled my connection speed at the cost of some stability: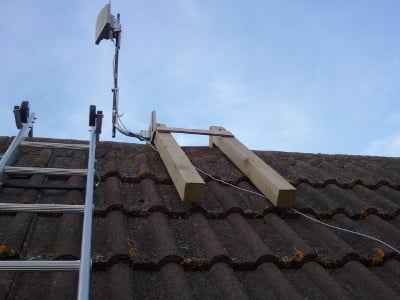 It's just as unstable as it looks, click on the image for an in-context version
Now I have a connection to Claire's house. The precise speed is hard to judge, but it's about 300Kb/sec, and surprisingly stable with only two serious outages, both caused by Claire accidentally unplugging the router when switching off her computer.
So I'm not a not-spot any more, though I'm still a long way off the 2Mb/sec that the government reckons is a minimum. Increasing the speed probably means increasing the height of the roof-top antenna, which will be a technical challenge. The antennas have line of sight, but barely, and radio signals suffer from interference within the Fresnel zone - a cigar-shaped zone between the antennas that (in my installation, according to the calculator on the Solwise website) stretches about 7 metres down from the line of sight, and well into the village that lies between our houses.
Making a bigger "horse" is probably unwise, so something attached to the side of the house will be necessary, but that means a cherry-picker, which is prohibitively expensive, and might well be beyond my limited construction abilities.
Maybe inexpensive satellite technology, such as Avanti will soon offer, will make that link redundant, although the latency problem remains. Maybe white space will get opened up and I'll be able to link to Claire's house at 400MHz, which would go straight through the village below, but that won't happen any day soon. The diary of a not-spot is far from complete, but at least it's turned into nearly not, rather than a not nearly, until Claire goes goes off in a strop, that is. ®
* All the names are changed, except for Claire's - I still have to live here.