Original URL: https://www.theregister.co.uk/2010/12/03/fujitsu_bx400_mx130_servers/
Fujitsu shoots low with BX400 baby blade box
And even lower with Micro Server
Posted in The Channel, 3rd December 2010 00:37 GMT
Hewlett-Packard and IBM have been selling baby blade boxes suitable for office environments for the past couple of years, and now Fujitsu is chasing SMB shops with its own BX400 blade server chassis. The company is also chasing what it calls "very small businesses," hopefully not to be immortalized with the VSB abbreviation any time soon, with a new Micro Server.
The Primergy BX400 S1 blade server chassis is a 6U chassis that can be rack-mounted or tipped on its side and put on rollers to fit in an office environment. The chassis has room for eight half-height server or storage blades and has a midplane with three different fabrics.
Three different server blades can plug into the box. The Primergy BX920 S2 blade is a two-socket server that can use Intel's Xeon 5500 or 5600 processors and has nine DDR3 memory slots to support a maximum of 144 GB using 16 GB memory sticks. (One socket gets six slots, the other gets three.) The blade has room for two hot-plug drives (2.5-inch SAS), and includes a SAS RAID 1 disk controller on the mobo plus four Gigabit Ethernet ports that hook into the midplane. It also has two PCI-Express x8 mezzanine cards for peripheral expansion.
The Primergy BX922 S2 blade, also a two-socket box sporting Xeon 5500 or 5600 processors, has six memory slots per CPU socket for a maximum of 192 GB of main memory. That extra memory means getting rid of the hot-plug SAS drives and mounting SATA drives on the mobo inside the blade server's metal skin. All other features on this blade are essentially the same as on the BX922 S2. The final blade supported in the BX400 chassis is the BX924 S2, which is a two-socket Xeon machine that has 18 memory slots for 288 GB of maximum main memory and drops the network links down to two Gigabit Ethernet ports.
All three blades support Microsoft's Windows Server 2003 R2, and Windows Server 2008, and Windows Server 2008 R2 variants as well as Novell's SUSE Linux Enterprise Server and Red Hat Enterprise Linux. (Specific releases are not given, but it is likely to be SLES 10 and 11 and RHEL 4 and 5 at this point.) VMware's ESX Server 3.5 and 4.0 and Citrix Systems XenServer (probably 5.1 and 5.5, but the spec sheets do not say) are also supported. Fujitsu says that it will support "other Linux derivatives on demand." OK, how about Android? (I'm kidding.)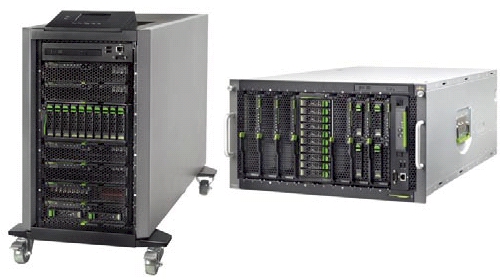 Fujitsu's BX400 blade server: rack 'n roll
The BX400 chassis can also house the Primergy SX940 S1 storage blade, which has four hot-plug disks and a RAID controller; the SX960 S1 storage blade, which is a double-wide blade with room for ten hot-plug, fat 2.5-inch disks; and the SX910 S1 LTO tape blade.
The BX400 S1 joins the BX600 S3 chassis (a 7U chassis that can hold ten Xeon or Opteron blades of an older vintage) and the BX900 "Dynamic Cube" chassis, which is 10U high and which supports up to 18 blades, including all the same ones that are used in the BX400 chassis as well as the BX960 S1 blade servers based on Intel's high-end Xeon 7500 processors. The BX960 S1 blade is a full-height, quad-socket server that has 32 memory slots and supports up to 512 GB of main memory against a maximum of 32 cores.
How to sell servers to people who don't know what they are</h3?
The BX400 S1 chassis can be equipped with a variety of switch modules in its back-end on the other side of the mid-plane that the blade servers plug into, including a Gigabit Ethernet switch with 18 downlinks and 6 uplinks, a 10 Gigabit Ethernet module with 18 downlinks and 8 uplinks, a 40 Gb/sec InfiniBand switch with 36 ports, a Fibre Channel and pass-through blades to link out to storage arrays outside of the blade chassis.
The BX400 S1 costs €3,275, with the floor-stand adapter kit to turn it into a skateboarding teenager costing another €875. The switches run anywhere from a low of €2,050 for the Gigabit Ethernet switch to a high of €15,200 for an 18/8 port Fibre Channel switch from Brocade Communications. The base BX922 S2 blade server costs €1,215 with a single processor and one disk, while the BX924 S2 will run you €1,350.
Fujitsu rules the SMB roost among x64 server suppliers in Europe and Japan, and it has done so for years by having very aggressively priced machines that make it hard for IBM, Dell, and HP to take over the market. The new MX130 S1 Micro Server is meant to chase companies who probably don't know what a server is and wonder why you can't just put files and applications on a network of PCs or use online services. (The answer is, you can do both of those things.)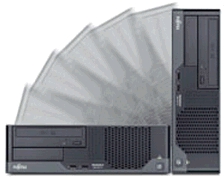 Fujitsu's MX130 S1 Micro Server
The Fujitsu Micro Server is a single-socket baby server that can be equipped with three different processors from Advanced Micro Devices: a single-core 2.7 GHz Sempron 140 with 1 MB of cache, a two-core 2.8 GHz Athlon II X2 220 with 1 MB of cache, or a two-core 3.1 GHz Athlon II X2 255 with 2 MB of cache. The server has four DDR3 memory slots and supports 1 GB, 2GB, or 4 GB memory sticks; there's error correction on the memory, which is important in a server used in office environments. The machine has an integrated ATI Radeon HD 4200 graphics card, three drive bays (two 2.5-inch and one 5.25-inch), two PCI-Express 2.0 slots (one x4 and one x16), an on-board RAID 1 controller, and a Gigabit Ethernet port. Microsoft Windows Server 2008 R2, Novell SUSE Linux, and Red Hat Enterprise Linux are certified on the box. It costs €398 in a bare-bones configuration, which is a little bit more than the €310 that Fujitsu is charging for the Intel-based TX100 S1 entry tower server announced back in July 2009.
The Fujitsu MX130 S1 Micro Server has more oomph than the MicroServer that Hewlett-Packard debuted back in September. That HP machine is based on a dual-core 1.3 GHz Athlon II Neo N36L processor with 2 MB of on-chip cache. The HP MicroServer uses cheap 800 MHz DDR3 main memory, and has only two memory slots for a maximum of 8 GB (half what Fujitsu is offering as a peak capacity). The HP machine is better in that it has four pluggable, 2 TB, 3.5-inch SATA drive bays; it also has two PCI-Express slots, one x1 and one x16. The base HP MicroServer costs $329, but that is with 1 GB of memory and no disk; when you configure it up properly (4 GB of memory, a 2 TB disk, a DVD drive, and a remote access card), then you are talking about shelling out $1,575 for a baby server with very little oomph. HP is supporting Windows Server 2008 R2 and RHEL 5 on its baby box.
Fujitsu is taking orders for the MX130 S1 Micro Server now and says it will start shipping them later this month. ®