Original URL: https://www.theregister.co.uk/2010/12/01/review_satnav_tomtom_go_live_1005/
TomTom Go Live 1005 satnav
Routefinder General
Posted in Science, 1st December 2010 12:00 GMT
Review TomTom's Go Live 1000 series of high-end PNDs debuted in September in 4.3in form but the recently arrived 1005 model is the first TomTom to break the 5in barrier. In common with the lesser 1000 series models, the 1005 also has a capacitive touchscreen – Fluid Touch in TomTom speak – redesigned map and UI graphics, a revised menu layout and allegedly faster route planning.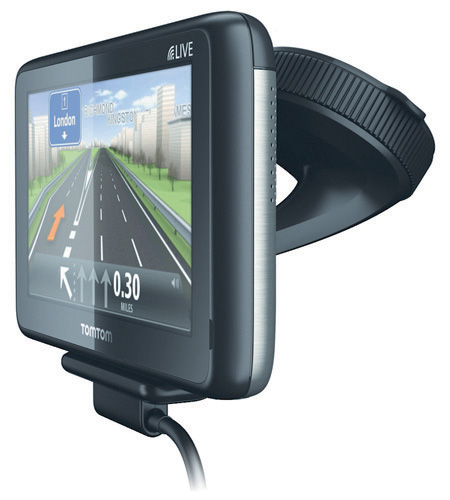 Traffic shaper: TomTom's Go Live 1005
Compared to Navigon's 5in 70 Plus – reviewed here – the TomTom Go Live 1005 Europe is heavier and is a shade larger along all axes. Of course, if you wan't a pocket-portable satnav, you probably shouldn't go for a unit with a 5in screen to begin with. Size aside, it's a smart looking bit of kit, with a nicely rounded shape and sturdy body.
The gloss finish capacitive screen doesn't match the resolution of that on the Garmin 3790T and hence isn't as crisp, and there's no multi-touch either. Nor is the UI quite as slick but, to be fair, both screen and user interface are better than you will find on any other PND apart from the Garmin.
TomTom's map designs had started to look just a little weary of late, but the restyle goes a long way towards rectifying things. Now with richer colours and better definition, the graphics are much clearer and text easier to read.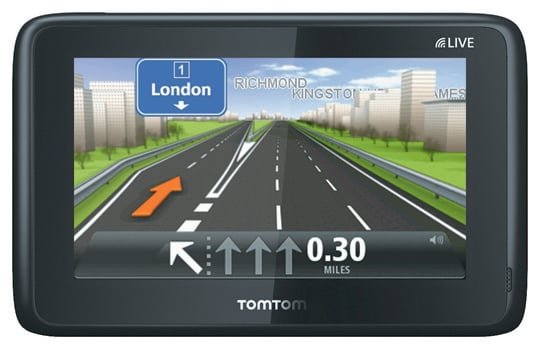 Enhanced graphics are among the improvements
The adaptable data strip along the bottom of the screen has also been re-jigged and now shows information in either one, two or three distinct areas. The 5in screen leaves plenty of room for POI locations, traffic problems and other journey information to be displayed without clutter. The menu structure has also been updated and everything is now laid out in a far more logical manner.
Eco tour
TomTom makes much of the Go Live 1005's speedy route planning, but to be honest I didn't notice any difference compared to other modern PNDs with a decent processor under the bonnet. Moreover, you still have to wait a fair while for the unit to process live traffic information.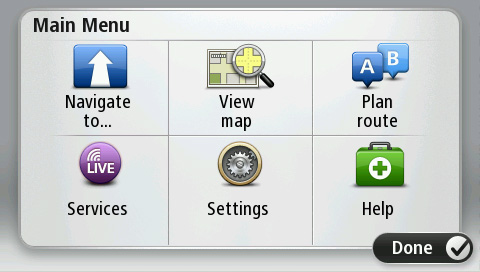 Main menu
The 1005 comes with all TomTom's bells and whistles including the excellent HD Traffic congestion monitor, IQ Routes route planning, voice command, Bluetooth, speed camera locations, graphical lane change display, weather forecasts and Google Local Search. It also features Eco routes, which is intended to take you along the most fuel efficient journey to reach your destination.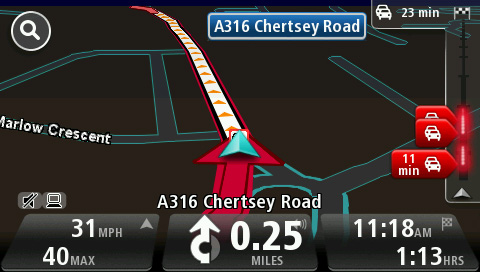 Night view
HD Traffic and the other data linked "Live" services come free for the first twelve months. After that, it will set you back £47.50 a year. It's a price worth paying if dodging jams is a priority, as HD Traffic is much, much better than basic TMC. Quarterly map updates cost just shy of £20 per annum.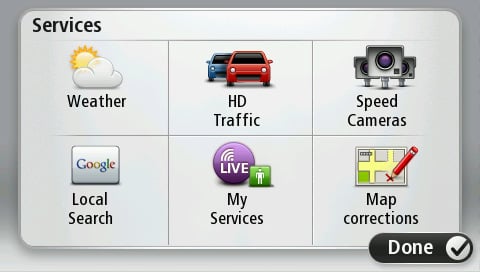 Services menu
Vocal guidance and the various voice options are of a uniform high quality. For those who appreciate such frippery, you can now install a selection of Star Wars voices on your TomTom for £7.95 a pop. Alas, the system still sticks with TomTom's traditional 'hundreds and thousands' style of road number enunciation. And quite an annoyance that proves to be.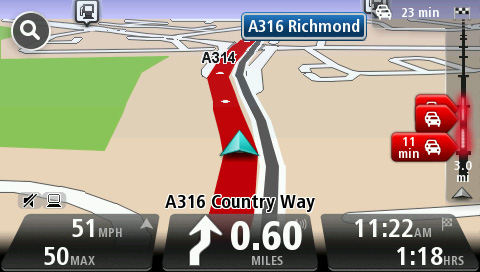 3D driving view
GPS signal acquisition and retention was also very impressive. Indeed, I can't criticise the navigation choices made by IQ Routes, the destination selection system or the pin-point accuracy of my indicated location. The internal battery lasted for an average 90 minutes between charges, which isn't bad for a large screen device. The antenna for the GPRS data feed is built into the device, so there is no need for an aerial cable, though anyone with an athermic windscreen or a built-in heater element may curse this feature.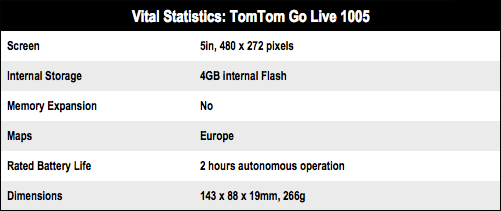 Voicing off
TomTom screen mounts have always been good but the latest generation are best yet. Rather than clip into the cradle, the 1005 attaches itself magnetically. The power cable then passes through a hole in the cradle and connects, again magnetically, to the unit. Since the power connector hangs down in the vertical plane frayed wires and short-outs shouldn't be a problem as the unit ages.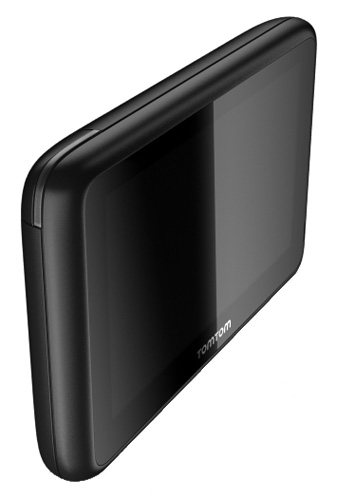 Well specified, but voice announcements and commands need refining
After the 3790T, the voice command system was a disappointment, with the TomTom having a more limited and fixed phraseology, so you can't simply rattle off POIs by name after saying, "Navigate to..." Having to tap the small on-screen microphone icon, is also a less ideal way of firing the system up, compared to just shouting "Voice control" at the Garmin.
On a couple of occasions while reviewing on-screen route instructions, the system crashed and re-booted, which suggests the OS is not wholly as stable as it could be. Fortunately, the problem never presented itself in transit.
Verdict

At only £30 more than the 4.3in Go Live 1000 the 1005 is a pretty good value and an impressive PND in its own right. Indeed, the TomTom's HD traffic avoidance system remains the benchmark against which all other systems are judged. The 5in screen is good to look at and use, while the redesigned maps and menu graphics are a great improvement. But if it's the 5in screen rather than HD Traffic that is the main attraction, the Navigon 70 Plus offers the same for £100 less and comes with free, lifetime TMC data. ®
More Satnav Reviews...

Garmin
Nüvi 3790T
Navigon
70 Plus
Mio
Navman 470
TomTom
Start2