Original URL: https://www.theregister.co.uk/2010/11/30/yahoo_chief_economist_on_google_antitrust_question/
Google antitrust? Ask the one man who can (almost) answer
To know the unknowable
Posted in Policy, 30th November 2010 00:10 GMT
Exclusive Outside of Google, no one really knows how the company makes its money. We know that most of Google's billions come from AdWords, its search advertising system. But no one really knows how AdWords works. By design, AdWords is a black box. If the world knew how it worked, Google says, unscrupulous advertisers would game the thing.
That may be true. But the black box also makes life difficult for legitimate advertisers. And with Google's search engine now controlling 85 per cent of the market — according to one research outfit — there's an added conundrum: How do you really know if AdWords deserves antitrust scrutiny? Google says that it doesn't control prices on the ad platform, that AdWords is an auction where prices are set by advertisers. But AdWords pushes the boundaries of the traditional auction, and we have no way of knowing just how far it pushes.
The best we can do is ask Preston McAfee.
Preston McAfee is Yahoo!'s chief economist. Overseeing the company's microeconomics and social-sciences research group, he's among those who drive Yahoo!'s "Panama" search-ad system — an attempt to mimic Google AdWords — and he helped rebuild the company's display-ad exchange with an auction-like real-time pricing system. Yahoo! CEO Carol Bartz owns a sweat shirt emblazoned with his math.
McAfee joined Yahoo! in 2007, after 28 years as a professor of economics at the California Institute of Technology and the University of Texas at Austin. Auctions were his speciality. In the early 90s he helped build the simultaneous ascending auction, which governments across the globe have since used to license over $100 million in wireless spectrum. But he was also an authority on mergers and antitrust. He testified as an expert witness in the FTC v Rambus case, in which the Federal Trade Commission charged Rambus with violating antitrust laws, and USA v Oracle, in which the government sued to stop Oracle's acquisition of Peoplesoft over antitrust concerns.
"I've worked on pricing and auctions and antitrust. So when I came to Yahoo!, I thought 'This will pretty much cover everything I've done, except for antitrust,'" he told The Register in an interview earlier this year, before a sly acknowledgement that antitrust eventually came into play as well: "Little did I know."
In 2008, as Microsoft attempted a forceful takeover of Yahoo!, McAfee's company inked a search pact with Google. But Mountain View eventually pulled out of the deal when the Department of Justice threatened an antitrust suit. Microsoft never did acquire Yahoo!, but the two companies eventually signed a search pact of their own. Microsoft Bing now underpins Yahoo!'s organic search, and soon, Redmond's AdCenter will drive Yahoo!'s search ads as well, replacing Panama.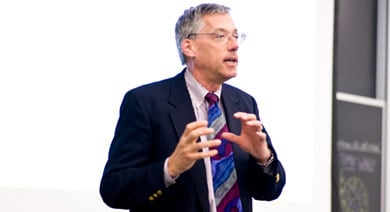 Preston McAfee
In objecting to the Google-Yahoo! pact, Microsoft said that the deal would give Google more than 90 per cent of search-advertising market. But according to one source familiar with Mountain View's internal data, Google was approaching 90 per cent of the market even without Yahoo!, and with preliminary investigations underway in the European Union and in Texas over AdWords as well as Google's "organic" search results, the antitrust questions still linger.
How the DoJ 'got it wrong'
It's telling that despite his expertise with auctions and his experience with a system designed to mimic AdWords, even Preston McAfee has no way of knowing how AdWords truly works. "I don't really know what Google's doing," he told us. "They don't tell us anything about how it works, [though] we've reverse-engineered some of it."
But at the same time, he provides some insight into the way Yahoo! does things, and he has some strong opinions about what constitutes an antitrust market in the world of online advertising — opinions that, he says, contradict those of the Department of Justice.
Google likes to say that in antitrust terms, search advertising is merely one piece of a much larger online ad market. But McAfee says otherwise. "[Google] is not [just] a small part of overall commerce [on the web]," he said. "That's a normal antitrust defense. Whenever there are soft-drink mergers, they want to include milk [in the their market]." Search advertising, he explains, is quite different from traditional display advertising. "The needs of emotional-market or brand advertisers — people who are really worried about reputation —  are very different from performance advertisers, who are mostly concerned with sales," he said.
"There's some stuff in display advertising that you can do that's performance-based. I don't want to say that search by itself is an antitrust market...but if I'm trying to drive traffic into the web space, I think [Google] is one of the best games in town."
That's a bit of an understatement. For so many web businesses, Google is an essential part of their operation. McAfee even goes so far as to say that Yahoo! is not a "substitute" for Google. "The Department of Justice gets this wrong. Are Google and Yahoo! substitutes? The answer is 'not really,'" he said. "There's a little bit of multihoming: You search for something on Google and you don't find it, you come to Yahoo!, and vice versa... We see it in the data. But the majority of people are doing one or the other. If i'm advertising on Google and I stop and go to Yahoo!, I'm not reaching the same customers."
Asked what he meant by the reference to the Department of Justice, McAfee indicated that in conversations with him, the DoJ had argued that Google and Yahoo! were substitutes. Whatever the DoJ's view, McAfee is clear on his: Google and Yahoo!, he says, are analogous to local newspapers.
"If I advertise in the New York Times, I don't reach many people in Philadelphia. If advertise in the Philadelphia Inquirer, I don't reach New York. Some people get both papers. Some read both on the train everyday. But really, those are different markets. They are not substitutes. Yes, they both drive sales, but they don't drive sales to the same people."
The test for substitution, McAfee says, is to raise prices. "If someone raises the price, do I move to the other provider? [With Google], I think the answer is 'No.' If my gas station raises the price, I can get drive a mile further and get the same gas. It's a substitution. If Google raises the price, I have to find a way to reach the same customers. [The way] is not Yahoo! search. That's probably not a substitute."
The ultimate question then is: how much control does Google have on prices?
Auction unknowable
With AdWords, businesses bid to place ads on Google's search engine. If a business bids high enough, its ad will appear when someone searches on a particular term or collection of terms. And each time someone clicks on the ad, the business pays Google somewhere south of its bid (until they exhaust their daily budget). But ad spots aren't calculated by bids alone. Google also assigns ads a "quality score", and placement is determined when bids are multiplied by this numerical rating.
But there's so much you have no way of knowing. Quality score is explained in generalizations not specifics, and it can change at any time. You can't see the bids of your competitors, only your own. And it's not quite clear what you're bidding for. Though you're nominally bidding on search "keywords", ads may not appear each time a keyword is entered.
What's more, there's a minimum bid — or, as Google now calls it, a "first page bid." If you don't bid the minimum, your ad won't show up on the first page of search results. This is specific to each advertiser, and it's tied to quality.
The system is so complex — and Google's maintains so much control — that it's only natural to ask whether it's really an auction. Yes, advertisers will never pay more than they bid. But if an advertiser wants to maintain a particular ad placement, they're largely at the mercy at Google. AdWords is famous for the so-called "Google Slap", when an advertiser's quality score suddenly drops, forcing much higher bids for the same ad placements.
The situation is further complicated when you consider that Google bids on its own auctions in placing house ads. Santa Clara law professor and noted tech blogger Eric Goldman has called this an "impermissible conflict of interest."
"Google's positioning as an auction conductor has emerged as a central defense to the increasing antitrust attention being paid to Google's remarkable share of the search advertising market," Goldman said in a recent blog post detailing Google's house ads. "However, Google's positioning breaks down when Google buys house ads via AdWords."
When we first asked Preston McAfee about the ins and outs of AdWords, he told us that — just like the rest of the world — he has no way of knowing what Google is doing. And then he immediately brought up a Yahoo! search advertising technique known as "squashing", which we detailed in an earlier story. With squashing, Yahoo! "handicaps" its search auctions. "When someone has a really high ad click probability, they're very hard to beat, so it's not a really competitive auction," McAfee said. "So that they don't just win [every auction], we do squashing. This makes the auction more competitive.
"It's like handicapping. We handicap the people with the high click probability."
According to McAfee, this can increase Yahoo!'s revenues. "The bidders respond by bidding higher. The one who was destined to lose is now back in the race, so they bid higher trying to displace the number one, and the number one is trying to fend them off so they bid higher too.
"We can make the competition a bit more fierce using squashing, even on keywords where there's not much bidding." He would not say how much squashing Yahoo! does, but he did say that this is always changing. Others within the company, including CTO Raymie Stata, told us that squashing must be balanced against Yahoo!'s efforts to make ads relevant and satisfy searchers. Nonetheless, the practice further blurs the lines between auction and non-auction.
Asked if he thinks Google uses something similar to squashing, McAfee reiterated that AdWords is unknowable. But he did say that according to Yahoo!'s research, Google "could use page two to promote a higher bid price," referring to the second page of search results.
Does Google set prices?
So we asked the larger questions. Given what we do know about AdWords, is it really an auction? Given that Yahoo!'s Panama mimics the AdWords setup — and given the added wrinkle of something like squashing — is it an auction? At what point do these complex online auctions cease to be auctions?
He didn't answer these questions directly. "The way we tend to think about this is a little bit different," he said. "We're often trying to juggle many different objectives: make money, help user, deliver value to advertisers. That leads to complex systems. That's not necessarily fatal to the system. If I'm a search advertiser, I can change my bid a little and assess what happens. The system can give optimization tools that will help [advertisers] make sensible choices.
"The American economy is an immensely complex object...But does that mean you can't achieve an effective life in the system? Not necessarily."
A sensible answer. But it doesn't get to the heart of the antitrust issue. So we asked point blank: Does Google set prices?
"I think it's substantially true that they don't set prices. Yes, they have a reserve price, but that has a minor effect on the overall volume of commerce...I buy that argument. They don't substantially set prices. Could they? Maybe. But they don't." Then he paused. "Transparency would obviously help," he added.
What McAfee does say that ultimately Google — and Yahoo! — benefit more from competition among bidders than from straight price settings. The competitive bidding is what makes AdWords so successful. "They could be cheating in some sense and we would have a hard time knowing it because they're so opaque," he said. "[But] if I could have two bidders or one bidder and a reserve price, I'd be better off with two bidders.
"Am I standing up and swearing in court? No."
But perhaps one day he will. ®