Original URL: https://www.theregister.co.uk/2010/11/30/review_desktop_apple_mac_mini_server_2010/
Apple Mac Mini with Snow Leopard Server
The Xserve alternative?
Posted in Personal Tech, 30th November 2010 12:00 GMT
Review With Apple's Xserve now discontinued, the only two Mac servers available are the Mini and the Mac Pro Server. The Mac Mini is Apple's lowest-cost computer yet in its more expensive server incarnation it dispenses with the optical drive of its desktop sibling, instead opting for a second 2.5in hard disk.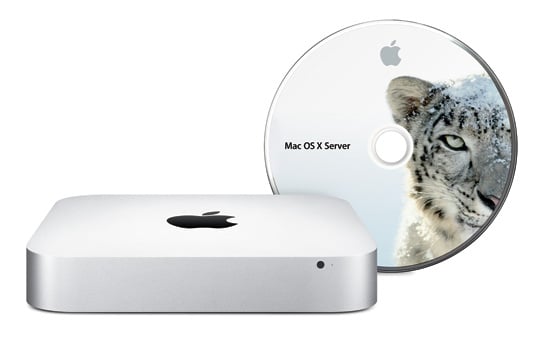 Apple's Mac Mini Server: no optical drive, but two 2.5in hard drives inside instead
The server price hike has it in third place behind the basic MacBook as cheapest Mac. Yet the Mac Mini server squeezes two 7200RPM 500GB hard disks into its tiny case, along with a 2.66GHz Core 2 Duo. In comparison, that means the CPU is about 11 per cent quicker than the desktop's 2.4GHz chip, and the disks are faster.
The machine comes pre-installed with Mac OS X Server 10.6.3 on one of its hard drives, while the other is left empty – so if you want to mirror them, you'll have to reformat and reinstal. However, it is possible to do this without reinstallation if you can boot from the System DVD and use the Disk Utility. However, there's no optical drive, so you'll need to resort to the Mac's drive sharing option or use an external USB DVD drive. Alternatively, start up the Mac Mini in Target Disk mode, hook it up to another Mac using Firewire and configure it that way.
Evidently, the Mini isn't your typical server box. There's no internal expansion except to replace its pair of 2GB DIMMs with up to 8GB. It has a single Gigabit Ethernet port, plus 802.11n wireless and Bluetooth, so it's not going to be a network gateway, either. What it is ideal for is as a small workgroup server or even rackmounting, as shown with its predecessor here. At 197mm square but just 36mm high, the box is tiny, inconspicuous and virtually silent in operation – it puts out just 14 dBA and uses 85W of power.
Without any more configuration than adding a few user accounts, it offers centralised storage, Time Machine backup facilities and workgroup email. Even a set of default shared volumes are set up automatically, with the Time Machine backup volume placed on the empty drive. A Firewire 800 port allows reasonably quick external storage to be attached, which can be added to by daisychaining or with a Firewire hub – either way, it's certainly more flexible than using eSata.

No eSata, but Firewire 800, USB 2.0 and SD card slot options
In its Snow Leopard guise, OS X Server is only available as an unlimited client licences version, at an official price of £408 – so the £220 price premium of the Mini Server over the slower £600 base model is not too bad. Previously, the unlimited-clients edition of OS X Server was twice the price of the ten-client version, so Server 10.6 is considerably better value. It also adds a number of new features, including a 64-bit kernel and the new Address Book Server. As for what functions you might want to serve, well, OS X Server has most bases covered there.
The underlying open source basis of OS X includes a whole smörgåsbord of enterprise-strength Unix server tools – Samba for Windows networking, Apache, Perl, Python, Ruby, Rails and MySQL for Web hosting. There's CUPS for printer management, Dovecot for POP3 and IMAP e-mail delivery, Postfix for SMTP, SquirrelMail for webmail, Mailman for running mailing lists, SpamAssassin for junk filtering, and so on down a long list that you can peruse here.
Apple's own tools include iCal Server 2 for CalDAV-compatible calendaring, Address Book Server for CardDAV-compatible shared address book and LDAP directory, a Wiki server, QuickTime streaming media servers and so on. Obviously everything is compatible with Apple clients – Macs and iOS devices – but it's also a highly Windows-compatible server. It can even act as a domain controller, if you wish, or join an ActiveDirectory domain.
If you want to make the machine Internet-facing, it can act as a VPN endpoint or even, in theory, as a firewall using a USB Ethernet adaptor. All these services are controlled by some remarkably simple and friendly GUI management tools and the machine's desktop can be accessed remotely using VNC.
There are two levels of admin tool, one for novices – who don't really want to fiddle too much – and another for power users. The basic tool is Server Preferences and it looks much like System Preferences, the OS X equivalent of the classic MacOS (or Windows) Control Panel.
Server Preferences has just three groups of icons: Accounts, Services and System. Accounts lets you add and remove users and groups, System contains various monitoring tools, and in between them, the row of icons under the heading of Services lets you do the bare essentials of administration in the various roles that OS X Server performs.
Each service can be turned on or off, you can create, remove or modify shared resources and so on. There's very little in the way of customisation – this is really just for the network admin who wants to plug the box in, turn it on and leave it.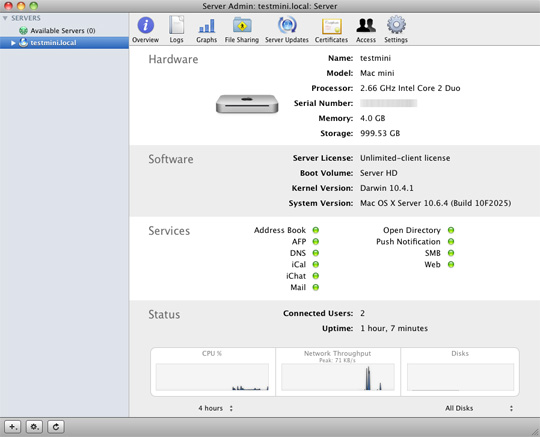 The Server Administrator gives an overview of what's going on
The centrepiece of the set of more sophisticated tools for advanced administration is called Server Admin. This not only lets you drill down into all manner of settings and twiddle options to your heart's content, it can also control multiple OS X Servers from within a single interface. Everything – that on a standard Linux server would be accomplished by editing config files – can be done from within a friendly, polished GUI, complete with online help, and it can manage remote boxes too.
It's beyond the scope of this review to do more than scratch the surface of OS X Server's potential but, considering the price of the box, even Windows houses with just a handful of Macs ought to take a look at OS X Server. There's a lot here and it is just as happy talking to Windows clients. Indeed, Mac hardware aside, OS X Server can hold its head up proudly next to high-end corporate Linux distros, such as Suse Linux Enterprise Server or Red Hat Enterprise Linux – it provides all the same basic services and more, but with a highly professional GUI on top.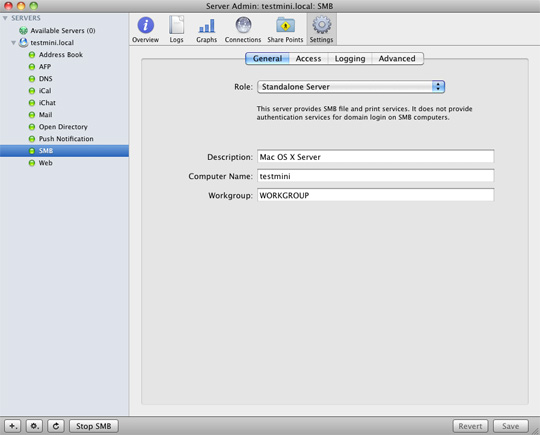 You can drill down into the settings for more information and configuration options
Starting off with the basic Server Preferences tool, creating users and shares is totally idiot-proof, so long as you have at least the most rudimentary knowledge of how to navigate a Mac desktop. After this beginners' level, Apple's tools gradually unfold to offer more control and information as you learn your way around. No Linux server system comes remotely close in ease of use, and it's a lot less intimidating than Windows Server 2008 – not to mention being about half the price, and that is without adding any client access licences, which, with OS X Server, you'll never need.
It's also worth noting that Apple's Universal Access tools, bundled with Mac OS X, also work with all the server-admin apps. Unusually, this is a server that can be happily operated by a blind or visually impaired admin, without adding third-party screen-reader tools and thus compromising the stability of your server.
The internal speaker turns out to be a surprisingly beefy too. Hence, sighted admins – who have a little ingenuity and improvise a few scripts – could even have the server speak alerts and error messages aloud, should they desire.
The only snag I encountered with the Mini server was using the HDMI-to-single-link-DVI-D converter that's included in the box. DVI-D does not carry analogue VGA signals – it doesn't even have the pins – so you can't drive an analogue monitor with this adapter. However, there is a VGA adapter for the mini DisplayPort interface alternative, but it'll set you back £21.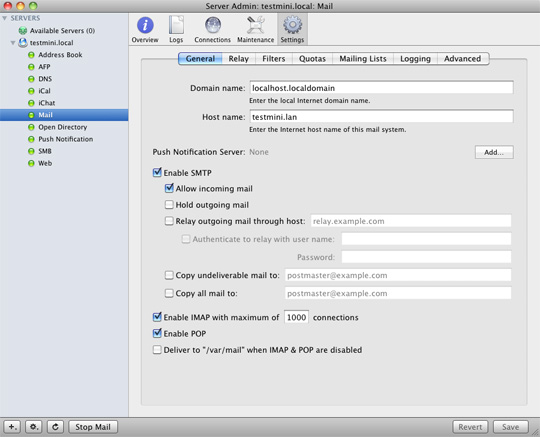 You can get a long way down into detailed settings, with nary a sendmail.cf file in sight
Incidentally, if you're absolutely committed to Windows or Linux, you still have the option of using Apple's Boot Camp utility to put Linux or Windows Server on it as well. But if you bypass Mac OS X Server entirely, paying the near-£900 price for just the hardware, no longer seems like such a good deal.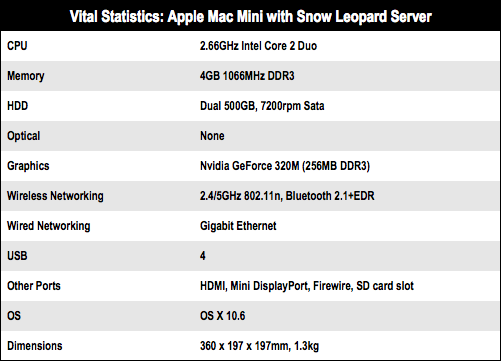 Apart from its cumbersome name, the Mac Mini with Snow Leopard Server has a broad appeal, accommodating power users, enthusiasts and also less accomplished users with a need to configure admin services. Indeed, there really aren't many downsides to it. Obviously, if you want a pumping six-core powerhouse or an internal RAID5 array, this isn't the box for you. Nor is it if you have absolutely no Mac experience at all – but thanks to Apple's best-of-breed GUI admin tools, you don't need to be a Mac guru to run a Mac server successfully.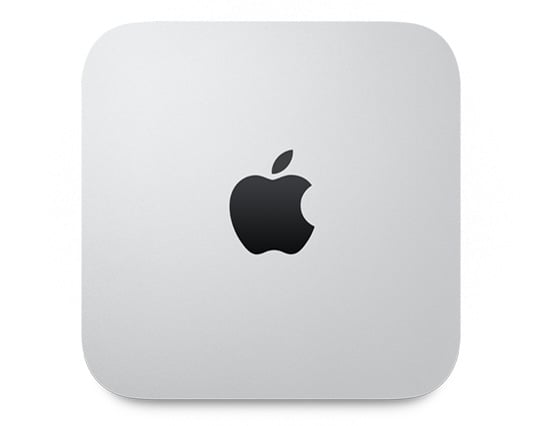 Snow Leopard Server features unlimited client licenses
Allowing for the fact that it's a full 64-bit machine with a terabyte of storage and can take 8GB of RAM, there is no other machine in the world to compare with the minuscule size, noise and power drain of the Mac Mini server. It's smaller and quieter than most two-drive NAS boxes, and if you daisy-chained a few external Firewire drives onto it, it would rival the four- and five-bay NAS devices, too. It's discreet, elegant, amazingly versatile and you'll never need to buy a client access licence again. ®
Thanks to Square Group for the loan of the review sample.