Original URL: https://www.theregister.co.uk/2010/11/30/games_review_tron_evolution/
Tron Evolution
Glowing nowhere?
Posted in Personal Tech, 30th November 2010 14:00 GMT
Review The original movie Tron was something of an irony. Considered by many as a landmark in computer animated cinema, the movie actually owed more to traditional animation techniques than CGI.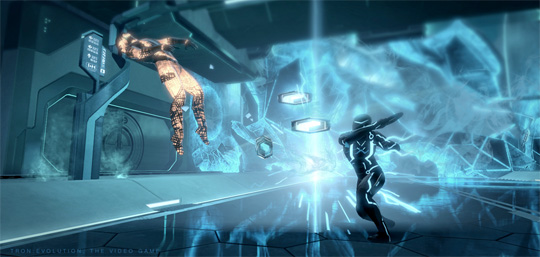 I'll punch your lights out
As the technology to mix computer animation and live action didn't exist in the early 1980s, of Tron's 96-minute running time only 15 minutes contain computer-generated imagery. Those scenes - mostly featuring light-cycles, tanks and ships - had to be intercut with filmed characters. The film's overall aesthetic - the keystone to Tron's enduring status as cult classic – was achieved using photographic and rotoscopic techniques - not to mention a few hundred-thousand man-hours in a Taiwanese animation sweatshop.
It's fitting, then, that at its core Tron Evolution - Disney Interactive's tie-in to the forthcoming movie sequel Tron Legacy - contains just 15 minutes of gameplay. And while those 15 minutes comprise solid, enjoyable elements, their continuous recycling fails to sustain play through the five-hour long single-player campaign and online multiplayer modes.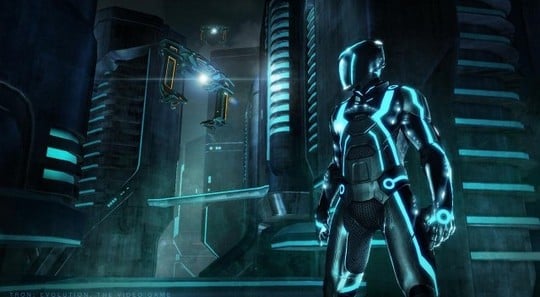 Tanks for the memory
Acting as a backstory, Tron Evolution bridges the 20 years between movies by introducing developments to the sub-silicon realm of The Grid. A mysterious virus threatens the fragile harmony between Basics, The Grid's original denizens, and ISOs, a new race of rogue, sentient programs. In a plot essentially about Nazism, 'The Creator' Flynn's original avatar, CLU, has become corrupt, and seeks to exploit prevailing xenophobia among Basics by using the virus as a pretext for the genocidal derezzing – Tron-speak for killing - of ISOs.
Young hearts free run
You play as System Monitor, a security program developed by Flynn to investigate the virus. Only there's no real investigating to be done. The plot reveals itself early on, and from there on in the game never wavers from standard third-person action-platformer, as you make your way through The Grid and fight thousands of CLU's henchmen with your trademark identity disc.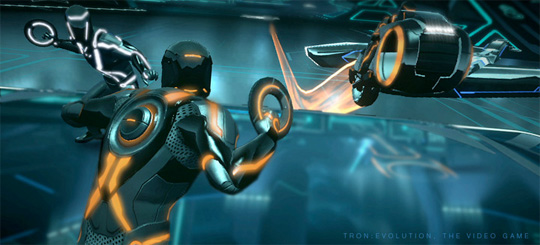 You got jack, white stripes!
Combat is Tron Evolution's least satisfactory mechanic. Varied disc powers and enemy types hint at a system of depth, as do continuous upgrading and a repertoire of melee, ranged attacks and AoE power slams. But limited combos and powerful upgrades render variation unnecessary, and reduce combat to simple attrition. And with large arenas and slow moving enemies, the novel system of health and power regeneration, which forces players to vault or wall-run their way back to full power, provides too-frequent leisurely breaks in combat.
Tron Evolution's platforming is not as leisurely. While its wall-running, vaulting, grappling and ledge climbing are ripped straight from the parkour-pages of Prince of Persia, Mirror's Edge and Assassin's Creed, it proves far less forgiving than those games.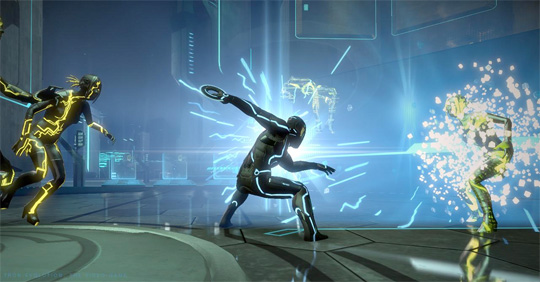 Shocking combat
With minute misjudgements in direction and trajectory punished by derezzing and a return to poorly placed save points, these sections might feel too punitive for some. But they provide a welcome challenge to any old-school gamers desensitised by the current glut of death-averse games.
My way or the superhighway
There is, conversely, no real challenge in the game's driving sections. The light tank has only basic controls, and combat along The Grid's wide superhighways demands no greater skill than point barrel, shoot enemy. But Tron Evolution's most disappointing element has to be its light-cycle sections. Rather than recreate the iconic 90° death-jousts of the original film and arcade game, the campaign's light-cycle sections are insipid point-to-point races, where the only challenge is avoiding crumbling scenery and other obstacles.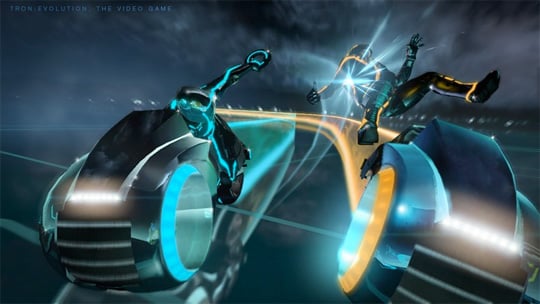 Off yer bike
Only Tron Evolution's online multiplayer allows for more traditional light-cycle battles. Two of its four available maps are purposely large enough to accommodate light-cycles and light tanks. But even here the game sticks resolutely to the third-person camera. So despite being able to turn your light-cycle through 90 degrees, and despite the thrilling prospect of five-versus-five engagements, the viewpoint reduces the concept of tactical twitchery and entrapment into a mere game of high-speed chance.
Elsewhere, Tron Evolution's online offering is a simple shoehorning of its mechanics into the generic loadouts and match variants of traditional fraggers. It's an uninspired multiplayer offering that will only appeal for a limited time. The two smaller, vertical maps restrict players to disc combat only, which proves tiresomely attritional in Disintegration and Team Disintegration. And although the larger maps provide for more balanced Power Monger (domination) and Bit Runner (CTF) matches, the overuse of light-cycles makes traversing the wide arenas virtually impossible.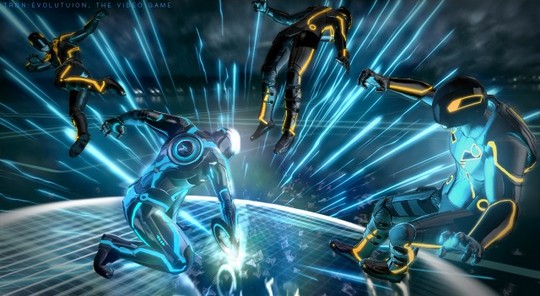 Blue up
Verdict
As per the original movie, Tron Evolution's greatest selling point is its aesthetics. The clean, almost monochromatic, vector neons look stunning in HD. And the low texture-burden ensures a smooth visual ride, even when blistering around The Grid on a light-cycle. But despite some challenging platforming sections and a novel system of recharging, Tron Evolution's lustre quickly fades through average, repetitious gameplay. ®
More Games Reviews

007
Need for Speed:
Hot Pursuit
Assassin's Creed:
Brotherhood
Super
Meat Boy
Call of Duty:
Black Ops