Original URL: https://www.theregister.co.uk/2010/11/30/103_ways_to_kill_your_computer/
How to kill your computer
When the kernel panics once too often...
Posted in Personal Tech, 30th November 2010 11:00 GMT
Many people simply ignore the rule "if it aint broke, don't fix it" and end up annihilating their computer through a burst of static electricity or dodgy DIY.
Back in 2002, El Reg ran a few pieces on the obscurer ways to kill a computer. Most of the links are dead, so we thought we'd have an updated look into this wacky world of tech sadism and inspire you to destroy your own PC, perhaps.
Don't forget that Vulture Central takes no responsibility for damage or loss of equipment, limbs, life or self-respect. Don't ask us for help if it all goes wrong - we will only laugh at you.
Here's a handful of methods.
Turn your computer into an art project
What's worse than finding a worm in your Apple? Finding out that its been smashed up in the name of art perhaps...
Destructive artist Michael Tompert has done exactly that for his gallery show that ran in San Francisco recently. Tompert buys Apple products and annihilates them with blowtorches, handguns, saws and sledgehammers, then captures the aftermath in stunning high-res images.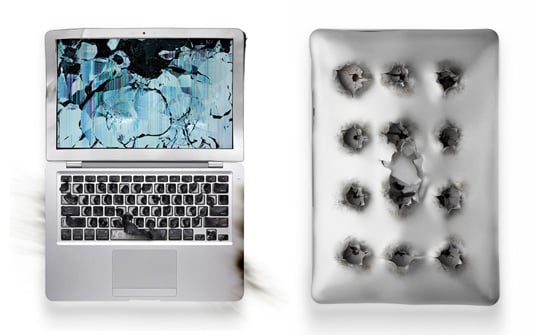 Shoots Apples better than William Tell
The idea came about after Tompert saw his kids fight over an iPod Touch. To show them it was just a silly gadget, he smashed one up in front of them, much to the despair of the entire household. It was then that Tompert saw the beauty in what he'd done and decided it could inspire consumers to think more about their relationship with these popular devices.
After enlisting the help of photographer friend Paul Fairchild, Tompert recreated product shots Apple uses in its adverts with an additional dollop of damage.
While shooting his way through an iPhone and leaving iPod Nanos on a railway line brought instant extinction, the "practically indestructible" iPad withstood sledgehammer blows and various other attacks. He eventually managed to make the tablet go boom after heating it with a soldering torch.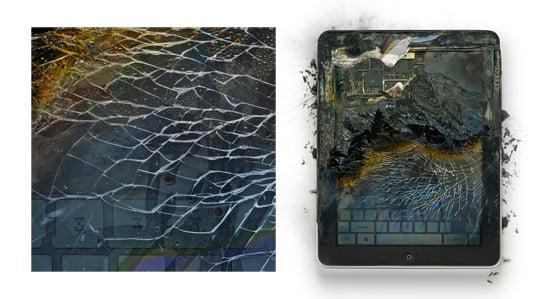 What happens when you melt my iPad? iScream
Ironically, Tompert is an ex-employee of Apple, but insists the shots are not meant to be disrespectful and has nothing but admiration for its products.
Tompert buys all his products new and has so far murdered iPhones, an iPad, iPod Nanos and MacBook Airs. Needless to say, his art has cost him quite a lot. An iPhone 4 was purchased on eBay and already had a cracked screen but still set him back $800. A few swings of the sledgehammer later though and Tompert had turned it into an art piece entitled "Must Have". Must have lost the plot.
Of course this isn't the only time computers have been shot in the name of art.
Hire a hitman
While Apple fans have gunned Windows machines for quite some time now, the weapon-obsessive PC assassins at killacomputer.com have literally been gunning computers for over eight years. Check out their site for flicks of desktops in despair and laptops levelled with lead. Only in America, eh?
Can't see the videos? Download Flash Player from Adobe.com
Cook it
While accidentally leaving your computer in the oven is a very unlikely scenario, deliberately putting it in your microwave is another prospect altogether.
Microwave This are three jokers who, twice a week, take household products and see how they fare when exposed to a high dose of radiation.
Although Macbooks are renowned for getting pretty hot anyway, is it a good idea to subject one to dielectric heating?
Have a look what happens.
Can't see the videos? Download Flash Player from Adobe.com
Fry the circuits
We've heard about the red ring of death when it comes to Microsoft's Xbox, but a red ring can also bring demise to a PC.
The hob of a stove is not a good place to leave your notebook, as one hapless pupil at Taunton School recently discovered. Luckily the scent of singed circuit boards overpowered that of teen spirit and a serious fire was prevented. The hard drive was recovered in the end, but the laptop which was handed to the helpdesk with a gaping hole underneath, never recovered.
Tip of the hat to Tom Shepherd at Taunton School for bringing that to our attention.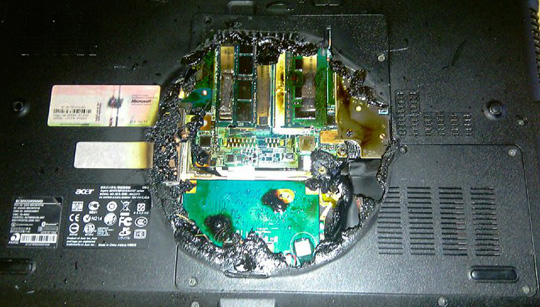 Holy smokes!
In some cases, cooking can be beneficial to a computer though.
I am the God of hellfire
Burn, baby burn. Cisco inferno! Forgetting to turn on the firewall may bring infection to a PC, but putting your computer on a wall of fire will almost certainly bring fatality.
It appears this is common practice on YouTube, with countless examples of pyromaniacs who take the phrase burn a CD a bit too literal.
Grill 'em, flame 'em, douse 'em in petrol and chuck 'em on the campfire - There's many methods to the madness.
Can't see the videos? Download Flash Player from Adobe.com
However, while burning your PC may seem a tempting proposition, your computer could beat you to it if you're not careful.
You probably remember the battery packs scandal a few years ago, but it isn't uncommon for computers to be left on overnight, only to spontaneously combust through overheating. People have died as a result.
Here's an image of my own Macbook battery which seemed to have a life of its own. It was barely distorted when I removed it from the machine, however after a few weeks in the the filing cabinet I was shocked at the sudden expansion.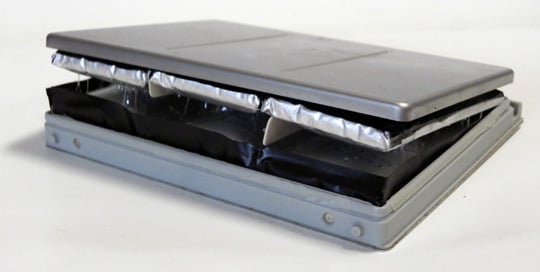 So, while setting a computer alight is an option, remember it may self-combust instead. Just don't be nearby when it does.
Run it over
Has your hard drive run you down recently? Why not get revenge?
You may remember the Apple Powerbook G3 advert - well, wouldn't it be nice to copy it and steamroll over a few computers yourself?
These guys thought so. "A feisty one" indeed - the cameraman's optimism is hilarious.
Can't see the videos? Download Flash Player from Adobe.com
Whack it off your desk with the keyboard
OK, you probably recollect the viral video Bad Day that perpetually circulated our emails back in 1997. Yes, it was fake, but in reality it probably happened to many a Windows 95 machine. Careful though, sometimes they strike back.
Can't see the videos? Download Flash Player from Adobe.com
Fun smashing Windows
Feel like killing an office computer without pissing off management? Have a play on this Flash game and discover eight different ways to destroy your PC. You may still lose your job for slacking, but at least you wont get sued for damage costs.
And finally...
Do you know any more ingenious ways to destroy a computer? If so, send us a message. Alternatively, video yourself breaking your own. Get cracking! ®