Original URL: http://www.theregister.co.uk/2010/11/29/group_test_ipad_cases_others/
Monster iPad Case Test: The Rest
Bags of... well... bags
Posted in Personal Tech, 29th November 2010 07:00 GMT
Product Round-up Lastly, we come to all the odds'n'sods - cases that don't quite follow the pattern, bags and other carry options.
Be-Ez Le Rush En Ville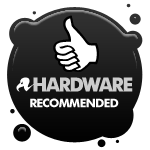 The iPad equivalent of the laptop bag, this shoulder strap-carried nylon case has a lightly padded space inside for the tablet and pockets for cables and adaptors. There's a handy document pouch on the back and smaller, velcro-sealed pocket for keys, wallet, pens and such. The buckles are smooth metal so they shouldn't cut into your straps.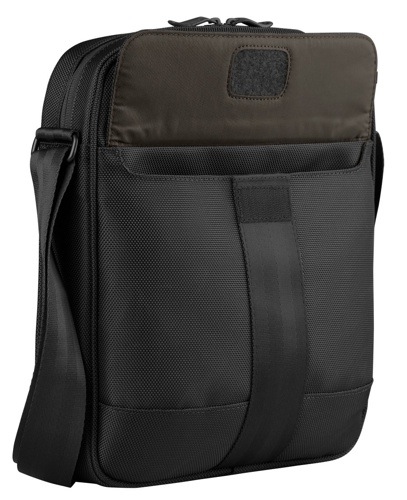 Reg Rating 80%
Price RRP: £40 Online: £39
More Info Be-Ez
Brenthaven Five-in-One iPad Protection System
Brenthaven's offering is a clever hard skin that comes with its own cover-cum-stand and a shoulder strap. The case is a two-part affair reminiscent of some iPhone cases: the iPad slides into the top part and then you slip on the lower section. It's done this way so you can easily slide it off again to dock the iPad, and it makes the case very easy to remove. You won't want to take it off because case and iPad together slide into an outer cover into which you also thread the supplied webbing shoulder strap. The iPad goes in screen inward for protection, though it'll go in the other way - with holes in the outer cover to expose controls and ports - if you prefer. The cover also doubles up as a stand.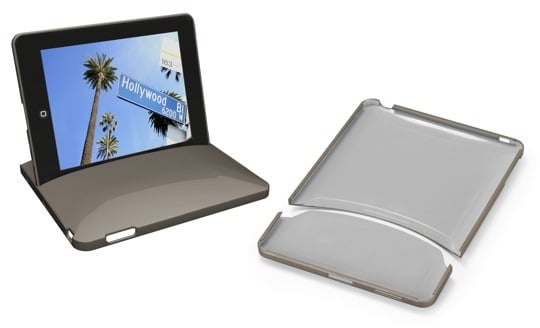 It's incredibly flexible. You can use the strap to attach the lot to the back of a car seat, for example. Flip the cover round and the stand slot holds the iPad at a shallow angle for typing. It's not for everyone, but this is a very small carrycase.
Reg Rating 80%
Price RRP: £55 Online: £49
More Info MobileFun
Griffin Cinema Seat
Only just counted as a case, the Cinema Seat, despite its name, is designed for car seats. Attach it to the headrest by its thick velcro strap, and it's ready for back-seat viewing. Taking the kids on holiday? Consider this. There's a mesh pocket on the back for earphones and charging cable, and all the ports are exposed. The only flaw: it comes in the pale grey the Yanks favour for car furniture, not the darker shades we Europeans prefer.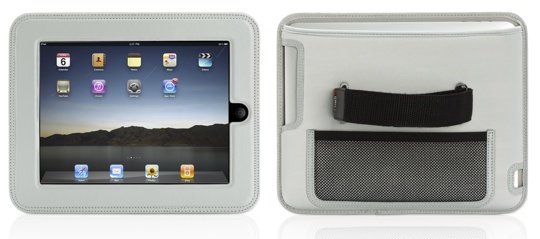 Reg Rating 75%
Price RRP: £30 Online: £21
More Info Griffin
Griffin Standle
More portable picture frame than case, the Standle is a tough gloss-black two-part case that comes apart - front from back - to allow you to insert the iPad. With the tablet in place, a hard-to-open stand flips out from the back the iPad up in portrait orientation. There's a second fold-out unit which not only provides a carry handle but also, thanks to a couple of wee fold-out clips, hold the iPad up in landscape orientation.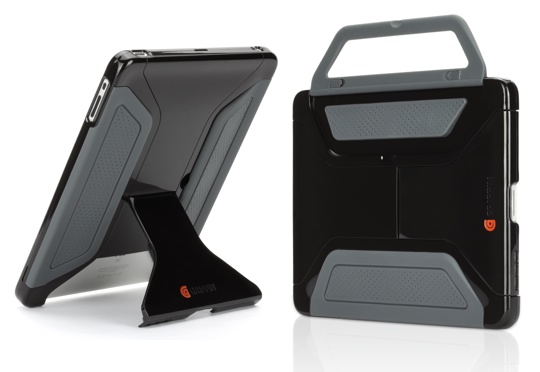 Reg Rating 80%
Price RRP: £40 Online: £TBC
More Info Griffin
Incipio Tek-nical
A cute neoprene-finish bag that's offers only limited accessory storage. It'll take an iPad - one cased, even - but while each side face is a pocket, the openings are narrow, more cosmetic than practical.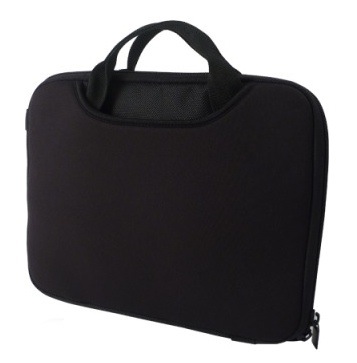 Reg Rating 70%
Price RRP: £40 Online: £23
More Info Incipio
Otterbox Commuter Series
More basic than Otterbox's mighty Defender (see below), the Commuter comprises a rubber skin onto which you clamp - not at all easily, I might add - a hard plastic back. Think of it as a cross between a silicone skin and a hard case, but tougher than both. A third component is the large slide-off hatch that covers the dock connector. The Commuter case comes with a stick on screen cov, a thick card squeegee to ensure no air is trapped beneath and a chammy leather to clean it.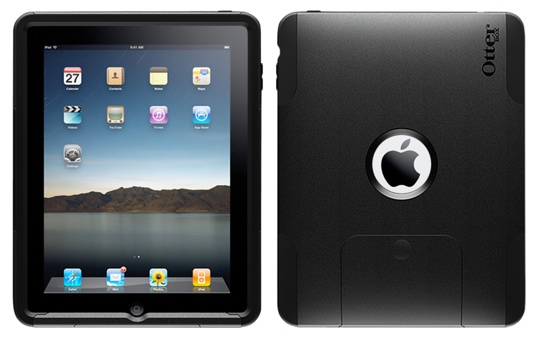 Reg Rating 70%
Price RRP: £48 Online: £32
More Info Otterbox
Otterbox Defender Series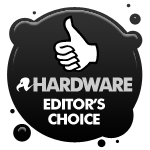 It's tempting to laugh at this case's five-part design and how it leaves the iPad feeling bigger and heavier than an old-style Tablet PC, but if you're after the acme in iPad armour, look no further. The tablet slots into a two-part hard plastic shell to which you then slip on the rubber surround that wraps over the back and sides of the case. Next, clip on a large hatch that covers the dock connector. Lastly, there's a secondary back panel that is actually a stand, docked to the back of the case for convenience.
You'll need the skills of a Houdini to get the iPad out again, but if you're giving it this degree of protection you're probably not going to want to do that anyway.
In all, the Defender is very well made with confidence-inspiring thick plastic, all of which is coated internally to prevent scratches. It looks the part too. It comes with a stick on screen cov, a thick card squeegee to ensure no air is trapped beneath and a chammy leather to clean it.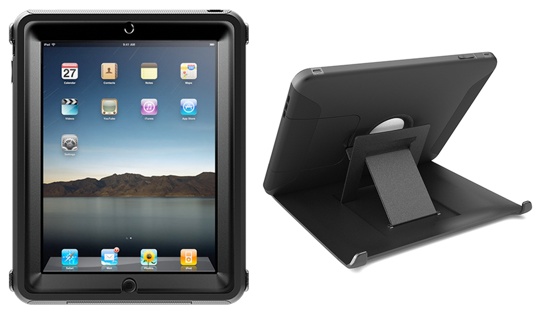 Reg Rating 85%
Price RRP: £65 Online: £50
More Info Otterbox