Original URL: https://www.theregister.co.uk/2010/11/27/review_hd_tv_sharp_aquos_lc_32le210e/
Sharp Aquos LC-32LE210E 32in LCD TV
Bedroom furniture makeover time?
Posted in Personal Tech, 27th November 2010 08:00 GMT
Review I have to say, I rather admire Sharp for not becoming entirely obsessed with 3D TV, and focusing some of its R&D talent on its innovative four-colour Quattron picture technology. Moreover, the company hasn't ignored adding features to its less expensive televisions, evident in the 32in Aquos LC-32LE210E.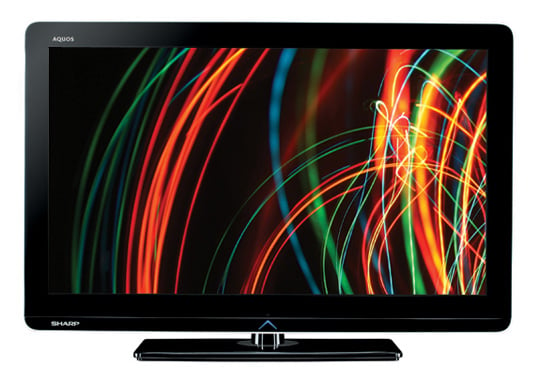 Media friendly: Sharp's Aquos LC-32LE210E
Intended for smaller living rooms, or perhaps for use as a second TV in a bedroom or kids' playroom Sharp's LC-32LE210E has the ability to timeshift and record programmes onto an external USB hard disk or memory stick. You can buy the LC-32LE210E direct from Sharp for £599, but online prices tend to be around the £450 mark. The 37in model is about £100 more expensive but, oddly, lacks the USB recording option.
Initial impressions are quite favourable, as the LC-32LE210E is solidly built and neatly designed, with its edge-lit LED backlighting giving it a fairly slim, 45mm profile. It's tempting to dismiss the 32in screen as too small for the living room – hence Sharp's emphasis on bedroom use – but it'll be a perfectly good choice for anyone that wants to upgrade from an old CRT set in order to get ready for the big digital switchover.
Its connectivity features are relatively modest, but cover all the basics, including three HDMI ports, one vestigial Scart for connecting older VCRs or DVD players, component video and stereo input, VGA for connecting a computer, and SP/DIF for digital audio output.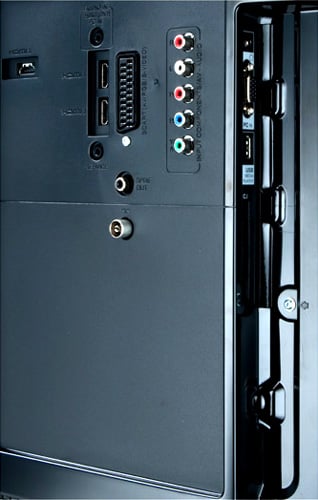 A variety, rather than an abundance of interfacing
There's a single USB port and CI slot, but no Ethernet interface to provide any Internet or video-on-demand services. That omission is acceptable for a TV in this price range, but I was disappointed to see that the Freeview tuner is for standard-definition channels only, rather than providing Freeview HD.
Like most HD TVs, the LC-32LE210E can use its USB port to play media files stored on a USB memory stick or hard disk. Its 'Media Player' option is easily activated via a button on the remote control, and provides a simple, straightforward interface for viewing photos, music and video files – it can even display .TXT wordprocessor documents as well as SRT and SSA subtitle files.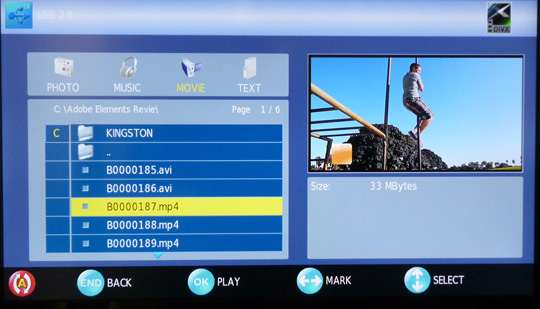 The media player file support should keep most users happy
Music fans will either be delighted or disappointed, as it will play MP3, AAC and WAV files, but not WMA. Likewise, most popular video containers are supported including MP4, MOV, AVI and MKV, but not WMV. I tested it with H.264, MPEG4 and Divx content, as well as some compressed audio, with no problems.
Yet the standout feature of the LC-32LE210E, is its ability to also timeshift and record programmes onto an external USB storage device. This is a smart idea – especially if you're using the LC-32LE210E in a bedroom or playroom – as it provides basic recording features without the need to buy yet another set-top box. Unfortunately, you do have to do a bit of work before you can start recording.
Although the LC-32LE210E can play media files stored on a memory stick or hard disk that has been formatted using the FAT, FAT32 or NTFS file systems, it has to reformat your storage device using its own 'Timeshift format' before it can record any programmes.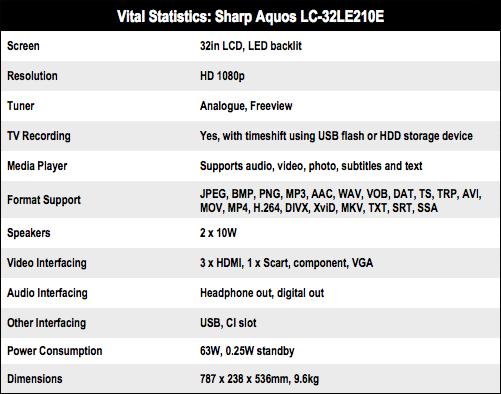 Alas, when I tried to reformat an NTFS memory stick I simply got an error message stating 'invalid format', with no further explanation. Only after delving through 30 pages of small print did I discover that the storage device used for recording must first be formatted as FAT/FAT32 – which I had to do using a laptop PC – and then inserted into the LC-32LE210E so that it can be reformatted once more.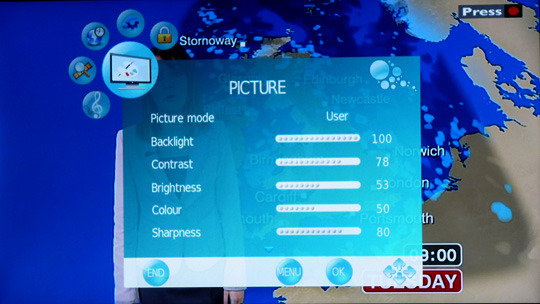 Menu options
It's a bit of a faff, to say the least, even if you know about these different file systems, but I suspect that many ordinary home users will stumble at this hurdle, so Sharp needs to provide greater plug-and-play simplicity for the recording features. Thankfully, recording onto a correctly formatted storage device is quite straightforward, as the recording and playback controls are all conveniently located on the remote control.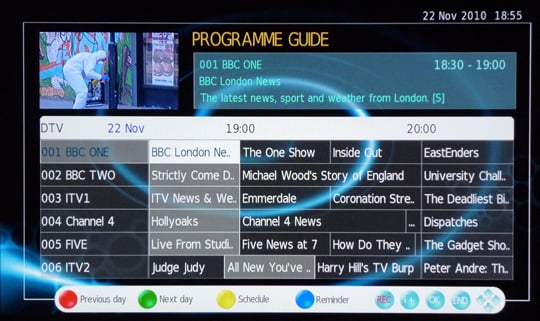 EPG
You can schedule recordings in advance using the 8-day EPG, and you can repeat recordings on a daily or weekly basis if you want to. A half-hour video recording takes up about 1GB of storage space, so my 16GB memory stick was perfectly capable of recording several hours' worth of programmes. Unfortunately, the (apparently Unix-based) file system used by the LC-32LE210E was indecipherable to both Macs and PCs in my office, so it wasn't possible to transfer recordings from the USB stick onto a computer or portable media player.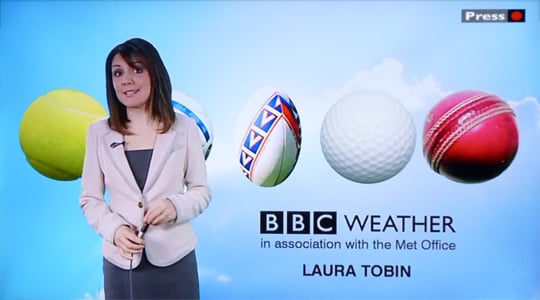 Even though it's a non-HD Freeview tuner, it delivers a very respectable picture
Image quality when using the built-in Freeview tuner was actually better than I'd expected, given that the programmes are merely standard-definition. And, as you'd expect, plugging in a Freeview HD box produced an obvious improvement, with bolder colours and finer details on BBC HD.
However, the brightness and contrast do start to drop off if you move about 45-degrees to the side, so the viewing angle could certainly be improved. The 20W stereo speakers provide decent output, although the bass is a bit thin. The modest price also means that the LC-32LE210E lacks features such as motion-interpolation or a 24fps cinema mode, but it's not aimed at home cinema fans, so those aren't crippling omissions.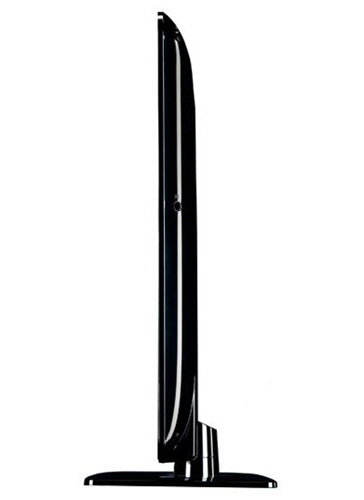 A good enough excuse to make some space in the bedroom?
Verdict
I've got a bulky old CRT hogging a corner of my bedroom at the moment, so I completely understand what Sharp is aiming for with the LC-32LE210E. However, there are cheaper 32in sets available, and at this price it really ought to include Freeview HD. Sharp also needs to simplify the process of recording onto USB devices. The LC-32LE210E is a good entry-level HD TV, but still looks a bit pricey compared to some of the very competitive models that are now available in the sub-£500 category. Even so, those record and playback functions certainly do come in handy. ®
More 32in HD TV Reviews...

Philips
32PFL9705
Ambilight
Sony
Bravia
KDL-32NX503
Panasonic
Viera
TX-L32S20B
Sony
Bravia
KDL-32EX703