Original URL: https://www.theregister.co.uk/2010/11/26/wtf_e_book_pricing/
WTF is... up with e-book pricing?
Price rises coming
Posted in Personal Tech, 26th November 2010 07:00 GMT
Electronic books are a topic that never fails to generate comment on Reg Hardware – most often along the lines of, 'why are they so expensive?'
With the launch of Amazon's Kindle in the UK, many book buyers hoped that e-books would become cheaper. Together with the falling price of readers, and Amazon trumpeting large e-book sales compared to hardbacks, could e-reading finally be about to take off? Or is publishing still an industry fighting to maintain old ways of doing business in the face of new technology?
How much does an e-books really cost?
None of the publishers Reg Hardware spoke to was willing to break down the price of a book to reveal the costs of physical distribution – paper, printing, shipping to bookshops and paying for premium display space there, though some estimates suggest only 10-20 per cent.



Taking Tolkien: The Lord of the Rings at Waterstones (top), Amazon (centre) and WH Smiths
Hint: The omnibus version is way better value than the separate editions
But all of them stressed that there is a lot of work that goes into a book before it's ready for production in any form: finding material, nurturing talent and editing. These are arguments that readers will have heard before, from the music industry when justifying the price of CDs and downloads.
It's worth remembering that unlike musicians, authors are unlikely to make a living from other income streams, most notably performance, so their money has to come from somewhere. When it comes to just how much work publishers do, SF author Charles Stross provides a useful insight into how a book is made. Of the 17 steps to creating a book that he outlines, the majority apply regardless of whether the result is an e-book or a printed one.
There may not, then, be quite as much room for manoeuvre as some buyers think. Yet it's clear that many publishers want to reap the rewards from high-margin hardback sales for as long as they can, an approach that pricing e-books at paperback levels would undermine. Better, they think, to cut prices only when the paperback goes on sale.
Where's our price war?
Back in August, Reg Hardware compared book prices and found that the launch of Kindle had failed to ignite a price war. Fast forward to late October, and blog Gone Digital repeated the comparison, revealing that prices at Waterstones had gone up, rather than down, though WH Smith was still fairly competitive with Amazon.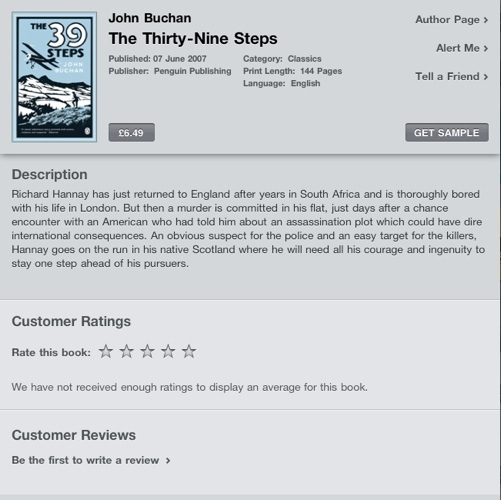 Classic mistake: agency pricing makes publishers' out-of-copyright editions expensive.
The same work could well be free and DRM-less from Gutenberg.org
However, book pricing has recently become more complex with the introduction of 'agency pricing' for e-books, a move that Amazon believes is bad for the consumer.
Agency pricing is very similar to the old Net Book Agreement, where publishers set the price and retailers didn't discount it. Those that did would no longer be supplied by that publisher. The NBA collapsed in 1997, when it was ruled to be against consumers' best interests.
That's certainly true, the NBA was anti-competitive, preventing booksellers to beat rivals by cutting prices. However, while it was argued that the abolition of the NBA would allow bookshops to flourish, in fact hundreds of them subseqently went out of business.
Agency pricing introduces the same notion of price maintenance as the NBA, with the same goal of levelling the e-book playing field. It has already increased the prices of some books. Amazon states "This price was set by the publisher" on agency titles, resulting in some recent e-books titles now costing more than the hardback edition, which, because there's no longer an NBA, bookstores remain free to discount.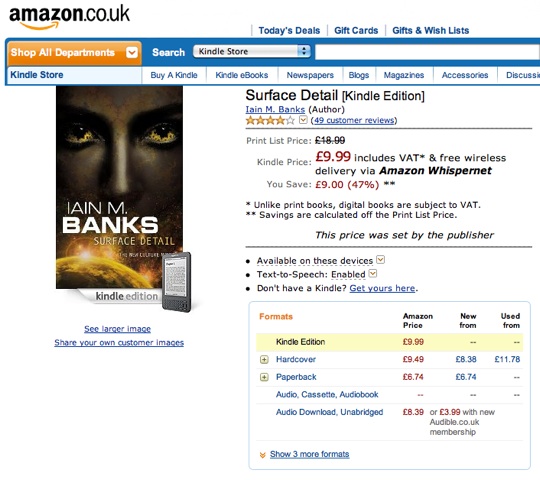 Iain M Banks' Surface Detail on the Kindle Store
That situation is, of course, made worse by e-books attracting VAT. For example, Iain M Banks' novel Surface Detail is £9.49 in hardback, but £9.99 - £8.50 plus 17.5 per cent VAT - for Kindle, and will likely cost £10.20 in the new year, unless publishers absorb the incoming 20 per cent VAT rise, or the government takes advantage of a 2009 EU rule change that would allow e-books to be sold at the lower VAT rate of five per cent.
Paperback priority
One way of saving money is – as with printed books – by waiting for the paperback. When it was first published, Margaret Attwood's The Year of the Flood had an e-book RRP of £18.99, matching that of the hardback, and was discounted at Waterstones to £13.59. The Kindle edition now sells for a publisher-set £6.99, while the paperback is discounted from £7.99 to £5.16 by Amazon.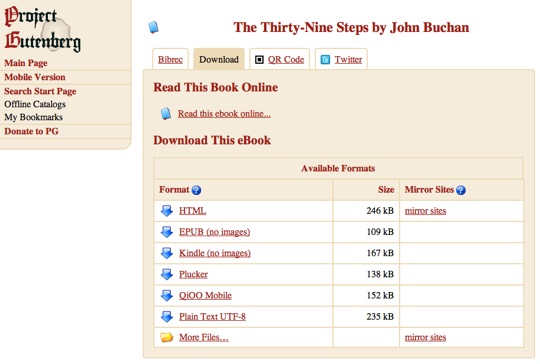 Good Gutenberg: your first port of call for free out-of-copyright material - and not just the familiar classics - in all the key formats
Complicating matters still further, WH Smith tells us that they've only signed up to agency pricing for Hachette and Penguin titles. However, Year of the Flood, despite being from a member of the Hachette group, is still selling on WH Smith for £4.59, compared to Amazon's £6.99.
Want to shop around for e-books? Get a smartphone
Shopping around for e-books may be becoming less advantageous, thanks to the introduction of agency pricing, but it's nonetheless becoming easier to do.
The main barrier to seeking the cheapest supplier for a given e-book is DRM and file format. Amazon's Kindle has a format all of its own, with the .azw suffix, while other e-bookstores use the ePub format.
But while many protected ePub e-books use Adobe's Adept DRM, part of its Digital Editions system, Apple's iTunes bookstore uses the company's own Fairplay DRM.
Fortunately for smartphone owners, apps are appearing that allow you to hold multiple e-book libraries alongside each other.
On the iPhone, for example, in addition to Apple's iBooks, you can download a Kindle reader from Amazon, and there are a number of readers that support Adept, such as Bluefire Reader, Txtr and Stanza.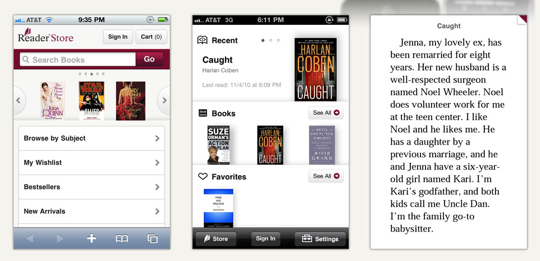 Sony is developing an e-book reader app for iOS and for Android. Hopefully it will bring Adept support to Android. While there are a fair few e-book reader apps in the Android Market - notably Kobo and Aldiko - none appear to support Adobe DRM.
All this is great news for smartphone and tablet owners, but the fixed nature of dedicated e-book reader devices means they're unlikely to gain support for formats and DRM schemes not favoured by the manufacturer.
This advice will annoy E Ink fans, but it's true nonetheless: if you want access to the broadest range of e-bookshops, you need a smartphone.
Finding the best price
On Amazon, agency pricing has overall pushed up the basket of 36 e-books used in our August comparison, from last month's low of £154.19 to £184.62, a rise of almost 20 per cent in a month.
Fans of Banks will have seen price increases of over £3 on several titles – a move that's prompted many of them to leave angry one-star reviews on Amazon.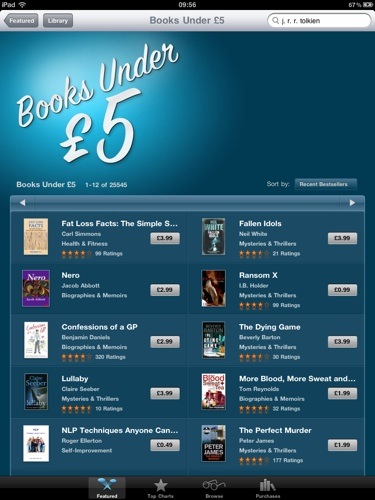 Always check out the bargain bins
Changes are less marked at Waterstones or WH Smith. The former has dropped prices by five per cent since August, and the latter by around 1.5 per cent, but adjusted for books not available at those stores (1), our basket still comes to £205.95 at WH Smith or £227.95 at Waterstones.
Clearly, the hoped-for price war has failed to ignite, but if your device can display both Kindle and ePub formats, it's definitely worth using that ability to shop around.
What next?
While there are always those who want electronic media for next to nothing, a look through online book communities suggests most readers do understand that authors need to be rewarded. Rather than price per se, the chief objection seems to be that with many e-books, they're paying more for a product that, thanks to DRM, they can do less with than the 'old fashioned' paper alternative.
Does that make them overpriced? A final word goes to Richard Mollet, CEO of the Publishers' Association, who told us: "We've got to make sure that when people are getting their hands on something, they appreciate there's a value to what they've got."
The real question, perhaps, is not whether or not readers value what they've got – but whether they agree with the publishers on exactly what it's worth. ®