Original URL: https://www.theregister.co.uk/2010/11/26/review_bedside_dab_radio_pure_twilight/
Pure Twilight DAB/FM radio and dawn simulator
Moodlight serenade
Posted in Personal Tech, 26th November 2010 15:32 GMT
Review Here in Blighty we're rather proud of our broadcasting heritage, the BBC was the first to offer national radio after all, and remains the world's largest public service broadcaster too. Yet, while the US managed colour TV in the 1950s, the UK had to wait until 1960s. Half a century on, DAB radio pioneer Pure is keen to ensure we'll not be left behind this time with its latest innovation, colour radio.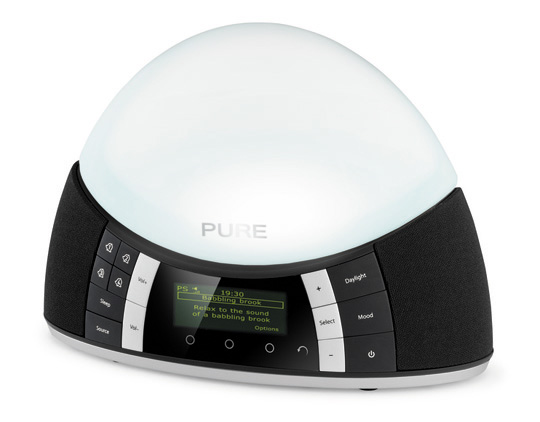 Radio Ga Ga: Pure's Twilight features built-in lullabies
You might think the Pure Twilight is just a bedside, stereo DAB/FM radio with a gibbous moon-shaped lamp atop a black and silver body, but how wrong you'd be, sort of. The lamp has some clever features, using six high power LEDs to simulate daylight, as well as mood light that changes colour and varies in intensity.
The idea is that at bedtime you'll have your mood lighting active and if you select sleep mode, this will gently fade over a specified period of time. In the morning, the daylight option will steadily brighten for a period before alarm time. Oh, and to make things even more interesting, the lamp is touch sensitive. Let's skip the light fandango for now though.
Alas, £130 won't buy you any Wi-Fi connectivity, although Pure is eager to promote Internet services, with other radios in its range tapping into the Pure Lounge portal. A rather neat Pure Lounge iPod app has just appeared too, to enable access to Lounge content including digital radio and podcast favourites. The company even has its own music store called FlowSongs that enables song purchases from within certain radios.
No doubt a Wi-Fi enabled version will appear if the Twilight proves to be a leading light but for now, its just a twin tuner with an 3.5mm aux input round the back and one for headphones too. There's also a mini USB port for firmware upgrades and a standard USB connector that Pure describes as the PowerPort. The idea being you can charge up devices plugged in here, but no other functionality.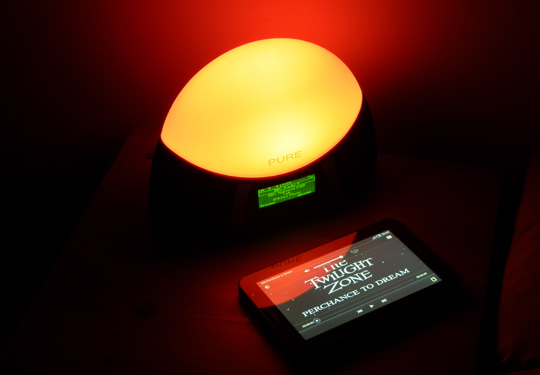 Use the Twilight to charge up a tablet and listen to the audio through its aux input
It's not a bad idea though, as the Twilight ends up reducing the mains socket count, as you won't need one for a bedside lamp or your phone/tablet/PMP charger. With a broader charging scope than just offering iPod connectivity, it invites you to plug in other devices to the aux input whilst charging at the same time. I tried it with a Samsung Galaxy Tab, playing movies through the Twilight, which was a great improvement over the Android fondle slab's feeble speakers.
A light touch
Not such a great idea is the length of the cable for the external power supply. At just 1.5m, it would only just cover the width of a double bed. So, in many cases, the preferred positioning will require an extension lead.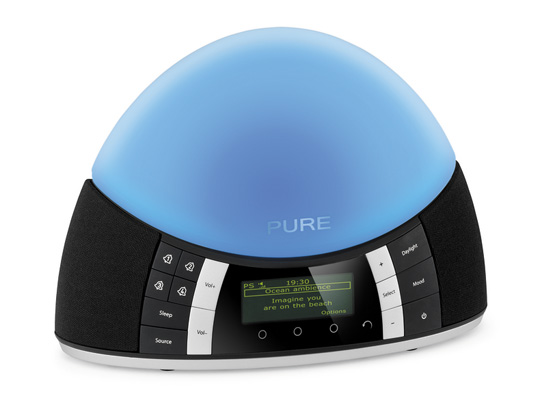 Aesthetically pleasing, but simple volume knob would make it a lot easier to operate
With no knobs to twiddle, and no remote control either, the front panel of the Twilight requires an awful lot of prodding at times. There are dedicated keys for the four alarms, sleep, audio source, daylight and mood lighting, along with volume and select up/down options and power. In use, a further four touch sensitive buttons become active below the LCD screen.
As someone with a radio in every room, I really miss having a good old-fashioned volume knob to twirl, as it's just so darned quick to tweak the sound levels. I could just about excuse my knobless Memorex Mi4014 iPod dock – that has adorned my bedside for over a year – because it has a remote control. No squinting at front panel required, just point and click.
Admittedly, the grip of the Pure Twilight's rubber feet prevent it from sliding off the bedside table with persistent prodding, but once the dust starts clinging to them, which is already beginning to show on the review sample, you'll need to hold the device to steady it.
Now, things can get rather interesting when you start touching the Twilight. When poking your way through the options, you soon learn to avoid the lamp, because you'll either be thrown into darkness or the coloured mood lighting you've set up will be trumped by the dazzling daylight option.
This is all part of the Twilight's charm, as the lamp responds to different touch commands. Tap the top and it's on or off. A sustained touch will either dim or brighten the light. If the light intensity is going the wrong way for you, let go and touch again, as the control toggles with each press. A touch will also snooze an alarm.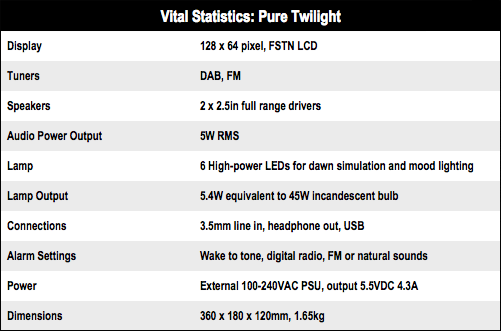 Moody blues
There's more to the lamp than just touch control though. The daylight option – fading up before the alarm sounds – is claimed to have possible health benefits for the seasonally affected. I must admit, awaking to it wasn't unpleasant, just a bit dazzling first time round with my waking thoughts being I'd gone to sleep with the light on.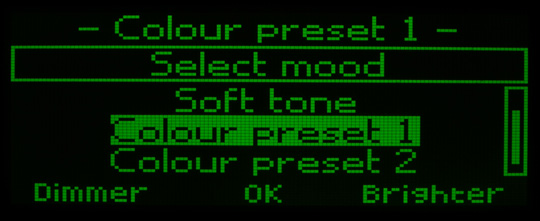 If you don't like the presets you can customise the mood lighting
The coloured mood lighting can be selected at any time, but there seemed no obvious way to wake up to an orange glow or any other colour for that matter. At night though, the light can be set to fade over a sleep interval, which will also kill the radio at its end. It was a pity that the radio didn't slowly diminish in volume too. The light extinguishing also seemed rather abrupt, with no galloping fade near the end. Just off.
The Twilight offers custom colours and intensities along with several themed options, including some that vary the colour scheme. Yet, apart from the more gentle meanderings of the Rainbow preset, Party and Fire seemed rather unsubtle. With the latter, you could even opt to have the Pure Sounds Crackling Fire audio preset play away. These soundbites appear in the audio source menu, along with lullabies (which are fairly pleasant). Yet most of the Pure Sounds seem in too much of a hurry, the wind chimes are too fast, the lapping waves too busy and the cicadas too manic.
What Pure really should do here, is learn from the ambient master. If the thinking behind Brian Eno's Bloom iApp was applied to the Twilight, with its touch controls triggering sounds and colours too, that would be a bedside radio worth having an early night for.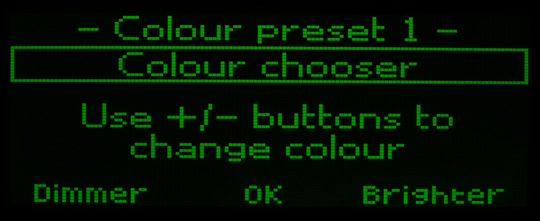 Pick a colour and then alter the brightness to suit
Sonically, the Twilight delivers a robust output, but I couldn't describe it as warm. Testing with the aux input revealed its rather contained performance. The bassline on The Doors' Riders on the Storm came across as plucked rather than the rounded rumble I'm used to hearing. Steely Dan's punchy bass on Things I Miss the Most had it complaining slightly at full blast, but the Twilight seems to avoid excessive distortion by steering clear of trying to deliver low frequencies it can't handle.
Tonal colours
While not exactly Pure's fault, I found the compression on the DAB radio channels to be rather harsh. The DAB signal was fine, but switch to FM and the dynamics are easier on the ear, although you'd need to wave the wire aerial around a bit to minimise reception hiss. Yet, for material such as classical music, the dynamic range can be a listening challenge and the Twilight has a dynamic range control (full, half and off) for DAB reception. Even though audiophiles may squirm at the thought, it did make a useful difference when listening to Vaughan Williams' Symphony no. 5 on BBC Radio 3.
Makes more room on the bedside table, and in your wallet too
DAB's compression – combined with digital broadcasting preferences to deliver round table discussion programmes such as BBC Radio Four's In Our Time in mono – does tend to undermine the definition of some content, but I could just about live with this as bedside listening for the convenience. However, I would say that Pure needs to work on the sensitivity of the Twilight's volume control at lower levels because it tends to make rather big leaps.
Verdict
Overall, the Twilight is a rather nice idea with just a few shortcomings. It's not cheap (but what DAB radio is?) and takes a little getting used to, as its controls tend to look the same in dim conditions and the lamp itself doesn't shed light on here either. Even so, the Pure Twilight certainly made a lot of space on my bedside table, dispensing with the need for a shaded lamp with a large base. Whether the daylight lamp has health benefits is debatable, but the mood lighting at night is a nice touch that will surely appeal to those who dream in colour. ®
More DAB Gear Reviews...

Ten Essential...
Bedside iPod docks
Pure
One Mi
Teac
R-4iDNT
Revo
Heritage