Original URL: https://www.theregister.co.uk/2010/11/26/need_for_speed_hot_pursuit/
Need for Speed: Hot Pursuit
Streets ahead?
Posted in Personal Tech, 26th November 2010 14:12 GMT
Review Pigs, gavvers, filth, babylon, bizzies. The sheer wealth of familiar pejoratives suggests few people admire the police. Even fewer, I suspect, admire traffic cops. But despite an incongruous contempt for those who uphold the law, I'm sure many people share my fantasy of a night spent behind the wheel of a lumbering Volvo Estate, bringing justice to the streets of our inner-city Asbo-farms.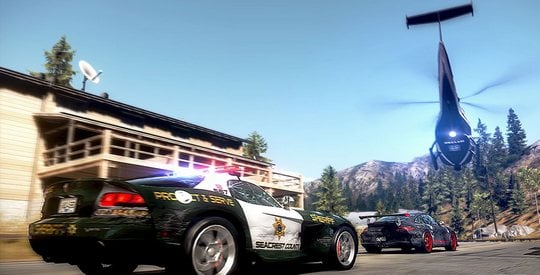 Cop a load of this
When I heard the premise for Need for Speed: Hot Pursuit, that fantasy flashed before me. I saw my sweat-soaked leather driving glove jerk towards the siren. I heard my shout over the radio, "White Golf GTI, Three IC1 males, aged 15 - 20!" And I saw the deathly terror on the driver's face as my Volvo nudged him and his glue-sniffing twoccers into the path of the oncoming lorry.
OK, so maybe some fantasies aren't for sharing. And maybe I've seen one too many late-night traffic cop shows. But this is why I play videogames: to do the unthinkable. And while there's not a single Volvo or twoccer in its vast fictional American state of Seacrest, EA's reboot of the Hot Pursuit brand still manages to satiate the repressed sociopathic law enforcer within me.
Nowhere is that fantasy better gratified than in the eight-player online eponymous Hot Pursuit mode. Split into two teams of street racers and traffic cops, the objectives are simple. Street racers need to complete a point-to-point race, traffic cops need to damage their cars sufficiently to stop them. But these simple objectives belie a profundity of balanced gameplay and tactical nuance that make for one of the most addictive race modes ever created.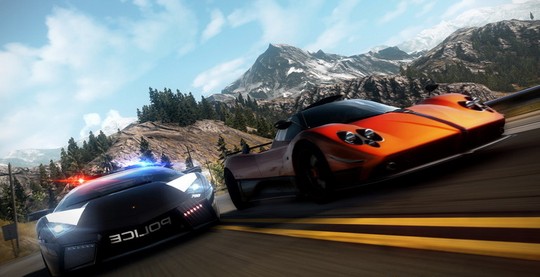 This little piggy went ner-ner-ner-ner all the way home
It's easy to see where that addiction stems from. The collaboration between DICE, the creators of the Battlefield series and veteran racers Criterion injects the lexicon of multiplayer FPSes into the turbo-charged vernacular of racing.
Police and thieves in the street
At its most apparent, that fusion sees team play rewarded over individual achievement. Street racers earn the most Bounty – the game's holistic system of experience points – by ensuring at least one car crosses the finish line, with far less rewarded for simply finishing first. And traffic cops are rewarded far greater spoils for halting the entire race than for taking down individual cars.
Completely over the top
These team-focused mechanics make for tense cat-and-mouse affairs. Do you try to out-race the police or hang back and watch car numbers dwindle before dashing for the line? Do you try to catch the racer far ahead, or turn your police car around and pick off stragglers?
Gameplay is novel enough through driving alone to differentiate from the crowd of sprint-to-the-line variants in so many other racers. But DICE's influence doesn't stop there. Its multiplayer pedigree is brought to bear on Hot Pursuit's weapons, imbuing gameplay with a consideration that promotes them far above gimmickry.
Racers and police share two weapons: forward-firing EMPs, which buffet opponents off the driving line, and stingers, which spin cars out. In addition, traffic cops can set up roadblocks or call in helicopters to distract racers and drop stingers from above. Racers, on the other hand, can use jammers to temporarily disable police weaponry, or use turbo to defy conventional speeds.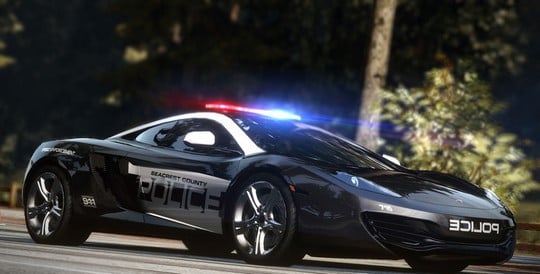 Who's doing donuts now?
Weapons are least effective in isolation. EMPs do little damange, and stingers and roadblocks are circumvented with good driving. But combine weapons through team play and the mechanics shine. Avoiding stingers becomes impossible when hit by an EMP. And roadblocks represent far greater challenges to drivers worried when the helicopter above will to drop its payload.
Road worthy
For all DICE's influence, peer under the bonnet and you'll find Hot Pursuit's engine is resolutely a Criterion racer. The graphics, the crashes, the damage decals, the nitro boost rewards for driving dangerously - all are instantly familiar to Burnout players. But Hot Pursuit's cars feel weightier than their Burnout counterparts. And although firmly an arcade racer, there's an appreciable difference in handling among the large roster of sports, performance and supercars.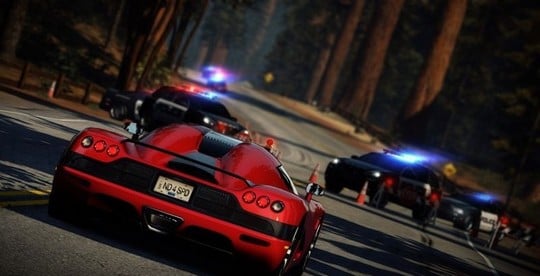 Blockheads put a block ahead
Bolstering Hot Pursuit's online offering - which also includes standard eight-player races and a one-on-one variant of the Hot Pursuit mode – there's a substantial single-player career mode. A map of Seacrest is used as a hub from which to select individual events. Completing events earns you Bounty, unlocks new cars and events, and increases your status: promotion through the ranks as a traffic cop, or notoriety as an illegal street racer.
It's a solid, polished, but ultimately unremarkable structure, one a little sterile and staccato in comparison to Burnout Paradise's free-roaming principles. And while early events describe Hot Pursuit's gameplay in easily digestible vignettes, the continued restriction of abilities in later levels - such as night pursuits with only stingers and helicopters - feels contrived to maintain variation.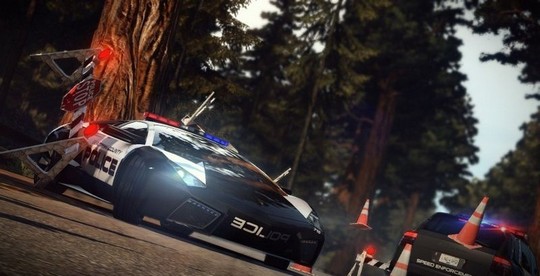 What's in the trunk?
Verdict
Hot Pursuit is a solid game, with real invention, but feels just the first step in re-establishing a franchise. The career mode entertains for a few hours, but the structure lacks personality, and play soon becomes repetitive. And despite the amazingly addictive Hot Pursuit mode, the online content is light in comparison to the Triple-A shooters that inspire it.
On this evidence, Hot Pursuit has an extremely bright future – one which will benefit by drawing further inspiration from online FPSes. But in the meantime, if you're reading, EA, any chance you could set the obligatory DLC content in Toxteth or Moss Side? ®
More Games Reviews

Assassin's Creed:
Brotherhood
Super
Meat Boy
Call of Duty:
Black Ops
007
Blood Stone