Original URL: https://www.theregister.co.uk/2010/11/26/futuristic_guns_feature/
Yes! It's the Reg Top 5 FUTURISTIC GUNS Thanksgiving Roundup!
Backpack raygun, portable artillery piece and MUCH MUCH MORE
Posted in Science, 26th November 2010 14:50 GMT
As anyone with their finger on the pulse of our former transatlantic colonies knows, yesterday was Thanksgiving: a traditional American ritual in which families come together to celebrate the fact that they have plenty of food for the year ahead by eating most of it in one day, the while watching enormous men crashing into one another on TV.
Today is of course Black Friday, in which the memory of yesterday's gluttony is rinsed away by a cleansing draught of rampant consumerism. This custom, courtesy of Amazon UK, has now spread across the pond - plainly we must yield and accept a USA theme as the weekend approaches. But what could be more American than a colossal slap-up feed and then buying a lot of stuff?
We'll tell you what could be: guns, and plenty of them.
Think about it, after all. The USA and indeed the American colonies before them - being rather recent as countries go - have only ever existed in the era of the gun. No knights in armour or legions of bronze for them.
The trusty flintlock enabled early colonists to establish that mutual bond of chumship with the native Americans that later became such a byword, and subsequently permitted Mel Gibson to liberate oppressed, taxation-averse American plantation owners from the dominance of evil British forces; the still-trustier sixgun allowed him to plug shifty Alfred Molina during a disagreement over cards in a different movie.
The Springfield rifle-musket allowed the Union to finally make the USA into something loosely approximating a land of the free, just 57 years after the evil British forces began actively fighting the slave trade. The .50 Sharps and similar weapons permitted the noisy, pooping, delicious menace of the Plains buffalo to be wiped out.
Bonnie and Clyde had their Browning Automatic Rifle1; Al Capone had his tommy-gun; Dirty Harry his .44 Magnum. Various modern-day movie stars have joined pesky can't-get-rid-of-him Mel Gibson in documenting the modern, long-delayed rise of the 9mm automatic as the classic American sidearm (the argument for nines being perhaps best summed-up by Christian Slater in the misunderstood 1992 classic Kuffs: "I'm looking for a really big gun that holds a lot of bullets")2.
Truly, then, the history of America was written by trigger fingers rather than sword arms as in Europe. But what of the future? What amazing new shooting irons and gizmos will appear and amaze the world in the hands of iconic criminals, heroes and movie characters, the way sixguns and BARs and tommy-guns and magnums and nines and laser sights and the rest have done?
Well, here's our selected top five: we have tried to confine ourselves only to weapons and gadgets suitable for individual carry and only ones which actually exist or will do soon - otherwise we'd be here all day.
The "Big Hurt" adjustable-velocity knockout rifle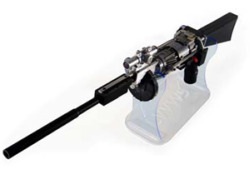 'Big Hurt' - or gentle slap, as you choose
The brainboxes at Lund Invention are probably rather better known for devising such works of genius as robotic doll babies which slurp juice, wet their nappies and utter troubling catchphrases ("baby go boom"). Nonetheless the company has also done its bit to keep the US military-industrial complex on top with the LVVWS.
The idea of the weapon is a simple one: you don't always want your bullets to come out of your gun at the same velocity. When shooting a "non-" or "less-lethal" plastic bullet, beanbag round etc you need low velocity at close range to avoid inadvertently killing your target: but to hit further off you need more poke even with a riot slug, and should you want to pierce armour or deal out death you need still more.
The LVVWS copes with this by using an explosive gas mixture in the chamber behind the projectile rather than conventional propellant powder. A laser rangefinder measures the distance to the target and the gun automatically injects the correct amount of gas in order to deliver a less-lethal slug at the correct velocity: alternatively the user can manually override to fire a lethal-force shot. Thus a soldier or plod can carry both lethal and non-lethal weapons in one, avoiding the need for multiple arms or a clumsy combo like the M-16 with underbarrel Taser.
To begin with inventor Bruce Lund intended to use a mixture of hydrogen and oxygen to propel slugs from the LVVWS, having successfully used such a system in a toy rocket, but hydrogen was seen as a logistic burden by the military. The latest versions of the gas-gun now use MAPP fuel canisters of the type employed in nail guns among other applications.
Lund calls the LVVWS the "Big Hurt... because it puts the hurt on the bad guys".
He adds that "with the development of the LVVWS, we answered our country's call to create a tool to keep our peacekeepers safe while deterring the behaviors of aggressive law breakers," though also admitting that "I have always loved things that go boom... They just make my little heart go pitter-pat".
The in-weapon spy recorder "Black Box": It's real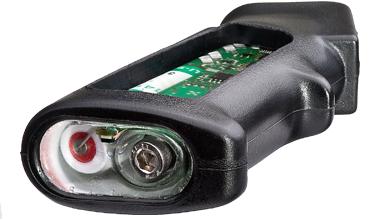 We would have believed it was an accident if you hadn't reloaded. Twice.
This gadget is designed to be installed inside a weapon, where it would run on a non-replaceable battery lasting ten years or 100,000 shots - covering the weapon handily between major overhauls.
The initial uses of the Black Box would, according to makers FN, be in logistics and maintenance. The in-gun shot counter would keep track of how many rounds were being fired, updating a future soldier's digital comm/puter system - Land Warrior or some similar rig - as it went, using some form of wearable networking.
Not only would the soldier or cop then know automatically how many shots he had fired without the need to keep count or look at his magazines and pouches, but so would his team leader - and higher commanders would be warned in advance if their people seemed likely to run out of ammo. Armourers would also find repairs and maintenance easier using the records held in the gun.
So far, so uncontroversial. But FN seem to hint at other uses to which the gizmo might be put - indeed the choice of name offers a broad hint that investigations following a shooting or a firefight might make use of the records held in weapons used.
Fans of Judge Dredd will recall that his personal sidearm, the Lawgiver pistol, had capabilities akin to this in some versions - perhaps going as far as the tagging of every round fired with the user's DNA signature. (Though in the movie, even this level of record-keeping didn't suffice to protect an innocent Dredd from being busted by his fellow judges for a crime he hadn't committed.)
The introduction of such systems might be used as much to keep tabs on cops or troops as to help them out with logistics and maintenance. And Black Box guvmint gunbutt spy modules required in every licensed weapon, doubtless remotely accessible by federal busybodies, would seem like a vaguely plausible bogeyman to disturb the sleep of many a righteous, free, gun-toting American.
Even more chillingly for those who see personal weapons as a guarantee of freedom from government oppression, FN speak of the Black Box as a "weapon manager", hinting that feds, military superiors etc might even be able to disable a gun remotely.
The feds' backpack microwave raygun - tactical prototype being tested right now in California
Many readers will be familiar with the Active Denial System, the huge Humvee- or truck-mounted microwave raygun cannon developed for crowd-control purposes by the US military but so far never deployed.
The ADS is supposed to work by emitting a powerful beam of microwaves which penetrates only the outer layers of a victim's skin, causing an intolerable burning sensation but no lasting harm. The idea is that the weapon would avoid US troops having to open fire with lethal bullets when confronted by angry and/or violent mobs overseas, instead scattering their adversaries with a painful but ultimately harmless roaster-raying.
As an enormous truck-mounted weapon the ADS as such is outside our scope in this article: but not everyone knows that in fact a portable, handheld version for use by American cops, feds or other law-enforcement operatives is in development.
Under a programme called "Solid State Active Denial System Demonstration Program" the National Institute of Justice - the Q branch of the US Justice Department - awarded funds in 2004 to build a "high power solid state radio frequency directed energy weapon brassboard. This was essentially a lab demonstration model and does not resemble the envisioned hand-held weapon". The existence of this prototype has been previously reported on here and there.
But then in 2009, the Justice boffinry chiefs assigned a further $574,946 to Raytheon - makers of the original ADS - to take the lab prototype and turn it into a proper handheld raygun. The initiative is described thus:
Utilizing the 2004 brassboard, this 2009 effort will produce an RF weapon with a tactical weight and form factor... Efforts will be made to produce a semi-tactical weapon with ruggedization techniques applied. The supporting system components will be designed into a lightweight backpack that is connected to the weapon by an umbilical style cable cluster.

The resulting weapon will have the look, feel, and RF functionality of a tactical man-portable active denial weapon. The weapon will approach the weight, ruggedization, firing-time and environmental requirements that the eventual fielded weapon will be required to have...
So how's it going? The US government's quarterly report as of September describes progress on the backpack roaster-ray project, being carried out at a Raytheon lab located in Rancho Cucamonga, California:
The complete detailed layout of the weapon and backpack is finished. Integration and testing of the full system is planned for November. At that time, the full solid state array will be integrated with the weapon system and backpack system and tested as a package...

Battery testing is expected to begin in late October. The control software was developed with basic functionality. Detailed coding will be completed after hardware testing...

Raytheon plans to demonstrate the full system in late November or early December.
So we can take it that as this article is written the finishing touches are being put to the US Justice Department's backpack microwave raygun-rifle, and it will shortly be tried out. Handheld rayguns finally exist for real.
The Terry Pratchett computing sniper-scope and the target-seeking smartbomb bullet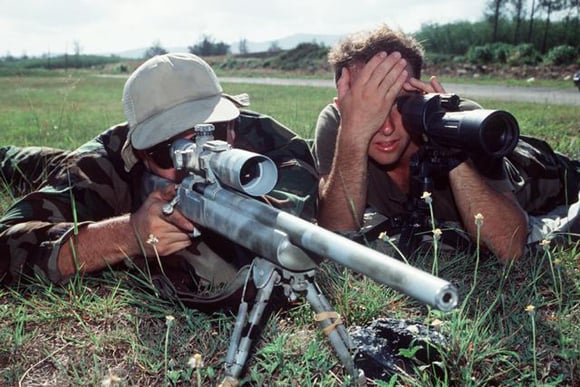 Ridiculously old-fashioned: needs more lasers and computers 'n'shit
As everyone who has read the Discworld books knows, million-to-one shots actually hit nine times out of ten. Pentagon weaponeers saw no reason why this should not also become true for US military snipers, leading them to begin work on the "One Shot" miracle sniper-scope project.
One Shot works by using a laser to measure not just the exact range to the target (this is already common practice among snipers) but also to measure the wind forces along the bullet's line of flight. Wind is perhaps the marksman's greatest bugbear in long-range shooting, so much so that snipers aren't expected to achieve a first-shot kill any further off than 600m in normal circumstances3.
The One Shot instrument, which will replace the telescope used by the sniper team's spotter, will measure wind, range, inclination, air pressure and humidity. Linked to the scope on the sniper rifle, it will continually generate artificial crosshairs indicating where the bullet will actually strike: it will also indicate the likelihood of a wind shift during the projectile's flight time, allowing the shooter to pick the best moment to fire. All the sniper has to do is move the crosshairs onto target, wait for the circle of uncertainty to stabilise, and shoot.
According to spec, the One Shot system isn't quite as good as the Pratchett effect: it will deliver first-shot kills out to 1500m only six times out of ten rather than nine. Even so, this is highly impressive stuff - and again, it exists and is going into service now. Brassboard systems have already been tested, and a contract for "fully operational and field hardened systems" was inked last month.
That's not all, either, in the field of mad future sniper weaponry. The One Shot system is designed to make the lighter-calibre sniper weapons - rifles firing 7.62mm NATO, .300 Winchester Magnum or .338 Lapua Magnum - hugely more accurate: but once the bullet is flying there will be nothing more to be done. If the target moves away during its flight (which could take seconds at long ranges) or the wind shift unpredictably, it will still miss.
But this is in hand. Bigger, fatter .50-calibre bullets are big enough that it might be possible to fit them with guidance fins and a seeker sensor - probably not a sophisticated one able to home in, say, on a person's body heat: but one which could home on a laser dot in smartbomb style should be possible.
Like a smartbomb, the proposed EXACTO .50-cal smartslug would have no propulsion of its own. It would still fly ballistically through the air like a regular bullet, but it could adjust its path so as to hit on top of the sniper's laser dot pretty much regardless of wind, range or even a fair amount of movement by the target.
A .50-cal bullet fired on a high arc can easily fly 6 or 7 km, so if EXACTO (EXtreme ACcuracy Tasked Ordnance) ammunition can be made, snipers would be able to strike at this kind of range and hit moving targets, too. This last would be handy as .50 rounds are commonly used for "anti-materiel" tasks such as knocking out vehicle engines - they're generally seen as overkill for sniping at individual humans4.
Progress? Well the EXACTO project isn't as far along as One Shot. However a "successful proof of concept" via "high fidelity hardware-in-the-loop (HITL) simulation" has been carried out, and a Phase II concept which will see a working system built has been issued.
The Judge Dredd shoots-round-corners man portable artillery piece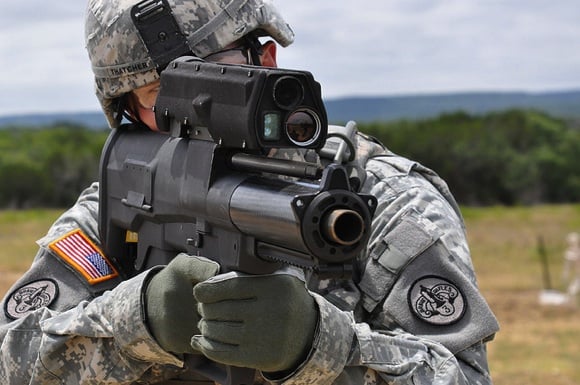 Airburst - it's not just for the artillery any more
No article of this kind would be complete without a mention for the XM-25, one of the maddest and most futuristic guns on the block, which can actually hit an enemy who is hiding around a corner or behind an impenetrable wall.
How? Well, as regular readers will know, the XM-25 doesn't shoot ordinary bullets but rather 25mm miniature airburst artillery shells, with very precise time fuses set at the moment of firing by the gun's computer.
The cunning smartgun also has an accurate ranging laser, allowing its user to ping, say, a corner around which an enemy lurks and get the exact range. He can then thumb a button, specifying that his shells should explode just a little further than that from his gun muzzle, and fire away.
His smartshells will then fly just past the corner and explode in midair, peppering the hidden enemy with shrapnel as they do so. The same capability can be used to make them detonate above the head of an enemy in a trench or behind a wall, or to fill a targeted room or bunker with deadly frag from rounds exploding in its centre having flown in through a window or insufficiently-tough wall or door.
The other main special sauce of the XM-25 is that its projectiles' large size allows a range of specialist ammo to be created. Apart from basic high-explosive frag rounds, the US Army plans to offer a Dredd-like array of alternative XM-25 smartshells. There will be a shaped armour penetrator, a flash-bang stun warhead and a door-breacher.
There's also to be an "anti personnel" round: in the US military that normally means an artillery shell which throws a cloud of smaller projectiles - either metal balls ("canister") or finned darts ("flechette" or "beehive"). The XM-25 version could function like a shotgun, simply throwing the shot or flechettes out of the end of the barrel for maximum closeup firepower, or it could use the gun's airburst capability and deliver a spread of projectiles at long range.
The XM-25's rifled barrel and sophisticated sight (which has many of the attributes of One Shot) make it accurate to long ranges, too, which ought to mean popularity in Afghanistan. Ordinary Western soldiers normally carry NATO-5.56mm rifles which were never intended to be used much beyond say 300m, and often find themselves outranged by Taliban ambushers using such weapons as the PK Soviet-pattern machine gun firing powerful 7.62x54mm5 cartridges.
The XM-25 will get its chance, anyway: the gun is real and going into combat now. The five prototype weapons developed by the US Army's Program Executive Office - Soldier have been supplied to the 101st Airborne, and enough are being manufactured to equip one soldier from each rifle squad in an airmobile6 battalion with an XM-25. If the 101st like the weapon, it will doubtless be issued more widely.
So there you have it: an adjustable-velocity knockout gun, a Black Box spy-in-the-butt weapon recorder, an actual real world backpack raygun, miracle computer sniper-scopes and target-seeking bullets - and a Judge Dredd portable artillery piece which hits round corners. And that's only our top five.
Plenty of iconic stuff there for future American history, movies etc to chew on, we'd suggest. For now this is the Reg futuristic gun tech desk signing off and wishing everyone a happy post-Thanksgiving recovery weekend. ®
Bootnotes
1An early light machine gun or squad automatic weapon, employed by the US forces from WWI to the Korean War.
2Though we are well aware from previous correspondence here on the Reg guns desk that there is a vociferous lobby of diehards in the States who will only cease clinging to their trusty .45s when their fingers have ceased being merely cold and dead and are actually a-moulderin' in their graves.
3Kills have been made at much greater distances: Corporal-of-Horse Craig Harrison of the Household Cavalry is generally credited as the current combat record-holder, having picked off two Taliban machine gunners and then hit and destroyed their weapon from no less than 2,474m in 2009. However he himself says that conditions were "perfect", and even so he had to fire several previous shots before zeroing in on his targets.
4Though not always. The previous combat sniping record-holder prior to Harrison (see note above), Corporal Rob Furlong of Princess Patricia's Canadian Light Infantry, was using a .50 MacMillan Tac-50 bolt action rifle when he nailed a Taliban fighter at 2,430m. Before .50 rifles became available (the .50 round was originally intended for use in heavy machine guns), the legendary sniper Carlos Hathcock of the US Marines used a specially-modded Browning machine gun fitted with a telescopic sight to make long-range kills in Vietnam.
5Different from ordinary 7.62x39mm Soviet ammo as used in the AK47 assault rifle and its many descendants: this is an intermediate-power round not unlike NATO 5.56mm despite the different calibre. Soviet 7.62x54mm as used in the PK is a longer full- or high-power cartridge holding more powder (the number after the x is the cartridge length, the one before is the calibre or diameter of the bullet itself), which naturally throws its projectile faster and further.
6The 101st's title might suggest to some readers that it is a parachute unit like the 82nd Airborne. It used to be, but nowadays it's a helicopter-borne (Airmobile/Air-Assault) formation.