Original URL: https://www.theregister.co.uk/2010/11/25/grouptest_av_receivers_buyers_guide/
Buyer's Guide: AV Receivers
Speakers' corner
Posted in Personal Tech, 25th November 2010 07:00 GMT
Group Test The first thing to decide is whether you want an AV receiver or if you'll be happy with just an AV amp. Each will include a multichannel amp (5.1 minimum) and preamp for processing sound and video, but a receiver will include a radio tuner and a connection for a quality aerial. It may also, but not necessarily, include access to Internet radio. All the models included in this round-up are receivers, but don't expect to find DAB among the spec, as it's all AM/FM only.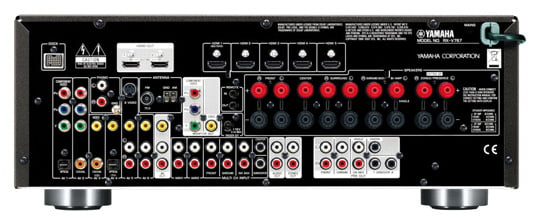 Wired for sound... and video
Any modern AV amp or receiver will, of course, include HDMI inputs and outputs but it's worth checking what features are included, since they're not all the same. The latest HDMI spec, formerly known as 1.4, includes ARC (audio return channel) which allows a similarly equipped TV to send audio info back into the amp and there's standby pass-through, which allows you to access your plugged-in sources without the need to fire up the amp.
One of the recent trends in home cinema is for adaptable speaker placement. Sound processing facilities such as Dolby ProLogic IIz and Audyssey DSX give you the option of replacing or augmenting your surround channels with additional 'height' or 'width' channels, with some preferring these effects to the more traditional rear speakers in a 7.1 set-up.
Most receivers these days will come with an automatic calibration system to help you with setting up the optimum sound from each of your speakers, often incorporating the dynamics of your room. Not to be confused with Audyssey DSX – the processing which offers additional height and width channels in some receivers – is Audyssey's Dynamic EQ.
One of several calibration tools available, the Audyssey system uses a microphone plumbed into the AV receiver. The mic is then placed in your listening position(s) while the speakers throw out a series of tones. These signals, picked up by the mic, are then processed to produce the optimum sound balance. You can use these settings as a basis before your start your own selective tweaking or ignore it altogether and just do it all manually.
If you're likely to be watching standard def DVD or TV (certainly, most of us for a few years to come), 1080p upscaling in your receiver can be well worth having. An HDMI lead from your Sky or other set top box, or direct from your TV will give you the option to upscale to the highest def your screen can handle.
In the dock
A USB digital connection for your iPod is very much a recent feature, but you should find it on most amps available this year and it saves you the need for a separate iPod dock. A notable exception is Yamaha's offering, which utilises a proprietary connector for its optional iPod dock accessory.

AV remotes tend to offer a bewildering range of options
You should also consider whether you want your receiver to control different rooms. Some will offer two or even three different zones with programmable settings which you can flick between at the touch of a button. Secondary zones may only offer audio capability rather than video however.
The lower end of the AV amp/receiver scale doesn't tend to include network capability but it's a feature that's well worth considering if you want to be able to stream music or video directly from your computer to your TV or surround system, especially if it's in a different room. This level of functionality is creeping into the midrange though, so look for DLNA certification to ensure easy(ish) set-up.
All receivers include a radio tuner, but some can also function as Internet radio receivers. For this, of course, they'll need an Internet connection, typically using Ethernet, although some also offer access from Wi-Fi, which may come built in, or may require an additional adaptor. Internet connections also offer the possibility of software updates, which can come in handy for future-proofing and bug fixing.
Buying an AV receiver is a significant investment and you're likely to want to keep your amp or receiver for a some time. While specs and features are important, especially those that will protect you for a while against new developments, the bottom line is that you'll need to enjoy the sound it delivers. Whether you go for low-end grunt or prefer a more refined and detailed approach to soundtrack or music, the only way to be sure of getting what you want is to give your choices an extended listen at a demo session.
Next: Denon AVR-2311