Original URL: https://www.theregister.co.uk/2010/11/23/symbian_history_part_one_dark_star/
Symbian, The Secret History: Dark Star
How it almost never set sail
Posted in Networks, 23rd November 2010 13:04 GMT
Part One This is a story about politics and intrigue in business. It's about the formation and early years of Symbian – a company created by the industry's giants to create future mobile devices - and it reveals stories and plans that have never previously come to light. The issues raised here are alive today as ever. This piece looks at how Symbian was formed, and is an appetiser for the main course, the formative early years of the company.
Today, the Symbian system is used in 200 million phones. But the strangest thing about Symbian is that it almost never happened. After a few months on the market, the small company that created it had given it a virtual death sentence.
The promise of GSM
After a decade of planning, 1994 was the year that digital mobile phones really grabbed the popular imagination. New entrants such as Hutchison's Orange transformed the perception of the mobile from a tool for the business elite into a consumer product. In 1994, Psion was a small publicly traded company off the Edgware Road that turned over £41m, with a slim pre-tax profit of just £3m.
But the company was on the rebound. Psion's small handheld personal computer, the Series 3, had scored a hit where much richer American companies had failed, and Psion's revenue would treble over the next three years.
When Psion's engineers sat down to plan the long-term successor to its Series 3, they quickly decided that nothing existed to meet its goals of lower power, rich functionality and high reliability. It would have to write its own system software.
In November 1994, Colly Myers began work on designing the kernel of a 32-bit operating system which he felt could match the capabilities of the mainframes he was familiar with - but would also be able to cope with the extreme demands of low power mobile computing. This was Epoc. A small kernel team of three succeeded in booting the kernel for the first time in late summer 1995.
Psion's chief hardware engineer, Mark Gretton, recalls that discussions were already taking place about commercialising the system. Gretton had already carved out a legendary reputation as a hardware designer, now he was one of founder David Potter's trusted lieutenants. Gretton had become as as adept at business landscape as he was creating chips.
"There was the realisation that we probably couldn't justify the investment in a 32-bit system if we were the only customers," Gretton recalls.
But where could Psion use the new system? And would it attempt to create new markets by itself, as it had traditionally done - or partner with others?
All of Psion's leadership were well aware of the move to digital communications taking place around them. At some point, mobile computer devices such as those produced by Psion would be communicating using the GSM standards... and phones would gradually acquire the functions of computers.
Five years earlier, Psion had acquired Dacom, which produced modems and connectivity dongles as the standards evolved. By the end of the 90s, the Dacom part of the Psion group would bring in 45 per cent of its revenue.
The story of the race to complete Epoc is told here. But we'll join it midway through, and hijack it, in 1996 - as an iceberg suddenly appears.
Amstrad
In the summer of 1996 Psion stunned the City by confirming that it was buying one of the great consumer electronics brands of the Eighties – Amstrad, for £230m. It was an audacious move – the purchase price was four times Psion's turnover – and a puzzling one, too. Amstrad still retained the consumer electronics side famous for the PCW, and David Potter explained: "We are not buying Amstrad as perceived by its brand and name. Amstrad is in ashes. We are buying the phoenix in those ashes." The interview in the Independent explained that Dancall was Psion's true target.
Dancall was a Danish mobile company Amstrad had acquired for a snip - £3m - in late 1993. Sugar's Amstrad had invested in a similar amount, and planned to turn it into a consumer brand. Dancall had a small amount of GSM IP and would make the first dual band (900Mhz/1800Mhz) GSM phone. But why pay £230m for a company worth a fraction of that?
Amstrad had around £80m in cash, and a successful business supplying Sky with satellite dishes. But the enlarged group would have handed Psion a lot of new headaches. It would involve a lot of duties such as running a PC company, Viglen, and closing down or spinning out the legacy electronics business, of which Psion had little experience. Psion was running a high margin R&D-led business. Nevertheless, Psion was doing due diligence, and soon it was just a formality.
A month later, to the relief of many shareholders and Psion staff, Potter walked away from the deal. Potter and Sugar couldn't agree on a price. He'd made his intentions clear – that Psion's future belonged to mobile data communications. There were other ways of getting there, though. The question was how.
"Will you die like Apple?"
Mark Gretton was given the job of putting together a licensing operation. Psion's internal experience of licensing was non-existent. Stephen Randall, an entrepreneur who had just sold his software company, The Eden Group, happened to be free. Eden had produced the software and firmware for Amstrad's PenPad, one of several pen computers in the early 1990s, and knew all about licensing.
Randall says he happened to meet Psion chief executive David Potter when the chief was in a particularly grumpy mood.
"I'd been introduced to Potter by Ken McAlpine - a fabulous hardware engineer. Coming out of the office was a reporter from the Sunday Times. And the reporter had ended the interview by asking him - would Psion die like IBM, or would Psion die like Apple?"
Both were vertically integrated computer companies; IBM didn't license its software at all, while Apple licensed too late and was being destroyed by clone Mac manufacturers. Conventional wisdom instead favoured horizontally integrated companies that licensed their software, lowering costs for the market.
Randall's view was that Psion had to "cannibalise" its vertically integrated products - before somebody else did.
"Potter knew a world where you could make a $200 margin per device, but the market wasn't growing, and Microsoft was coming."
"Potter said that intellectually we agree, we think we should license. But it's not in our DNA. We don't know what to do."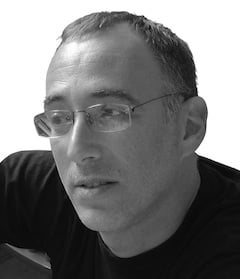 Stephen Randall
Randall says he was retained for a month. He sketched out a plan where Psion could be divided into three companies.
It wasn't an easy sell...
Randall said he had recommended that Psion split into independent companies. He presented a three-way split: computer, software, and industrial. There were 80 engineers in software.
When he presented this to the executives, he was met with hostility.
"Peter Norman, who was running the computer side of things, was championing products, and said 'over my dead body'."
The board backed Norman, and voted against it.
Randall admits the challenge was daunting.
"I also remember saying to Colly Myers, this is a far too technical company for me - I'm not an engineer. I'm passionate about this strategy. He said we're all engineers - we need more people like you not us." Randall found an ally in Juha Christensen, a bright marketing executive who had been fast-tracked by Potter.
"Juha really got licensing," says Randall. Christensen was studying for an executive MBA at London Business School.
The board approved the company split in the spring of 1996, and a tiny team began to take the unreleased OS to prospective licensees.
Licensing meant that the Psion Computer group had to stand in line, like everyone else, for Psion software. And the hardware group was free to choose any OS it thought it could sell - including Windows CE. Not that this was a choice they favoured. "The hardware side didn't want Windows and still felt miffed."
At the start of 1995, Microsoft had assembled a team codenamed Pegasus – for a Psion Series 3 form-factor QWERTY palmtop, also powered by two AA batteries. Only this would support stylus input, and a 32bit operating system.
Microsoft ordered hundreds of Series 3s for the engineers to analyse. Like many unannounced Microsoft products, it sounded daunting.
One was George Grey, who'd founded Tadpole as a fresh graduate in 1983, and just departed as its CEO. He wanted to put Epoc in a larger, sub notebook. (Grey would later join Psion US.)
"I said: 'The truth is, we're not ready to license. But if you don't mind us practicing on you, we can do a deal'," Randall said.
But Gretton, Randall and Christensen were about to score a major win.
Welcome, Nokia
Nokia had transformed itself in 1991 out of necessity. With its roots as sprawling, soup-to-nuts Victorian-era industrial conglomerate, Nokia still retained its interests in PCs and TVs, and even cabling and rubber products. But it had earmarked mobile telecomms as the richest area for growth. With the telecomms markets becoming deregulated, and licensees opened to the private sector, this was brilliant timing.
As American investors poured billions into a vision of mobile data based around pen computing, Nokia had other ideas. A 1991 patent for a "Portable Personal Computer and Mobile Telephone Device" reveals its thinking. It was the first communicator, and one of its inventors, Mikko Terho, was to play a pivotal part in the formation of Symbian.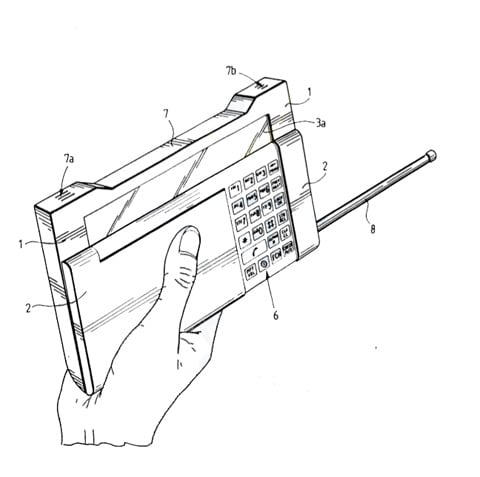 Nokia and Psion had already worked together, and the Psion gave the Finnish giant an early glimpse of its 32-bit Epoc system. In November 1994 Psion and chip designer ARM jointly pitched the idea of a "future communicator" to Nokia. Nokia liked what it saw. It had been evaluating it in depth as it evolved – and executives say it was keen that its rivals didn't find out.
For its own part, Nokia had already put Terho's vision into practice.
Nokia had developed a shotgun marriage of a GSM mobile and a Psion-like palmtop PDA, calling it a Communicator. The Nokia 9000 was a monster. It weighed almost half a kilo, and was an experiment for Nokia as much as Intel, which had provided the 386 chip. David Potter was derisory, describing it as "a bird that couldn't fly".
But the 9000 became a niche hit. The Communicator could send and receive faxes on the go, do email, and even telnet into internet servers. Ironically, it used GEOS OS, the company to whom Randall had sold Eden. As the licensing team paid increasing visits to Nokia, Geos staff would encounter Psion staff in the reception at Tampere.
"One of the hardest things in the world is telling successful people they're wrong"
On 18 December, senior direct reports from Nokia visited Psion's London office, and a deal was thrashed out the following January. Nokia would base its future Communicators on Psion's as-yet unreleased OS, Epoc, and the first of these would be a device codenamed "Linda".
"There was great affinity from the start," said Randall. "Nokia and Psion on the early days was almost a match made in heaven. But Psion was never so organised. It was like looking up to a father figure."
It was a huge win for Psion Software. But one casualty was that after the Dancall purchase fell through, Psion invested heavily in equipment to produce its own GSM mobile comms. A million pounds was spent on RF equipment, but this had to be mothballed.
There were tricky problems for Nokia.
"Nokia couldn't tell the world they'd already ditched the GEOS OS," says one of the Psion team.
Microsoft makes its move
At Comdex that year, Microsoft unveiled its Pegasus project, called Windows CE. It had signed up Casio and others to release Psion-like palmtops – but they were poorly received. They were ungainly and couldn't match the performance or battery life of Psion's machines. Nevertheless, fear of Microsoft was perceptible.
"We said to Nokia, the world thinks the solution is Microsoft. The US didn't know us – they hadn't got a clue who Psion is. But the Nokias don't want to give their business to Microsoft," Randall remembers.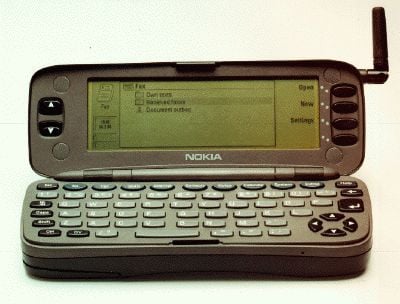 Nokia's 9000 Communicator launched in June 1996
Psion's riposte to Microsoft was unveiled in the summer of 1997 – and the public debut of the 32-bit Epoc system begun by Myers three years earlier. (Series 5 devices didn't start to enter the shops until the autumn.)
The new machine received much praise; it was far superior to the Windows devices shown at Comdex. It required learning a new system, but at one level retained source compatibility with the BASIC-like language interpretor that thousands of programmers used to create programs for its predecessor - so it hit the ground running.
The sophistication and superiority of Epoc, compared to Windows CE, were evident to the pundits, who threw laurels at Psion's new machine. Psion users were used to a month on two AA batteries – and the Series 5 very nearly matched that. But it had striven to match the flexibility of paper (Psion had viewed Filofax users as their traditional competition) with a 32bit world. Pictures could be embedded in a diary entry, for example.
But that didn't help. The business press, obsessed by numbers, and largely chasing its own tail, had come to a different conclusion. Microsoft had become the most valuable company in the world in 1995, and pundits reckoned it usually only got things right third time. It was a deterministic analysis. At the very least Psion would be in for a long fight - was it a fight it could win?
Psion's founder and chairman astonished the executives in April 1998, when he appeared to have decided to throw in the towel.
Dark Star
"One of the hardest things in the world is telling successful people they're wrong," says Randall today, as he recalls the series of events.
In March 1998, with Psion's new system on the market barely six months, David Potter held a meeting of the Psion Group CEOs. All trading companies were present. Potter began the meeting ominously.
"He was waving something around in the air - like Chamberlain after Munich," one attendee recalls.
"He said, 'We have a ticket to Microsoft. That's our future'."
Potter explained that Psion couldn't compete with Microsoft's vast resources. Psion would license Windows CE, and Psion Computer would compete on its hardware excellence.
There was disbelief around the table.
Psion's superior computers owed much to the deep integration of hardware with its own purpose-built operating system and frameworks. When Psion's engineers tested Windows CE on the same hardware as Psion's own Epoc, they found the Microsoft software was four times as power hungry.
"There's no way our engineers are going to go to Windows," piped up one attendee.
Potter was firm. Then impatient.
"When a fucking steamroller is moving your way, you get out of the fucking way," one executive present recalls hearing.
Psion Software representatives begged for 60 days to find some customers for Epoc.
"David Potter asked us for a budget that showed we're going to lay off everybody we didn't need," recalls one. That budget was called Dark Star.
Gretton had rejoined Psion Computer earlier in the year, and a scratch licensing team of Randall, Simon East, Juha Christensen and David Wood set out with a new last-ditch licensing effort, this time with the clock ticking.
"We've got nothing to lose," was the view.
"It wasn't really an order to wind Psion Software down - it was to dramatically cut the cost. We created a Dark Star budget to cut the cost across the board," Christensen recalls. "We would become a skeleton operation, and gradually try and claw our way back."
"But we'd lose a lot of people – and at that point given the size we were, everyone was crucial. If you work in an IP-based business, it's not like cutting costs at a factory. If you lose assembly line workers you can hire some more.
"If you work in IP-based businesses if you fire people with knowledge in their heads, they're not going to come back. We had to extend it as long as possible. It was a tense time."
The four had to be fearless. Christensen had been moonlighting for an MBA at the time, and had studied dynamic modelling. He proposed an industry-owned venture.
"I had come up with an idea of a company jointly owned by the industry. I talked to Stephen, then to Colly, then to Psion formally."
"Desperate times call for desperate invention," he recalls. The drawbacks to the plan were obvious. Gretton recalls discussing these with Myers as Epoc was still on the drawing board.
"The phrase we used was, 'We can't become a bag of bits'.
"We went to Nokia and told them we think we can spin Psion Software out of Psion. Nokia said 'Let's go to Ericsson'. We wanted to get Motorola involved - but we'll agree everyone's an equal citizen."
Nokia and Ericsson visited Psion's London HQ on 7 April, 1998. After that, the project became known as Saturn - Nokia and Ericsson's code name.
A month later, on 7 and 8 May, the details were thrashed out. Nokia, Ericsson and Psion – represented by East, Wood and Christensen – met for retreats at Nokia – the small town that gave the Finnish giant its name. Much of Nokia's planning and R&D takes place at nearby Tampere, in a sprawling modernistic facility, but the company retains a Mansion in the old town.
The decision to exclude Motorola from the planning was deliberate.
The positive reception from Nokia and Ericsson – and evident agreement between the three – delighted Potter, who went on to change his mind, and gave the spin-out the full blessing.
"History might have been rewritten."
If the four Psion negotiators – Randall, East, Christensen and Wood, who can all legitimately claim to have 'created Symbian' - had failed, then Epoc might have remained a historical curiosity, one of dozens of handheld operating systems.
It was to remain a closely guarded secret among half a dozen executives.
"Bill Gates was screaming"
Talks had moved so rapidly that within the 60-day deadline, Potter brought in financial experts to value the company, and branding experts to give it a name. Goldman Sachs reckoned the spinout was potentially worth £100m – the same figure Randall and his colleagues had arrived at. Insiders say the bankers received £1m for their work.
Finding a name was harder. One suggestion was 'Edgware' – a pun on Edgware Road, Psion's historic base. Another was "Everyware". On the morning of 24 June 1998, Symbian was unveiled to the world - only 10 Psion employees knew what the day had in store.
Even veteran Mark Gretton, who'd led the licensing effort in his spell at Psion Software, and had moved back to Psion Computers, says he was in the dark.
A date of 17 June was set. But there were two jobs to be done as launch neared.
Calling Bill Gates
The first job was to recruit Motorola, which had been displaced as the global leader in mobile phones after the first-generation (1G) analogue era, but still had a third of the newer GSM market. With the market split three ways, it was only fair to give them equal billing. However, both Nokia and Ericsson were wary of Motorola's bureaucracy, and feared they would derail the talks.
Randall recalls telling Motorola of the shareholder agreement. With the name and structure in place, Motorola was given 48 hours to sign up.
"We said, put your name here, on the same basis as Nokia and Ericsson. Nobody will ever know you weren't here from the start. They signed it, but hated the fact they were dragged into it," says Randall.
"They had competing teams in Motorola that had competing Operating Systems. They were also flirting with Microsoft, but didn't really want to go that way. They didn't like that Nokia and Ericsson were dictating terms. But it was Nokia's foresight that put Symbian together."
Motorola, which had a major semiconductor operation subsequently spun out as Freescale, insisted on Epoc running on its M*Core embedded processors. It wanted to be on the launch announcement. That put back the launch by a week.
The other task was for the new partners to break the news to Microsoft.
The task of the courtesy call to Bill Gates fell to Nokia's corporate executive vice president, and later CEO, Olli-Pekka Kallasvuo.
"Kallasvuo told us it was the worst call of his career. Gates was like a baby throwing his toys out of his pram. He was screaming."
"Only 10 people knew about it before. And very few people knew it could have been Dark Star." ®
Part Two tells the story of the Symbian crucial early years, from 1998 to 2001.