Original URL: https://www.theregister.co.uk/2010/11/23/review_storage_kingston_hyperx_max_usb_3_drive/
Kingston HyperX Max USB 3.0 128GB external drive
SSD on the go
Posted in Personal Tech, 23rd November 2010 07:00 GMT
Review Kingston Technology's HyperX Max is the company's latest SSD offering that will be hitting the shelves next month. Packaged as an external drive, it's available in capacities from 64GB to 256GB.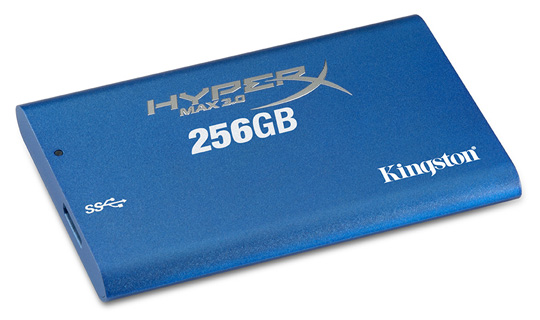 SuperSpeed storekeeper: Kingston Technology's HyperX Max
Entirely bus-powered and measuring in at 74 x 119 x 12mm, the slim aluminium enclosure of the HyperX Max is similar but slightly smaller than those used to house conventional external 2.5in hard drives.
On test is the 128GB version of this USB 3.0 device. With no moving parts and fast data handling, it offers an excellent combination of capacity, performance, portability and durability. The DataTraveler Ultimate USB 3.0 thumb drive reviewed recently was impressive, but the HyperX Max moves things up a notch.
Kingston claims the HyperX Max should be capable of write speeds up to 160MB/s and read speeds of up to 195MB/s. These figures are entirely within the realms of the USB 3.0 specification and the performance figures I have seen with Kingston's SSDNow V+ drives.

Performance tests
However, CrystalDiskMark benchmark tests suggested rather less ambitious figures regarding the capabilities of the HyperX Max. Despite falling short of Kingston's claimed performance, the HyperX Max is still quite an impressive piece of hardware, managing to make more out of the USB 3.0 interface than any other device I have tested so far.
Benchmark Tests
CrystalDiskMark 3.0 Results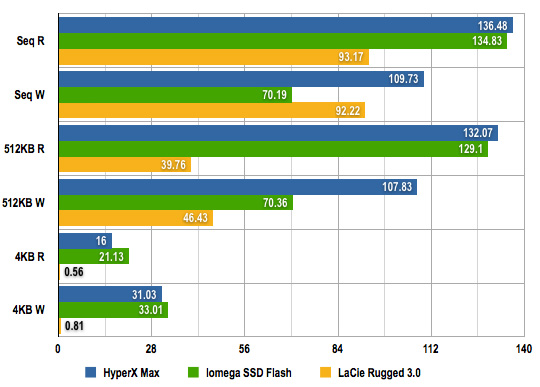 Throughput in Megabytes per Second (MB/s)
Longer bars are better
In fact, compared to its closest rival, Iomega's SSD Flash drive, the HyperX Max is on par in most fields, but zooms ahead when it comes down to write performance. Also included in the benchmarking comparison is LaCie's Rugged 3.0 drive, as it is the fastest HDD-based, USB 3.0 portable drive I have tested. Unsurprisingly, the SSDs have a huge throughput advantage, especially in terms of random I/O operations.
Apart from performance, the Kingston also beats the Iomega on price at £220 for 128GB HyperX Max compared to the £325 for the SSD Flash.
Whilst I would normally be tempted to recommend a solid state drive almost regardless of price, the HyperX Max lags quite a way behind SSDs designed to replace Sata internal hard drives by around 100MB/s. With that drop in performance, it's hard to recommend spending the money on the higher-capacity models. Nevertheless, this external drive certainly outperforms its HDD-based counterparts.
Speed limits
With the performance figures in mind, curiosity got the better of me and I cracked the drive open. Inside the 128GB HyperX Max is a standard Sata SSD comprised of Toshiba TH58NV-based MLC Flash chips managed by a Toshiba T6UG1XBG controller, which is the same as featured on Kingston's SSD-Now drives. All of this is standard SSD equipment and resides on one board, which is in turn plugged into a Sata-to-USB 3.0 adapter.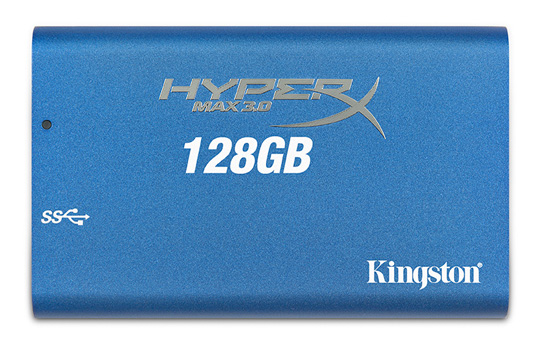 Pocket-friendly in more ways than one
Essentially, the HyperX Max is an SSD-Now packaged into a USB 3.0 enclosure. And if you're wondering what happened to that 100MB/s drop in performance, it would appear that it's all to do with the Sata/USB 3.0 adapter. I say this because I took the Sata SSD drive out and tested it with CrystalDiskMark on a Sata bus. Clocking up sequential read and write speeds of 234MB/s and 193MB/s respectively, the figures rang true with other Sata SSD product tests, as did the random read/write benchmarks.
Verdict
USB 3.0 adapter bottlenecks aside, the HyperX Max still manages a respectable performance as an external storage device. At £125, the 64GB version is an alternative to Kingston's smaller, but slower, DataTraveler Ultimate USB 3.0 thumb drive. It's cheaper too, so it could be worth a punt for those who value speed over capacity and don't mind carrying something a little bit bigger. ®
More USB 3.0 Gear Reviews...

Buffalo
USB 3.0
ExpressCard 34
Kingston Technology
DataTraveler
Ultimate 3.0
Iomega
eGo
USB 3.0
LaCie
Rugged
USB 3.0