Original URL: http://www.theregister.co.uk/2010/11/23/review_software_airprint_collobos_fingerprint_ecamm_printopia/
How to... print wirelessly from your iDevice
AirPrint enabler utilities reviewed
Posted in Software, 23rd November 2010 11:57 GMT
Review Apple's decision to yank support for its AirPrint technology from Mac OS X 10.6.5 has the noses of no few iDevice owners out of joint.
With the arrival yesterday of iOS 4.2 and the wireless printing tech it brings to iPhones, iPads and iPod Touches, the absence of AirPrint on Macs prevents owners of these gadgets printing, unless they happen to own one of the few - HP only, so far - printers that are inherently AirPrint compatible.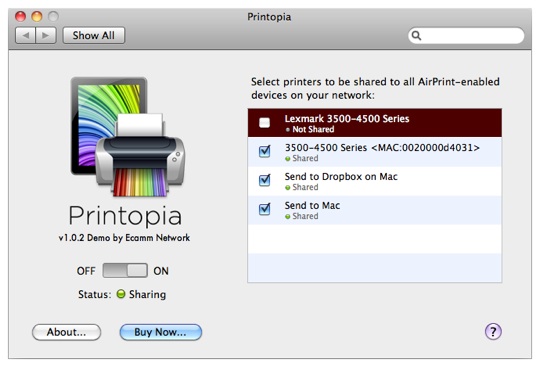 Ecamm's Printopia
Enter Printopia from Ecamm Network and FingerPrint from Collobos Software, two utilities designed to bridge OS X and AirPrint. And if you simply want to transfer images to your computer, you can do that too, beaming over the iDevice print job as a PDF. Likewise you can ping PDFs to your Dropbox.
In fact, from a functionality perspective, FingerPrint and Printopia are identical. FingerPrint has one extra 'virtual printer' option: you can send jobs to iPhoto.
Both utilities require your printer - whether it's directly connected or networked - to be shared. At which point, it's listed by the utility itself, and is available to select in any iOS app that supports AirPrint - Apple's Pages, for example, or iOS' Safari, Mail and Photos.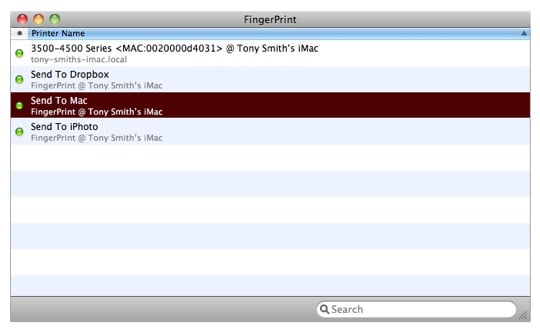 Collobos' FingerPrint
Sharing printers this way limits the apps to local networks, but if you need to send print jobs home when you're out and about and connected by 3G or a Wi-Fi hotspot, there are various ways to do so. I use a Mac OS X Automator workflow to watch a folder in my Dropbox, for example, and print out whatever gets placed there, and there are similar script-based approaches for Linux and Windows.
You have no real control over the print job, beyond number of copies and which parts of a multi-page document you're going to output. AirPrint leaves it all to the printer's defaults.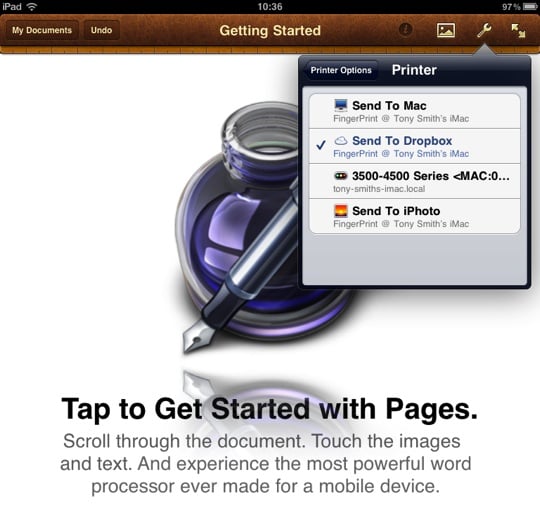 You can output to services as well as printers
FingerPrint is implemented as an application, while Printopia is a System Preferences panel. The only advantage with the latter approach is that FingerPrint has to be explicitly set to run when you boot up your Mac - Printopia starts automatically.
Then again, Printopia is the pricier of the two: $9.95 (£6.25) to FingerPrint's $7.99 (£5). Given they both do exactly the same job, and equally as well, there seems little reason not to favour the cheaper of the two.
Both offer seven-day free trial periods, so you can easily give them a go for nothing. Some readers will point out that you can do all this for free using a tool called AirPrint Hacktivator. It adds to Mac OS X 1.6.5 the AirPrint-related files that Apple dropped from the beta release of that version of the OS.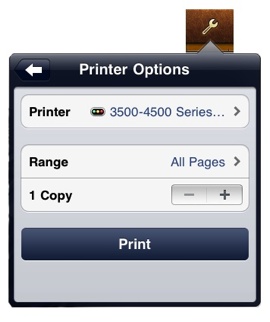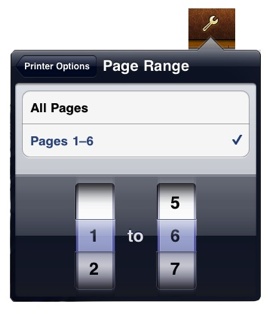 Select your printer, and the pages you want to output
This is disadvantageous for a number of reasons, not least being the use of system files that don't belong to you and were nabbed off a Torrent somewhere, and you've got to trust the utility to tweak your system only in the way it says it does.
More practically, it only works with Mac OS X 10.6.5, whereas both Printopia and FingerPrint go all the way back to 10.5. The Hackivator requires iTunes 10.1 or above, a requirement neither of the paid-for utlities have.
Personally, I'd spend the fiver. ®