Original URL: http://www.theregister.co.uk/2010/11/23/review_laptop_apple_macbook_air_11in/
Apple MacBook Air 11.6in sub-notebook
The beauty and the boast
Posted in Personal Tech, 23rd November 2010 13:00 GMT
Review I took a look at the 11.6in MacBook Air for Reg Hardware almost a day after the new line-up of skinny Macs was announced. I've now had a chance to use one in earnest - and benchmark it - to see if my initial thoughts are born out by longer term usage.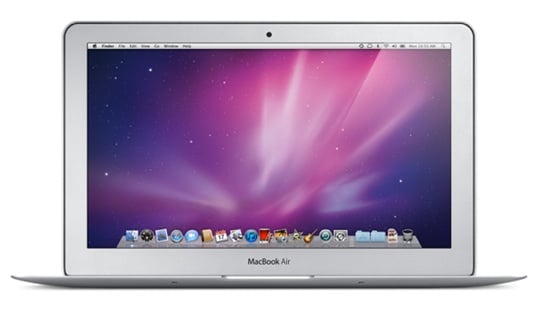 Apple's MacBook Air 11.6in: smaller and lighter than a netbook, but much more powerful
From both performance and portability perspectives, the 11.6in Air turned out to be better than I'd hoped. I had the bottom-of-the-range 1.4GHz Core 2 Duo SU9400, 2GB 1066MHz DDR 3 memory, 64GB SSD model to play with. The CPU is clearly no Core i - it may be a dual-core chip, but it lacks HypeThreading - yet it can lick any Atom processor you care to name, including the new 1.5GHz two-core, four-thread N550.
The Air, then, is no mere netbook.
And yet it's a darn sight more portable than one. The component that most affects the Air's size is its keyboard - full-size and a joy to use, as is the huge trackpad that puts all those piddly netbook ones to shame. The keyboard is wider than the 1366 x 768 glossy display, which makes the Air in turn larger than most notebooks. It's a good 35mm wider than the 10.1in Asus Eee PC 1015PEM I have on the bench next to it, and slightly deeper.
But, oh, how much thinner and - crucially - lighter it is. The Air's footprint isn't going to trouble anyone, but what might is its thickness and weight, both of which matter if you're carrying a computer around in your hand or under your arm.
I don't think I've ever had a computer that's as comfortable to close and carry as this one. It's 15mm at it's thickest point - the back end - and it's just so easy to hold as you would a folder or a book. Its 1.1kg isn't taxing it all.

Slim is in
The Eee PC, by contrast, is 35mm - more than twice as thick - and that, like the figure I've quoted for the Air, excludes the feet. It feels positively bloated by comparison. It's only 20 per cent heavier, but you notice the extra.
Compromised for size
As I've said, the Air is no netbook, but I can't ignore the deficiencies it has as a result of the pruning Apple has done.
Netbooks tend to be tubby, but 11.6in sub-notebooks are able to be slimmer because, being slightly larger, they have a larger footprint so designers are able to spread components out rather than stack them. The Air is still way thinner and lighter than any of the 11.6in Windows 7 machines I looked at a month or so back - it performs better too - but they, like the Eee PC, have more features.

The keyboard is full size
The Eee 1215PEM happens to have Gigabit Ethernet, but most netbooks and 11.6-inchers only go up to 100Mb/s, but the Air doesn't even have that. Apple has added a second USB 2.0 port and there's still an external monitor connector - mini DisplayPort - but it couldn't squeeze in the SD card slot that so many rivals and even the 13.3in Air manage to include.
The big question, of course, is whether all that matters. Personally, I've never used a laptop monitor port and never will, and would happily trade it for Ethernet. Other folk do, just as others don't care about a LAN connection because they only have WLANs at home and at work.
Likewise, the fact you can't upgrade the memory is annoying, but given the OS and the realistic lifespan of the hardware - upgrade in 3-4 years' time - it's not a deal breaker. Geeks like us tend up ramp up Ram, but most folk don't. And OS X will run smoothly in 2GB even minus the 256MB or so the GPU grabs for video.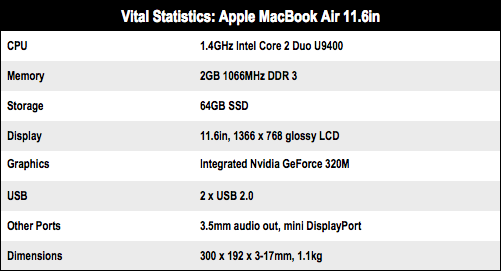 Feature lists aren't the whole story
It's easy to look at a feature list and assume that a longer one is better, but that's not always the case, especially when large parts of it go unused no matter what. The counter argument, of course, is that it's better to have a third USB port, Ethernet, SD, VGA, HDMI and so on, especially when you're paying a premium, and I'm not unsympathetic to that view.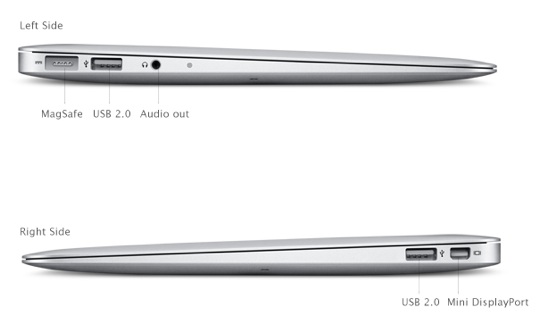 Enough ports - but are they the right ones?
But I have to say, if it's a matter of putting up with the absence of a few use-in-a-blue-moon ports in order to get a machine as sheer darn portable as this one, I'll wave goodbye to them any day.
You may disagree - you may need those ports, in which case your choice of laptop will be made accordingly, and it's no big deal either way. The crucial point here is that the Air is a machine for folk who need or want the acme of portability.
Ethernet, SD and a third USB port are really the only deficiencies. There's no optical drive, of course, but that's troubling fewer and fewer folk these days. Bluetooth, it has; ditto a good webcam. What else do you need from an ultra-mobile PC?
I'd have Mac OS X over Windows 7 any day of the week, but if you prefer the latter, you can run the bundled BootCamp utility to install it on the Air. I did, so I could run Reg Hardware's PCMark Vantage and 3DMark 06 tests.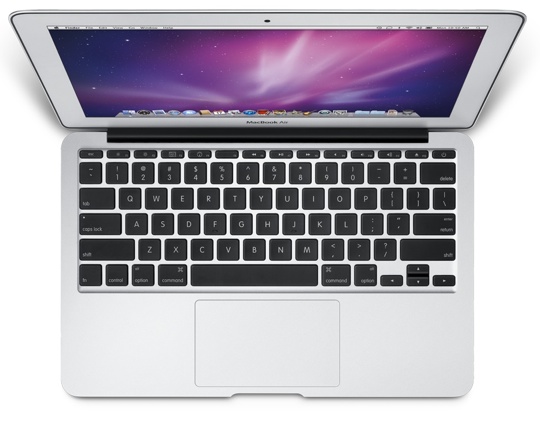 The trackpad is huge compared to those of most netbooks and sub-notes
At which, it put in some very decent numbers. The Air's integrated Nvidia graphics put it well ahead of any netbook or 11.6in sub-notebook Reg Hardware has seen. Ditto its PCMark Vantage scores, helped by its SSD.
Benchmarks: 11in sub-notebooks
It's not as quick as the 13.3in model - a slower CPU and slower SSD see to that - but it's snappy enough and it was well able to handle the productivity, comms and picture editing tasks I put it to. Better, in fact, than my old, first-generation 13.3in Air, which had a 1.6GHz Core 2 Duo, but Intel graphics. It's clear how much of a difference getting a GPU, even an integrated one, from Nvidia makes, more than compensating for the slower CPU.
PCMark Vantage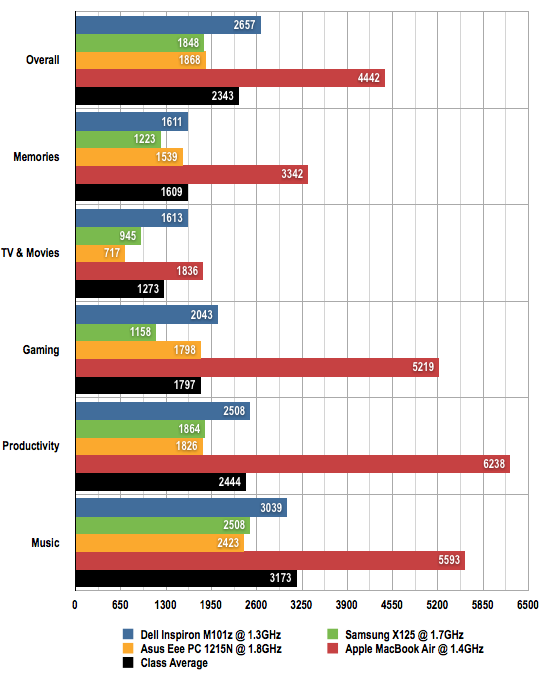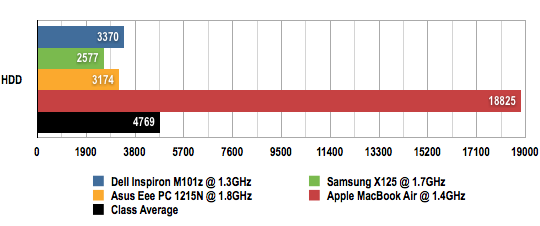 Longer bars are better
3DMark 06

Longer bars are better
PCMark Vantage Loop Battery Life Test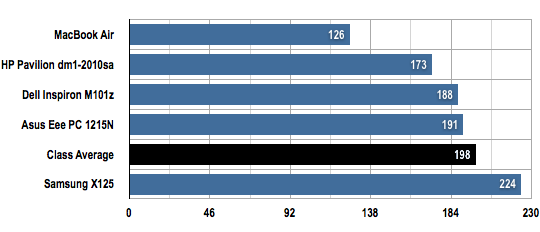 Battery Life in Minutes
Longer bars are better
Benchmarks: 2010 MacBooks
But it's not all rosy in Steve's garden. The 11.6in Air put in the weakest battery life timing of any 11.6in notebook I've tested. Yes, looping PCMark Vantage over and over will drain the battery far more quickly than regular web browsing, but at least it gives us a solid point from which to compare one machine with another. You can double the PCMark Vantage battery life to get a rough real-world figure, but that doesn't let the Air off the hook.
PCMark Vantage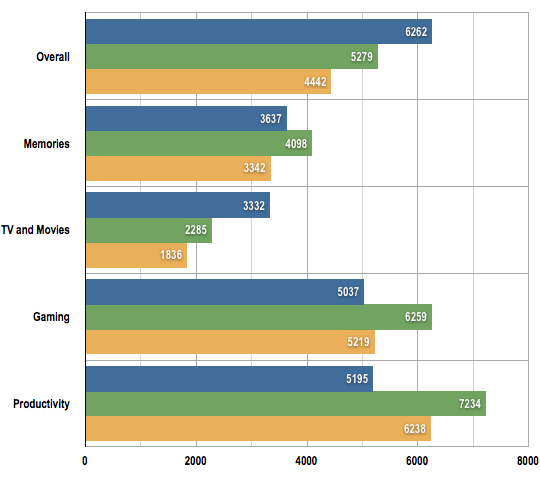 Longer bars are better
PCMark Vantage Loop Battery Life Test

Battery Life in Minutes
Longer bars are better
Price fighter
As always, the test was run with Wi-Fi on. The Air can connect using 5GHz 802.11n, and this will consume more power than 2.4GHz Wi-Fi. I had the Air set to the former, and that won't have resulted in the best score of which it's capable. But had I switched to 2.4GHz, the Air would still have put in a below-average performance.
And, as I found when I previewed this model, the 64GB SSD doesn't let the Air start or recover from sleep as quickly as the more capacious ones can. You shouldn't expect any more from a bottom-of-the-range model, of course - a point which neatly brings me on to the key point here: the price.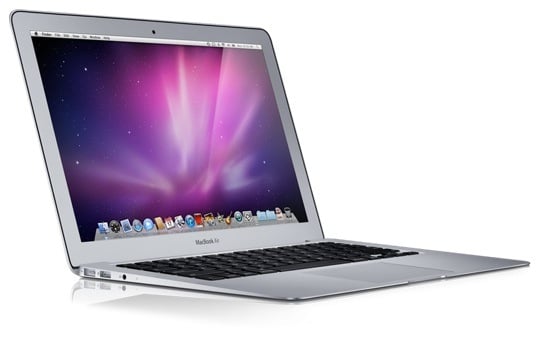 Small dimensions, big price
Yes, even at £849, the Air is expensive - too expensive. Aside from that, it's a machine that can hold itself up alongside rival vendors' laptops. Yes, it has fewer ports, but arguably it has the features that matter in a machine not aimed at geeks or gamers. On the plus side, it's a darn sight thinner, lighter, more portable and faster than the competition.
But when the asking price is more than twice as much for half the thickness of a rival offering, you really have to need that portability to be happy paying so much over the odds.
Verdict
If you have any sense at all of the aesthetics of computing products, you have to agree that the 11.6in MacBook Air is a beautiful laptop. It's more portable than any netbook or sub-notebook, let alone 13-inchers and above. It's a real joy to use. It delivers a performance that puts other small form-factor laptops in the shade. In all these criteria, it warrants a very high rating indeed.
But... when such a little machine costs such a lot - and with no extras chucked in - it makes it hard to recommend, as gorgeous as the MacBook Air undoubtedly is. ®
More Mac Reviews

Apple
MacBook Air
13.3in
Apple
MacBook Pro
17in
Apple
iMac
21.5in
Apple
MacBook
13.3in