Original URL: https://www.theregister.co.uk/2010/11/23/assassins_creed_brotherhood_1/
Assassin's Creed: Brotherhood
Taking the hit
Posted in Personal Tech, 23rd November 2010 15:09 GMT
Review It seems odd to complain of a sense of déjà vu when playing a sequel, especially when the game in question is the third in a highly successful series. But when that déjà vu pervades through twenty hours of gameplay, as it does in Assassin's Creed Brotherhood, it's difficult to ignore an overriding sensation that comes to define the experience.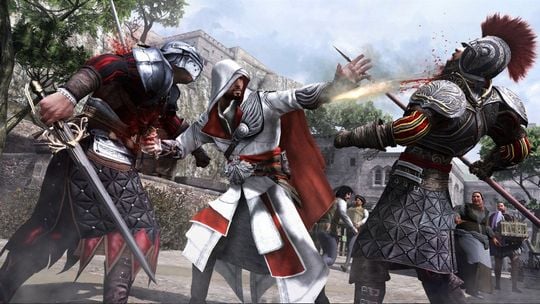 Pain in the neck
It's not even a sensation that creeps up on you over the course of the game. Picking up from where Assassin's Creed II left off, Brotherhood immediately contrives to rob you of everything you worked so hard to attain first time around. In a disappointing concession to new players, the murder of Ezio's uncle and sacking of his Moteriggioni villa by Borgia forces leaves you penniless and, more importantly, stripped of your abilities, forcing a retread of ACII's notoriously protracted tutorial.
The sense of déjà vu is most overbearing during these opening few hours, as the game flits between the early 16th Century and the series' thinly-sketched and increasingly superfluous 21st Century Matrix-style component. Even the move to Rome's sun-baked environs – although a welcome change of scenery from ACII's well-parkoured rooftop action of Venice and Florence – fails to inject Brotherhood with sufficient novelty.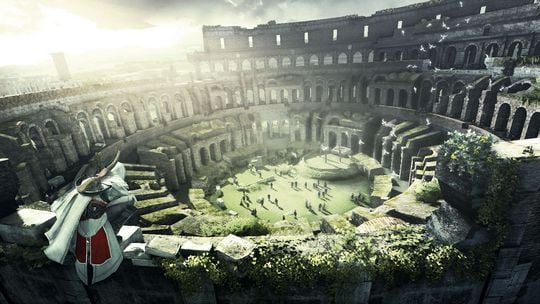 When in Rome
The game also suffers from unnecessary padding. Where missions in other games might require you to spend ten-minutes traversing dimly-lit catacombs, Brotherhood demands you spend twenty. And where they might require you to locate and pull two levers to open a door, Brotherhood demands you find four. Only the vastness and beauty of Rome, and the breadth of Ubisoft's sandbox diversity alleviate the bloated tedium of these introductory missions, the only notable exceptions of which result from the return of ACII's economic system.
Roam the city
That system sees the renovation of the Moteriggioni villa amplified to the renovation of Rome itself. But this time there's a slight twist. Under the Borgia, Rome is divided into twelve districts, each controlled from a garrison tower. To renovate districts, Borgia influence must first be expunged by assassinating respective district Captains and burning their towers. Once destroyed, districts open for business, and you can begin to renovate blacksmiths, banks, tailors and more to increase revenues and unlock new items and weapons.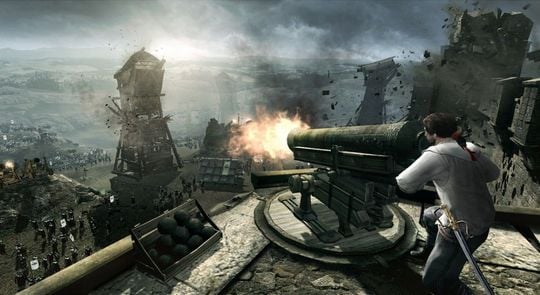 Lookout!
The first half-dozen of these Borgia tower missions prove the game's greatest challenge. Their mix of stealth, parkour pursuit and out-and-out combat provide a stringent test of your nascent skills. But their challenge – and indeed that of all Brotherhood's remaining missions – diminishes rapidly as you reclaim more of Ezio's abilities.
The addition of Execution Streaks when fighting not only cheapens combat, but entirely obviates weapon upgrades. Similar to Batman: Arkham Asylum's CQB mechanics, these one-button instakills allow you to dart between enemies, stringing together dozens of executions with minimal effort, regardless of weapon choice. Initially thrilling, Execution Streaks ultimately prove too deadly and too easy to pull off, rendering combat repetitious and more powerful weapons superfluous.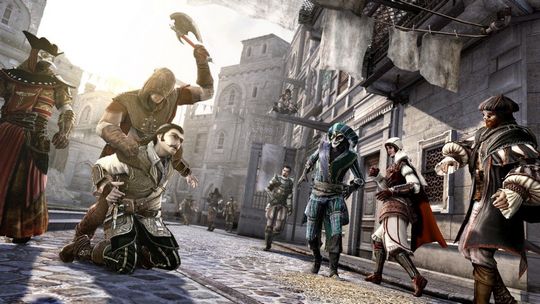 Axes of evil
Infiltration missions also become too easy. Once purchased, the crossbow removes any need for stealthy circumvention and surreptitious take downs. Where ACII demanded patience and keen observation of enemy patrol patterns to avoid detection, Brotherhood's long-range, silent killer simply requires you to pull the trigger from afar.
All for one
Any remaining challenge is nullified around the game's halfway mark by the introduction of the eponymous Brotherhood. Up to a dozen citizens can be rescued from the Borgia and recruited into the new Assassin's Guild. Once recruited, it's another simple button press to instantly call assassins to fight for you. With XP rewarded through fighting, or through their deployment on missions throughout Europe in an entertaining metagame, it's not long before their strength and skills rival yours.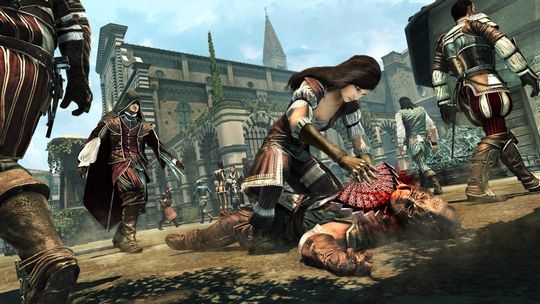 Pick a card dammit, don't tell me…
However entertaining the metagame, and however much paternal pride there is in watching your deadly fledglings appear from nowhere and kill with rapier speed, the introduction of additional assassins into ACII's formula – which already allows players to hire mercenaries, thieves and courtesans – proves unnecessary.
Despite improved missions throughout its second half – the best of which see you aiding your old friend Leonardo da Vinci in sabotaging his war machines – the game never recovers from its lack of challenge. Indeed, Brotherhood's only real challenges are in ignoring its frame rate dips and constant screen tearing, and in deciphering its plot. Indeed, if the writers hope to salvage the desultory threads of ancient super civilisations, secret societies and doomsday prophecies, and weave them into an intelligible denouement for Assassin's Creed III, they'd better pick up the phone and call Dan Brown.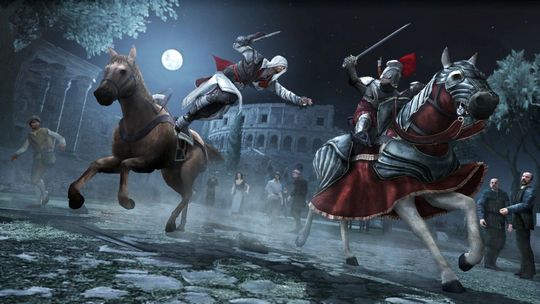 Upgrading to more horsepower
Verdict
Despite the screen tearing and poor frame rates – which plague both the 360 and PS3 versions – Assassin's Creed Brotherhood is a technical marvel. Its beautiful depiction of 16th Century Rome is replete with life and charm, and there's plenty to entertain and divert in its vast open world. But sandbox games are most effective when empowering players through an abundance of choice, and here the choice is just too damned stark. If you want to retain a modicum of challenge in Brotherhood, you're going to have to ignore all of its innovations. ®
More Games Reviews

Super
Meat Boy
Call of Duty:
Black Ops
007
Blood Stone
Star Wars:
The Force Unleashed 2