Original URL: https://www.theregister.co.uk/2010/11/22/ten_essential_mp3_players/
Ten... sub-£50 budget MP3 players
Sound choices
Posted in Personal Tech, 22nd November 2010 07:00 GMT
Product Round-up Some might argue that, with music playback now integrated into most mobile devices, low-cost MP3 players are fast becoming surplus to requirements. Yet, despite a decline in sales, budget audio kit is still very much in demand this time of year, and manufacturers continue to bring new models out in a bid to compete with Apple's dominance.
Moreover, the convenience of a pocket-friendly MP3 player – one that's going to be a lot cheaper to replace than a phone when joggers collide – shouldn't be underestimated. With festive shopping on the horizon, here, in alphabetical order, is a sample of the MP3 players available for under £50 that will surely add volume to any Christmas stocking.
Apple iPod Shuffle 4G

Apple's iPod Shuffle, the archetype for any clip-on player, has seen some improvements this year. The decision to move the controls off the earphone cable and back to the body itself is a welcome change that means you can use nicer cans. The sound itself is fantastic and plenty loud enough.
The Shuffle is small, elegant but very basic. Its aluminium case has an executive slickness to it and there's no doubt that Apple's little music box sets the bar for minimalist audio players. Aside from the exclusivity of iTunes, the main problem I have is value for money. As this round-up highlights, you get a lot more for your quids elsewhere. While having additional features like a display, radio and voice recorder may impact slightly on battery life, the Shuffle is by no means a particularly long-distance runner itself.
Still, Apple has been doing this for a while now and even though the Shuffle is by no means my top choice, it remains a safe option. It is perfect for joggers and offers format support to suit most users, with plug-ins available for iTunes able to convert other formats.


Reg Rating 80%
Price £39 (2GB)
File support MP3, AAC, AIFF, Audible, Wav, Apple Lossless
More Info Apple
Archos 18 Vision

I wasn't too impressed by the 18 Vision, which feels like a cheaper version of the Creative Zen Style. The body is too lightweight and only saved by nice-to-stroke rubbery case. The sound is generally poor and feels like it's missing something, perhaps because the bass lacks clarity.
The 18 Vision offers quite a range of features, including video, but movie playback is very pixellated on its 1.8in, 160 x 128 screen, and with the 18 Vision's pitiful battery life, viewing can be shortlived. The voice recorder picks up a lot of background noise and the headphone socket is to the side, which unnecessarily makes the 18 Vision an awkward pocket fit.
While volume does go incredibly loud, the disappointing sound quality literally hurt my ears at such levels, especially with the supplied headphones. Alas, the 18 vision tries to do too much, which is all very well as long as you get the fundamentals right, which it doesn't.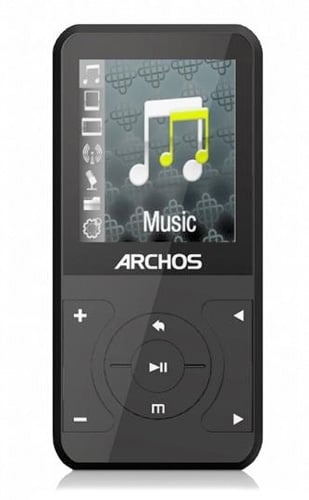 Reg Rating 55%
Price £30 (4GB) £40 (8GB)
Format Support MP3, Wav, Flac, APE
More Info Archos
Bush 4GB MP3 Player

The pick-me-up-at-Argos brands of MP3 players exist for those on a tight budget. Sure they will save a few quid, but are they really worth it? Maybe that's being a little harsh on Bush, but having gone through several in the past, I don't feel too bad saying it.
This model, while better than any I've previously seen from the vendor, still disappoints. As usual with a Bush, it's simple and easy to use, but also has surprisingly decent battery life, a voice recorder and Micro SD support, which adds a welcome boost to the memory capacity. However, it still feels cheap and takes ages to boot up with a card in it, especially if packed with content.
The sound is below average, lacks oomph and the maximum volume is rather low too. Moreover, music simply feels uninspiring through the cheaper-than-chips headphones supplied that almost strangle with an odd noose-like cable. I remained unimpressed after I switched to my trusty Audio Chi headphones and was surprised at the amount of positive customer reviews. I guess anyone who writes "Just shows you can't go wrong with Argos!" may not have too exacting standards.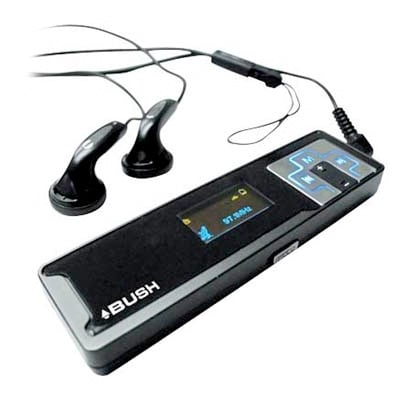 Reg Rating 45%
Price £25 (4GB)
File support WMA, MP3
More Info Argos
Cowon iAudio E2

Available in seven colours, Cowon's iAudio E2 is as close to a keyring attachment as you're going to find. But while the plastic casing mimics a slick metal look, the lightweight body and minimum features do little to warrant a positive first impression. And with just four subtle and somewhat fiddly control buttons, the E2 looks more like something you'd unlock your car with.
The sound itself is spacious and clear but I'd prefer it louder, although switching through its multiple filters gives a needed boost. I couldn't hear a huge difference between these though, except for Mach3bass, which I rarely reverted from. When headphones are unplugged, sound pauses, but stick them back in and the volume level is reset.
Although there's no AAC support, the device does cover Flac, Ogg and Wav formats and has a long battery life, so it certainly will appeal to more demanding users. However, the supplied headphones were predictably basic and the E2's performance is average at best.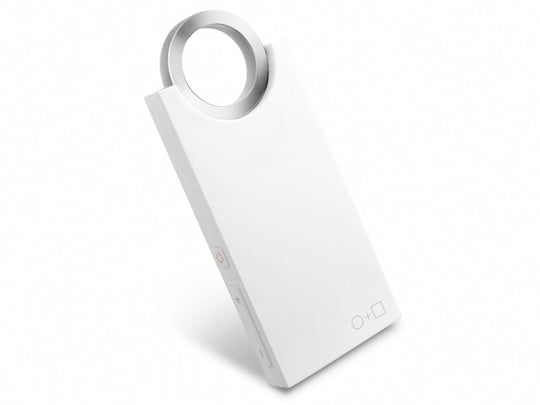 Reg Rating 65%
Price £40 (2GB) £45 (4GB)
Format support MP3, WMA, Ogg, Flac, Wav
More Info Advanced Mp3 Players
Creative Zen Style 300

While the Style 300 has much room for improvement, it's a fairly nifty MP3 player for £40. Positively inundated with features, the menu is reasonably quick to grasp and the sound is impressive. Combined with one of the best voice recorders I've tried and a slick case, my initial impression was hugely positive, but the Style 300 is let down by what seems like buggy software.
Three times now I've had to reset the device after it froze - a common problem, according to web forums. Video support is limited to a proprietary format that can only be encoded through the bundled PC software. However, even though the headphones are weak and the speaker has a tinny phone-sound to it, the huge array of features and superb battery life balance things out. If it wasn't for the freezes, the Style 300 would have scored much better.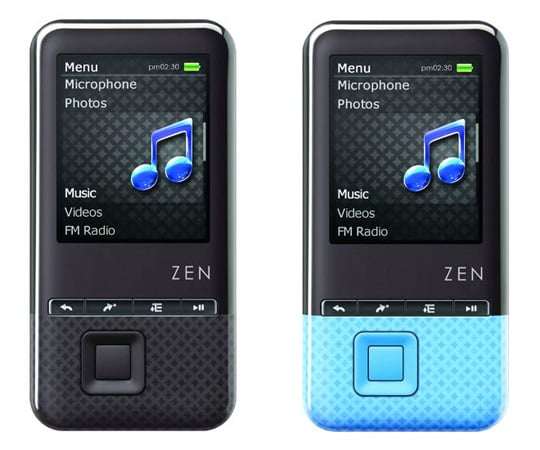 Reg Rating 65%
Price £40 (4GB) £60 (8GB) £80 (16GB)
Format Support MP3, WMA, Wav, Audible
More Info Creative
Philips Go Gear

This clip-on, thumb-sized MP3 player offers fairly basic controls to skip tracks - or music folders - shuffle, repeat and to alter volume. There's an FM radio too, but the storage and format support are limited.
The stainless steel shell has slick written all over it and is available in a variety of colours too. However, the buttons can be fiddly and, apart from a coloured LED behind the play button, there is little communication between user and device. Out on a jog, none of these issues matter, but loud background noise could be a problem, and the cheap headphones supplied with it don't help matters.
Philips has incorporated its FullSound technology, a post-processing algorithm designed to restore losses in dynamics and frequency range that are inherent in compressed audio. Indeed, the sound reproduction seemed quite smooth, but it wasn't spectacular and could benefit from a higher output volume. Alas, the radio reception wasn't great, as it struggled to get a perfect signal even on the sixth floor of our central London office building. Still, for simplicity and a long battery life of approximately 12 hours, the Philips GoGear Clip is a fairly decent iPod Shuffle alternative, and a rugged player that is unlikely to see damage easily.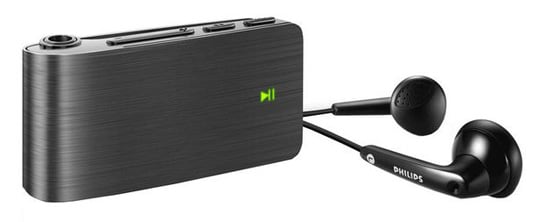 Reg Rating 70%
Price £25 (2GB) £45 (4GB)
Format Support WMA, MP3
More Info Philips
Samsung TicToc

Samsung's movement-controlled gadget is probably the cutest player I've seen. With just one button and multiple functions dependent on turning the device one way or another, the TicToc takes some getting used to and can be rather sensitive. If you adjust volume - press the button while upright - and promptly turn it to the side, the device gets confused and annoyingly switches tracks. But when you're familiar with its sensitivity, it's easy to fall in love with it.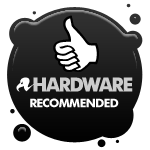 Shake once for vocally transmitted track information. Shake three times to jump between modes – which include the options to play fast or slow songs only – depending on your mood. When first turned on, the TicToc reads out aloud the remaining battery life, and then starts playing. For such a gimmicky device it offers tremendous sound quality and a loud output. Distortion is noticeable when levels are at their highest, but you'll be able to listen to the TicToc on the London underground, even the rambunctious Jubilee line, without distraction.
Its 12-hour battery life and multiple format support are pluses, but it's the unique controls and funky design – accompanied by good-quality matching headphones and a nifty charging cradle – that make the TicToc stand out. Despite the girly look, I'd be chuffed to get one for Christmas.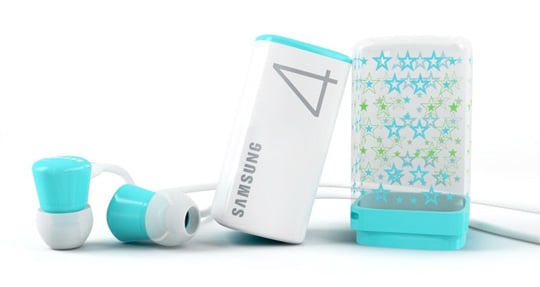 Reg Rating 85%
Price £40 (4GB)
Format Support MP3, WMA, Ogg, Flac
More Info Samsung
SanDisk Sansa Clip+

SanDisk's little beast, the Sansa Clip, has everything and more that I want from an MP3 player. Modify the settings to permit exceeding a certain decibel level and the Sansa Clip satisfies the craving for a louder output. Although distortion is present at full volume, the device never needs to hit such heights.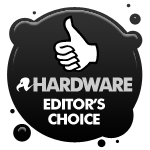 It's easy to use and has an array of features that include radio and voice recorder. The Clip comes with huge built-in memory already, but also has a Micro SD slot so it can hold up to 24GB of music. The screen is bright and easy to read, and the buttons are unchallenging. The supplied headphones could be better, and it would be nice if the input wasn't on the side, but battery life is superb and format support only limited by the absence of AAC.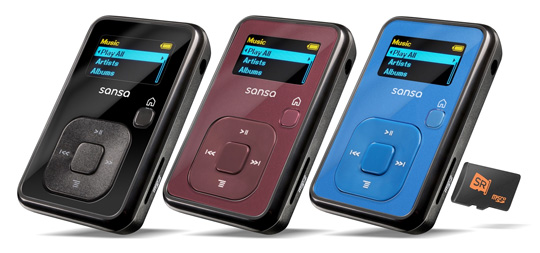 Reg Rating 90%
Price £30 (4GB) £40 (8GB)
Format Support MP3, WMA, Ogg, Flac, Audiobooks and Podcasts
More Info SanDisk
Sony Walkman NWZ-B152F

Other than a long battery life and the benefit of being a non-cable USB key, the Sony B series is disappointing, mainly due to its low output volume. The sound is smooth and rounded, but venture to a place with any background noise and you may as well forget it.
The jog-wheel used to change tracks can be fiddly, especially one-handed and, unless you've switched Hold on, its buttons are too easily nudged. Consequently, tracks are accidentally paused or the annoying Zap function comes into force – a somewhat pointless feature that plays a few seconds of each track before randomly moving on.
The voice recorder and FM radio are nice inclusions, but neither compensates for the volume problem. With format support for just MP3 and WMA, the B series Walkman comes with mediocre headphones and appears poor value for money. You'd expect more from Sony, really.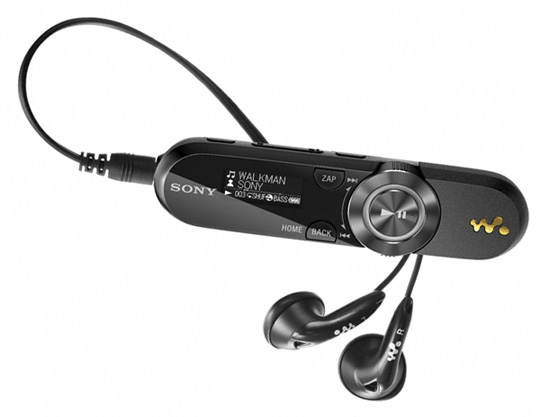 Reg Rating 55%
Price £20 (2GB) £40 (4GB)
Format Support WMA, MP3
More Info Sony
X-Mini Happy

The X-Mini Happy is the ultimate accessory for sodcasting chavs that now infest the nation's buses and painfully show off the noise they believe qualifies as music. It's wicked, innit!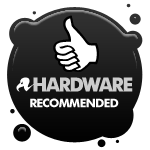 The single tweeter on top, supported by a powerful sub-woofer inside, delivers crisp audio at high volumes. Sure, its spherical shape isn't as pocket-snug as most MP3 players, but the X-mini is comfortable enough to carry and the sound is incredible, albeit slightly distorted at maximum output. There are other downsides: as there's no display, the volume resets itself each time it's powered up, and you can't fast forward through any tracks. Limited format support is also a drag - MP3 or WMA only - and the battery life is a mere five hours.
Despite this, the X-Mini MP3 is an excellent piece of kit, and comes with a removable 2GB SD card along with some of the best supplied headphones I've seen. Each device can be linked to other X-Minis to create a chain of speakers and intensify the volume even more. The streetz may have already waved goodbye to days of boomboxed shoulder pads, but a new era is here: X-mini necklaces.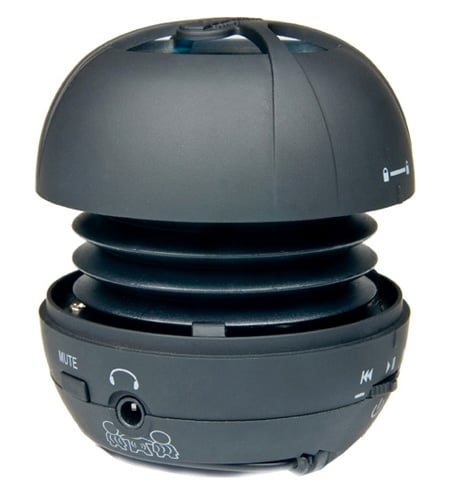 Reg Rating 85%
Price £40 (2GB)
Format Support WMA, MP3
More Info Advanced MP3 Players