Original URL: https://www.theregister.co.uk/2010/11/22/review_tablet_viewsonic_viewpad_7/
Viewsonic ViewPad 7 Android tablet
Tablet sceptics, prepare to be converted
Posted in Personal Tech, 22nd November 2010 13:48 GMT
Review Viewsonic came up through monitors and projectors, but has recently been branching out, sometimes tentatively, into other devices like the VMP74 network media player and slimline laptops. Now it's set its sights on the rapidly emerging Android tablet market with its new 7in touchscreen, the ViewPad 7.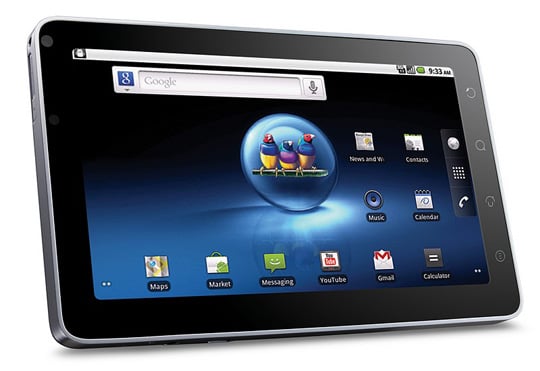 Viewsonic's ViewPad 7: 'Pad beater?
Unlike the unfortunate Toshiba AC100 smartbook, the ViewPad 7 is a straight-down-the-line implementation of Android 2.2. The result is effectively a large phone just small enough to slip into a gent's inside jacket pocket, but of a weight that would make any fastidious Saville Row tailor shudder.
"I'm sure Sir would prefer a leather holster for that."
If, like me, you're more Marks and Sparks than Jermyn Street, the rather reassuring heft of the device is a minor consideration: this thing is portable. You won't hesitate at the front door wondering if you really need it today. Definitely one up on certain popular device from a fruit-named company.
Better than one up. More than just a blown up phone, the ViewPad 7 has some solidly-grounded pretensions to becoming a laptop replacement. There's no physical keyboard, of course, although Bluetooth and the mini USB socket suggest this possibility, but the rich set of virtual keyboards – a choice of full Qwerty, 12-key phone pad or some proprietary ingenuity called CooTek T+ – together with the option of Google voice recognition make it a very flexible and usable input device, as well as a viewer.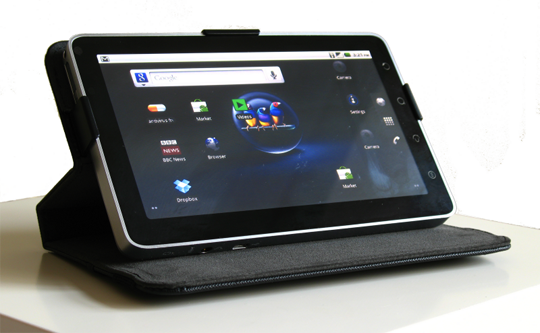 Case in point...
The capacitive multi-touch screen is nicely responsive, and flicking and two-finger squeezing and stretching quickly become instinctive means of navigation and zooming.
Johnny 7?
The viewing angle from side to side in landscape mode is very good. But the loss of definition when you go off-axis vertically reveals the downside of traditional LCD as compared with the AMOLED technology now beginning to be used in devices like the Samsung Wave - costly at this sort of size - or even the more modest IPS that Apple uses for the iPad screen. A limitation for a device you'll often have lying flat on the table in front of you, but not, in practise, a very big deal. The 800 x 480 resolution is more of a handicap, especially when compared to the Samsung Galaxy Tab's 1024 x 600 panel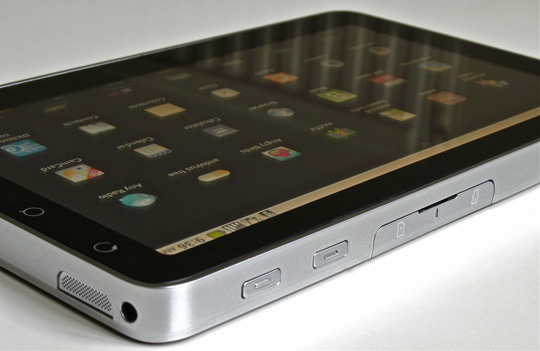 Slip in a Sim for 3G connectivity
Speaking of Apple, the ViewPad's industrial design is very close to the solid aluminium-rimmed styling of Cupertino's latest phones and lightweight notebooks. Clearly, Johnny Ive has his admirers in Taiwan. Switched off or sleeping, the ViewPad looks like a black glass tile solidly framed in silver. The half-inch rim gives plenty of room at the top – in landscape mode – for a flap that conceals sockets for Sim and a Micro SD card. To the right of this, two flush buttons control the audio volume.
The left and right edges have small grilles for a pair of tiny but surprisingly listenable speakers. Above these are a pair of circular recesses evidently for the attachment of a case, although the tough canvas-like black case provided uses three stout clips to retain the device instead.
Immediately below the left-hand speaker is the power switch. A short press to awaken the machine or put it to sleep and a longer press when it's switched on to pull up a menu offering complete power down, sound muting or airplane mode.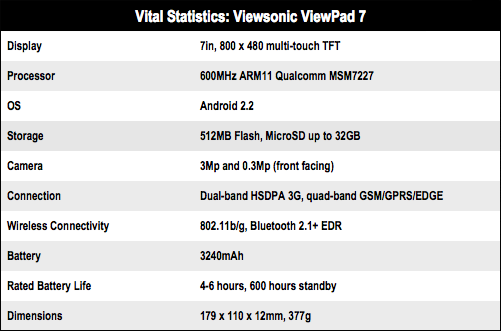 Netbook nemesis?
The microphone is situated on the left-hand side of the bottom edge, well away from the speakers. Audio Skyping with this device – a quick download from the Android store – is beautifully clear, and in quiet surroundings you won't need headphones.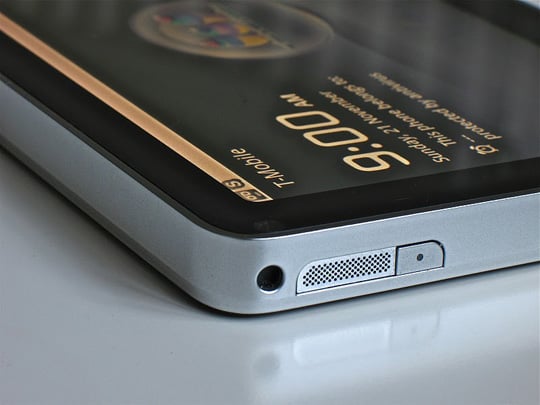 The industrial design is impressive, but not quite up to the standards of Mr Ive
When you do need them, the 3.5mm headphone socket is immediately to the right of the mic, although this probably isn't the optimal place for it, as this makes the headphone jack obtrude, where it messes with the otherwise neat folding support of the black case.
To the right of the headphone socket there's a mini USB socket. This will hook the ViewPad up to your computer as a mass storage device, and is also used for charging. Don't charge from your computer, though, because all you might get like this is a half-amp trickle. The mains USB charger that comes with the kit outputs 2A, and should give you a full charge from zero in a couple of hours.
Verdict
I was tablet-sceptic before I met this machine, but the ViewPad 7 definitely works for me. The screen is big enough for serious couch surfing at home, and the jacket-pocket friendly form-factor makes it a useful travelling companion. You won't be writing War and Peace using any of the various virtual keyboards, but there's scope for serious note-taking once you get the hang of it.
Better still, Viewsonic is currently running a promotion to give you £100 back on the £400 you'll lay down for the ViewPad 7, if you have an old netbook kicking around you can trade in. At £300, this 3G-enabled tablet is very tempting indeed, but you'll have to spend your cash-back on a memory card - this tablet only comes with 512MB of Flash on board. ®
More Tablet Reviews...

Samsung
Galaxy Tab
Archos 7
Home Tablet
Apple iPad
3G 32GB
Amazon
Kindle 3