Original URL: https://www.theregister.co.uk/2010/11/22/ios_4_2_first_look/
iOS 4.2: An 'ace' for iPad, a 'meh' for iPhone
Printing still strangled
Posted in Personal Tech, 22nd November 2010 21:17 GMT
First look Monday was iOS update day for the iPhone, iPad, and iPod. "iOS 4.2 makes the iPad a completely new product," crowed Apple CEO Steve Jobs in a prepared statement announcing the upgrade — which wasn't actually released until 10am, Pacific Standard Time, despite the early-morning reports of the release.
We installed it on both our iPad and iPhone, and discovered that iOS 4.2's new features are welcome — if imperfect — additions for iPadders. For iPhone owners, however, unless you have an Apple TV, a rare AirPrint-supported printer, or are one of those folks who absolutely must have the latest version of everything, iOS 4.2 isn't a must-install-today update.
The upgrade for our iPad was a hefty 551.4MB and for our iPhone 3GS a not-too-far-behind 401.4MB — don't expect a snappy download and a quick reboot-and-run turnaround with this leviathan. It appears that the days of "write tight" as a coder's mantra are long gone.
If you have an original iPhone or a first-generation iPod touch, however, you needn't worry about waiting for a long download — iOS 4.2 won't run on your Cupertinian handheld. Neither are all features available on all devices: as Apple notes: "For example, Multitasking requires iPhone 3GS, iPhone 4, third generation iPod touch (late 2009 models with 32GB or 64GB) or later."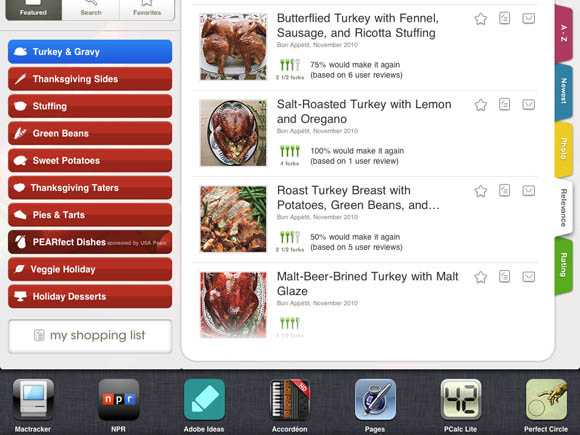 Multitasking comes to the iPad, five months after it appeared on the iPhone
Those of us who own both iPhones and iPads have been living with two different iOS interfaces since iOS 4 was released for the iPhone back in June (and upgraded to 4.1 in September). Switching between the two has been an odd exercise in time travel, as those of you whose PCs at work are still lumbered with Windows XP, even though you've moved to Windows 7 long ago on your personal box.
The two flagship features that Apple trumpets on its iOS 4 web page are iPad-specific, having been available on the iPhone since iOS 4 shipped: multitasking and folders.
Multitasking is a bit of misnomer. In most cases, apps don't actually "run" in the background; instead, they simply save their states, which can be accessed by tapping a multitasked app's icon in a side-scrollable bar below the main display. Not that such behavior is a problem — actually, it's a boon to what Apple modestly refers to as the iPad's "legendary battery life."
Some apps, such as Pandora Radio and Stitcher Radio, play in the background when another app is brought to the front. An app's developer, however, needs to make their offering multitaskable — which, apparently, Brian Eno and Peter Chilvers haven't yet bothered to do, seeing as how Bloom refuses to indulge you with soothing background audio noodling while you're, for example, reading a Kindle ebook.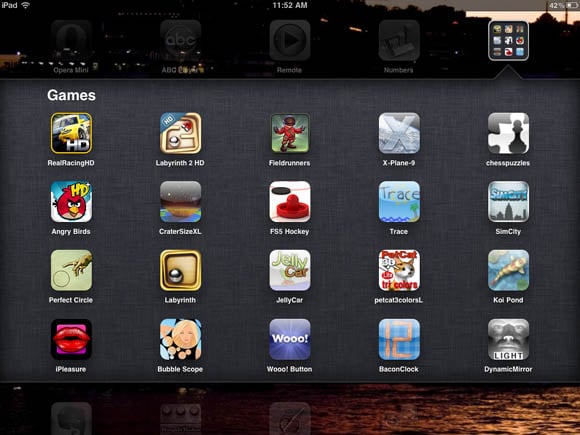 An iPad folder can hold eight more apps than an iPhone folder — but that's it
Folders were a helpful addition to iOS 4 for the iPhone, but for reasons known only to The Mind of Steve™, Apple doesn't want you to be able to scroll through a folder's contents, and therefore it limited the number of apps that you can stuff into a single iPhone folder to 12. That loony limit can only be exceeded by jailbreaking your iOS device, shopping at Cydia, and installing a limit-lifting app such as chpwn's Infinifolders.
Since each iPad home page can hold 20 icons — apps or folders — a non-scrolling folder window is less onerous on Apple's "magical and revolutionary" tablet than it is on an iPhone — you can fit more folders onto each home page.
You can also put more items into an iPad folder than you can into an iPhone folder: 20 versus a dozen. But the limitations are still an unecessary pain. And while we're telling Jobs & Co. what to do, how about letting us fit more than 20 icons on one page on our iPads? There's plenty of room for more, don't you think, Cupertinian overlords?
Playing and printing in the air ... for some
Apple also trumpets the AirPlay feature of iOS 4.2, which lets you stream content from your iOS device to your Apple TV. Unfortunately — well, not all that unfortunately — we have seen no need to add an Apple TV to our collection of gadgets, so we couldn't test that capability.
Nor could we test AirPrint, iOS 4.2's much-needed addition of allowing you to print from your iOS device. Again, The Mind of Steve™ is inscrutable: AirPrint allows you print to only a small number of AirPrintable printers, such as a handful of HP offerings.
Yes, there are ways to print to other printers — Macworld can provide you with some help on that score — but the inability for your iOS device simply to be able to wirelessly send a print job to a printer-sharing PC or Mac (System Preferences > Sharing > Printer Sharing) is a stone drag.
One new feature of iOS, however, we greet with unreserved appreciation — although, it must be admitted, with a bit of a petulant "What took you so long?" That's the ability to search for words or phrases in Safari.
Finally on-page searches come to Safari — better late than never
Unfortunately, the UI for this feature is less than intuitive. To search for a term on a web page, you enter that term into the standard Google search box — which, yes, still says Google (or Yahoo! or Bing, if you've changed the default) — and the search results will show up at the bottom of the suggested-results list. Tap it, and you go back to the web page, which is now adorned with Next and Done buttons to lead you to your searched-for term. Kludgey, yes, but welcome nonetheless.
There are other additions in iOS 4.2 as well. Some have been available on the iPhone since iOS 4.0, such as a unified Mail inbox, and some are new to all iOS devices, such as 25 more languages for keyboards and dictionaries; the ability to respond to invitations from Yahoo!, Google, and Microsoft Exchange users when in the Calendar app; and a few other minor niggles such as a choice of fonts in the Notes app.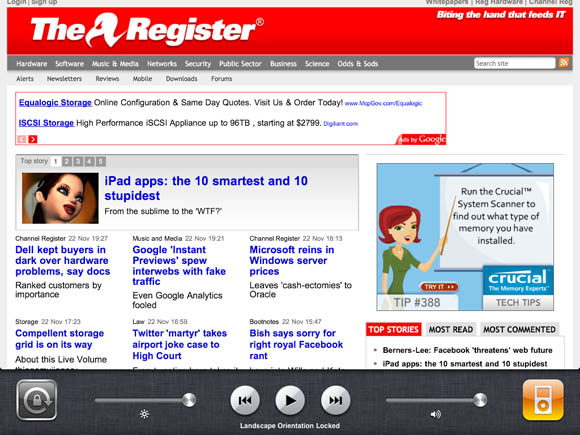 In addition to orientation and audio controls, the iPad one-ups the iPhone with a new display-brightness control
Apple also promises "enhanced enterprise support," which we haven't yet been able to test, but which they contend offers "stronger security features, new device management capabilities, and improved enterprise integration."
One other tiny change: the hardware orientation-lock switch has morphed into an notification-mute switch. But if you've grown accustomed to locking your iPad's orientation, fear not — control over that capability has merely moved into software: just swipe the mutitasking bar to the right, and a panel that includes an orientation button will eventually appear, along with audio and screen-brightness controls. Tap it, and you're locked.
Although 4.2 won't change an iPhone user's world all that much — unless they happen to have one of those HP printers — an iPad user will welcome the benefits of iOS-style multitasking and those helpful-but-limited folders. We thought those two features would be minor when we upgraded our iPhone to iOS 4, but found ourselves missing them when we picked up our iOS 3.2.2-lumbered iPad
And all of this upgrade goodness and media attention comes "just in time for the holiday season," as Jobs said in Apple's press release announcing the upgrade. ®
Bootnote
Jobs also said: "Once again, the iPad with iOS 4.2 will define the target that other tablets will aspire to, but very few, if any, will ever be able to hit." Which begs the question: can one "aspire to" a target?