Original URL: https://www.theregister.co.uk/2010/11/20/review_hd_tv_samsung_ue55c9000/
Samsung UE55C9000 55in LCD 3D TV
Thin as a biscuit and just as tasty
Posted in Personal Tech, 20th November 2010 08:00 GMT
Review If money was no object, what type of TV could you create? If you're Samsung, the UE55C9000 is just one possibility. It may be slightly more expensive than many small cars, but the outlay gets you the slimmest TV you can currently buy, yet one that's still crammed full of high-end features including LED backlighting, Freeview HD and 3D support.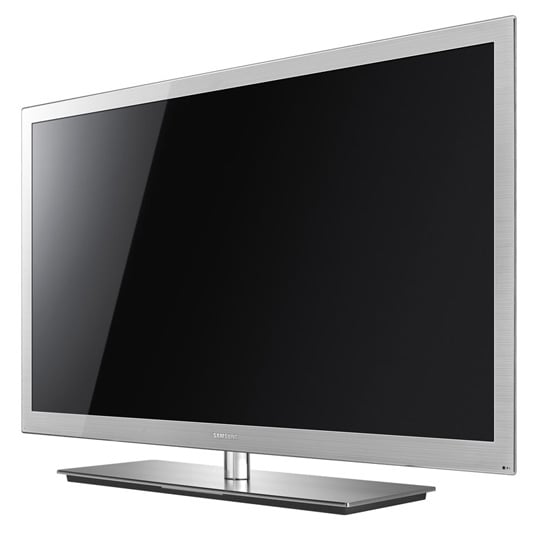 Thin film technology? Samsung's UE55C9000
There's no other way to describe this set other than utterly gorgeous. Despite having a massive 55in screen, it is a mere 7.98mm deep – that's slimmer than a CD case! The finish looks incredible too as the entire set, including the stand, is hewn from luxurious brushed titanium. There are also some clever touches here and there including a motorised control panel that slides out when you touch the front lip of the stand.
As the C9000 is so slim there's no room for the usual line up of connections on the actual screen. Instead these are housed on base of the stand. If you want to wall mount it, this base can be removed and fitted to the back of the set.
Here you'll find connections for four HDMI sockets, a USB port, VGA socket, component input, composite, aerial, Ethernet, and Scart – the latter four need to be attached using adaptor cables, as there isn't enough room to house full sockets on the thin base. In the box you'll also find a Wi-Fi dongle that connects to the USB port if you'd prefer to go wireless rather than use a wired connection.

With four HDMI ports, you shouldn't have any problems hooking up external AV kit
The C9000 has a Freeview HD tuner so you'll find the HD services from the BBC, ITV and Channel 4 nestled alongside the usual SD channels in the set's attractive and easy to use EPG. The Ethernet and Wi-Fi connections are also put to good use, as the TV can stream videos (including Divx HD and MKV files), photos and music files from DNLA devices such as a Windows PC or NAS drive. There's also a great line up of Internet widgets including LoveFilm, BBC iPlayer, Daily Motion and YouTube. Of these, iPlayer is perhaps the most useful, especially as it's so quick and easy to navigate.
Upscale top ranking
Given the ludicrous price of the set, you'd expect it to deliver when it comes to picture quality and, thankfully, it doesn't disappoint. Its performance with standard definition material is astounding as it has perhaps the best upscaling I've seen on a set of this size.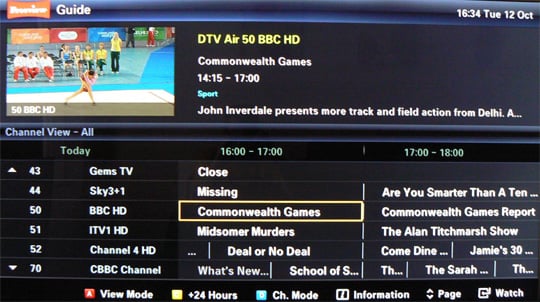 The EPG is beautifully presented and easy to navigate
HD content – either from the Freeview HD tuner or delivered via Blu-ray – also looks hugely impressive, as the TV conjures up really bright and punchy colours, while at the same time also managing to reproduce subtle shadow detail and deep blacks in darker more film noir-ish scenes.
For 3D, the TV relies on active shutter glasses. Only one set is included in the box. These feel quite light to wear, as the bottom of the glasses are rimless. However, they're not super sturdy, so I doubt they'd stand up well to being knocked off the side of a sofa or sat on.
The C9000's 3D performance is actually very good, especially by LCD standards. It creates a convincing depth of field that has a real wow factor, especially if you're new to 3D. As with all the current 3D sets on the market there is some slight crosstalk visible when watching in 3D and this manifests itself as minor doubling of the image on edges, especially those in the far distance.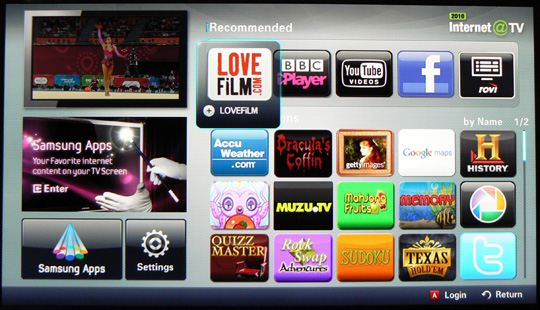 There's a great line up of internet services, including BBC iPlayer
However, it's much less noticeable here than on, say, recent models from LG. In fact it's not really far off that of Panasonic's plasmas, which are pretty much the gold standard for 3D at present. And as the set has the added advantage of brighter images (as pictures remain bright even with the dimming effect of the glasses) the differences between it and Panasonic's plasma models is a bit swings and roundabouts in terms of overall 3D performance.
Remote possibilities
Nevertheless, despite the high price, the TV isn't exactly perfect. The backlighting isn't quite as even as perhaps you would expect on a set as high-end as this and there are some issues with the backlight dimming too. For example, if there's white title text on a pure black background you can see differences in the back levels around the areas of the picture that contain the white text.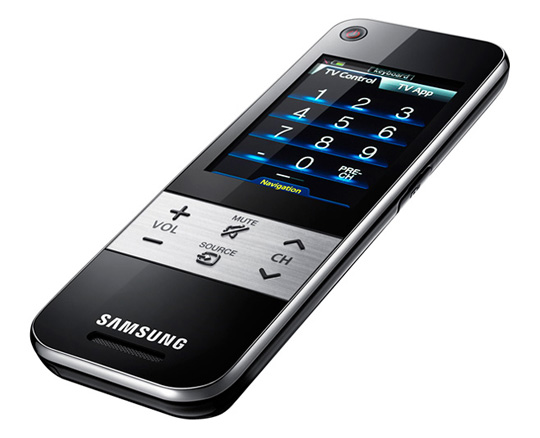 The remote has some very advanced features, but it's a pain to use for basic stuff
Perhaps the biggest problem is set's the fancy touchscreen remote. It has some seriously advanced features. It's Wi-Fi enabled so you can stream a live channel from the TV to the remote's colour display – handy if you need a pee during tense a penalty shootout – and it can also be programmed to control a whole range of other devices.
However, it's very awkward to use for simple tasks, like navigating around the telly's menu system. The screen just isn't responsive enough and it's far too easy to hit the wrong on-screen button and end up dumped out of the menu you were trying to adjust.
On the audio front, however, the TV is a surprisingly competent performer. Although flatscreens generally deliver pretty poor audio, that's not the case here, partly because Samsung has cleverly placed the speakers in the stand rather than in the set's chassis.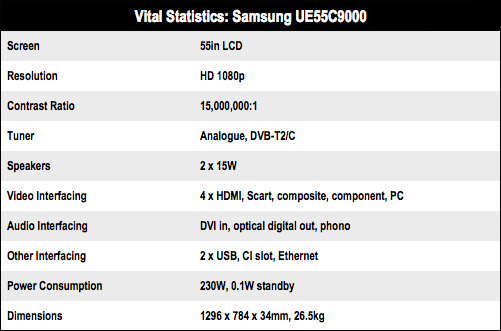 Sound thinking
The result of this placement is that the set can produce deeper bass than usual, which in turn leads to a more solid and punchy sound that works just as well for action movies as it does for soaps. With a set of this size though, I think you'd be nuts not to twin it with a proper surround sound system.

Slender moments
In terms of power draw the set sucks in less than a watt on stand by, but takes a relatively hefty 209W or so in Dynamic mode or around 150W in the Movie mode, which operates with reduced brightness.
Verdict
The UE55C9000 is a difficult TV to score, because it's basically more of a statement product, than something that's going to sell in big numbers. Obviously, it's the design and slimness of the set that pushes the price up, and there really is no other TV on the market that is as aesthetically pleasing.
It's no slouch when it comes to performance either, as it has incredibly good picture processing (especially for SD upscaling), deep black levels and 3D performance. However, the back light inconsistencies and the poorly thought out touchscreen remote are rather annoying given the huge asking price. Still, if money isn't an issue for you and you want a telly that really is a picture, then Samsung's UE55C9000 is definitely the one to buy. ®
More HD TV Reviews...

Group Test
Freeview HD TVs
Philips
32PFL9705
Ambilight
Sony
Bravia
KDL-46EX403
Group Test
3D TVs