Original URL: https://www.theregister.co.uk/2010/11/19/top_ten_arcade_classics/
Top Ten Arcade Classics
Shinryuken! Feel my burning vigour!
Posted in Personal Tech, 19th November 2010 07:00 GMT
Product Round-up What do you remember about being twelve? I remember spending a whole summer wishing I could hang out with the cool kids but instead nicking stuff from Woolworths and ramming coin after coin into Dragon's Lair and Defender.
Seventeen? Sometimes I ponder my misspent youth playing pool in Sneaky Dee's and ramming coin after coin into Street Fighter while waiting for the pool table. It didn't matter that the graphics were basic - these games were addictive because of the simplicity. High-score name-check FTW. The only arcade action I get these days is shooting aliens at the cinema but luckily when I get all nostalgic the web is on hand with the arcade classics just a click away.
And don't worry, it wasn't just me that put Woolies out of business.
Taito/Midway Space Invaders

Did you get leg and back cramps sitting round that bloody table, hunched over for hours on end without so much as blinking? I know I did. Using just a single laser, this game managed to wipe out all competition and become the first coin-op video arcade game to go global. Trying to defeat a sheet of alien invaders who marched from side to side, slowly but threateningly advancing on Earth may have made for a very simplistic game, but it was incredibly addictive. Each time you wipe the lot out you get another army but one row closer, creating a no-win situation that you still couldn't tear yourself away from - arghhhhh! Shoot down the fast spaceship flying across the top to up your high score.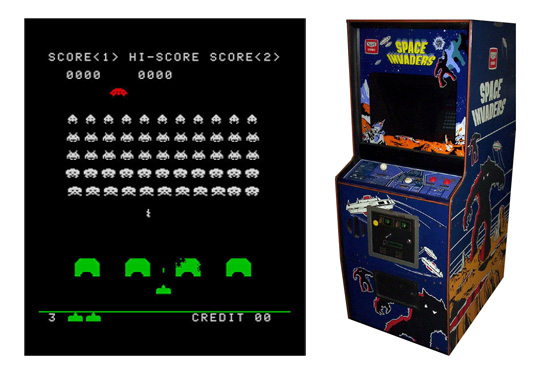 Namco Pac-man

I hate that maze – it's eaten too many hours of my life. Desperately fleeing from the four ghosts coming for you, I still remember the sense of relief when you get a pill and know you can switch on them. I don't know why this game makes my heart pound but it does. Maybe it's the lightning-fast pace making your hand-eye co-ordination look like that of a sloth. The fact I have this on my iphone too - and I know I'm not the only one - shows its lasting appeal. Wakka wakka wakka.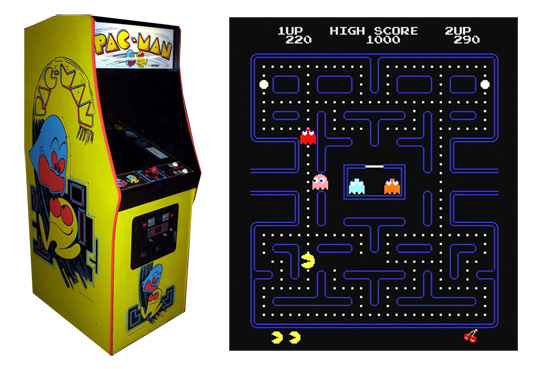 Williams Electronics Defender

It's all about the smart bomb! Side-scroller Defender was hard and fast, and with five buttons to master seemed way ahead of its time. Having more buttons like fire, thrust, smart-bomb and hyperspace seemed like heady days in the time of Space Invaders. Here you couldn't see what the aliens were up to unless you flew past them. Being a spaceship has always appealed to me, but until the arrival of Iain M Banks' Culture novels, never more than this.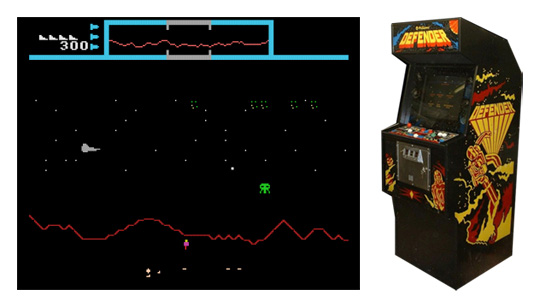 Atari Battlezone

Want to feel like you're training for some secret alien-killing military mission? I spent a couple of hours recently playing this on a friend's iPad and it brought me right back to the original's strange perspective and wireframe weirdness. Surrounded by a landscape of pyramids and cubes you battle with opposing tanks, missiles and sometimes even flying saucers. With it's periscope viewer this game was a novelty at the arcade, and used Asteroids-style vector graphics to draw it's distinctive visuals.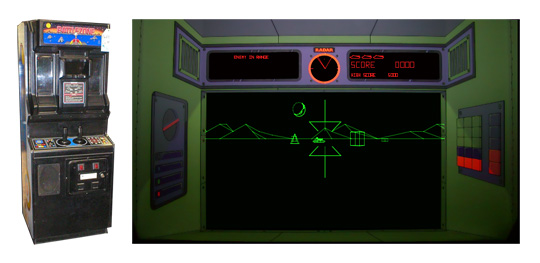 Atari Star Wars

Even though this game has three sections, why is the Death Star trench the only bit that I remember speeding through? The most fun to be had for 10p ever was skirting obstacles made of polygons and shooting the top off those evil gun turrets, while trying to get the timing of my proton torpedo right for a direct hit on the space station's thermal exhaust port. Almost as much fun as snorting amyl nitrate on a park bench, and a lot less expensive.
Dee, dee - diddly dee, dee - diddly dee, dee - diddly dah....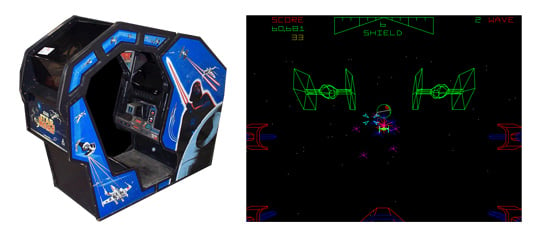 Cinematronics Dragon's Lair

Out of all the games on this list, this was the one that I spent the most money on and was frustrated the most by, but I think it inspired me and led me to a career in the animation industry. Rick Dyer was given the inspiration for this game after watching The Secret of NIMH and somehow even with its unique technology this fully cell-animated video game took off. The animation was on a laserdisc, the joystick and fire button worked almost like a television remote control. You control Dirk the Daring's decisions rather than his physical movements arguably making this the foundation for todays RPGs.
I remember always being gutted that even though this game cost more than the others in the arcade, Dirk's next step invariably lead to death. This game was hard and all about timing, you had to become in tune with the games rhythm rather than button bashing to stay alive. Because of the super outdated technology and laserdiscs decaying and corrupting over time this game is now super hard to get a hold of in it's arcade version. But don't worry, there are DS, PSP and iPad versions on their way.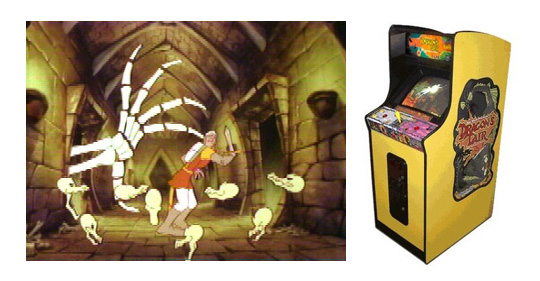 Sega Out Run

Driving a convertible racing along coastal roads, deserts and mountain ranges made this the pre-cursor to games like Ridge Racer. Unlike Pole Position, this game hinged on young male aspirations. Driving a blond chick around in a convertible has never been high on my list of things to do, but I do remember seeing boys flick 2p pieces up the slot to get credit on this game so it must have had something going for it. I guess being able to change the music using the steering wheel was pretty cool...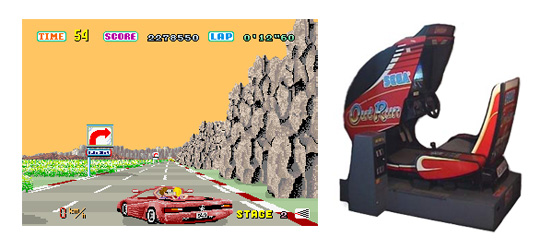 Sega Shinobi

With an unlimited supply of Ninja stars, ferocious punches and dangerous kung-fu kicks, Joe Mushashi remains one of the most formidable characters to appear in an arcade platformer. Mushashi's aim through five increasingly tricky levels was to reach the headquarters of evil kiddy-napping organisation Zeen, fronted by our hero's mentor, the Masked Ninja. With hostages to rescue and bosses to defeat along the way, Shinobi was an instant success, inspired several sequels and saw release on pretty much every home console available.
For all you shinoobies out there, a reworked version of the original can be found on Xbox Live. Ninja Magic!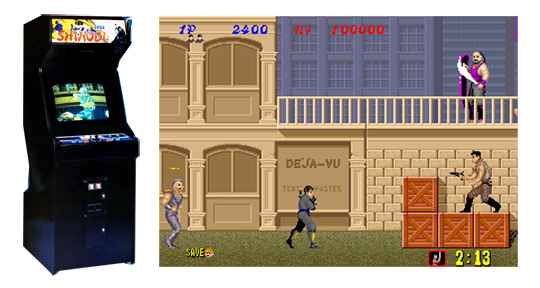 Capcom Street Fighter

This was all about the one-on-one, giving you six buttons to kick the shite out of your opponent with the usual beat down combo of jumping, standing and crouching, plus strong, medium and weak punches and kicks. This game was a wonderful mixture of Japanese cute and kickass combo moves. I still remember the twitchiness when Sagat came on-screen: would I be able to react fast enough to avoid his power move?
"Shoryureppa! Shinryuken! Feel my burning vigour!"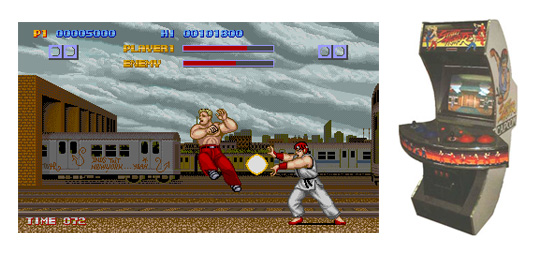 Namco Time Crisis

This genre-defining game always made me wish I had way better co-ordination, since it was all about the foot pedal. Release pedal, duck and reload! Foot down, fire! This on-the-rails first-person shooter allowed you to duck behind objects to stay safe while blasting with your lightgun through the game. While navigating each level you gotta kill all the bad guys in each area before time runs out but can gain time bonuses if you get really good.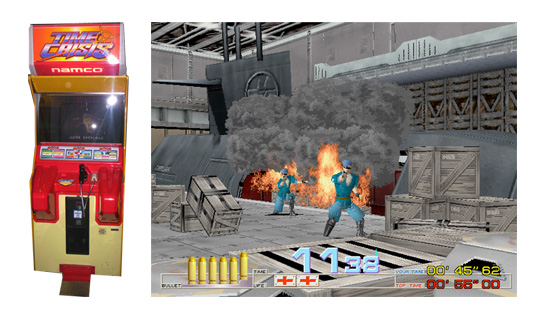 Reg Hardware extends a special thanks to Arcade History and Alexis Bousiges for help sourcing the pictures for this round-up.