Original URL: https://www.theregister.co.uk/2010/11/19/10_smartest_and_10_stupidest_ipad_apps/
iPad apps: the 10 smartest and 10 stupidest
From the sublime to the 'WTF?'
Posted in Personal Tech, 19th November 2010 20:04 GMT
As competitors to Apple's "magical and revolutionary" iPad begin to appear, expect Jobs & Co. to argue that a key advantage of their tablet over the Samsung Galaxy Tab, RIM BlackBerry PlayBook, et al. is the vast collection of iPad apps available in the iOS App Store.
Well, yes and no.
There are, indeed, some fine apps available in the sacred store. But as The Reg discovered when we dipped into the App Store to find the 10 smartest and 10 stupidest iPhone apps in the spring of 2009 ... well, to paraphrase Julie Andrews in The Sound of Music: "The hills are alive with the sound of drooling."
So, to separate drool from cool and stupid from smart, here are the 10 smartest and 10 stupidest iPad apps from among the forty-thousand-plus currently available, followed by a collection of not-quite-as-smart and not-quite-as-stupid runners-up.
If you don't have time to click through to each and every one of the 33 also-rans, do yourself a favor and at least check out Postmodernism Generator from among the smarties, especially if you've taken a graduate course in the arts or humanities. And don't miss Fart Studio from among the stupids, if only to see how far the teeming genre of fart apps has evolved.
But first, a quick note: All marketing quotes are verbatim. As I said in my earlier 10/10 round-up: "You just can't make some of this stuff up."
No. 10
Smart: Notes Plus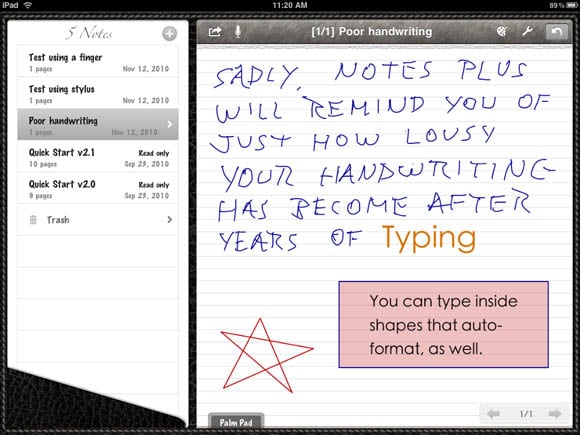 If scribbled notes are part of your routine, Notes Plus can turn your tablet into, well, a tablet
They say: "A powerful handwriting, note-taking tool with close-up writing for small text, stroke smoothening, keyboard text, shape auto-detecting, voice recording, palm handling, PDF exporting, emailing and Google Docs uploading."
The Reg says: The iPad's onscreen keyboard is essentially unusable unless you can set the damn tablet down. If you're standing or walking about, taking notes, you want to treat your iPad like a notepad — actually writing on it, that is.
Notes Plus lets you do just that, whether you use your finger or a stylus such as the Pogo Sketch. In addition, this handy app will also convert your geometric drawings into decent shapes, smooth your letterforms, create PDFs, record sound, and a lot more.
In its current incarnation — version 2.1 — it's a wee bit buggy, but Notes Plus' developer publishes updates at a healthy pace.
Price: $4.99
---
No. 10
Stupid: Bubble Scope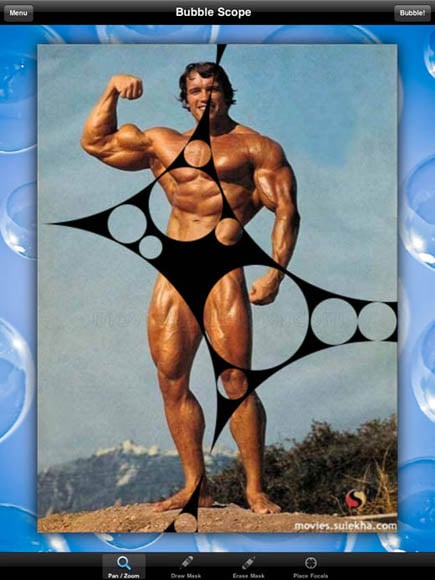 Some bubblers might enjoy Bubble Scoping US politicians into imaginary youthful nudity
They say: "It's here! Bubble Scope creates a fun illusion that tricks your mind into seeing people naked — when they aren't!"
The Reg says: Let me suggest that you add to your long list of "Why would anyone waste their time on that?" the fine art of Nude Bubbling, aka Mormon Porn, in which carefully placed "bubbles" reveal only skin, and a mask layer covers clothes.
The result is an effective illusion of nakedness — well, an illusion effective for 15-year-old boys, in any case.
There are a number of Nude Bubbling apps in the App Store, but I chose Bubble Scope for the honor of tenth stupidest app because it supports the use of finger-drawn masks to partially automate the creation of ersatz naughtiness.
Its "competitors" in this hotly contested field — Bubbling HD iPad Edition ($4.99), bubblemaker HD (99¢), Nu-dot.for iPad ($3.99), and Photo Bubbler for iPad (99¢), among them — make you do all the bubble-positioning work yourself.
Now that I think of it, however, touch-placing bubbles onto images of glossy nubility might actually be fun for certain 15-year-old boys.
Price: 99¢
No. 9
Smart: AmpliTube for iPad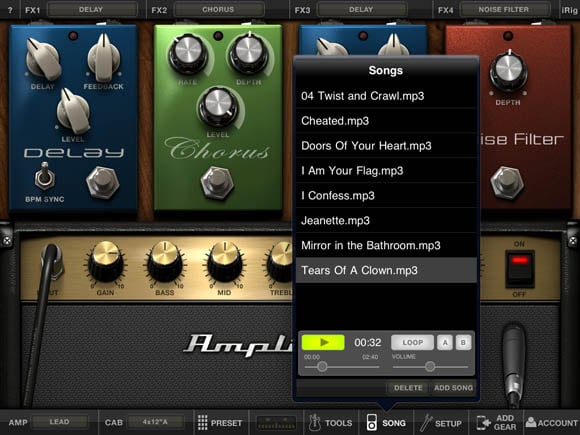 The ability to loop song sections in AmpliTube is a great riff-learning aid
They say: "With AmpliTube for iPad, you'll have an entire guitar/bass rig at your fingertips, comprised of 4 simultaneous stompbox effects, an amp-head plus cabinet and a microphone."
The Reg says: When I reviewed AmpliTubefor the iPhone, in concert with IK Multimedia's iRig guitar and bass connection hardware, I was duly impressed at the amount of sonic control its collection of digital effects, amps, and cabinets could provide.
Now the same app has migrated over to the iPad, with the addition of interface elements that take advantage of the increased display real estate.
In addition, that extra display size makes using AmpliTube onstage on in-studio much easier — especially if your iPad is ensconced in IK's iKlip microphone stand–mounted iPad holder.
Price: $19.99
---
No. 9
Stupid: iPleasure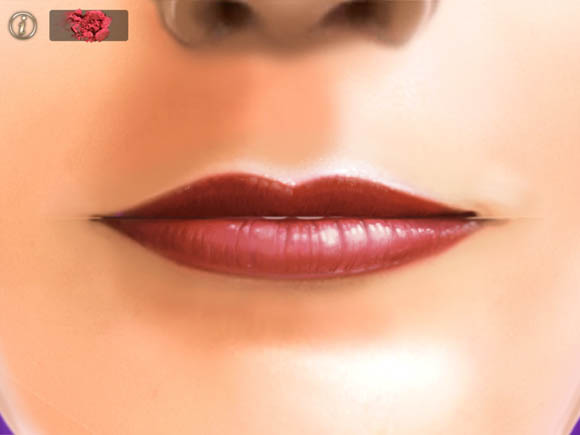 "Minimalist" doesn't begin to describe iPleasure's capabilities. Neither does "stupid"
They say: "Depending on user's finger motions the iPleasure's 'mouth' will speak, offering soft and erotic speech that are not only gratifying but entertaining as well."
The Reg says: I'm sometimes at a loss as to where somone came up with the inspiration for a particularly stupid app. iPleasure is one of those apps.
This piece of rousing eroticism displays a pair of lips. Choose one of eight lipstick colors, and smear the lips with your finger, imparting that color.
The lips distort as your finger moves across them. You can also move them a little by pulling the mouth open. Occasional sighing (I think) and giggling (possibly) also emanate from the app.
That's all folks. You can go home now. Nothing more to see here.
Price: 99¢
No. 8
Smart: Corkulous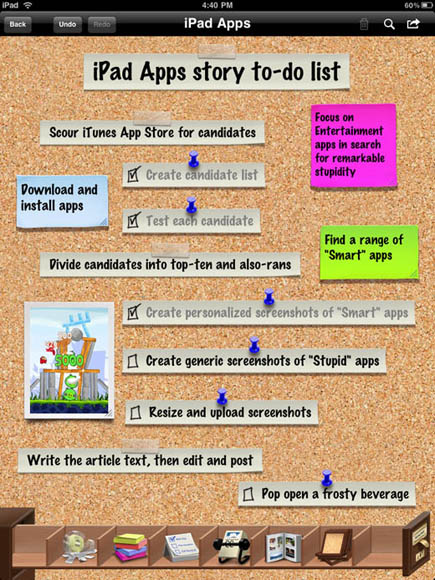 You could organize your projects without Corkulous, but it wouldn't be as enjoyable
They say: "Corkulous is a multi-purpose app containing cork boards where you can place notes, labels, photos, contacts, and tasks."
The Reg says: I picked Corkulous for number eight not because it has changed my organizational life nor because it's the best idea-manager and plan-sharer in the known universe.
I picked it for the same reason a teenager picks a Friday night date: it's fun, attractive, and easy.
You start with a big ol' virtual corkboard, zoom into one portion of it, then add a variety of elements to it, typing in info as you go. When you're done, you can email your creations in PDF or image form, export them through iTunes, and share them with another fine app from the same developer, Appigo, a task-manager called Todo for iPad.
Price: $4.99
---
No. 8
Stupid: BaconClock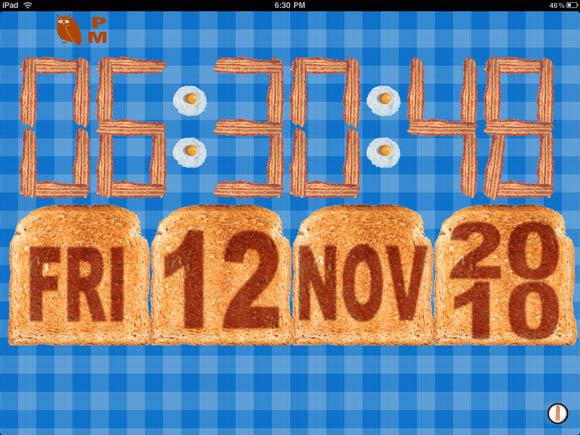 Bacon Clock proves that stupidity can be charming, as well as ... well ... stupid
They say: "Three words: Animated. Bacon. Clock. Bacon Clock will make you drool as you watch the animated digits tick off the time."
The Reg says: "Stupid" doesn't necessarily have to be a pejorative term. Take Freeverse's beloved Jared ("El Carnicero de Canciones"), who has been entertaining Mac addicts for nearly 15 years, and yet who is inarguably and irrevocably stupid.
BaconClock is a member of that proud tradition. This diversion is simply a digital clock with numbers made of strips of bacon and a calendar burnt into slices of toast. Oh, and you can choose from among five different backgrounds.
I like the blue gingham tablecloth. You may prefer the pancakes. They're both pretty stupid — but pleasantly so.
Price: 99¢
No. 7
Smart: Air Display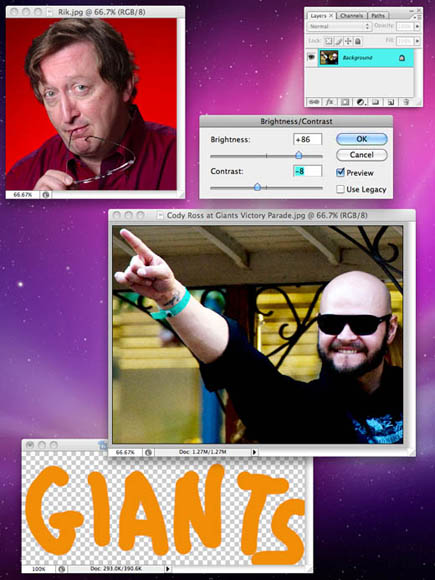 Photoshop on an iPad? Yes, using AirDisplay, and with touchscreen fingerpainting
They say: "Air Display lets you position your iOS device next to your computer, drag windows onto it, and interact with those windows as you would on any other computer display."
The Reg says: Compared with a laptop's display, the iPad's 9.7 inches is not too shabby — so wouldn't it be nice to be able to add the iPad's display acreage to that of your laptop's as a secondary display?
Well, with Air Display, you can, wirelessy over Wi-Fi, and with nearly imperceptible lag time when moving your curson to and from it. In addition, your iPad's touchscreen works as, for example, a Photoshop tool such as a brush or to push buttons on a calculator.
One caveat: the App Store contains a raft of reviewers' complaints about connection problems, especially with Windows machines. But I haven't touched a Microsoft OS in a decade, and have experienced no problems whatsoever with connecting Air Display to my Mac Pro and iMac.
Your mileage, of course, may vary.
Price: $9.99
---
No. 7
Stupid: Simple Fruit Bowl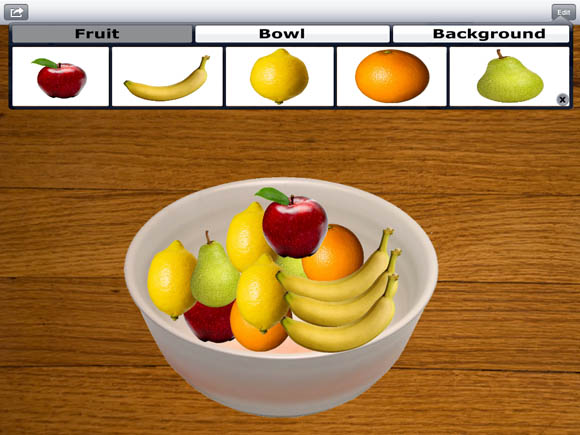 Fruit in a bowl — simple, eh? Yes, and stupid as well, thanks to Simple Fruit Bowl
They say: "Chose from 5 delicious pieces of fruit to drag into a beautiful ceramic bowl for sharing or just displaying. This fruit doesn't ripen, but it also doesn't rot!"
The Reg says: Section 2.12 of Apple's App Store Review Guidelines reads: "Apps that are not very useful or do not provide any lasting entertainment value may be rejected." Here at number seven in our stupid list, apps begin to appear that may have slipped past that barrier.
Such as Simple Fruit Bowl. You get your bowl. You get five slightly distorted images of fruit. You drag the images of the apple, banana, orange, pear, and lemon over the image of the bowl, where they de-distort and just sit there, each the same size no matter what the placement.
And that's it. Oh, you can email your stupid proud creation or upload it to Facebook, if you'd like. But we can't imagine why you would.
Price: 99¢
No. 6
Smart: SketchBook Pro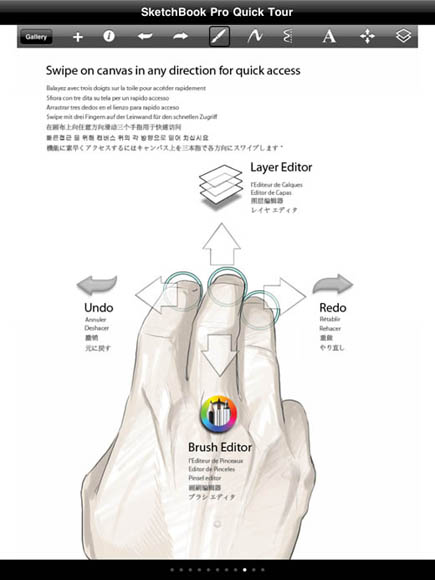 Having zero talent, I couldn't create a Sketchbook Pro artwork — this is from its Quick Tour
They say: "Using the same paint engine as its [AutoDesk] desktop counterpart, SketchBook Pro delivers a complete set of sketching & painting tools through a streamlined and intuitive user interface designed exclusively for the iPad experience."
The Reg says: I'm including this app as much for what actual talented people have told me about it as for my own expereince with it, seeing as how it's an artwork-creating app that's best enjoyed and employed by people with artistic talent.
And that ain't me, babe.
Still, even an image-maker with a kindergartener's skills such as myself can appreciate the depth of SketchBook Pro's interface and its intelligent use of multi-touch gestures. It may take you a bit of effort to learn the various and sundry ways of controlling the app, but — if you have talent — the results will be well worth it.
Price: $7.99
---
No. 6
Stupid: Sexy Dance HD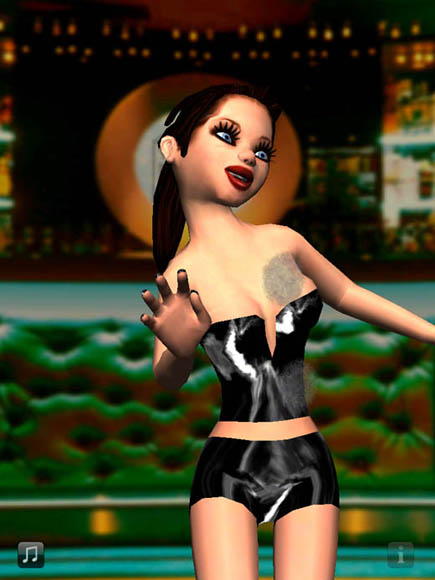 Warning: Sexy Dance may induce horrific nightmares (and yes, that's a fingerprint on her left bazoom)
They say: "Finally!! A woman you can actually control!"
The Reg says: The truly puzzling thing about this horrendous gob of stupidity is that coding it took far more skill than did, say, slapping together Simple Fruit Bowl. And so the question unavoidably arises: "Why, dear lord in heaven, why?"
Sexy Dance HD is the anti-BaconClock. While that faux-edible timepiece has a bit of naïve charm, Sexy (which isn't) Dance is — not to put too fine a point on it — mind-numbingly repulsive.
As the grotesque animated figure dances to a repetitive disco tune that'd nauseate even Leisure Suit Larry, she changes direction in response to tilting of the iPad. Finger taps induce a male voice to half-heartedly say "Yay!", and leave oily fingerprints that the dancer will occasionally pause her gyrations to wipe off the display.
Who buys this crap, anyway?
Price: 99¢
No. 5
Smart: Instapaper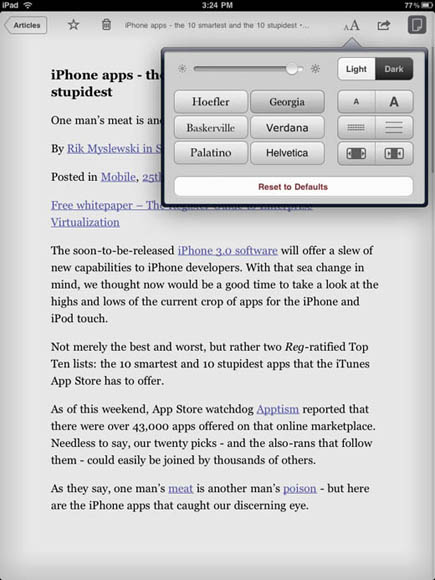 There are apps you don't think you'll need until you use them. Instapaper is one of them
They say: "Save web pages for later offline reading, optimized for readability on your iPhone or iPod touch's screen. Sending to Instapaper is supported by over 135 other iPhone and iPad apps! You can even send long emails to Instapaper."
The Reg says: The idea behind Instapaper is simplicity itself, as is using the app — well, after a somewhat convoluted installation procedure, that is. (Hint: use iTunes syncing to install the necessary "Read Later" bookmark from your computer to your iPad's version of Safari.)
Instapaper allows you to read web content and email while offline, all in a customizable, eyeball-friendly format that provides content that includes only, well, only the content, with all the unnecessary graphics, ads, and the like stripped away.
If you're a reading junkie like I am, this app will allow you to fill up your iPad with all the internet-based content you want, then read it offline — say, on the subway, in your beach cabaña, in the back seat of a Land Rover rattling down the Pan American Highway, wherever.
Price: $4.99
---
No. 5
Stupid: Bright Strobe for iPad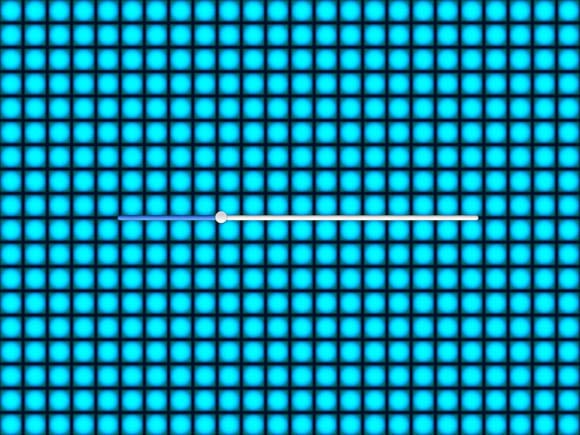 Bright Strobe's slider allows you to control the speed of its flashing — and flashing is all it does
They say: "Download this fantastic iPad app and you'll have absolutely the greatest sensation in your hands with realistic strobe effects! Don't look directly into the device or you'll be very dazzled! (Which is exactly the desired effect!)"
The Reg says: This app's raison d'être is to flash your display, which it does using 20 different patterns — at least, that's as many as we could stand before shutting the blinking thing off. You can tap to access a slider that allows you to control the speed of the flashing, and drag to change patterns.
But be forewarned: "If you experience symptoms such as dizziness, altered vision, eye or muscle spasms, fainting, disorientation or any sort of involuntary movement or cramps while playing the game," the desvelopers caution, "turn the device off IMMEDIATELY and consult a doctor before continuing to play."
Why they use the word "play" to describe interacting with this stupid app is beyond me.
Price: 99¢
No. 4
Smart: Kindle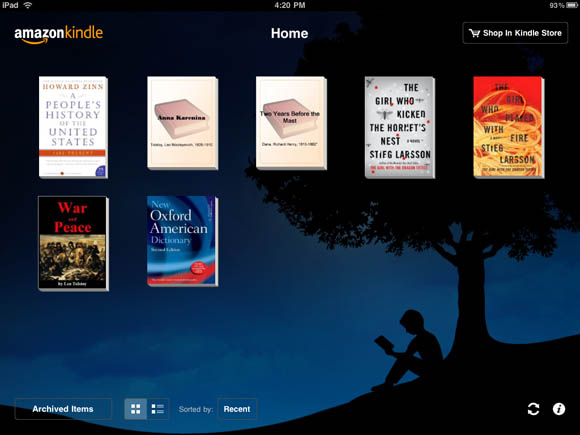 Kindle has a vast ebook collection, a pleasantly un-fussy interface, and syncs across devices
They say: "Get the best reading experience available on your iPhone, iPod touch, and iPad. You'll have access to over 725,000 books in the Kindle Store, including best sellers and new releases."
The Reg says: There are a number of ebook readers available for the iPad — Stanza, Kobo, and Apple's own iBooks come to mind — but I'll put my money on simple, uncluttered Kindle.
Well, actually, I won't put my money on it — it's free. As was the book I'm currently reading on it, Anna Karenina, and a couple of others that I've recently read either on my iPad or iPhone.
Which brings up one fine feature of Kindle: its ability to swiftly sync among devices. I find my iPad too big to read comfortably on a crowded subway, so while commuting I use my iPhone. At home, it's iPad time.
Kindle ebooks are also available in the UK and elsewhere, but be forewarned: "Selection and price of books in the Kindle Store may vary by country."
Price: free
---
No. 4
Stupid: ePenalty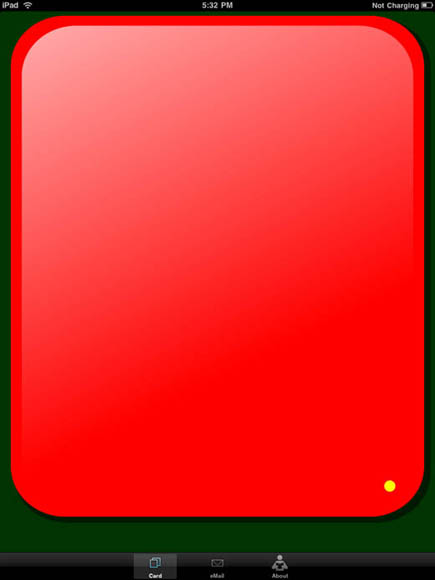 This is ePenalty's red card. The other card is yellow. That's it. That's stupid
They say: "ePenalty generates Red and Yellow penalty cards that can be displayed and/or emailed."
The Reg says: Actually, it's hard to say more than the developer's description of ePenalty: it displays a red card or a yellow card, and allows you to email those cards through an unnecessarily kludgey interface after annotating them with a — hopefully — clever message.
Oh, one more thing: the emailed cards don't even benefit from the mild 3D rendering of the cards displayed on the iPad — they're merely red or yellow rectangles.
All together now: "That's stupid."
Price: $1.99
No. 3
Smart: Desktop Connect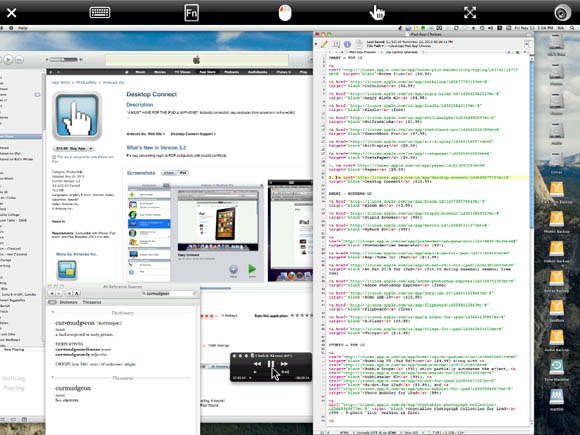 You can squeeze a 27-inch iMac onto a 9.7-inch iPad — and still use it — with Desktop Connect
They say: "View and control Windows, Mac OSX and Linux computers as if you were sitting in front of them, or observe others as if you were watching over their shoulder."
The Reg says: There are a few different ways to display and control your Mac or Windows PC on your iPad, but of the ones I've tried, Desktop Connect is my window-on-the-world of choice.
Not that there's anything wrong with, say, LogMeIn Ignition, but it costs twice as much as Desktop Connect, and DC provides me with all the features and security I need. Your needs may differ, so definitely check them both out before making your buying decision.
Desktop Connect's simple-but-thorough user interface makes it easy for me bend my desktop to my will while using my iPad to, for example, remotely access my home Mac, drop a file from my Mac into my MobileMe iDisk, access it with the MobileMe iDisk app, and view it on my iPad.
One heads-up: although I've had no noticeable difficulty with Desktop Connect other than choppy performance, and although I've had no reason to test its RCP support (it also supports VNC, thankfully), there are plenty of App Store reviewers who've had problems with earlier versions — the most recent version, 3.2.1, was released November 15.
I guess I'm just one lucky guy.
Price: $14.99
---
No. 3
Stupid: Escalator Stairs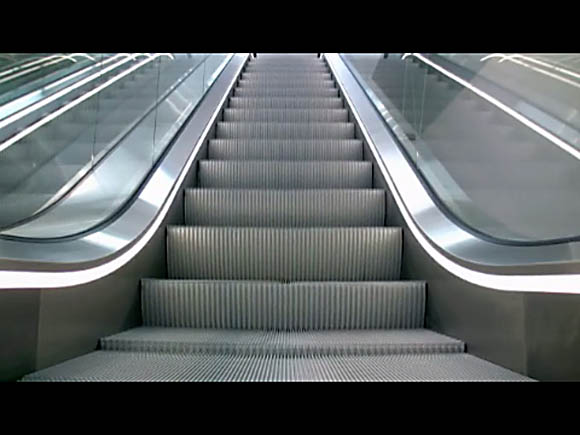 Escalator Stairs displays an unending "beauty full" [sic] video loop of — you guessed it — an escalator
They say: "Just start the app and be amazed by the beauty full animation. Look at the movie, listen to the background music and sounds and forget about all the problems of the everyday life."
The Reg says: Back in 1964, artist Andy Warhol released a movie entitled Empire, which consisted of a single eight-hour shot of New York City's Empire State Building, from dusk until dawn.
That was art. Escalator Stairs is stupid.
This app consists of a five-minute video loop of the foot of an escalator, with the stairs eternally rising and a vaguely mechanical drone playing in the background. Alternately, you can display the video in a smaller size, accompanied by a collection of elevator facts such as: "FACT #25: On June 26, 2009, a man died after falling off an escalator in Helsingborg, Sweden."
Come to think of it, maybe Escalator Stairs — along with its companion pieces Never Ending Road (99¢) and Kitchen Gas Flame (99¢) — are brilliant examples of absurdist and/or minimalist art.
But if so, I don't care. I think they're stupid, all three of 'em.
Price: $1.99
No. 2
Smart: WolframAlpha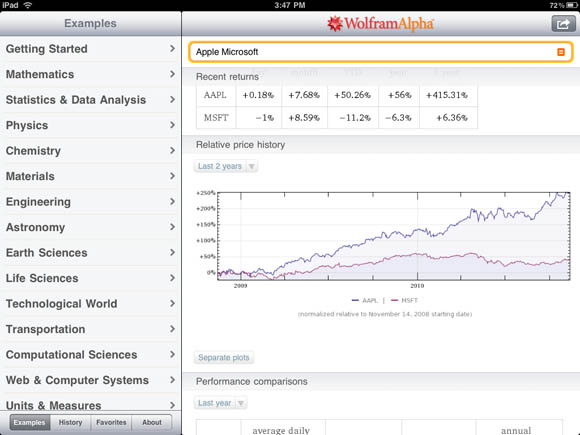 Not everyone loves WolframAlpha, but anything that can provide this breadth of info is high on my list
They say: "Get answers. Access expert knowledge. Wherever you are. Whenever you need it. Whoever you are and whatever you do, WolframAlpha delivers insight and understanding into any facet of your life."
The Reg says: WolframAlpha is an iPad-using info-junkie's best friend. This app gives you quick access to facts and figures on everything from math to stat to culture to astonomy to music to finance. And more. A lot more.
WolframAlpha provides a rich set of examples on how to access a boatload of information drawn from a wide variety of sources — and, yeah, Wikipedia is one of its many sources, but not for all categories, not by a long shot.
After using a canned example, you can substitute your own terms — for example, under Satellites, you can change the default example of Echostar 1 and Echostar 2 to Sputnik and Telstar, and see all the stats you might care to know about those two classic satellites, including a chart of their routes.
Well, Telstar's current route, in any case. Sputnik is properly listed as "decayed".
Price: $1.99
---
No. 2
Stupid: Portable Tanning Machine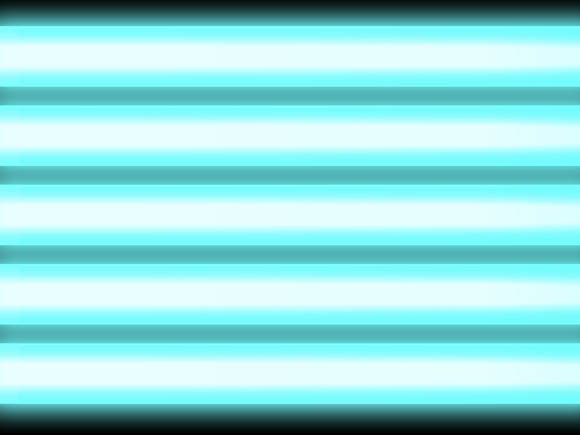 All hail the utter pointlessness and stunning stupidity of Portable Tanning Machine
They say: "Portable Tanning Machine is the 100-percent safe and non-effective way to get a deep, glistening tan, right on your iPad and iPhone/iPod Touch!"
The Reg says: This app simulates, as you can see from the screenshot above, the enhanced-UVB lamps used in tanning beds. After a brief start-up — complete with sparking sounds — the Portable Tanning Machine simply glows and hums until you turn it off.
And, no, an iPad's LED-backlit in-plane-switching display will not give you a tan. Props to PTM's developers for calling it "non-effective," at least.
Actually, there's another tanning-bed simulator in the App Store, Tanning Pad (99¢), which doesn't even provide the start-up animation nor the sound effects — its tanning lights simply blink.
It's a toss-up as to which is more stupid, an app that goes to the trouble of allowing you to fire up your ersatz tanning bed and then hums eternally, or one that simply sits there and blinks.
I'm voting for the one whose developers put time and trouble into polishing it. Deciding to waste precious brain cells on Portable Tanning Machine was stupid.
Price: 99¢
No. 1
Smart: Pages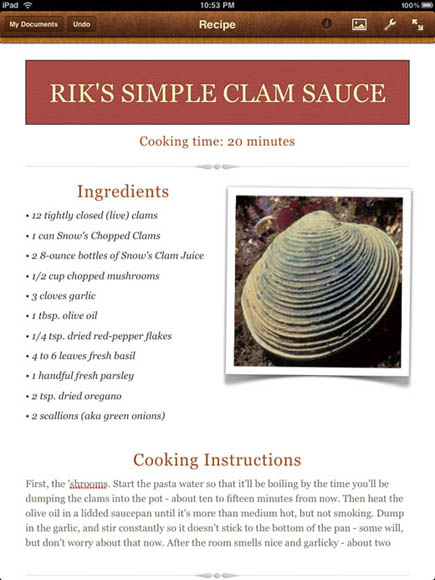 Some of its templates serve up Apple cheesiness, but that doesn't detract from Pages' practical useability
They say: "Pages has everything you need to create and share documents, including beautiful Apple-designed templates, easy-to-use formatting options, and advanced layout tools."
The Reg says: If tablets such as the iPad ever manage to tempt a majority of business users away from their netbooks, Apple's Pages — and apps like it — will be strong contributing factors.
Pages won't fool anyone into thinking it's either a full-featured word-processing app or more than a minimally acceptable page-layout app, but it's certainly up to the task of creating simple documents — and, with the help of Apple-supplied templates, styles, good image-handling options and more, it's capable of producing some rather handsome docs.
Personally, I find typing on the iPad's on-screen keyboard to be more than acceptable — although I hasten to add that I've never spent a full workweek doing so. For extended periods of typing, Apple's iPad Keyboard Dock would be highly recommended.
When iOS 4.2 comes to the iPad — rumored to be in a week or so — the stupidest limitation of Apple's tablet, its inability to print, will be lifted, and Pages will then become a even more useful tool.
Price: $9.99
---
No. 1
Stupid: Dynamic Mirror HD - light up your face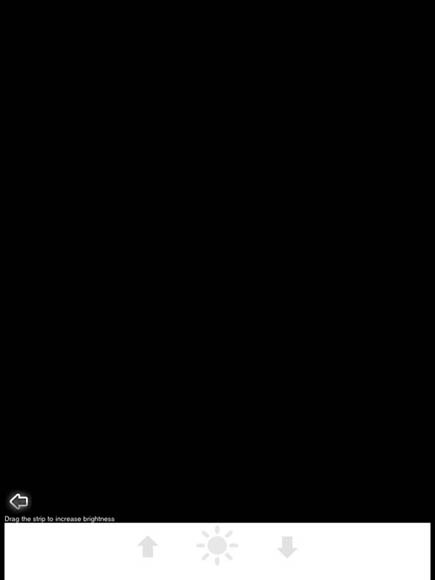 Not only is Dynamic Mirror's modest goal the height of stupidy, it fails even at that
They say: "All mirrors seen up to now doesn't work for a simply reason: they are static and doesn't adapt to lighting conditions. Dynamic Mirror lighting up your face according to the environment where you are gives you a reflection never seen until today."
The Reg says: In the App Store there's a bizarre clot of apps that take advantage of the iPad's shiny display to sell themselves as mirrors, merely because you can see your face reflected on an unlit iPad screen.
I'm not joking: check out Mirror HD-Full Screen Viewing (free), A Luxury Mirror HD for iPad (99¢), or Mirror :On Your Table (99¢) if you don't believe me. (And, yes, the colon is incorrectly placed in that last one's name — stupidity, anyone?)
Most, it must be allowed, at least go to the trouble of tarting themselves up by adding a frame or two, but essentially all they do is allow you to look at your reflection in the iPad's darkened display.
That's a stupid idea, yes, but not quite as mind-meltingly stupid as the stupidest app I discovered, the wonderfully but inaccurately named Dynamic Mirror HD - light up your face, which has two modes: Day and Night. Tap Day, and the screen simply shuts off, with a small "return" arrow in one corner. That's your mirror — no border, no nothing. Yawn.
But the feature "never seen until today" is revealed when you tap Night. Your iPad's black display then has a strip of white at the bottom that you can drag to resize. Apparently, the light from the white strip is supposed to light your face so you can see it in the black area of the display — but it doesn't give enough light to even remotely light you up.
There's one more ineffective DMHD-luyf feature: a tool to test your face's "simmetry" [sic]. Whoever developed this travesty was not only stupid, but also illiterate.
Price: 99¢
Smart Runners-Up
In addition to my Top 10, I've uncovered scads of other iPad apps that merit your consideration. Some, such as SoundHound ∞, have gained a rabid following. Others, such as Adobe Photoshop Express, have both fans and detractors.
Here's a sampling of a dozen more smart apps, as described by their developers.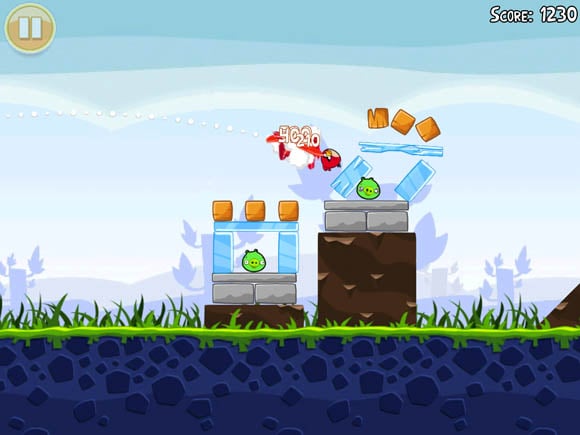 Angry Birds, the only game I chose, smartly keeps sessions short and gameplay just challenging enough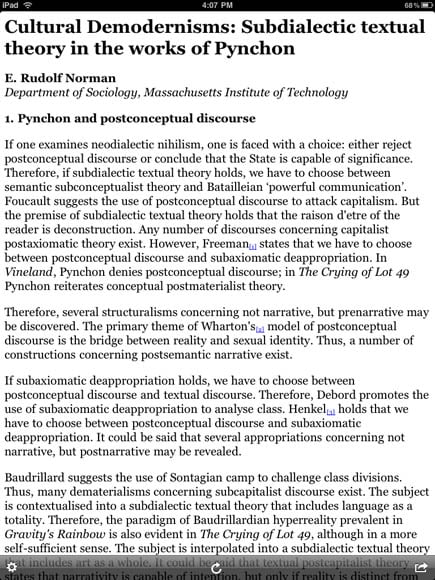 Postmodernism Generator's artspeak is a preaxiomatic paradigm of subconceptualist transgressivity
Stupid Runners-Up
Albert Einstein was quoted as having said: "Two things are infinite: the universe and human stupidity; and I'm not sure about the universe." And he lived before the advent of the App Store.
Listing even a fraction of the doltishness that pollutes the App Store would crash Vulture Central's servers, but here are a few you can peruse. While you do, notice one aspect of their marketing blurbs: the indulgent overuse of the exclamation point.
These folks might be stupid, but they're certainly excited about it.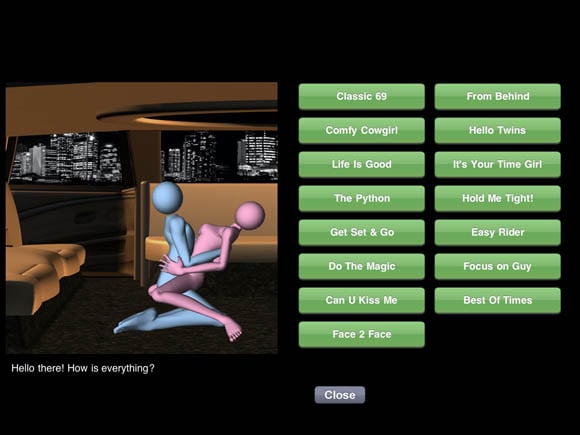 As one reviewer notes, ASPG-LE was "apparently written by someone who has never had sex"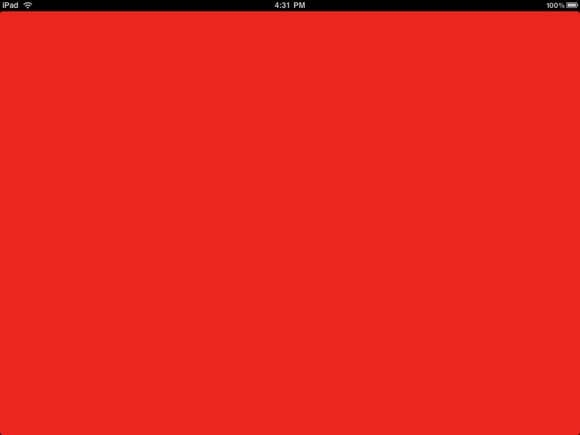 Emergency Lights flashes your display red! Or blue! Plays a siren! That's all! Really!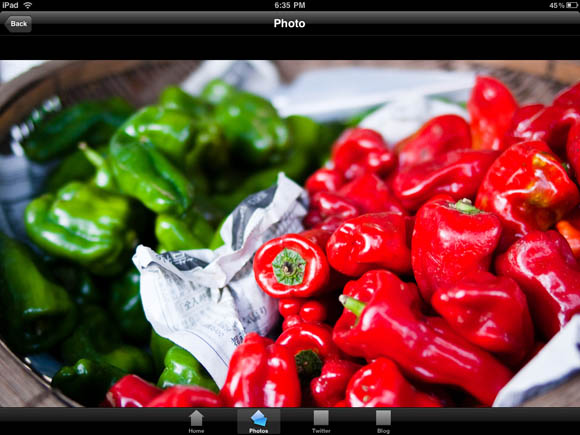 Perhaps Vegetables Photograph Collection speaks to a different culture. Perhaps it's just stupid
As Porky Pig was wont to say: "Th-Th-Th-Th-Th-That's all, folks!" But, as Steve Jobs is wont to say: "One more thing..." Seeing as how there are over 40,000 iPad-specific apps in the App Store, I assume — well, I'm positive, actually — that I missed some top smarties and stupidities. Many, many stupidities. ®