Original URL: https://www.theregister.co.uk/2010/11/18/zentyal_review/
A young and pretty Linux server OS that takes a bit of work
Zentyal 2: like Ubuntu, with bits on
Posted in Software, 18th November 2010 12:30 GMT
Review Zentyal 2 is something a little bit different, although it too has changed its name recently: version 1 was called e-Box. A decade younger than its rivals, it is based on Ubuntu, but its developers skip the normal semi-annual releases, and only use the Long Term Support ones that Canonical releases every other year. E-Box version 1 was based on Ubuntu 8.04 and version 2, now called Zentyal, uses Ubuntu 10.04.1.
Name: Zentyal 2.0
Supplier: Free download
Price: Free
Minimum system requirements: Pentium 4 or better CPU, 1GB RAM, 80GB disk
Zentyal is a server variant of Ubuntu, so it is a rather different experience from its CentOS-based rivals. The boot sequence of both the install CD and the finished system is the standard Ubuntu graphical one; even Zentyal's logo is recognisably similar to Ubuntu's.
The installer is the old Ubuntu text-mode installer and only takes some 10 minutes to create a running system. There are no customisable options at all during the installation, apart from entering a name for the system's single user, the administrator. Like Ubuntu, Zentyal eschews the use of the "root" account, so the first user created is the server admin – meaning that you might want to use something generic like "system administrator" rather than your own name.
Unfortunately, Zentyal, like ClearOS, doesn't support software RAID out of the box – indeed, the installer only used the first drive in our twin-drive test server, leaving the second one entirely empty. The installer does configure Logical Volume Management automatically, though, so adding in extra space is straightforward and does not require a reboot or repartitioning. You get a small ext2-format /boot partition plus a large extended partition containing a single LVM volume, formatted to ext4, which is a sensible basic config and rather more modern than either of the CentOS-based offerings.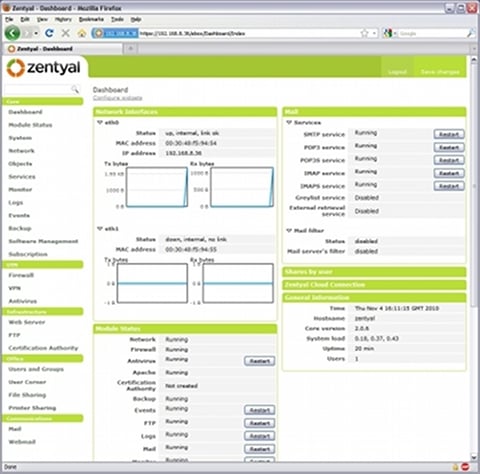 Zentyal's dashboard is attractive and modern with live status info and graphical indicators
After a very quick installation process, the machine boots straight into the login screen for a cut-down graphical desktop based around LXDE, a quite new super-slimline desktop from China which is also the basis of the new Lubuntu lightweight remix of Ubuntu. The Firefox web browser automatically opens and displays the login screen of the web-management dashboard. Everything is done through the browser and the LXDE setup contains little else – shortcuts for normal and root terminals and that's about it.
Accessories
There are a bare handful of accessories: just a text editor, image viewer, file manager and archiving tool. Actually this is a lot more than an old Unix hand would expect to find on a server, but LXDE is so minimal that it is hard to complain, and this is well in line with, say, a standard Windows Server 2008 install. Unlike ClearOS with its antiquated browser, it is a complete desktop, which depending on your take might be a good or a bad thing. All components are bang up to date.
At this point, the enthusiastic first-time admin is in for a bit of surprise: actually, the installation isn't done yet at all. Once you sign in to the dashboard, you have to choose the rest of the server components. There's a Simple option, which includes objects that look like buttons but aren't, or an expert one if you want to pick and choose – which is what we recommend.
By default, like the other distros here, Zentyal will be a full-featured router, firewall, proxy server and so on, as well as a file, print and email server. Optionally, you can also install either Zarafa or eGroupware for group collaboration. Zarafa aims to be an Exchange replacement, with a proprietary MAPI-compatible connector for Outlook, whereas eGroupware has a web interface, although it also supports Outlook and various other clients.
On the post-install screens, you choose the modules and functions you want. Depending on your choices, the system then suggests any add-ons you might like, such as virus scanning, and after confirmation installs them all. No reboot is required, but then, when applying software updates, the system doesn't ask for a reboot then, either – even if updates such as new kernels have been applied, which are not active until the server restarts. We also noticed that even after the system was fully current according to the dashboard, running apt-get dist-upgrade from a terminal still found a few more, including a newer kernel and the ebox menu system behind the dashboard.
The software-updates screen warns that only "community-supported" updates are offered unless you sign up for a support subscription with Zentyal.com. We tried the free test subscription, which offers online backup of your server config, notification of server outages and updates, and free calls from Zentyal's VOIP server to other VOIP clients (as opposed to conventional phones).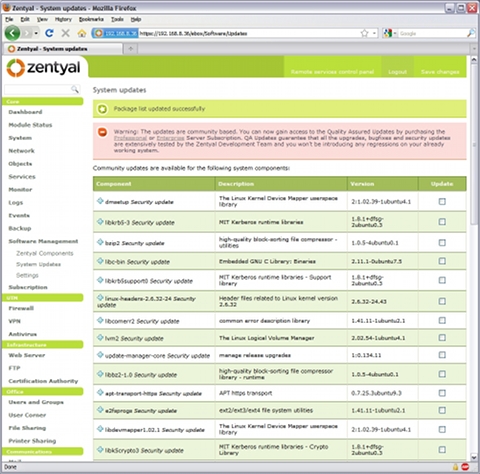 Zentyal's free updates come from Ubuntu, so there's no need to register - but paid users get more thoroughly-tested ones
Installation
Installation thus takes several phases – base system, then reboot, then the modules. Then you must go through the typical cycle of run an update, reboot, then check for further updates and possibly install them and reboot again. It's all straightforward enough, though, and the update-reboot-update-again cycle applies to SME Server, CentOS and pretty much all modern OSs.
Despite repeated attempts, in testing, we couldn't get the network-gateway functionality running. It's nowhere near as automated as the other two – you have to use the dashboard to install DHCP and DNS servers, but the former would not start for us. Reinstalling as a standalone server worked fine, though, and gave us easy access to the server from its IP address. Ordinary HTTP access leads to a placeholder web page, whereas using HTTPS goes to the login screen for the dashboard interface. This is easier than with either SME Server or ClearOS; for both of them, we had to nip off to Google to find the magic address.
Once our test server was up and running, everything ran smoothly. We could easily add a group, put some users in it, add a file share, set the group's permissions over it, and with that, clients could attach and start putting files in the share. There's no equivalent of SME Server's i-bays or ClearOS's flexi-shares: here, file, web or FTP shares are all managed separately. Zentyal does have an interesting feature of its own, though: "network objects". These are collections of workstations, specified by IP address or other criteria, that can be managed as one – for instance for setting download restrictions.
As with both its rivals, a fair bit of the capabilities of a Zentyal server relate mainly to its use as a firewall, and if you don't make it the gateway, all of this becomes irrelevant. Some of the remaining functions do still work but are of questionable use, such as internal-LAN-only webmail.
Oops, you deleted the server
Zentyal lacks the level of integration of the others – there are no options to create default home pages or set up email file drop-boxes here. Zentyal gives you a web server, but managing it is up to you, for instance. The interface lacks polish in places, too – for example, there is an inconspicuous "save changes" field at the top right of the header area, which you must click after making some (but not all) settings changes. Even though it changes from green to bright red when something needs saving, it's not obvious, as your attention is on the main form. So, for instance, when entering the test account password to register one of our test servers, once the change "took", we instinctively clicked the button that appeared underneath. This wasn't "proceed" or "OK", which were represented by the "save changes" link up in the right corner, but "delete this server". Without confirmation, we might add.
Saying all this, though, it is streets ahead of building your own server from scratch with CentOS or Debian. It's very easy to set up a file server, for instance, and it is a Primary Domain Controller by default, with a default home directory quota of 100MB applied. Oddly, we had to grant admin rights to one of the user accounts to add workstations to the domain – the system admin account could not do this.
Zentyal shows a huge amount of promise, but its relative immaturity shows. There are holes here and there where things either don't work or don't do what you might reasonably expect. Being charitable, Zentyal's occasional lack of integration could be interpreted as a less proprietary approach than SME Server or ClearOS, with their idiosyncratic multipurpose shares and so on. What's more, Zentyal is based on Ubuntu, and as that's the leading desktop distro, you're more likely to be familiar with it than the Red Hat family. While something CentOS-based would appeal more to those who know RHEL, this really means Linux professionals from big business – the exact sort of people who would not want a ready-rolled server but would prefer to build their own. Zentyal is also a lot more polished and integrated than the official Ubuntu Server, which is strictly for Linux experts or the seriously intrepid.
Right now, though, unless you're prepared to do some of the legwork yourself or are particularly wedded to Ubuntu, most people would be better off with SME Server or ClearOS. Find our in-depth reviews of SME Server here and our review of ClearOS here.
®
Features: 4/5
Ease of use: 2/5
Expandability: 2/5
Overall: 3/5