Original URL: http://www.theregister.co.uk/2010/11/18/review_smartphone_palm_pixi_plus/
Palm Pixi Plus budget smartphone
Phone gnome
Posted in Personal Tech, 18th November 2010 07:00 GMT
Review Following on from its Pre revamp which saw the Palm brand reinvented for the 21st Century, two recent releases have seen the brand expand with the Palm Pre Plus slider and the slimline Palm Pixi Plus. The less expensive Pixi Plus is the slimmed down in body and spec version though it still manages to cram in a Qwerty keyboard, HSDPA, social networking, GPS and a 2Mp camera.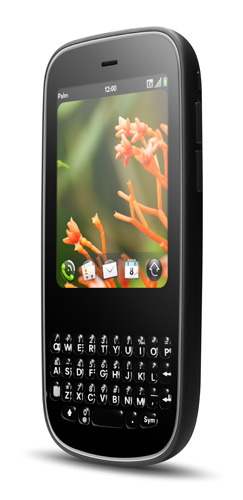 Fairytale beginning: Palm's Pixi Plus
The Palm Pixi Plus is a lightweight little sliver at 112 x 56 x 11mm and 94g clad in a thin rubbery cover which pops off when you pull the sides. The 2.6in LCD touchscreen sits above a full Qwerty keypad made of those odd, tiny, see-through rubbery plastic buttons.
While these keys take a bit of getting used to – and you'll probably need your thumbnail to operate them – they're distinct enough to make finding the right one easy, even though it's unlikely you'll be hitting any top texting speeds.
Between the 35-key keyboard and screen is a touch sensitive strip that acts as a back, home and minimise button, depending on whether you slide it or press it. Around the sides are volume rocker, mute switch, and power/sync slot covered by a flap on the back cover. On the top is a power button and 3.5mm headphone jack.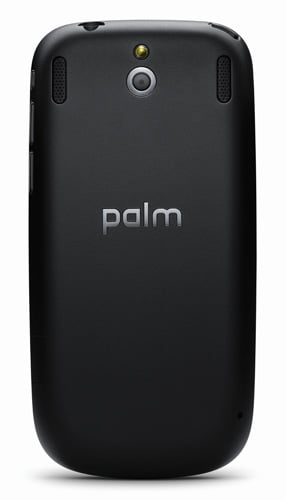 Only a 2Mp snapper
It's safe to say that the interface on Palm's webOS operating system is unlike anything else out there and I like the intuitive way functions can be shown as windows that you can flick between, or flick up to cancel.
Palm Synergy is a useful feature that groups similar apps together including Facebook, Google, LinkedIn, Microsoft Office Outlook and Yahoo! (but not Twitter, bizarrely, though there are apps available from Palm's still relatively understocked App Catalog) and puts them into a single view.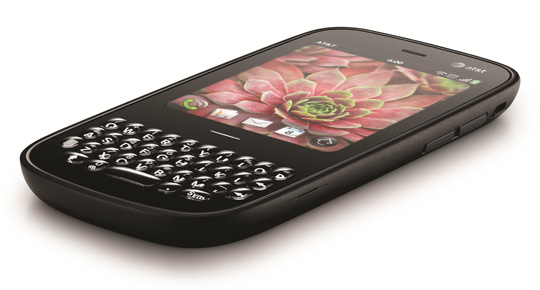 The buttons take a bit of time getting used to, but it's worth persevering
In use, Palm Synergy can also pull in your contact details from all those accounts and merge text and IM chats from individuals into a single conversation. It's a cleverly thought out system that goes a long way to simplifying your increasingly complicated connected world.
Though it looks good, and feels great, the Pixi Plus's Achilles heel is its processor speed. There's no easy way to say this – this is a s-l-o-w handset. When inputting text at a fast pace, or switching between apps, there's a frustrating amount of lag, forcing you to get into the habit of waiting a few seconds any time you make a change.
The browser, however, is a breeze to use thanks to the multi-touch capability of the capacitive screen – that allows pinch-to-zoom – and the accelerometer that automatically flips the screen to landscape view when you turn it on its side. Dragging the menu down from the top of the screen offers bookmarks, cut and paste, viewing history and sharing apps, plus there's fast access too using its HSDPA network connection or Wi-Fi.
The camera is a very basic model with very few features except the LED flash. Picture quality tends to be a little fuzzy in anything less than excellent light. There are better displays for viewing video, but the Pixi Plus's 320x400-pixel screen is sharp enough to give a good account of itself and there's the option to stretch films to fit the screen.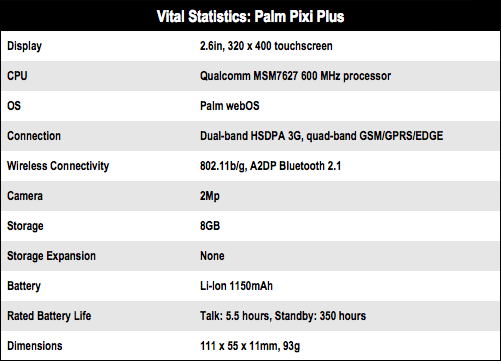 The music player gets the basics right, with an intuitive interface and decent sound through the supplied headphones, though there's no equaliser to adjust the tone. There's 8GB of memory on board (7GB for storage), which is certainly a decent showing, but unusually for a smart phone (at least ones that aren't made by Apple), there's no option to expand it with a memory card. The battery tends to get a bit of a kicking and I never quite managed to get a full day of, admittedly, heavy use out of it.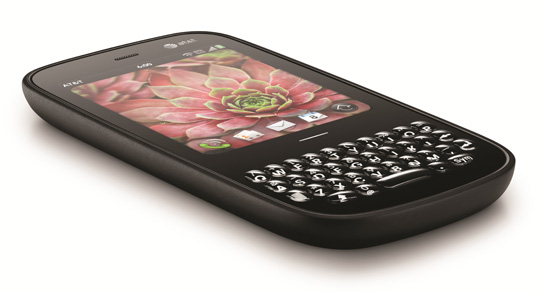 Palm's webOS remains a pleasure to operate, but is a little sluggish on this model
Verdict
The Pixi Plus succeeds very well as a less expensive version of the Palm Pre, albeit with a smaller screen and slower processor. Palm's webOS is a joy to use and media playback for both video and music is pretty decent, though no-one will be buying it for the 2Mp camera. If you can get used to the lag of the underpowered processor, it's a very nice little smart phone indeed. ®
More Smartphone Reviews...

Ten Essential…
Budget Android
Smartphones
Nokia
N8
Samsung
Omnia 7
RIM
BlackBerry
Torch 9800