Original URL: https://www.theregister.co.uk/2010/11/18/review_laptop_samsung_sf310/
Samsung SF310 13.3in notebook
Fashion victim?
Posted in Personal Tech, 18th November 2010 13:47 GMT
Review Aimed at the fashion conscious, the Samsung SF310 adopts curves and chrome to attract trendies to this 13.3in notebook. Literally, built along similar lines to the NF210 netbook reviewed recently, if the look and feel isn't quite enough to have you shopping around and spending about £750 on this Core i5 machine, Samsung is chucking in a 60 quid a Microsoft HD webcam into the bargain, until the end of January 2011.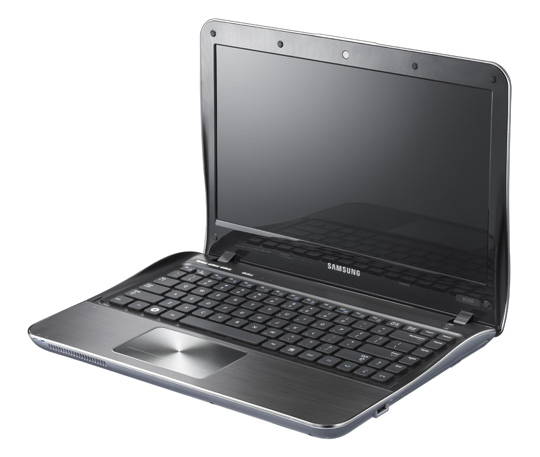 Throwing a curve: Samsung's SF310
It's an unashamed Windows Live Essentials promo, a software suite which has been dogging my use of this laptop – with prompts to instal this 'important' and bloated update – since the SF310 established an Internet connection. Less essential is the camera itself, as the SF310 has a perfectly capable built-in webcam of its own, albeit far from 720p HD.
The styling seems reminiscent of a classic breed of American car, with chrome trim adorning every edge and the white exterior of this review model, in stark contrast to the dark 'dashboard' that appears when you open it up. The white on black letters of the chiclet keyboard are certainly easy to read, with the chrome theme continuing on the buttons above for volume, Wi-Fi 802.11n/Bluetooth 3.0 activation and power. Even the trackpad gets framed in chrome and you either like it, or not.
You'd have to be a particularly heavy-handed typist to suggest the keyboard suffers any flexing, and in use, the keys offer a decent level of resistance and travel. The arrow keys, along with the page up/down keys and the like, that line up around the right corner are marginally smaller than the Qwerty set, with the function keys smaller still. The only real problem here was hitting the page keys instead of Enter by mistake. Increased familiarity with the layout eventually trains you out of these habits though.
One thing I couldn't get the hang of was the trackpad. This one-piece multitouch affair has mere lines drawn on it to define the left and right buttons. The experience was toe-curling, as my thumb could easily stray over the boundaries when click dragging and send the cursor off in odd directions. Having done my best to restrain myself from doing serious damage to the SF310 – this wayward cursor business was seriously frustrating – one possible cause of this frequent problem dawned on me.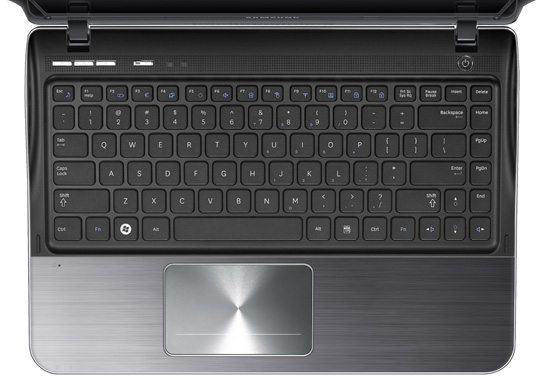 Elegant, but practical..? The all-in-one trackpad has a will of its own
I am left handed. The trackpad is off-centre with less room on the left side than the right. Given the limited space afforded to my left hand, it tends to move over the trackpad too much to the right and cross those fine lines that determine the cursor's behaviour. So I gave the SF310 to a right hander to play with, but she couldn't get on with the trackpad either. So what's the deal here?
Under the thumb
For a start, the area offered to the left/right buttons on the trackpad is way too small given that many will use use the flat edge of the thumb, which makes more contact with the trackpad and can easily confuse it. The way to get the SF310's trackpad to behave though, is to crane your fingers and thumb over it, reducing the areas of contact. So you have to retrain your habits and, obviously, you'll forget, so simple tasks such as resizing windows become a precision job. A bigger arse pain on a working, modern computer I have yet to come across. The answer? Get a mouse.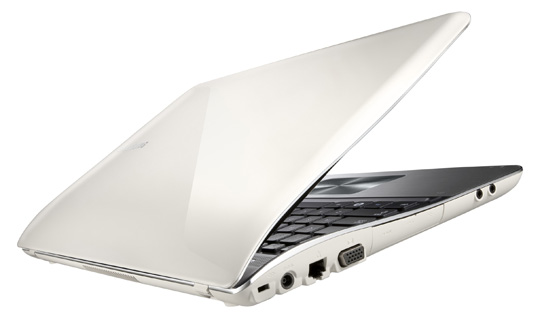 A plastic panel hides HDMI and two USB ports
Now, being left handed, plugging a mouse into the left side seems reasonable, but here you find that, unlike the solitary USB port on the right side next to the DVD-RW drive, the two USB ports and the HDMI interfacing are hidden up by plastic cover. It looks neat when closed, but is a tad annoying, as it's a faff when you want to plug things in quickly, and fingernails are essential. Also on the left side is an 4-in-1 card slot with a white blanking insert, two 3.5mm jack sockets for mic and headphones, a VGA port and Gigabit Ethernet.
The glossy 1366 x 768 LCD screen wasn't too prone to excessive reflections when in use. While not the most dazzling display, it is crisp yet seems somewhat subdued in terms of contrast. Featuring both an Nvidia GeForce 310M and the integrated Intel HD GPU, the SF310 utilises Nvidia's Optimus technology to manage resources. This set-up endeavours to maximise efficiency by keeping the power-hungry Nvidia graphics device turned off most of the time, dealing out the heavy duty tasks to it only when required. It's all flicker-free and you really wouldn't know it was going on in the background.
Another efficiency you wouldn't necessarily be aware of is the hyperthreading capability of the 2.53GHz Intel Core i5-460M CPU. However, Samsung makes sure you know about it, as an Intel Turbo Boost widget appears at startup and charts whenever you're in 2.8GHz turbo territory – which typically blips when opening an hefty application and noticeably when interacting with the on-board Flash demo for the first time.
Kitted out with a 320GB drive, 4GB RAM and 64-bit Windows Home Premium, the SF310 notches up 4.5 on the Windows Experience index. It's certainly no slouch though, and compares well with other Core i5 machines. Although it didn't match the claimed three second start up from sleep, it wasn't far behind at around five seconds. It also managed a modest 3DMark06 score of 3807 with the Nvidia GeForce 310M and 1932 with the Intel HD integrated GPU.

No battery swapping on the move with this model
While it can get rather warm, it never really gets that hot and with careful use the battery life seems to match Samsung's claims of over seven hours. Certainly, the juice-sucking repeated tests with PCMark Vantage until death, have it scoring very highly indeed. However, the battery is integral and can't be swapped out in a hurry, although just one screw holds the access panel to drive and memory slots.
Benchmark Tests
PCMark Vantage Results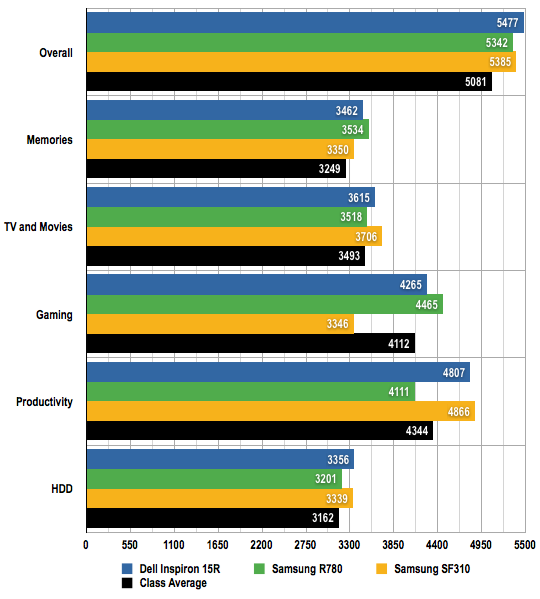 Longer bars are better
Battery Life Test Results

Battery life in minutes
Longer bars are better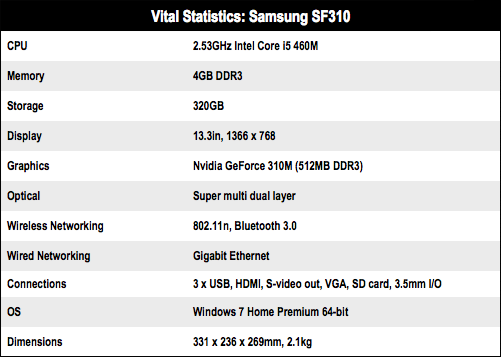 Hearing aid
As far as bundled software goes, there's a slew of Samsung Utilities, for backup and file sharing over DLNA, as well as a limited AV trial from Norton, Microsoft Office Starter and CyberLink DVD suite. There's also Elan Smart-Pad, a control panel that offers customisation of trackpad multi-finger gestures to get the most out of the trackpad, if at all possible.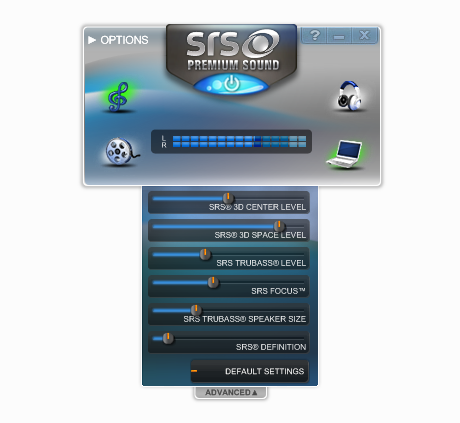 SRS audio treatments can work wonders, but can't perform miracles
Sonically, the SF310 boasts SRS Premium Sound. Now I rather like the tricks that SRS processing is capable of, but Samsung appears to expect miracles from the 2 x 1.5W speakers lurking inside this laptop. While I've no idea of the diaphragm dimensions, I'm thinking pennies here. SRS relies on psychoacoustics to trick the brain into imagining lower bass frequencies – that the speakers aren't actually capable of reproducing – using harmonics generated by TruBass, and various filtering techniques create the 3D surround elements, but if the speakers lack a half-decent frequency response, then there's a limit on what can be delivered.
Certainly you can tell that something's going on with the soundscape and there's plenty of volume there, but I spent a good while tweaking the SRS settings to get a beefy, well-defined sound and I failed. The speakers just don't cut it as far as weight is concerned, and as sound engineers are wont to say: you can't polish a turd.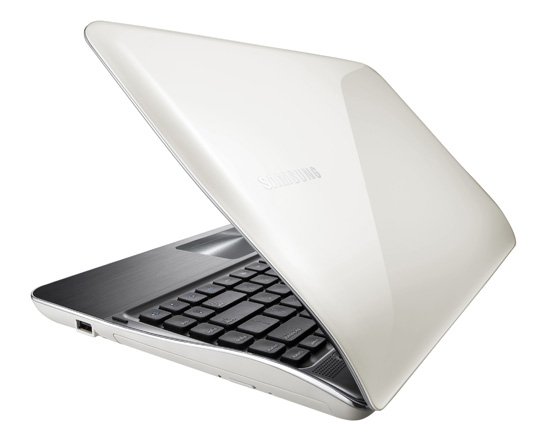 Deceptive bends: when most laptops are getting thinner, those curves actually fatten it up
Verdict
At just over 2kg the Samsung SF310 isn't too much of an imposition to lug around. It's certainly capable, with a good battery life and attractive too. Earlier, I likened the styling to a classic American car, but it transpires this is no Cadillac, it's more of an Edsel. Yes, that trackpad is a serious problem, so much so that instead of giving away an HD webcam with this laptop, Samsung should really have done a deal with Microsoft to offer a free mouse. ®
More Laptop Reviews

Toshiba
Portégé
R700
Apple
MacBook Air
13in
Samsung
430
Acer
Aspire
5940G